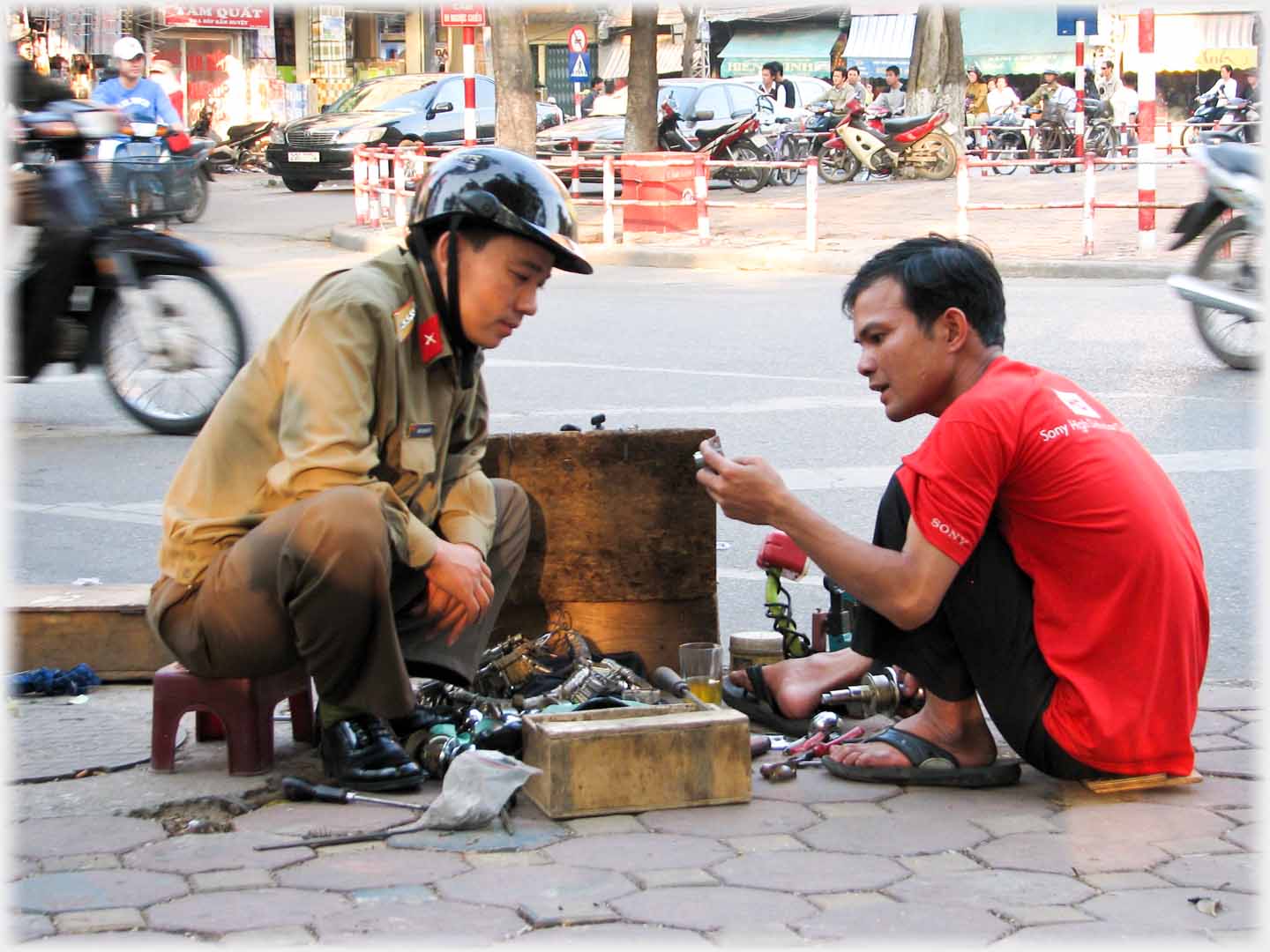 Commonly, simple services that can be offered with a few tools carried in a box, are available at busy roadsides. Here the customer is even given the comfort of a stool on which to sit
Candid shots taken around Hà Nội supply the content to this and the next page of Picture Posting. The division is based on activity. In Vietnam that is a rather subtle distinction, for the humidity preludes exertion. The people of Hà Nội offer endless opportunities for the photographer - especially for one more alert than myself. Below are shots of people eating, reading or engaged in light work. The next page shows an even more relaxed aspect of Hà Nội life with candid shots of people doing even less: talking or looking into space. Photos are taken while walking around the city and too often involve grabbing a picture, rather than having the leisure to compose it - at heart I am a landscape photographer, waiting only on the light - so this page offerss a landscaper's attempts at candid photography.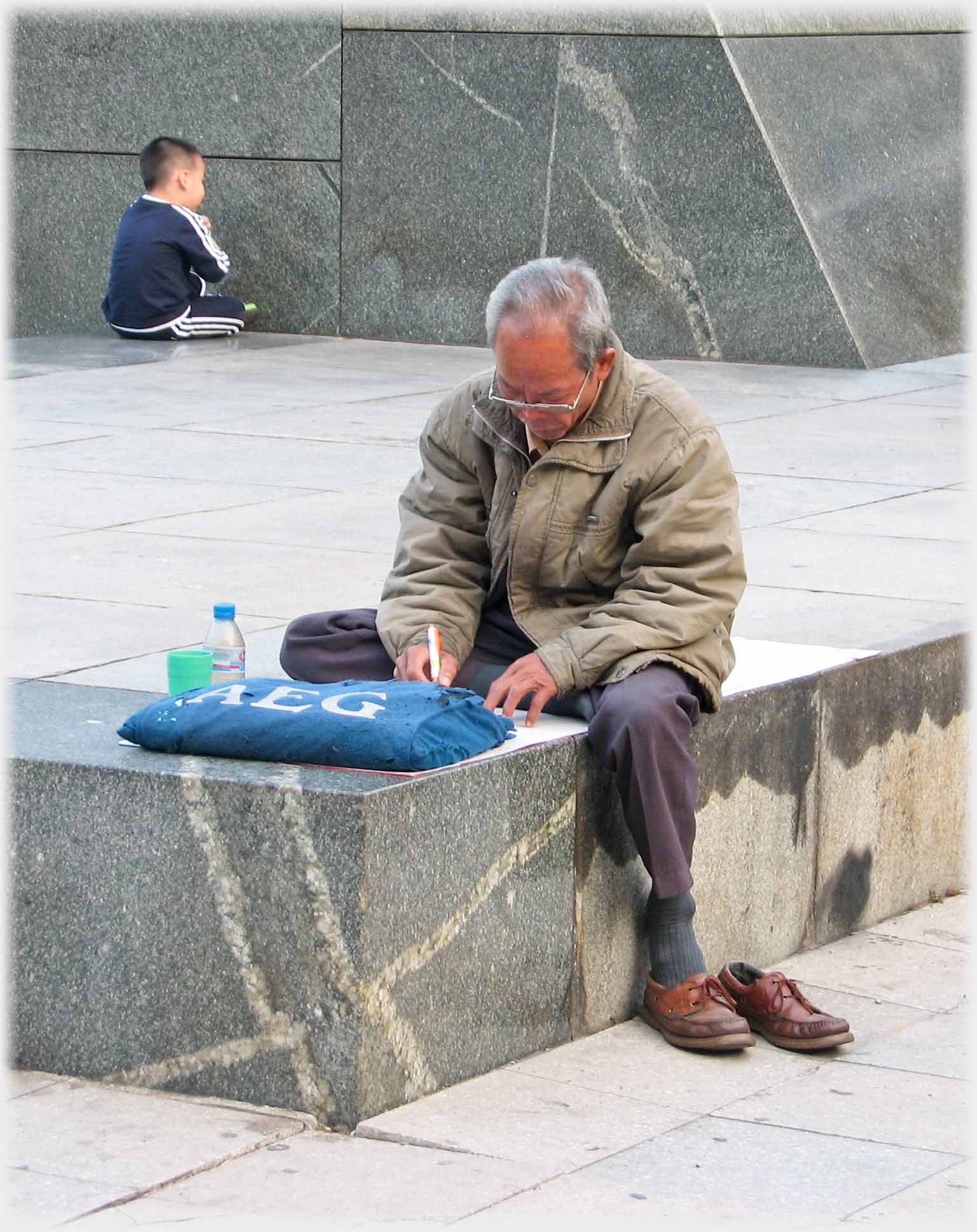 A place to jot some notes, water to hand; his left foot half in his right shoe. Is the infant in his custody?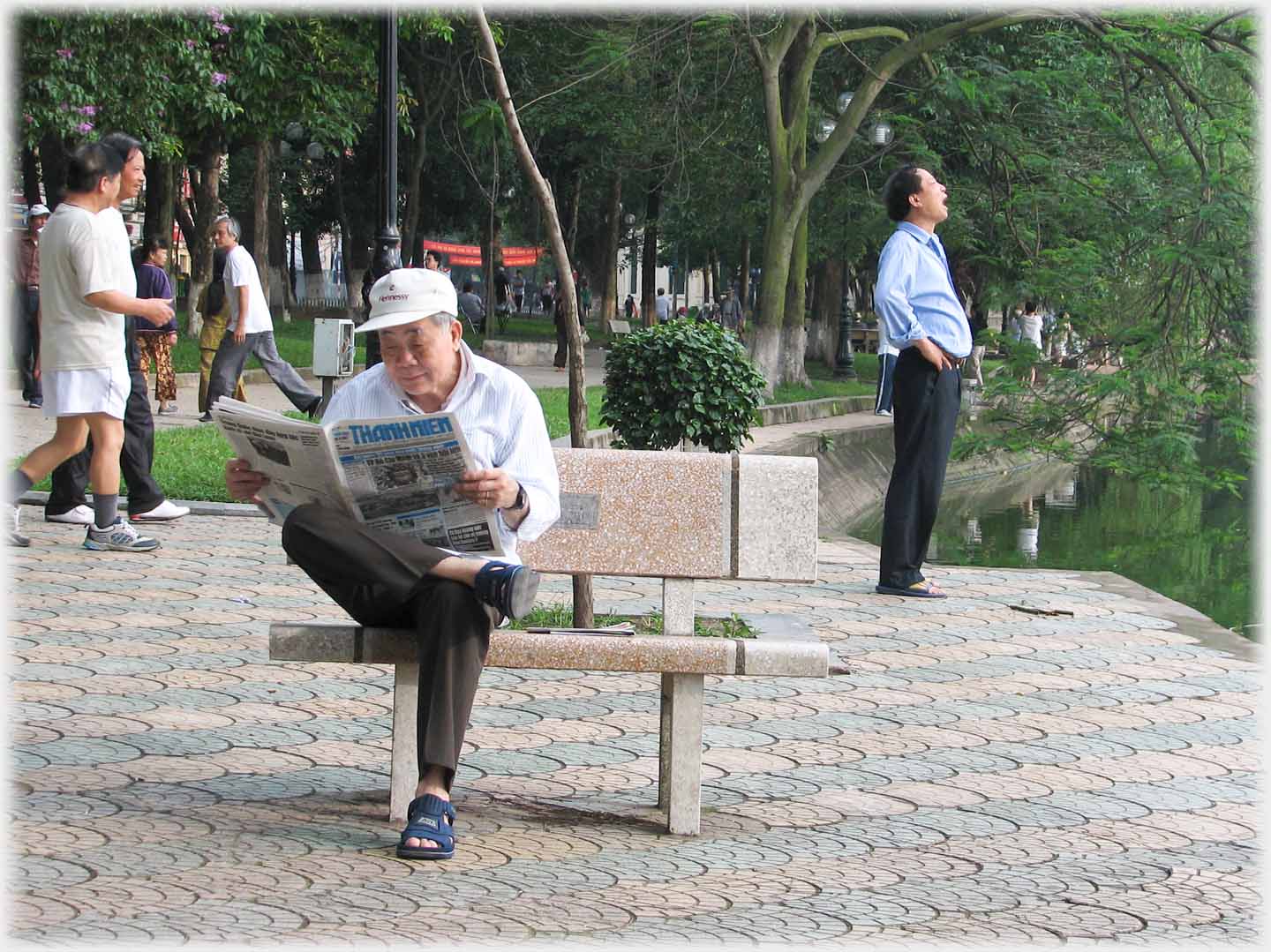 Hanoians are great paper readers, and the benches around Hoàn Kiếm Lake offer the perfect morning place to catch up on the news. Breathing exercises engage the man behind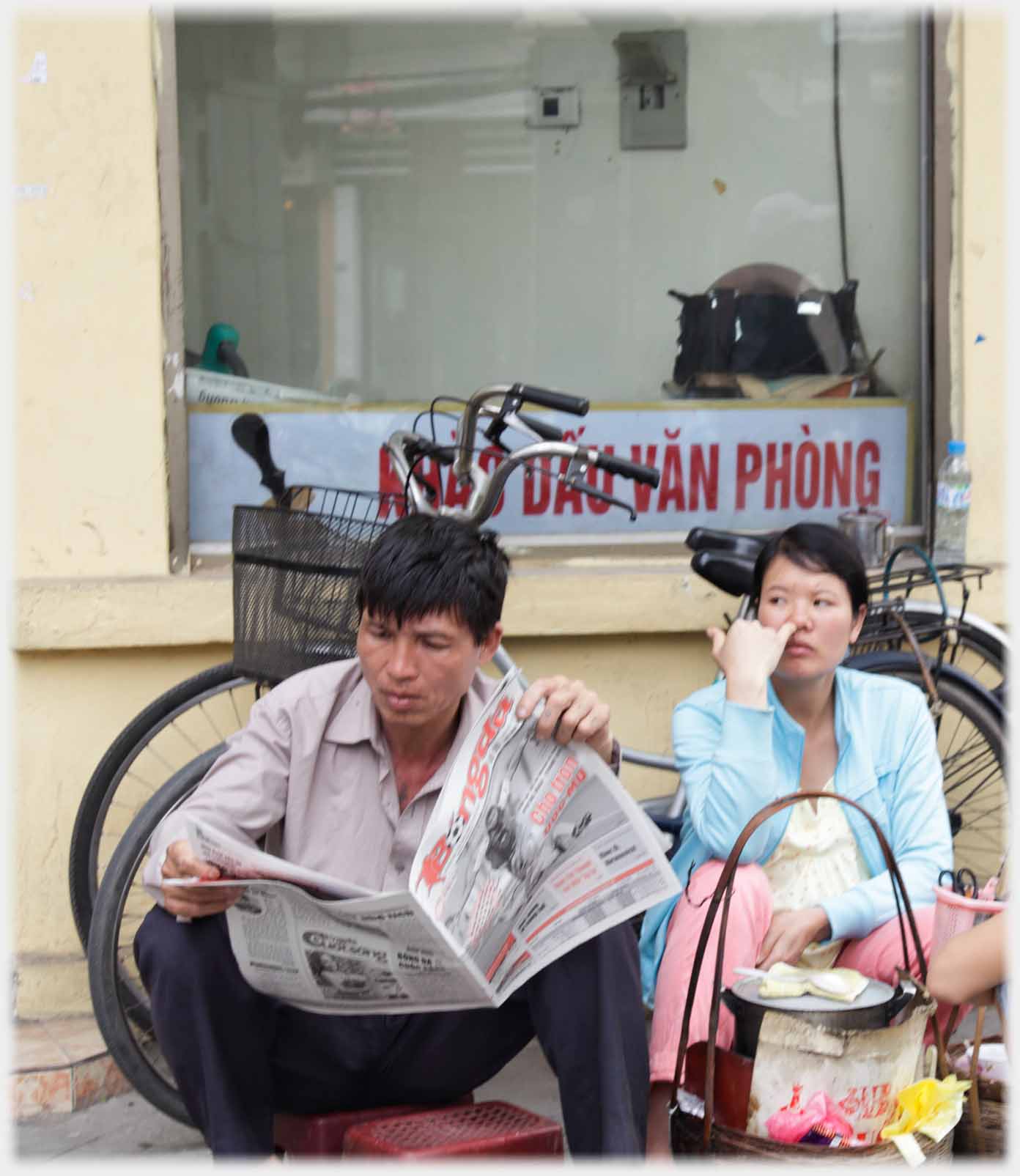 Maybe her unladylike action relates to his preference for a newspaper over herself?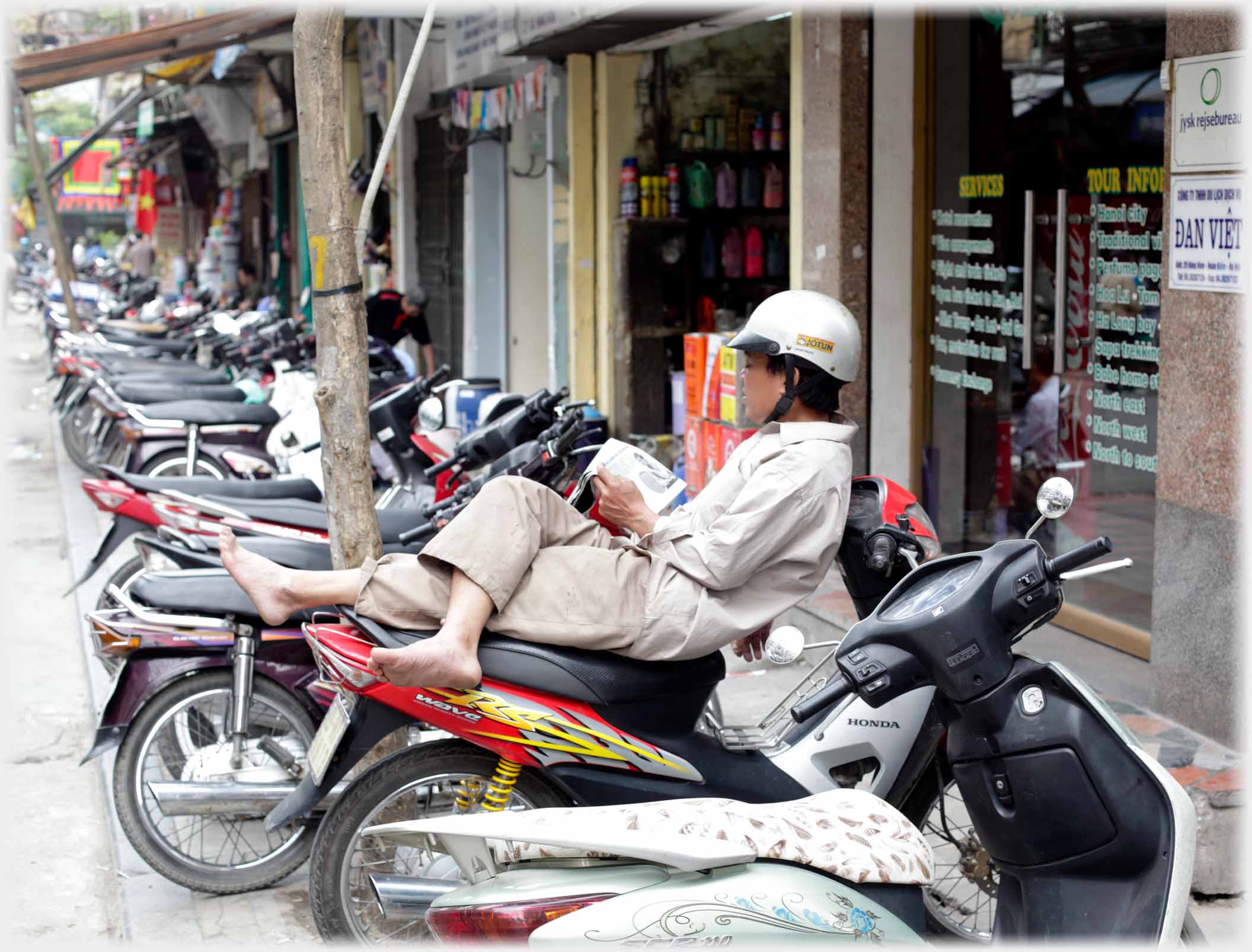 Often the saddle of a motorbike offers the most comfortable seat available; possibly as a 'motorbike taxi' he waits on a customer's return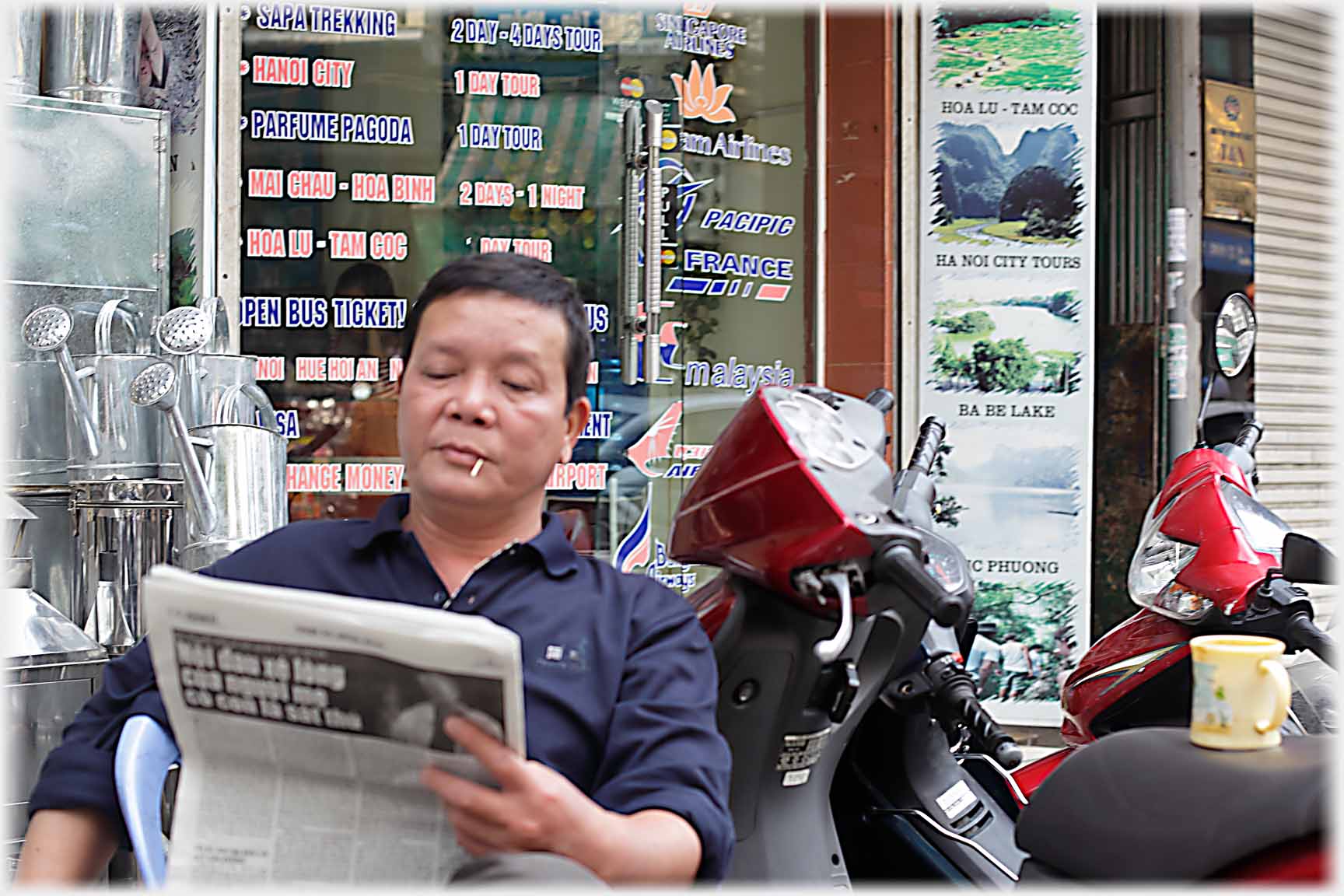 Toothpick in position, mug to hand and a good paper produce this sense of contentment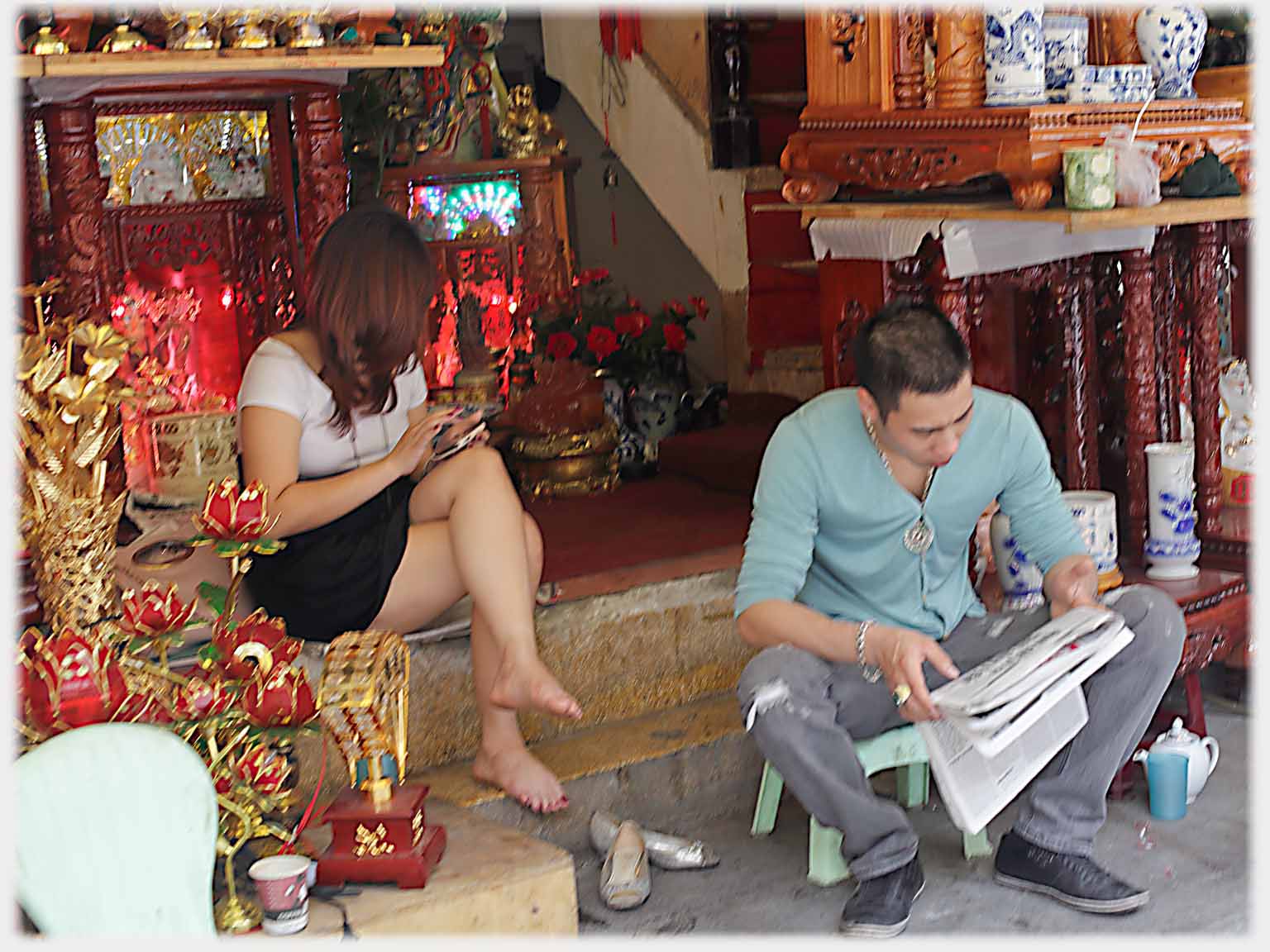 Engrossed in their separate media. I wonder why I have no photos of women reading newspapers?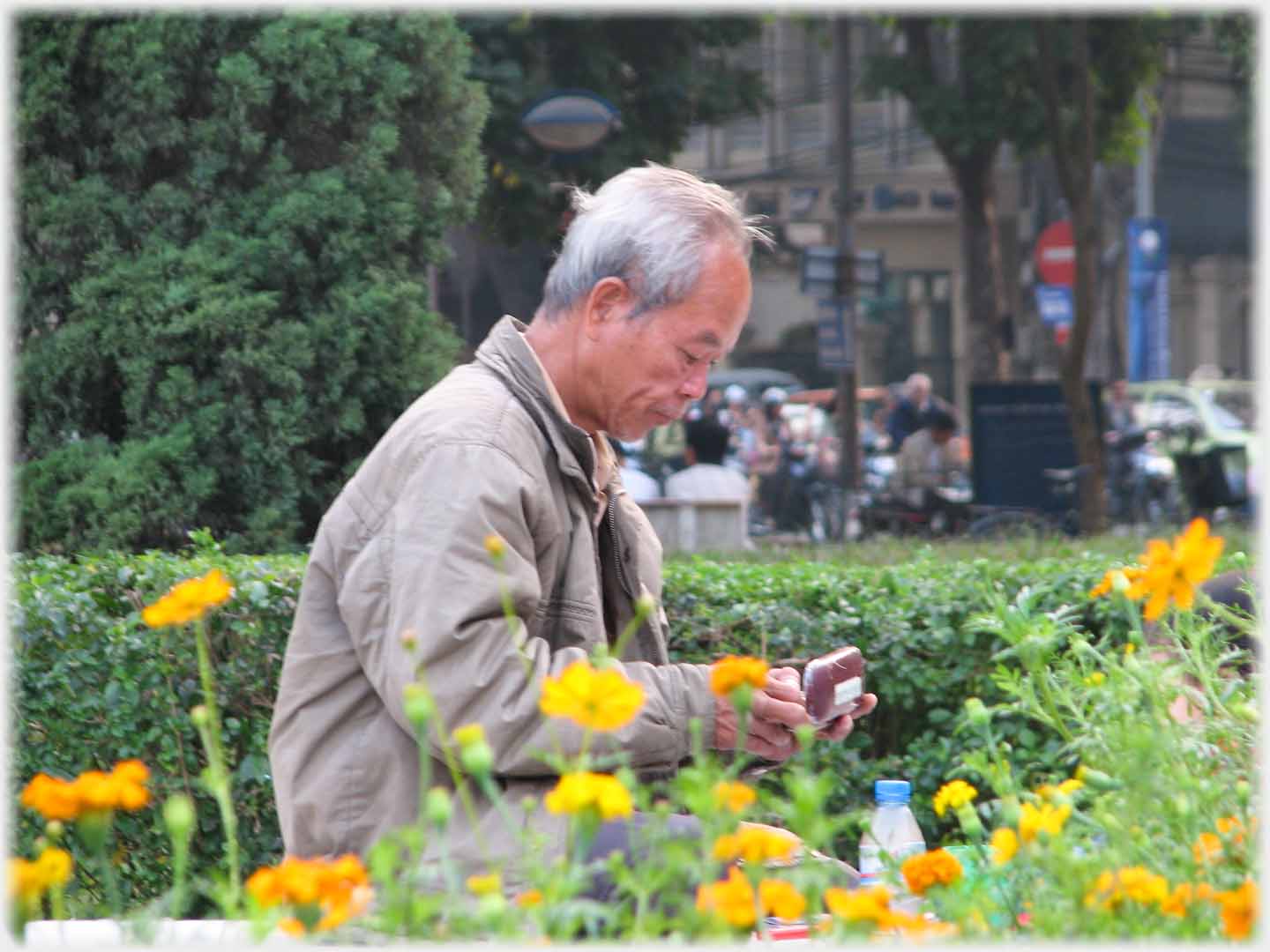 Spectacle Case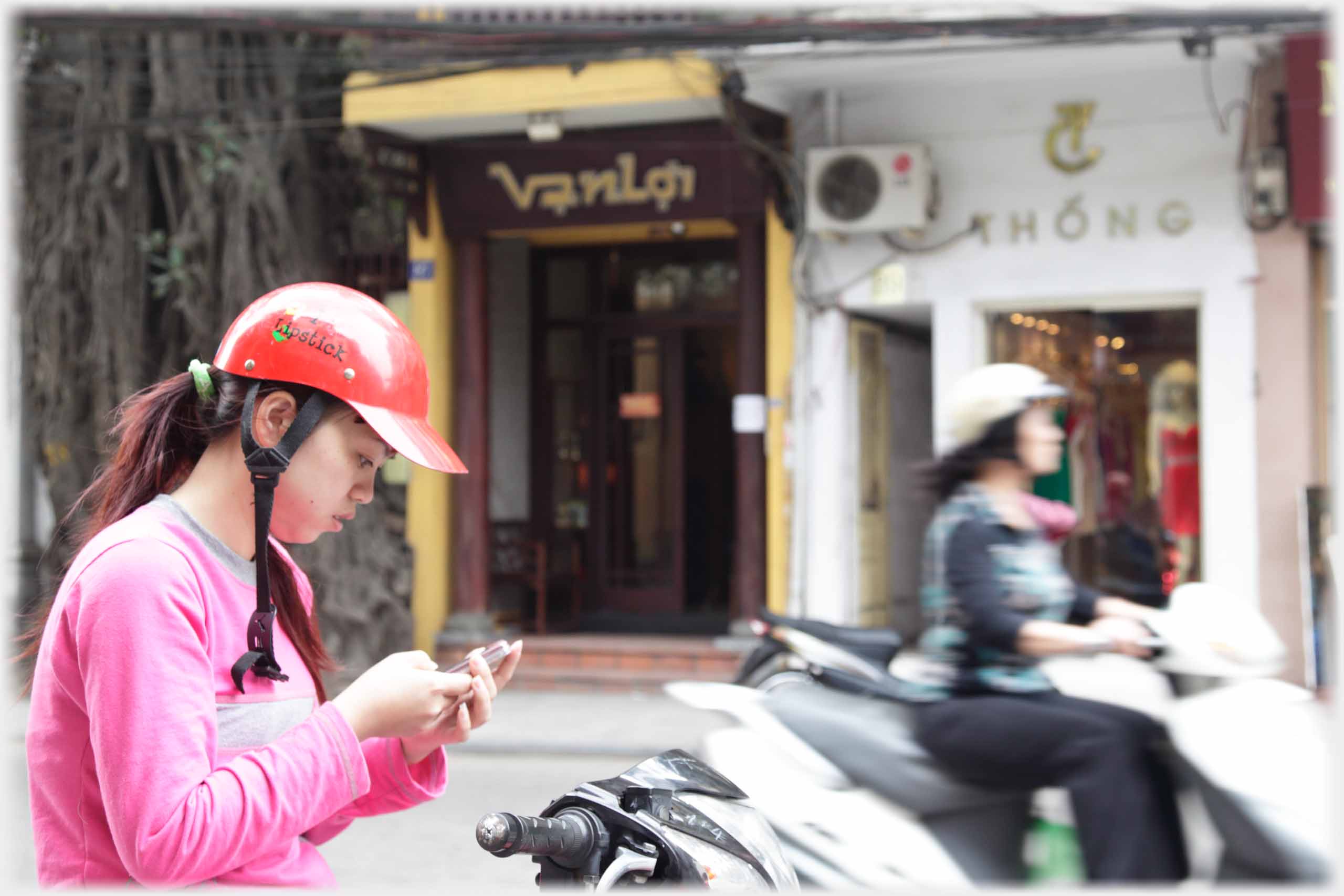 This woman has stopped her motorbike to text. A slightly unnerving number of drivers in Hà Nội do not bother to stop their vehicles for such urgent tasks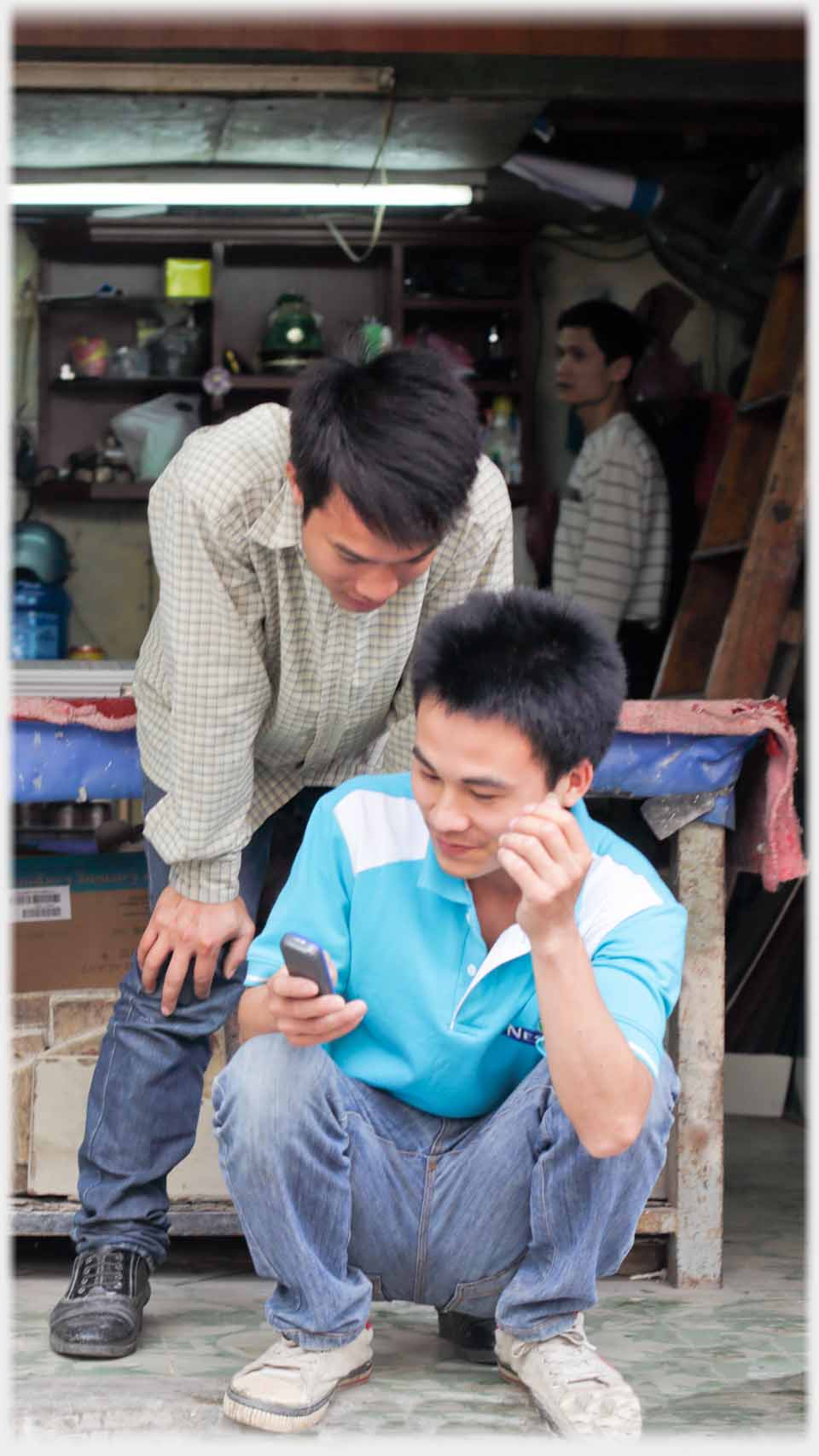 Ten years ago small phones were still common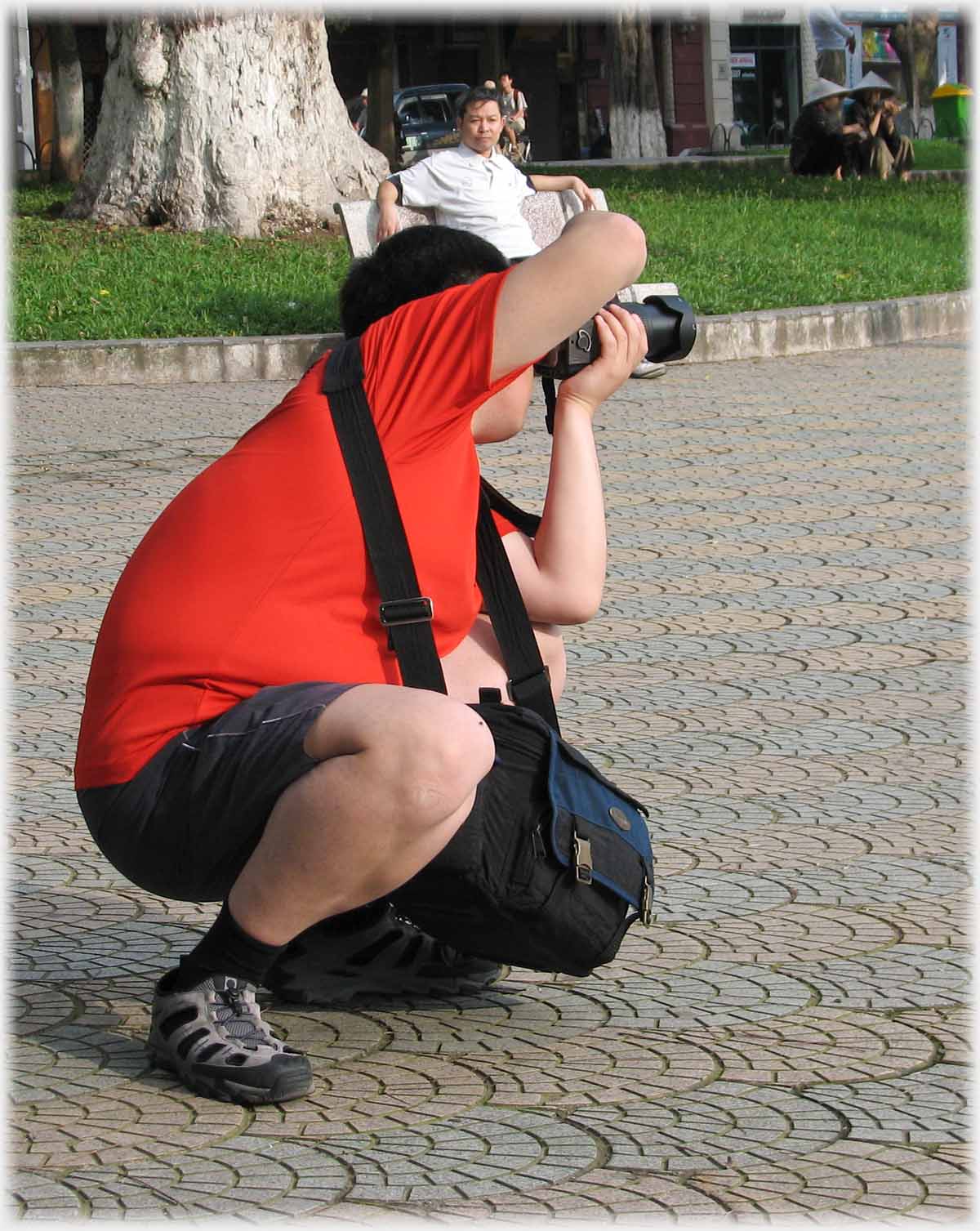 Photographers delight in photographing photographers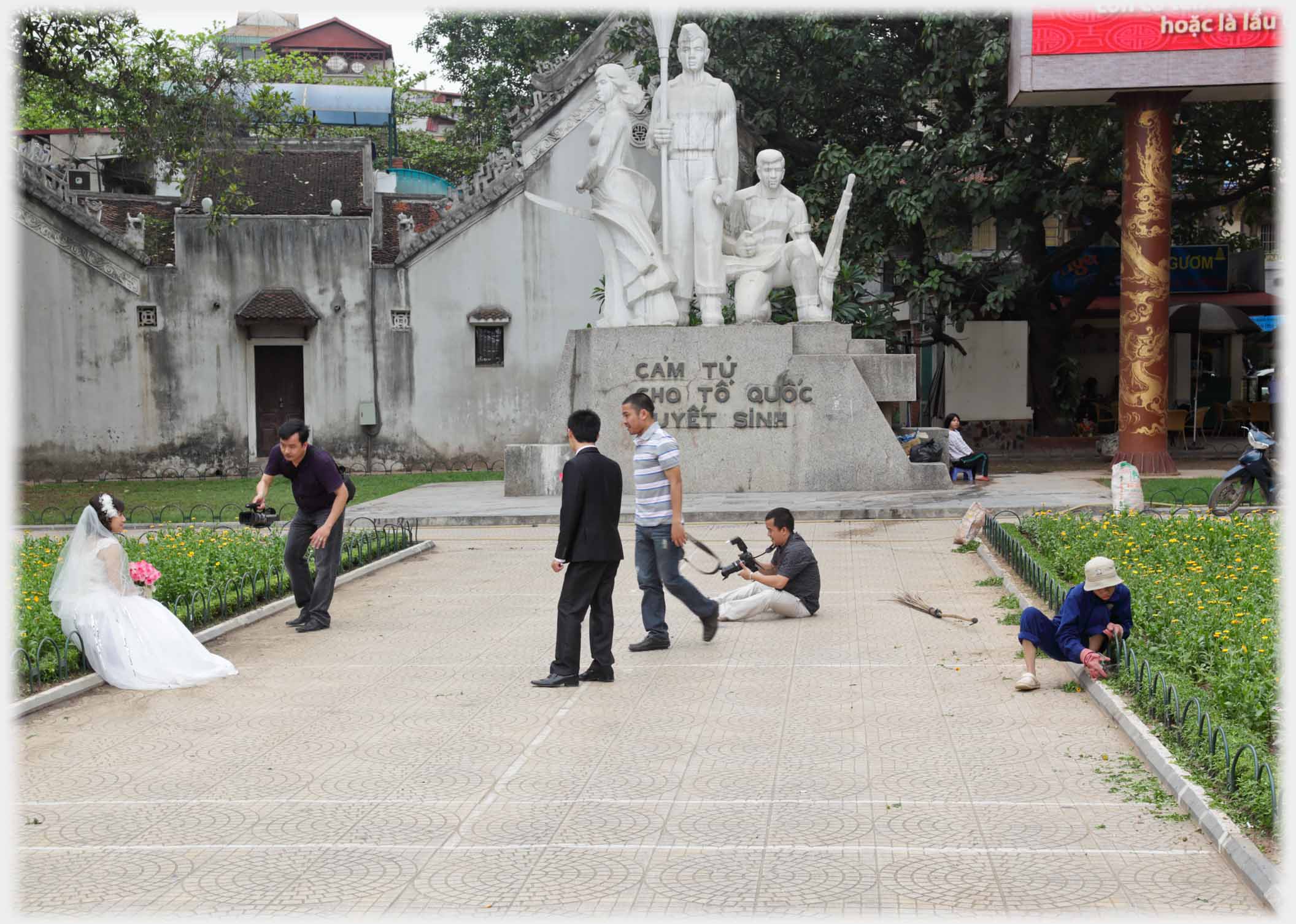 A few weeks before a wedding the couple venture out to have their photograph taken against memorable backdrops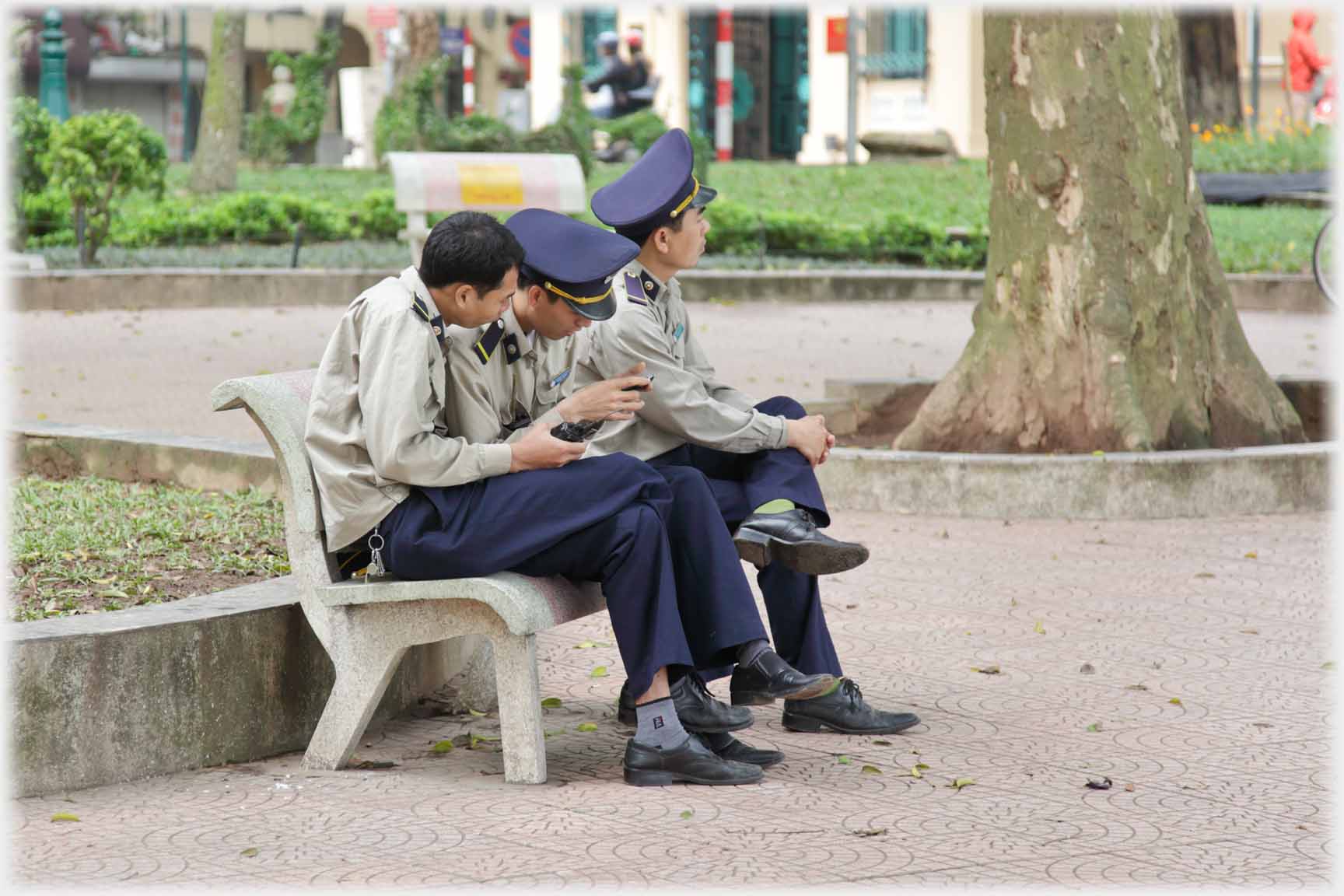 Security staff in central Hà Nội diverting themselves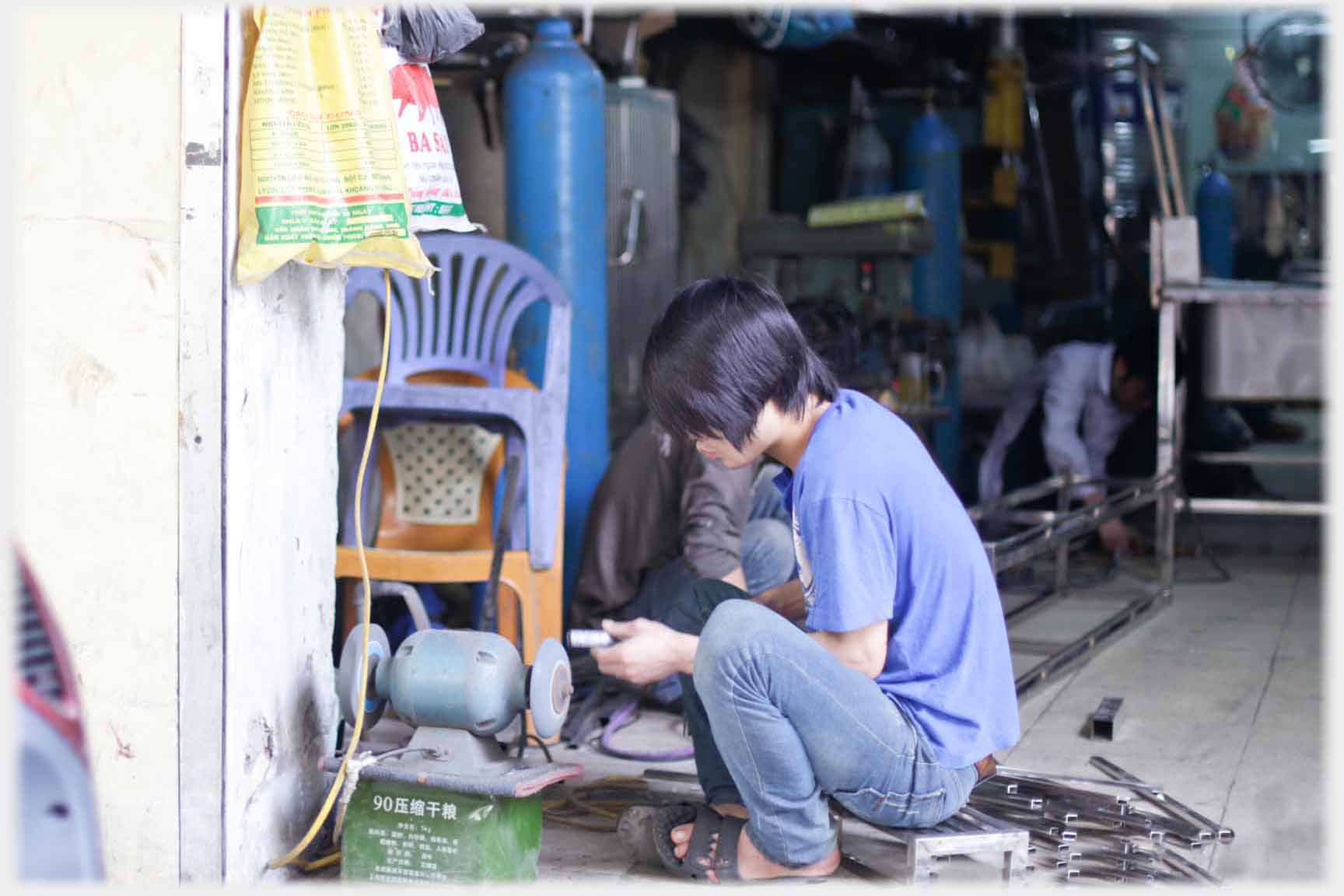 Squatting on very low stools is a Vietnamese norm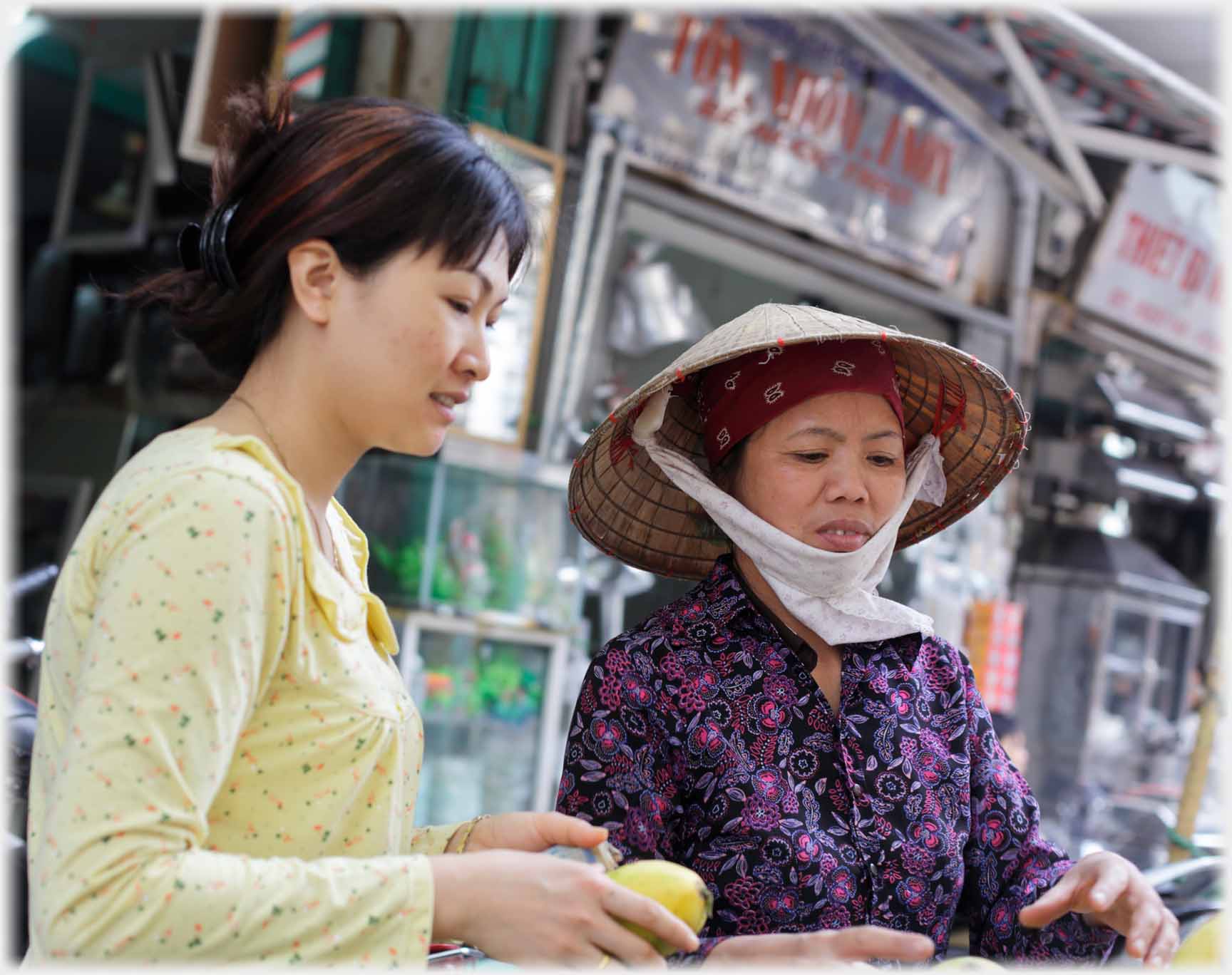 So often the colours of women's clothes seem to have been chosen to match the produce around them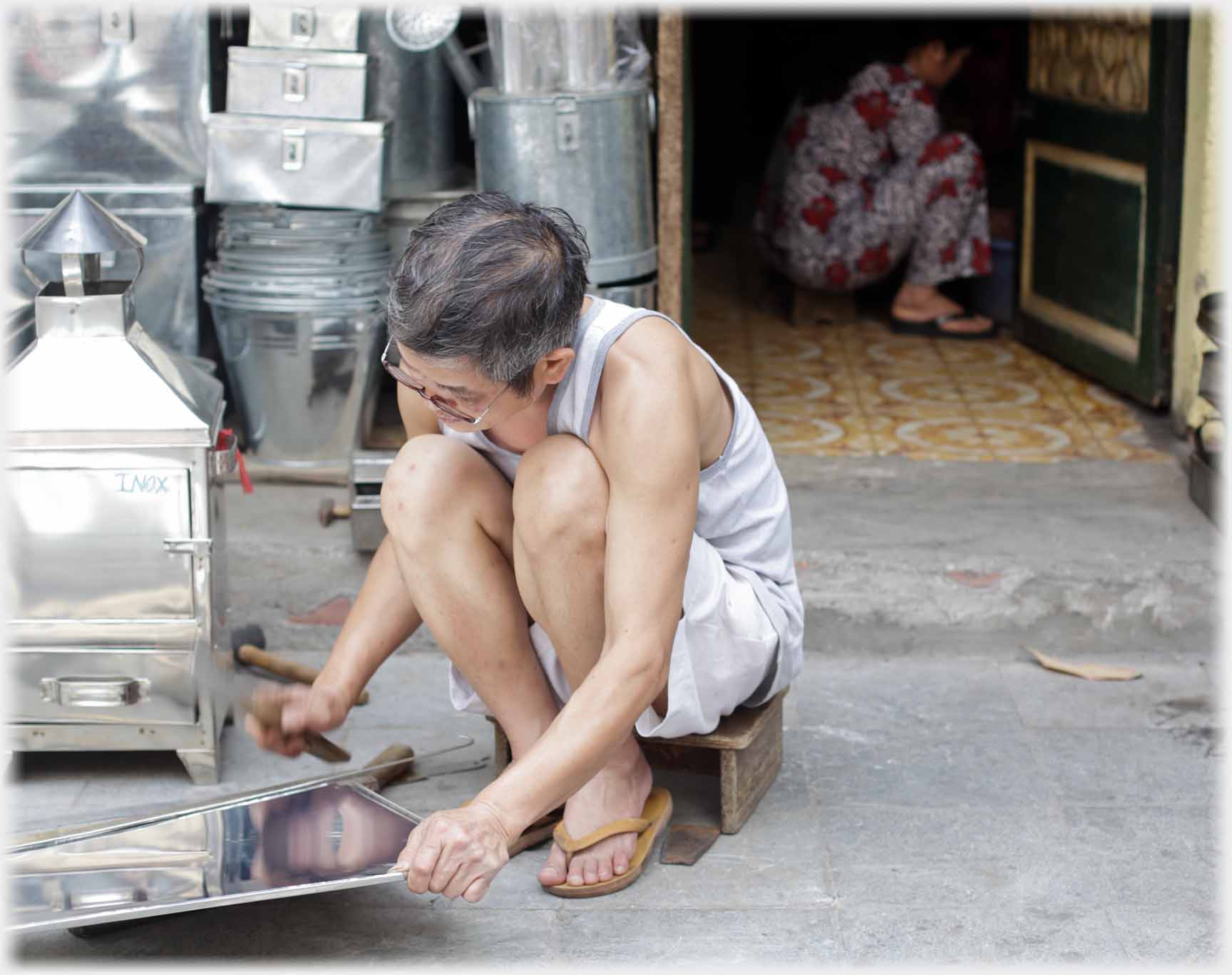 More squatting. Rather dimly, a woman can also be seen on a low stool, inside the door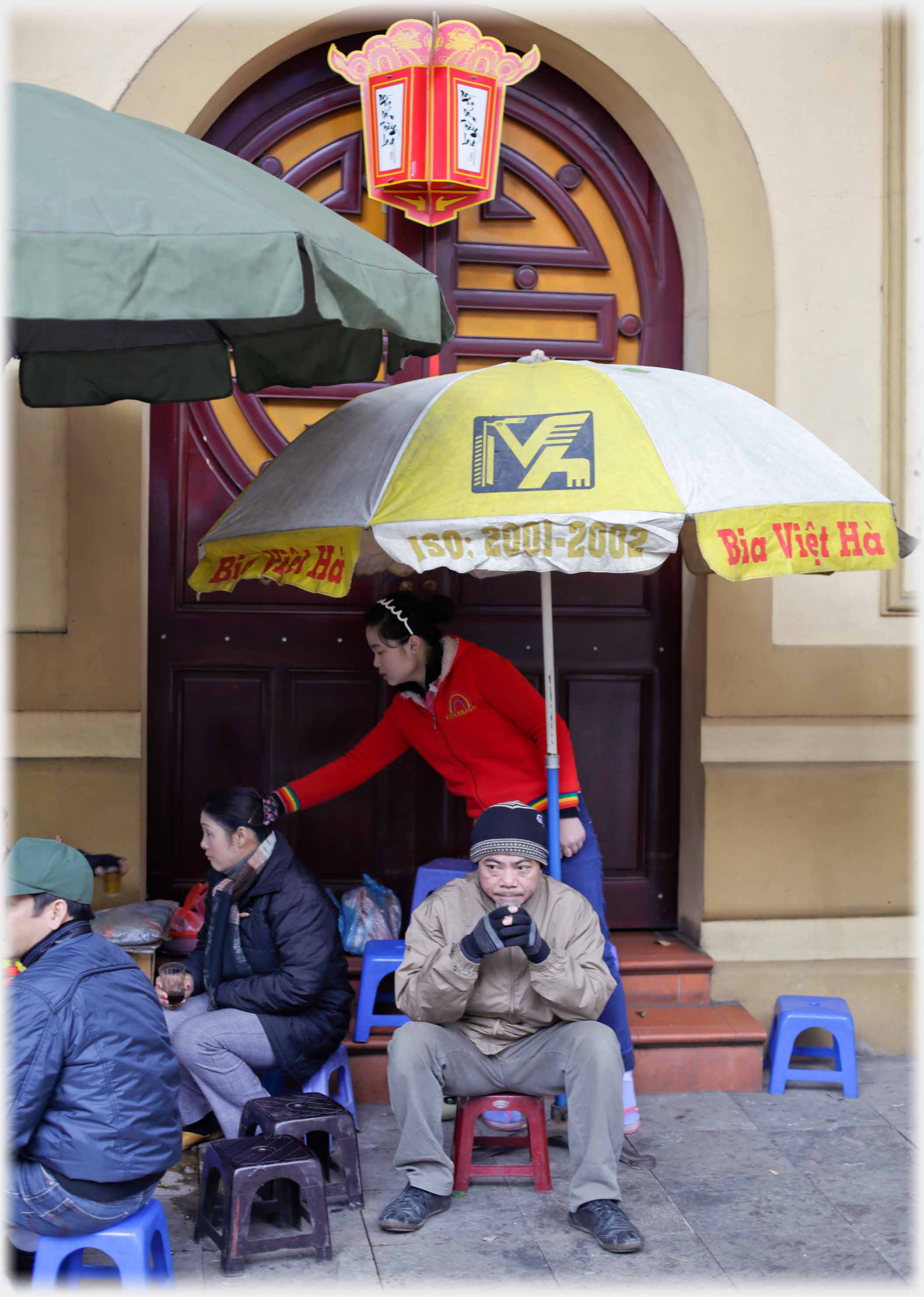 Customers are normally offered these relatively higher stools. They stack easily for transportation to their chosen pavement site. The hats, padded coats, and gloved hands (hugging a warm cup) convey how Hà Nội can be disconcertingly cold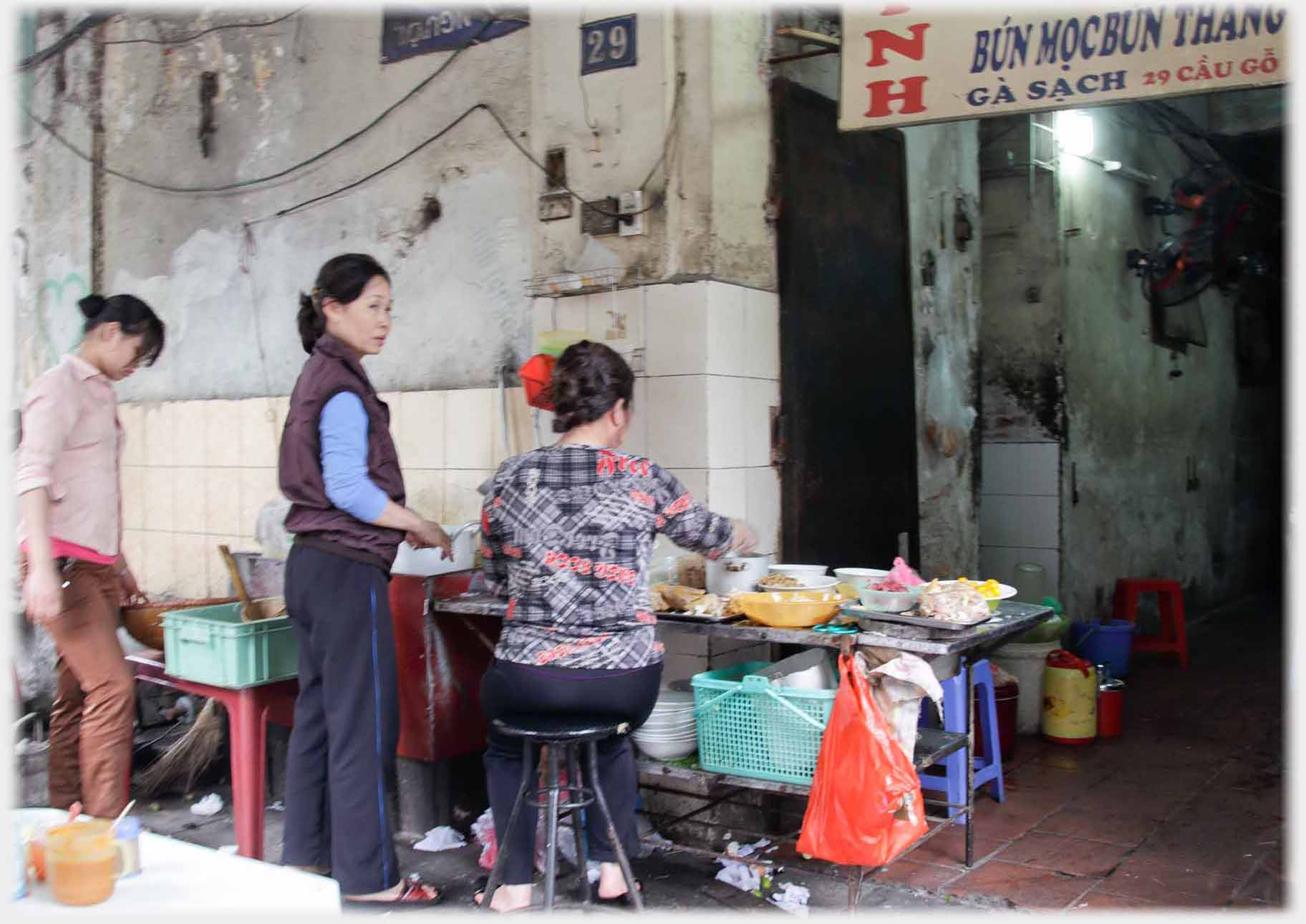 Vietnamese like the food they eat (at normal or wayside cafes) to be dispensed in full view; and again in full view...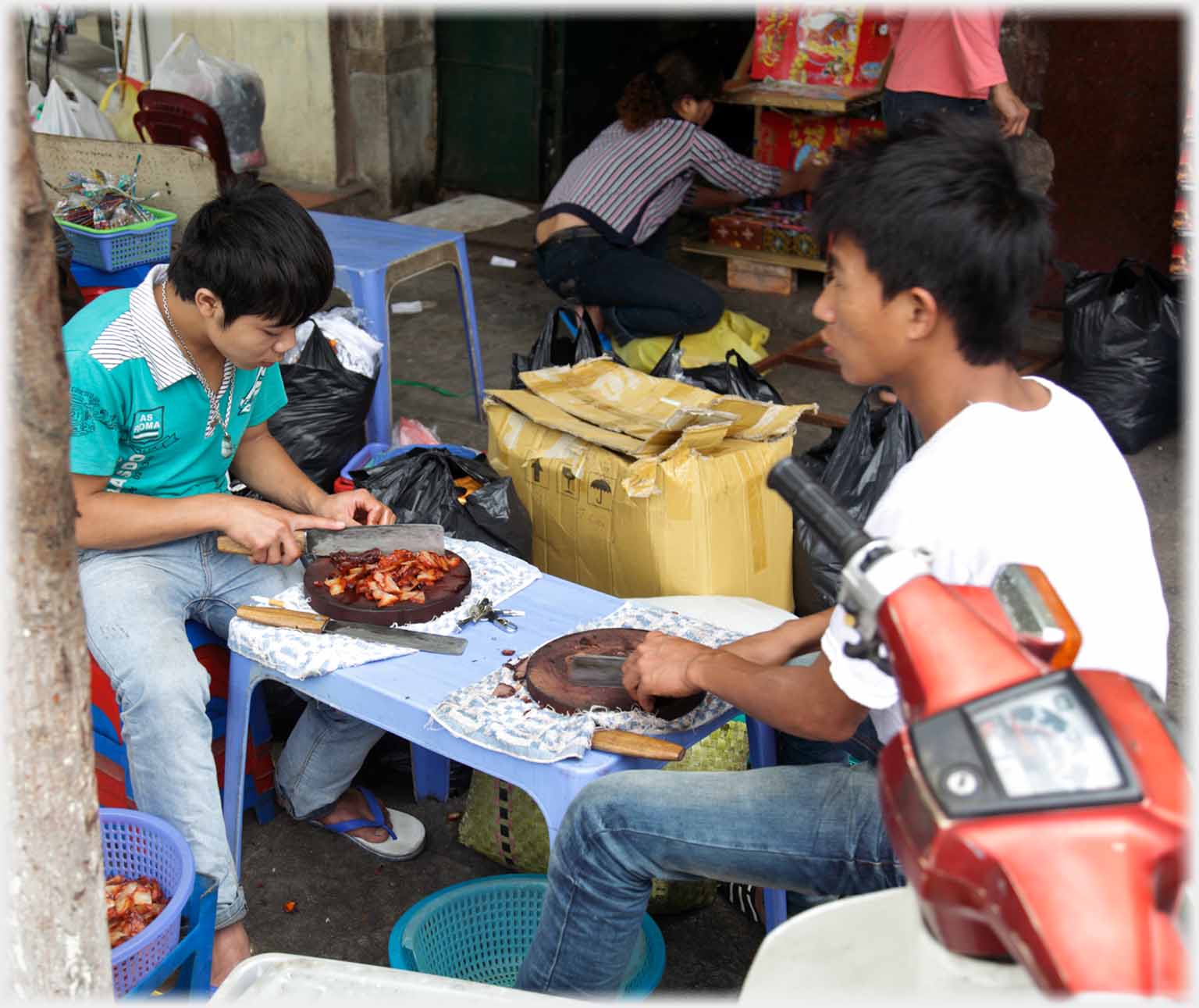 ...meat being cut with cleavers. Has 'white-tee-shirt' all the concentration one might wish for his actions!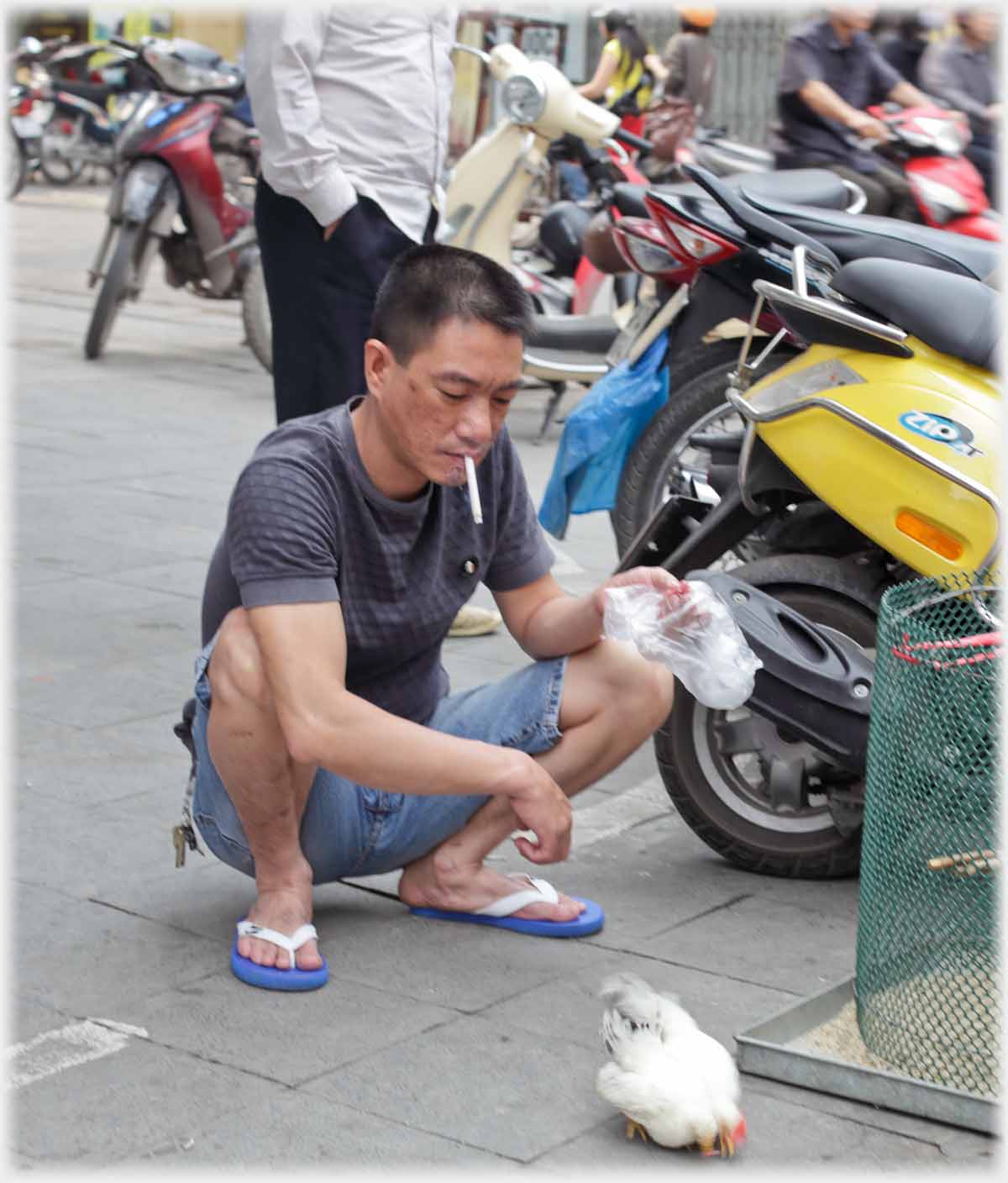 A pet hen? Or for the pot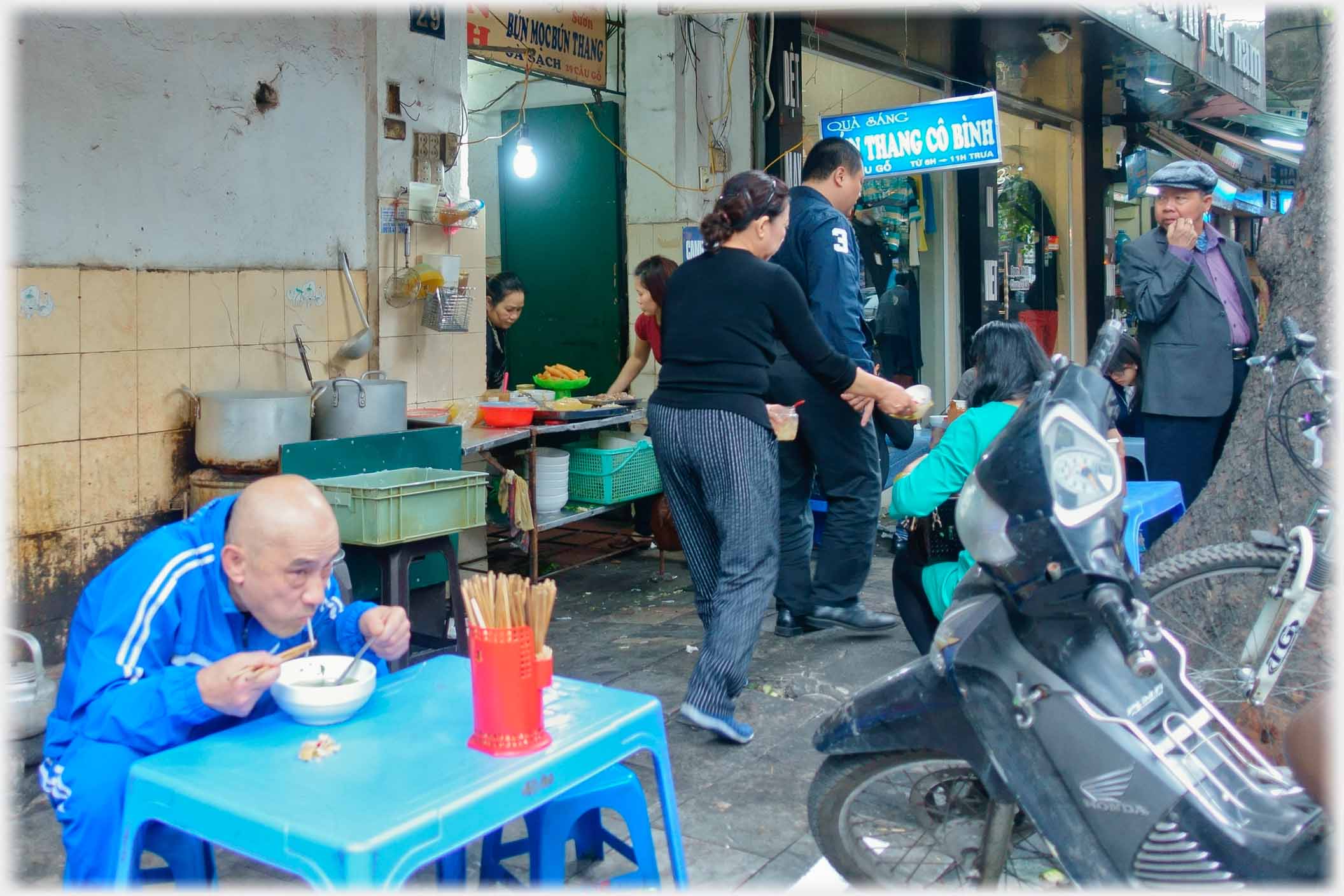 There really is no alternative with noodles - they must be slurped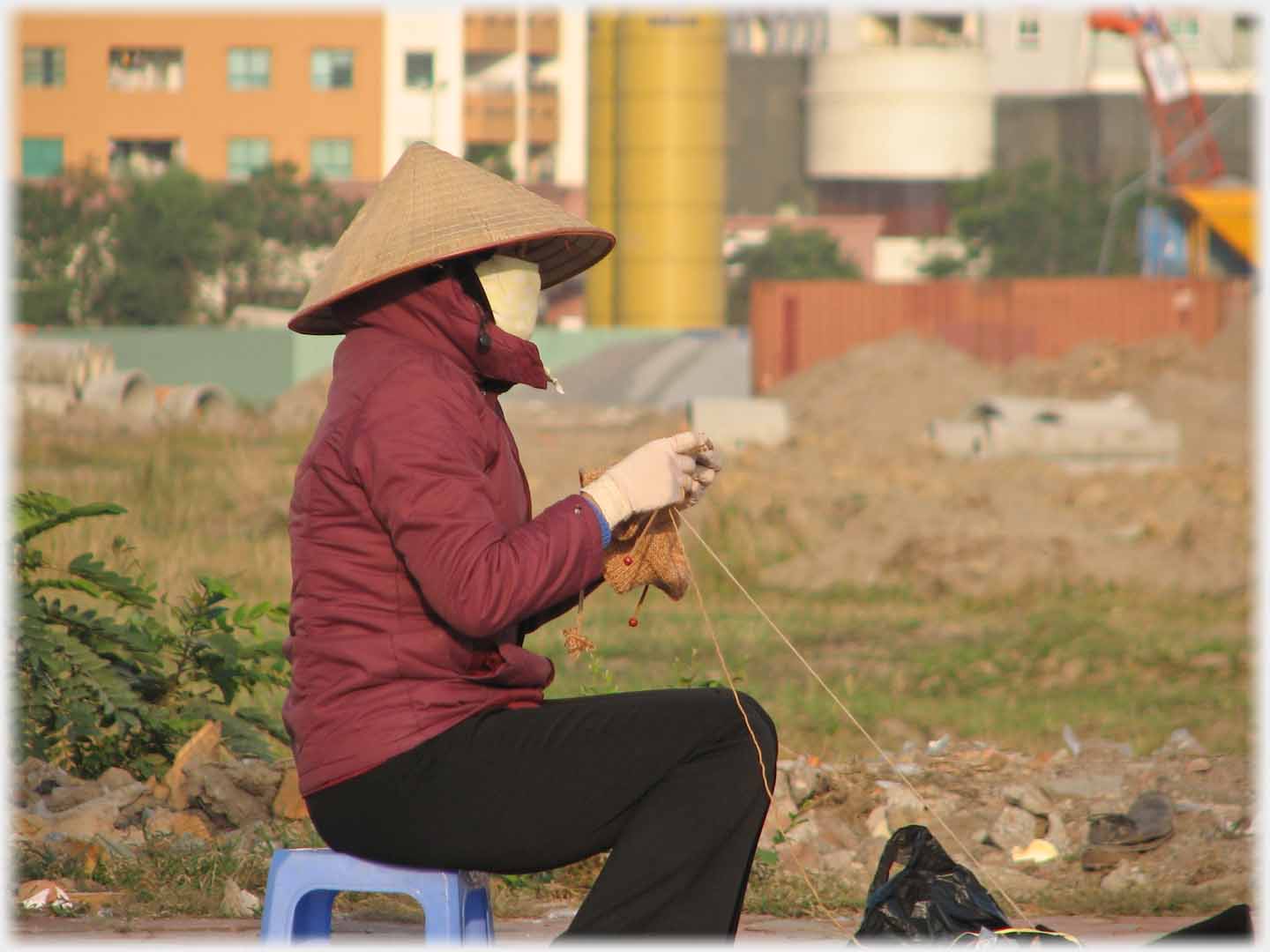 A photo which tells many stories. A woman's hat tops out her totally covered body (against the sun, not the human eye) she is occupied both by selling her wears and producing more goods; settled on her stool beside the street, as is so universal in Vietnam,
nd with a backdrop of modern flats
Trailers...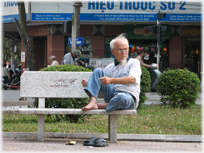 The next page has more candid shots from Hà Nội - featuring even less activity.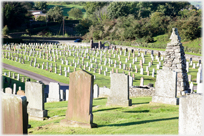 The next page of the Mosaic Section is headed 'Life Stories'.
Or go to the contents

Go to the contents of the Mosaic Section.

of the Mosaic Section.