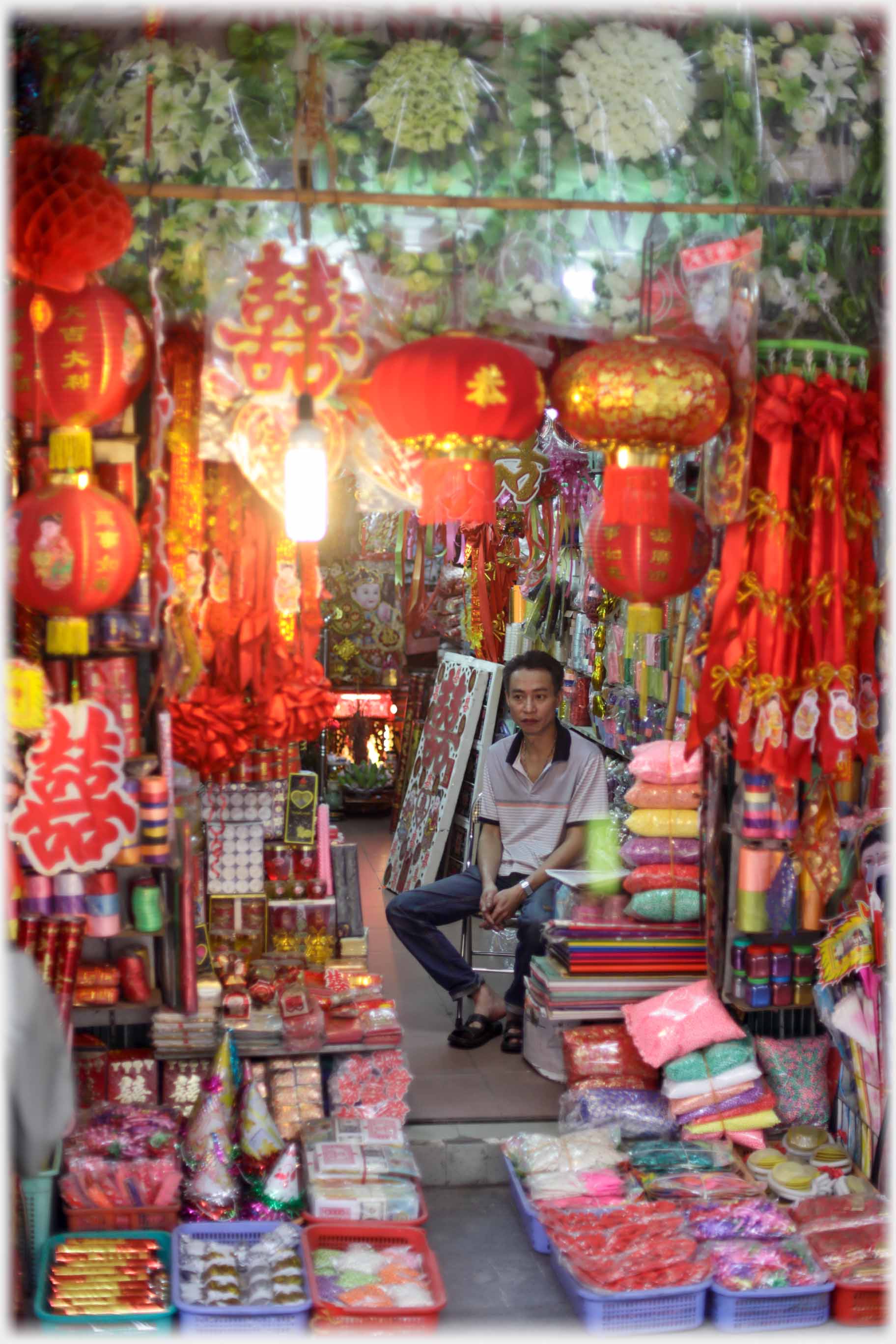 The art of the shop as a cave of delights
After all those varied ways of selling goods, this page turns to the most familiar - shops. The shops of Hà Nội's Old Town offer endless fascination for the visitor. Famously the streets have specialist lines: ironmongers, decorations, stationary. But it is their density that is so memorable, this is due to one overriding consideration: any building abutting a thoroughfare is sold primarily on the basis of the width of its frontage. Three and four metres are the commonest, but two metres is seen, and rich businesses may extend to six or eight metres. While every centimetre of the width may be worth thousands of any currency, the depth, the distance back from the street, is almost immaterial; many shops go for great distances in accord with the 'Tube Houses' that can be hundreds of metres deep. Inevitably the word 'shop' has a wider definition than in some countries, for the distinction between making, mending, re-purposing and selling is not one the the Vietnamese find important.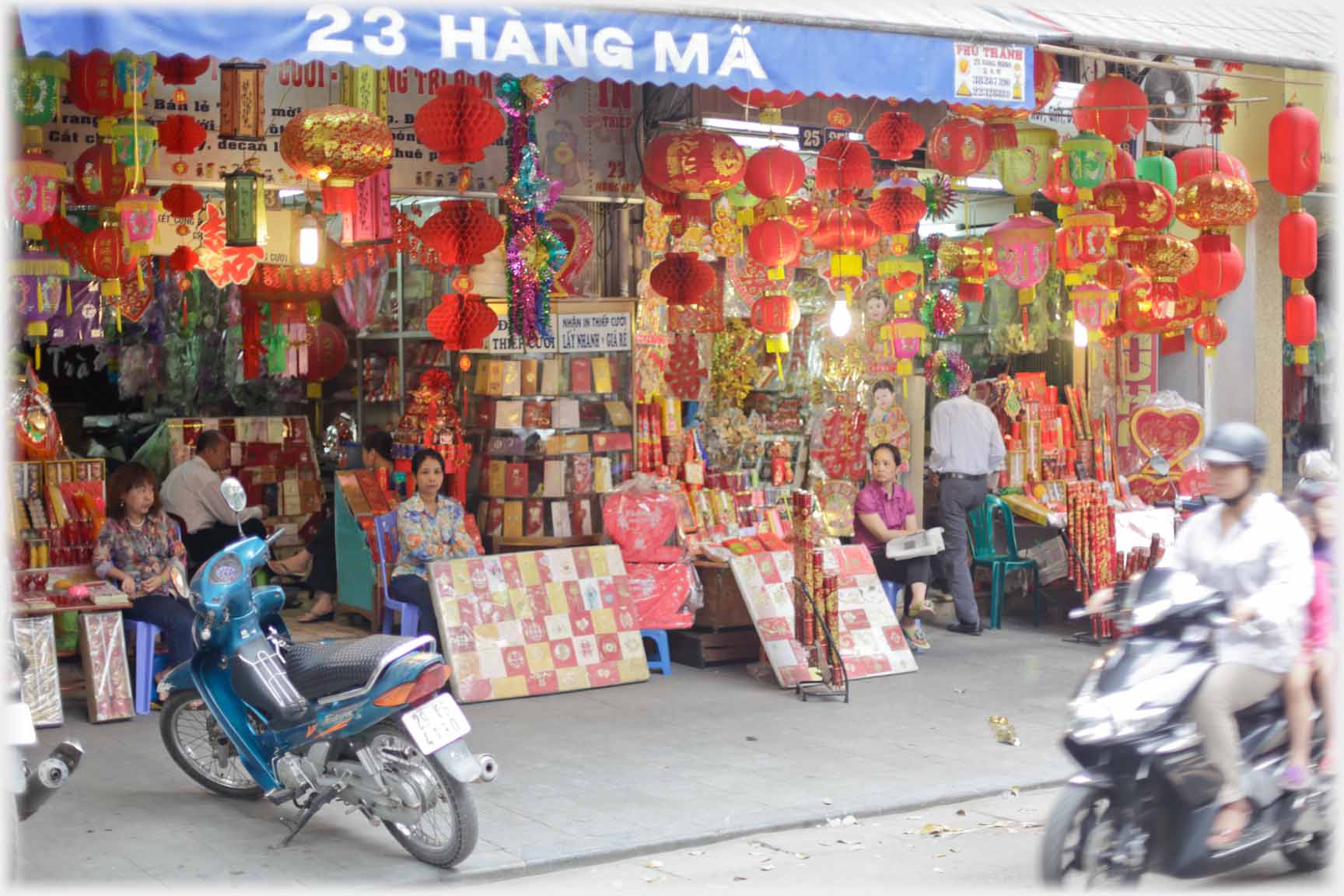 These first photos are of shops which concern themselves...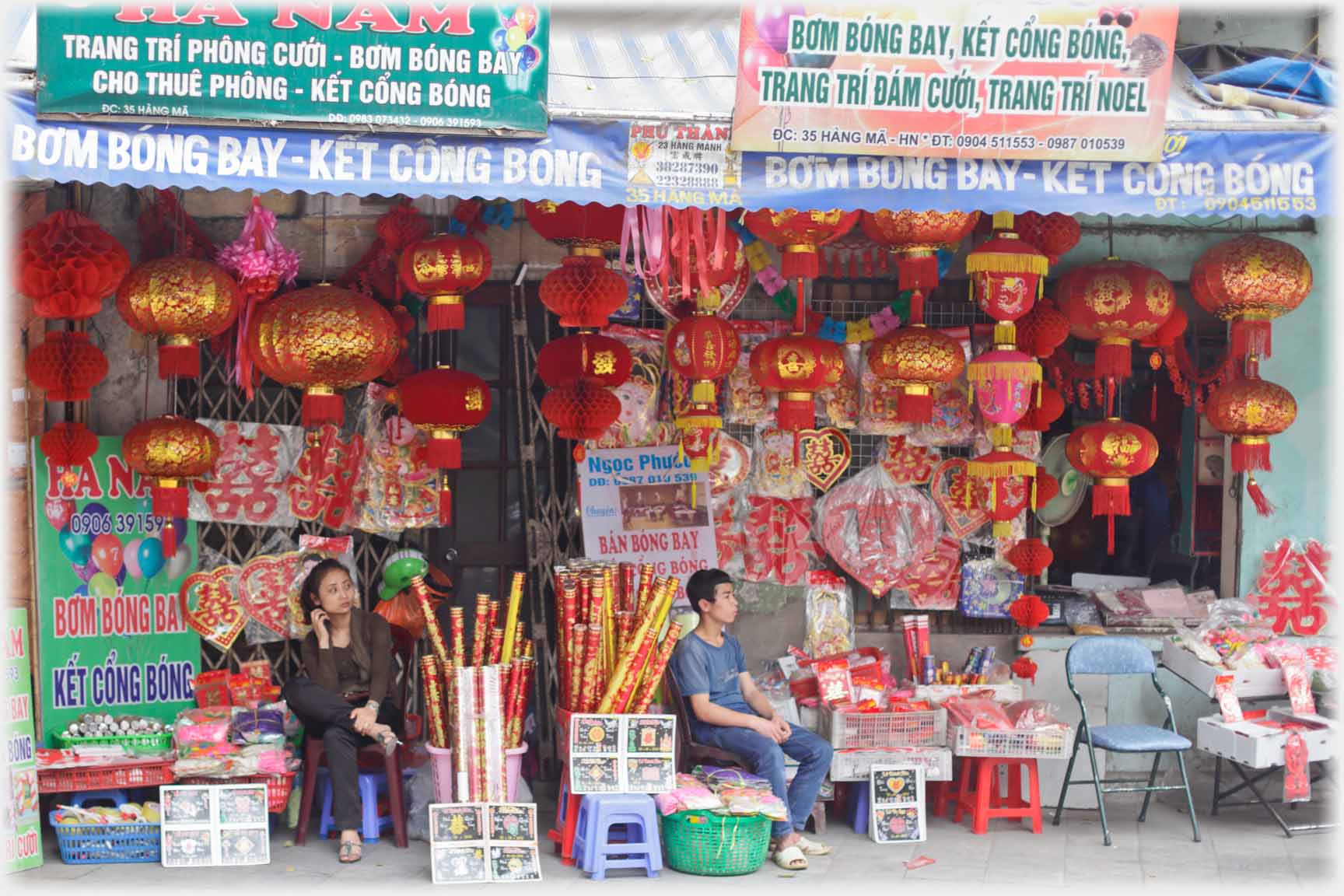 ...with the accoutrements of festivals and weddings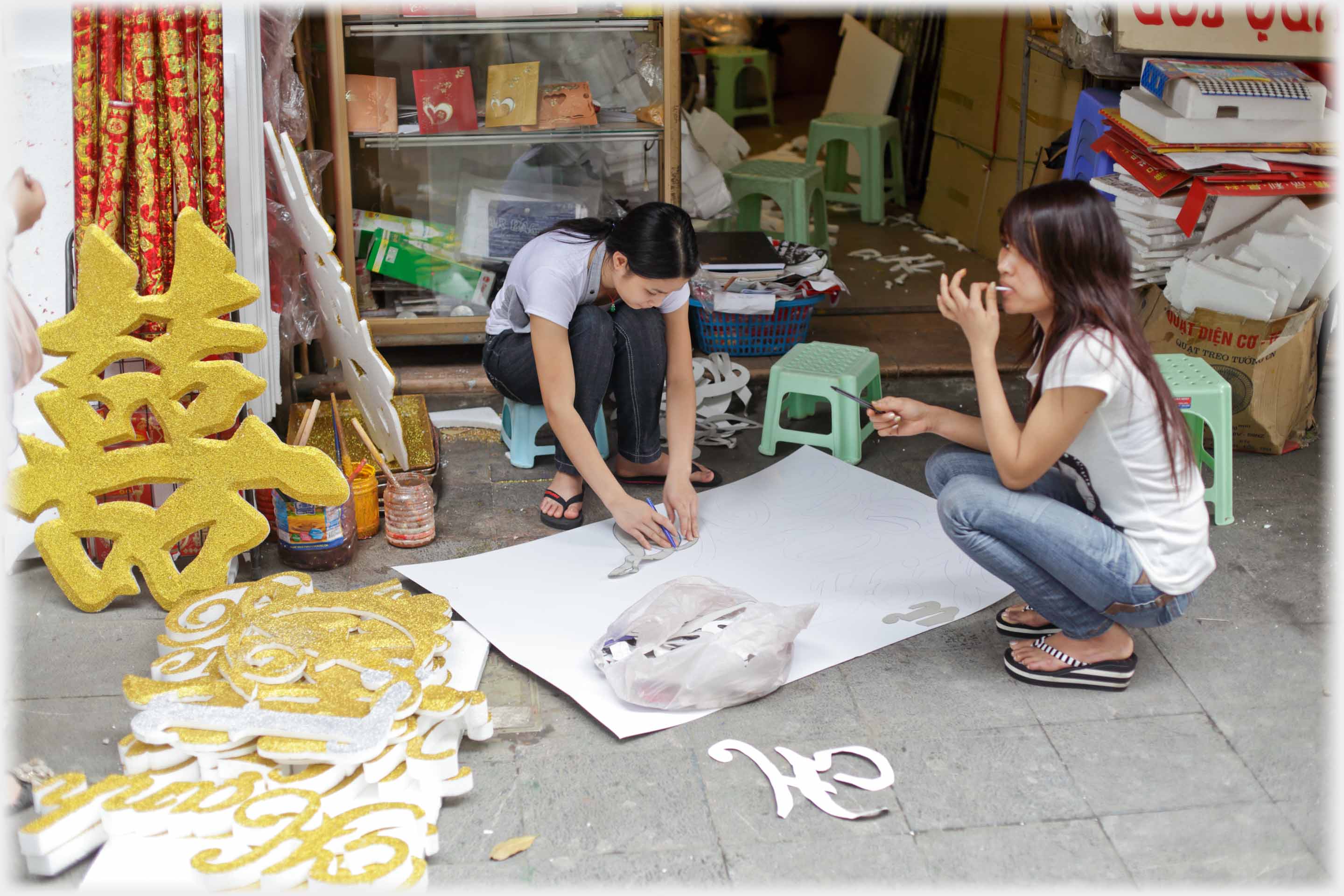 A common example of how production and selling merge in Vietnam. These assistants use the pavement outside the shop to make up cut-out characters denoting weddings - not that they, or their customers, can actually read the Chinese script, any more than you or I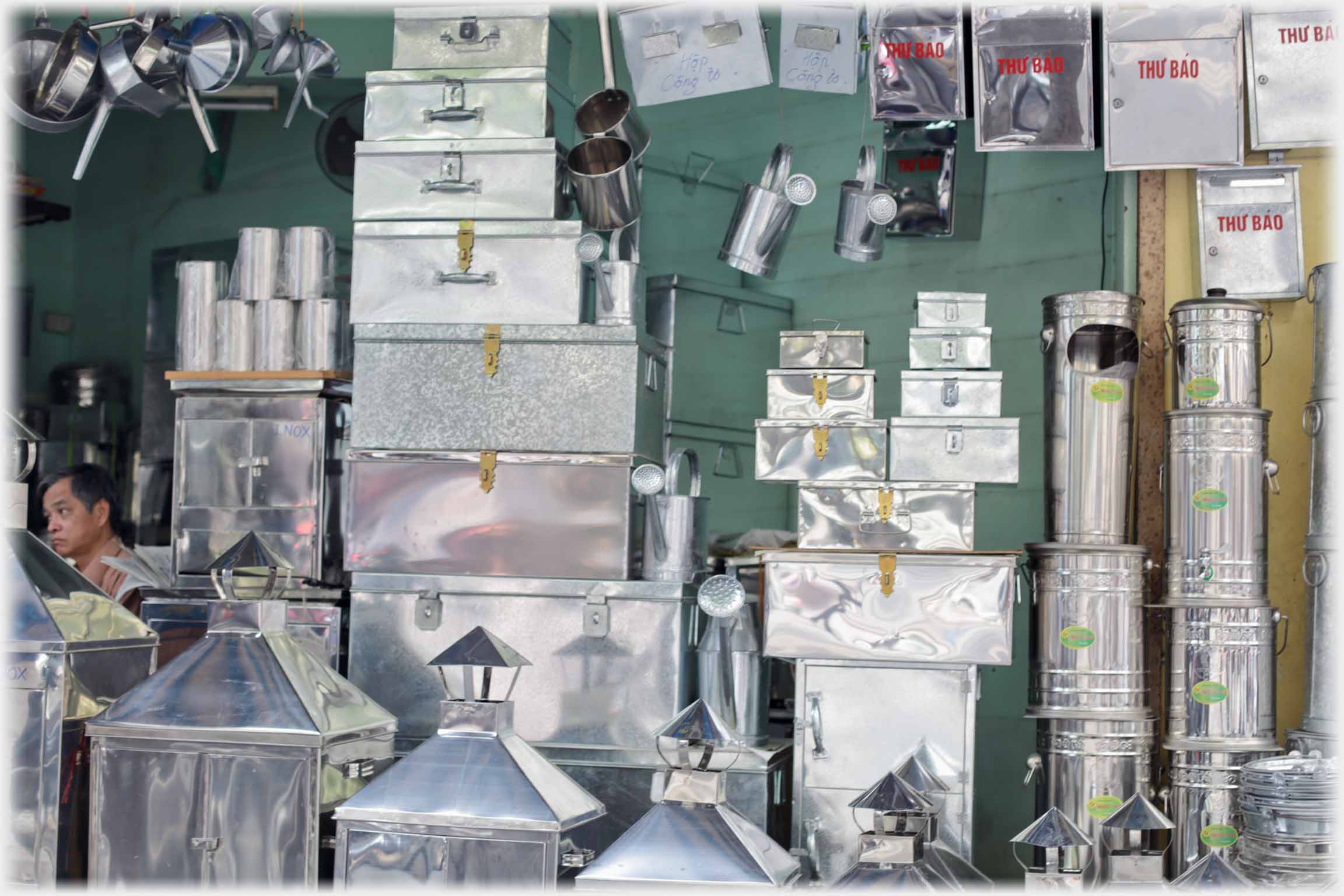 Above, some of the metal wares that shops can provide: 'letter boxes' (top right of the photo). Right, also in the metal products street, a blacksmith hammers on an anvil next to the shop shown in the picture above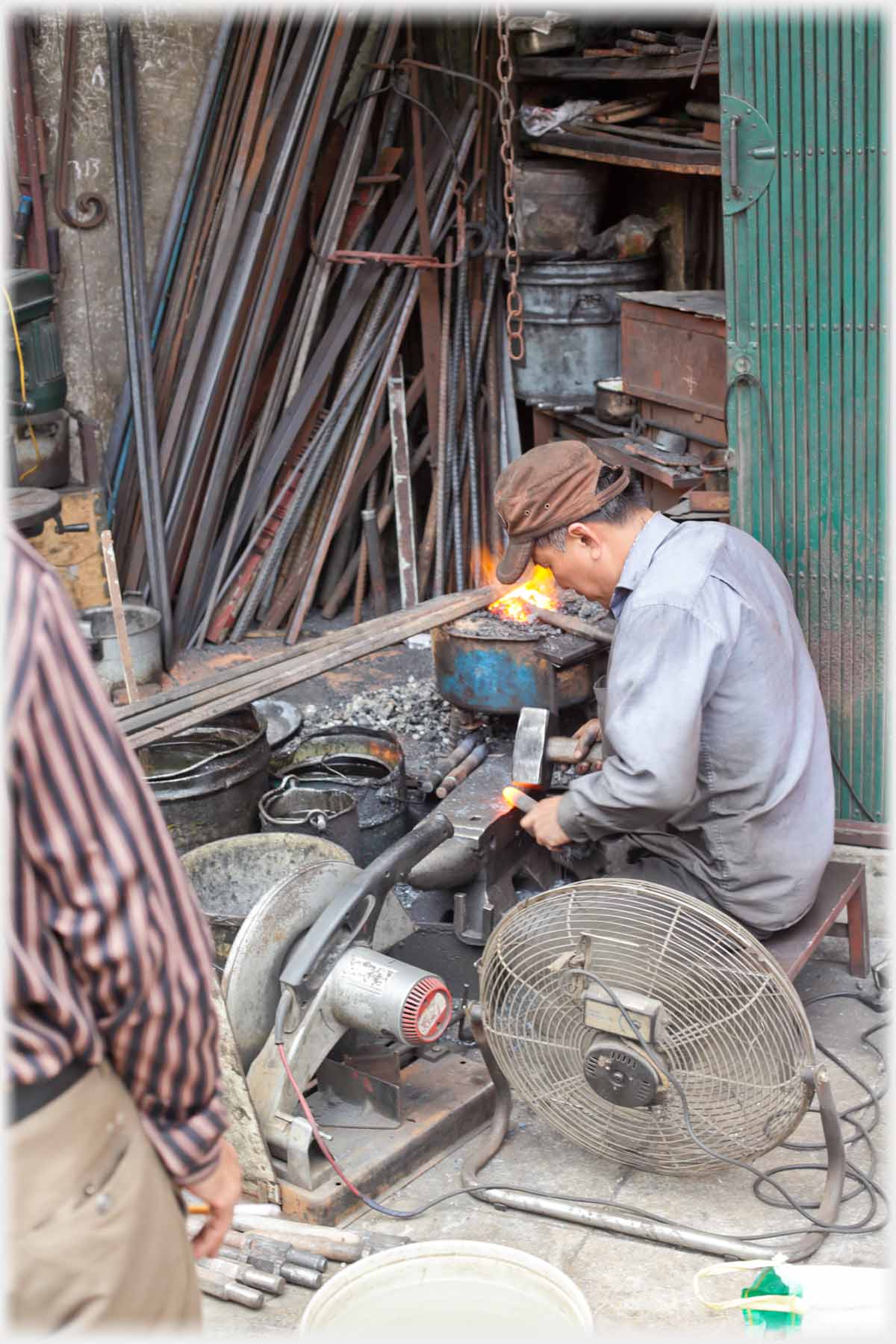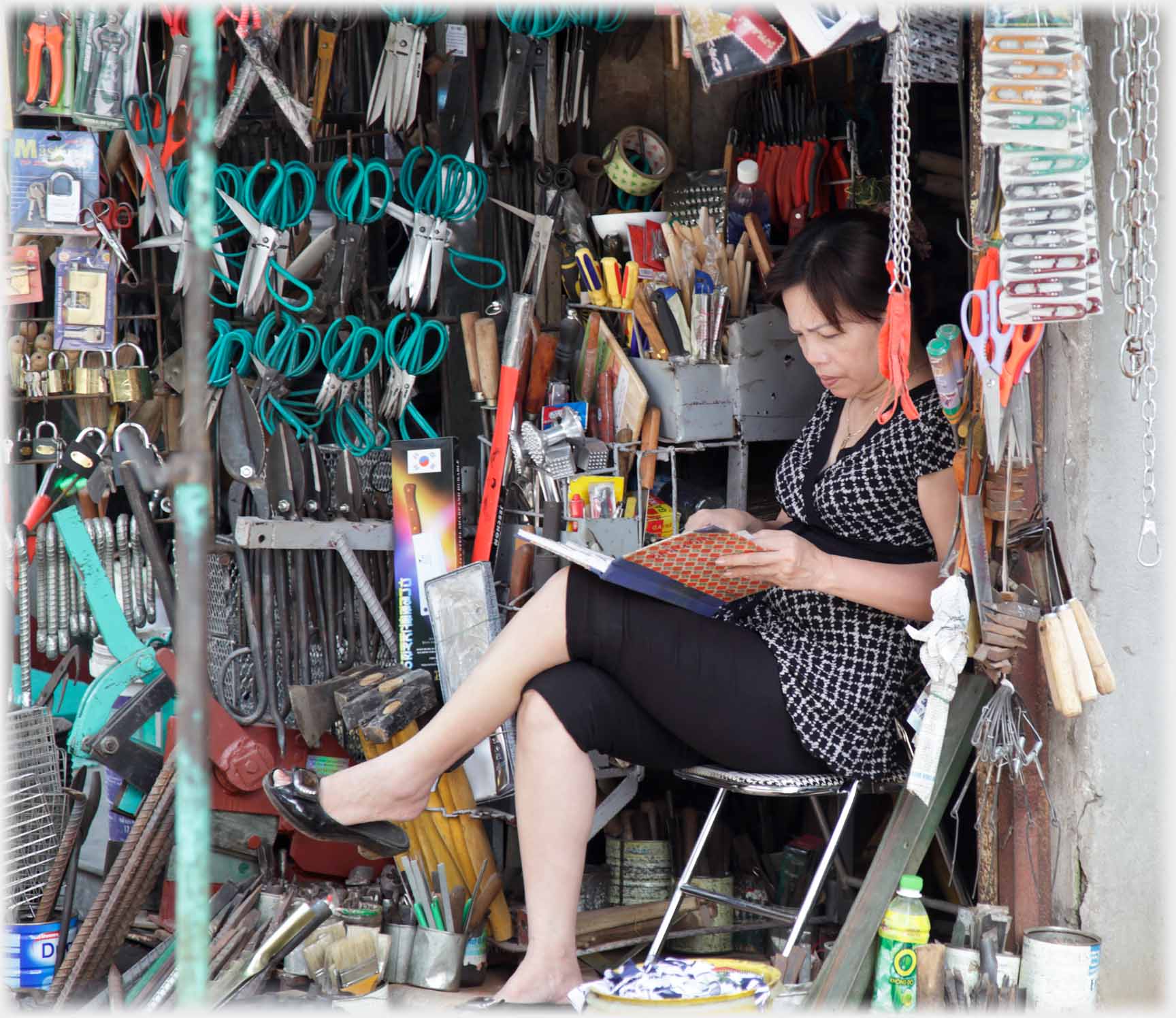 Studious scissor sales - most likely an accounts book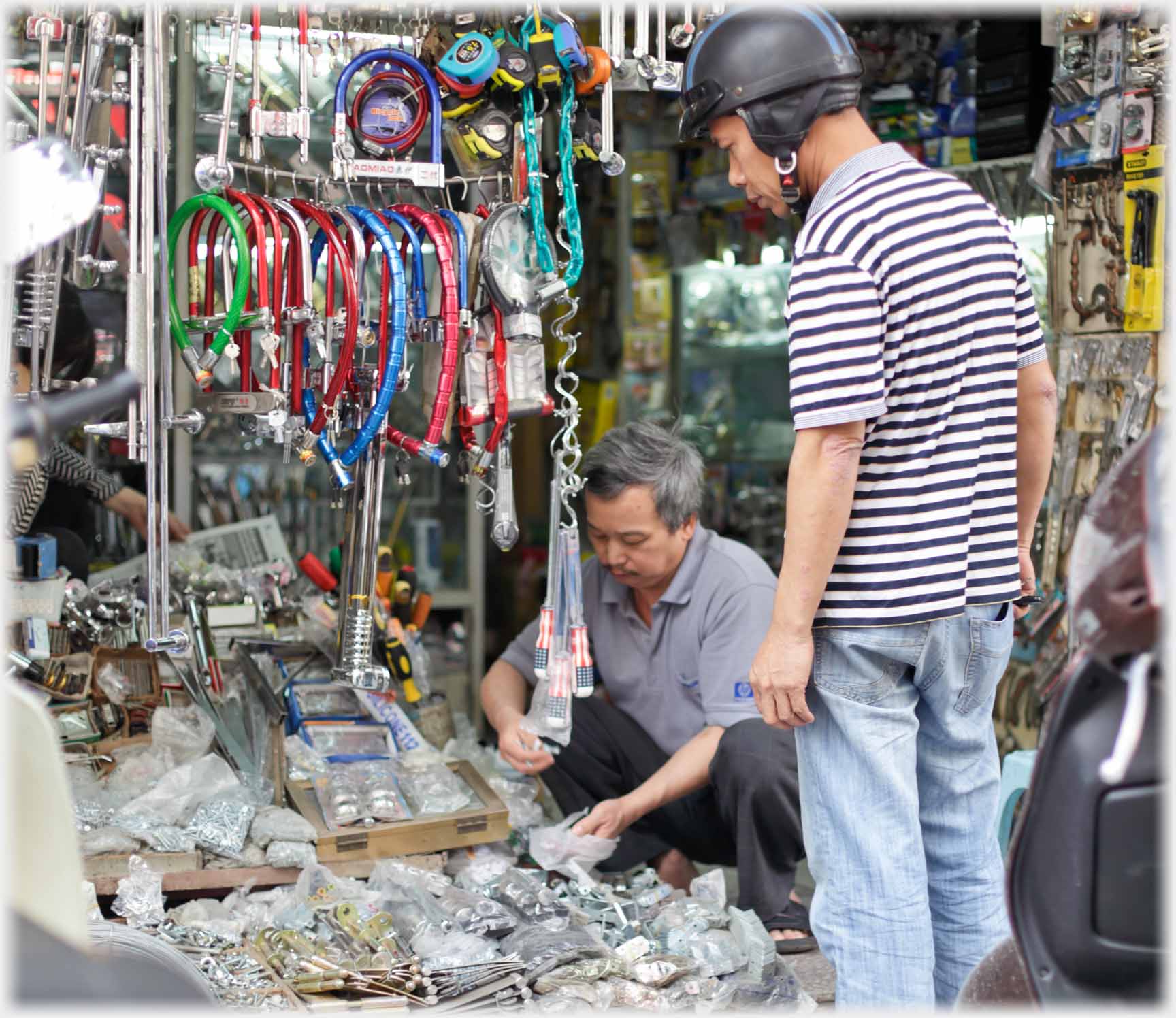 Bolts from an ironmonger being dispensed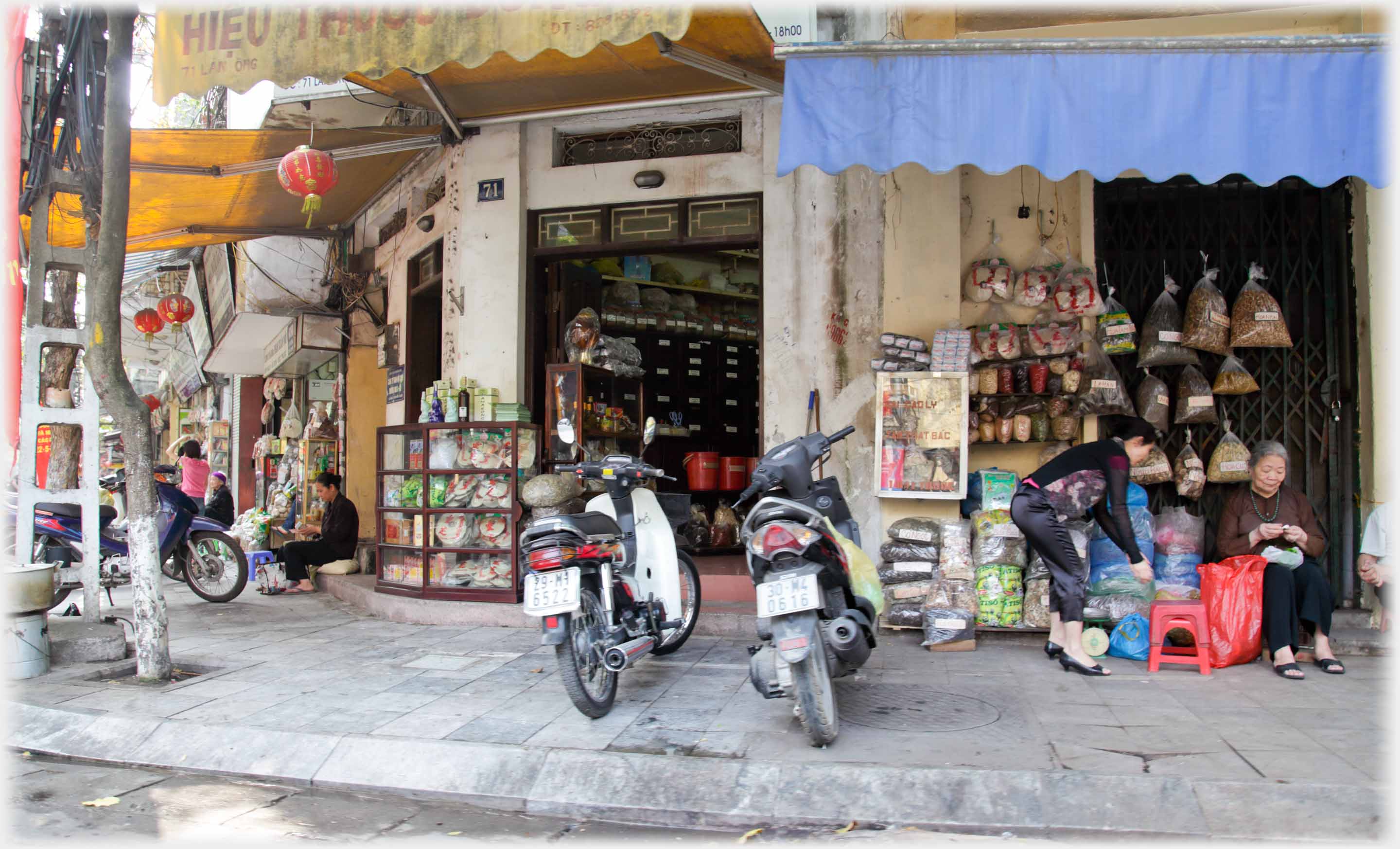 Many features of shops in the Old Town of Hà Nội are demonstrated on this corner. Shopkeepers sitting with some task (or telephone) at their door; motorbikes parked to provide maximum obstruction on the pavement; display cabinets to deter insects; a shuttered front wall used to hang the goods for sale; trees and electric pylons growing from the new pavements, and other assistants busying themselves around the shop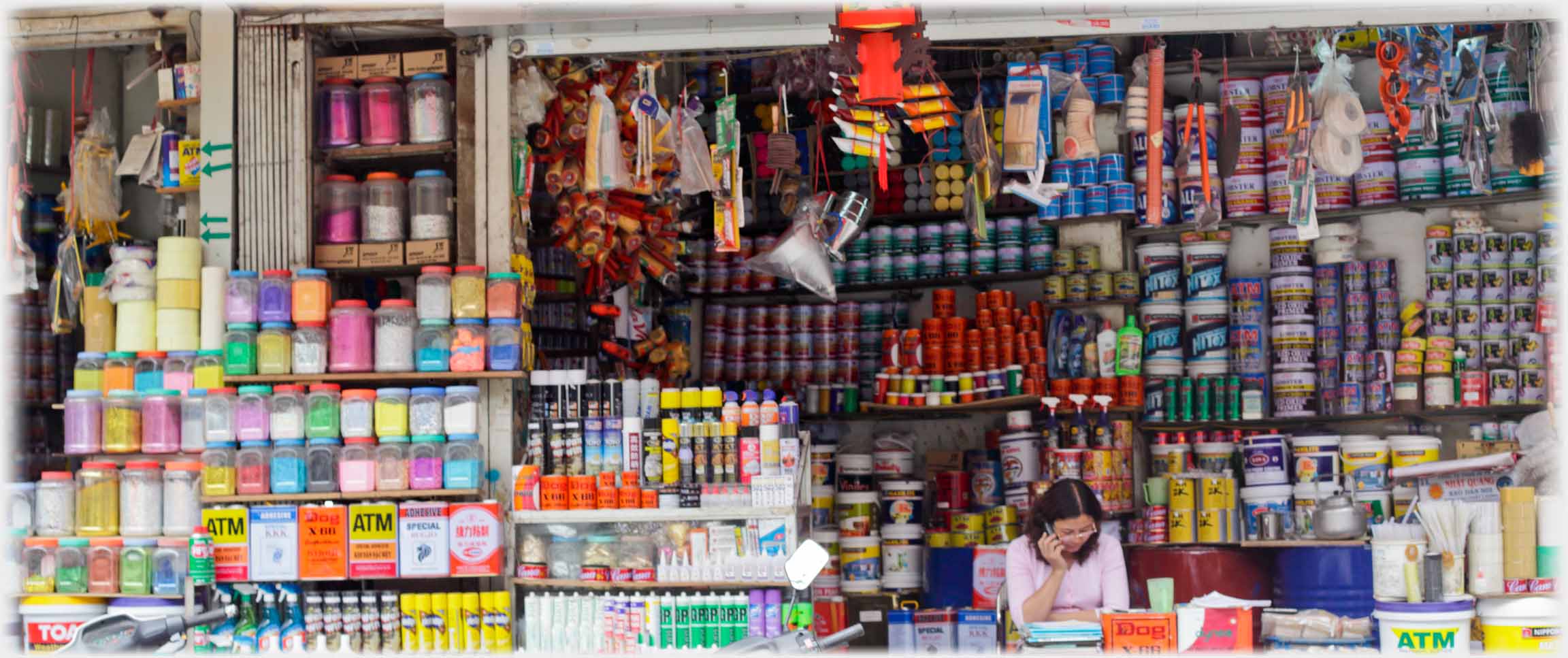 A shop of paints and dyes...
...and another of gas hobs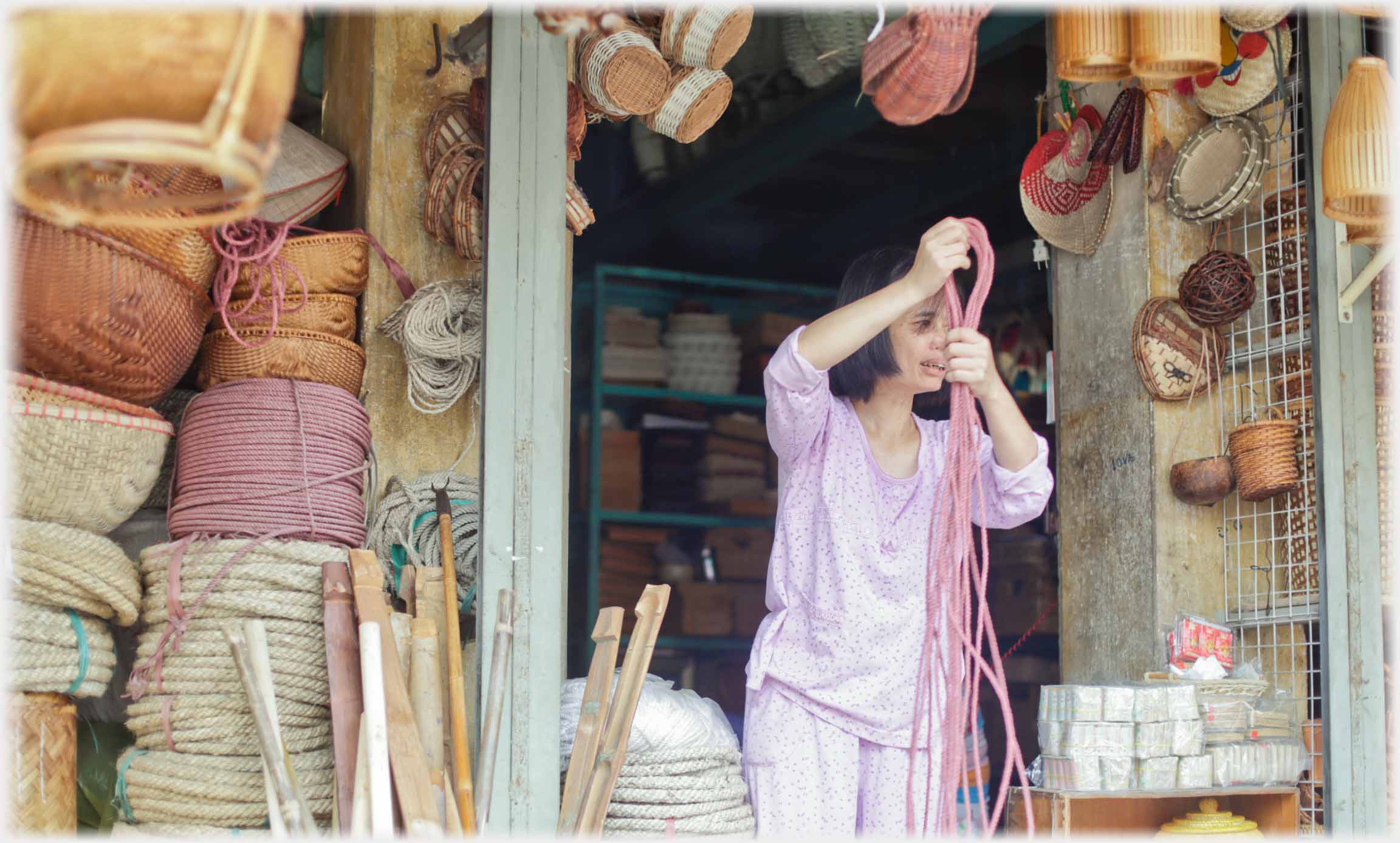 ...one of ropes and baskets...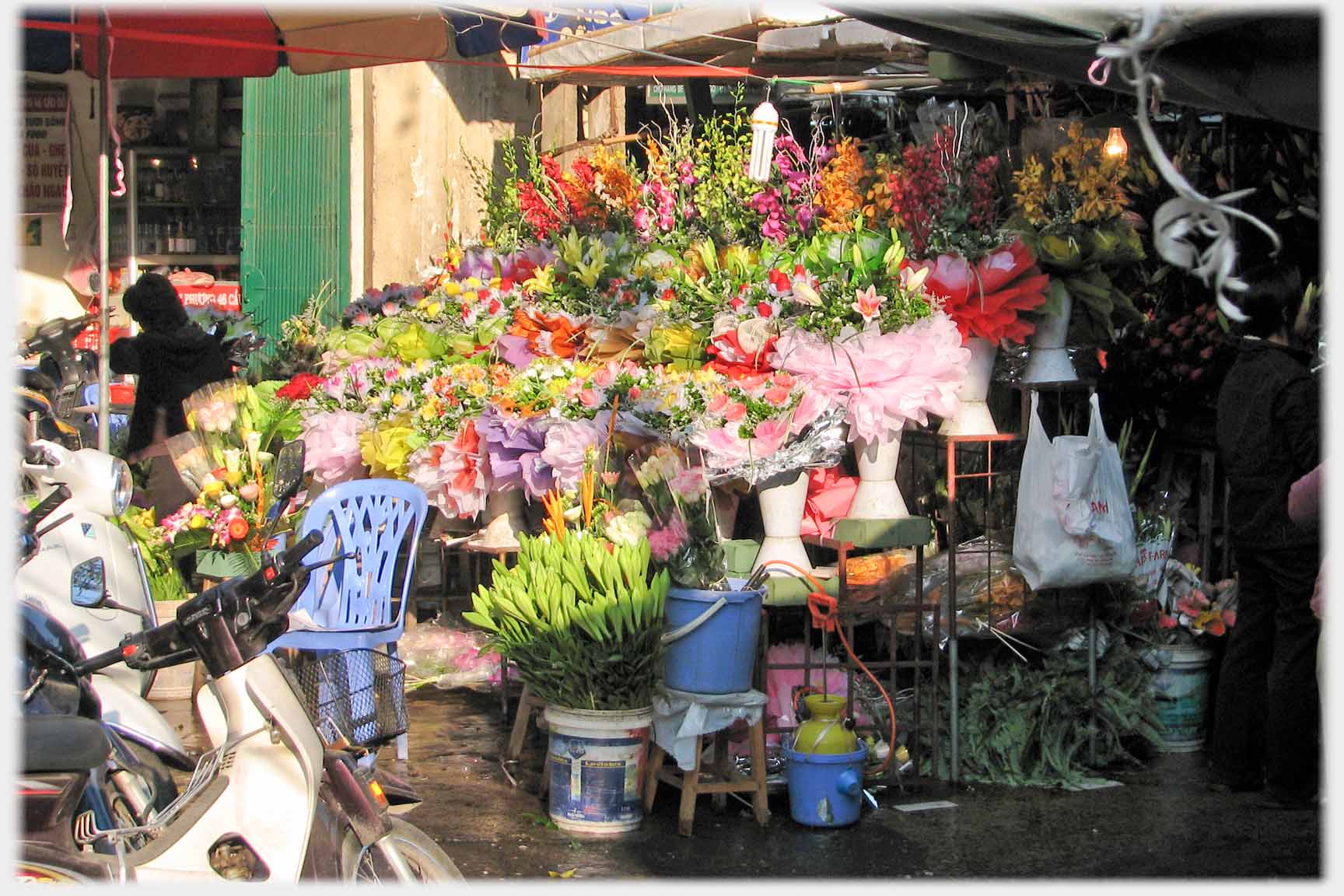 From hardware to a flower shop - a display that is renewed daily. The Vietnamese are great givers of flowers and vast quantities are sold
In clusters, or interspersed between shops, come the cafes. This typical one is selling the national breakfast (Phở), as well as sticky rice, charging around £0.70 ($1) a bowl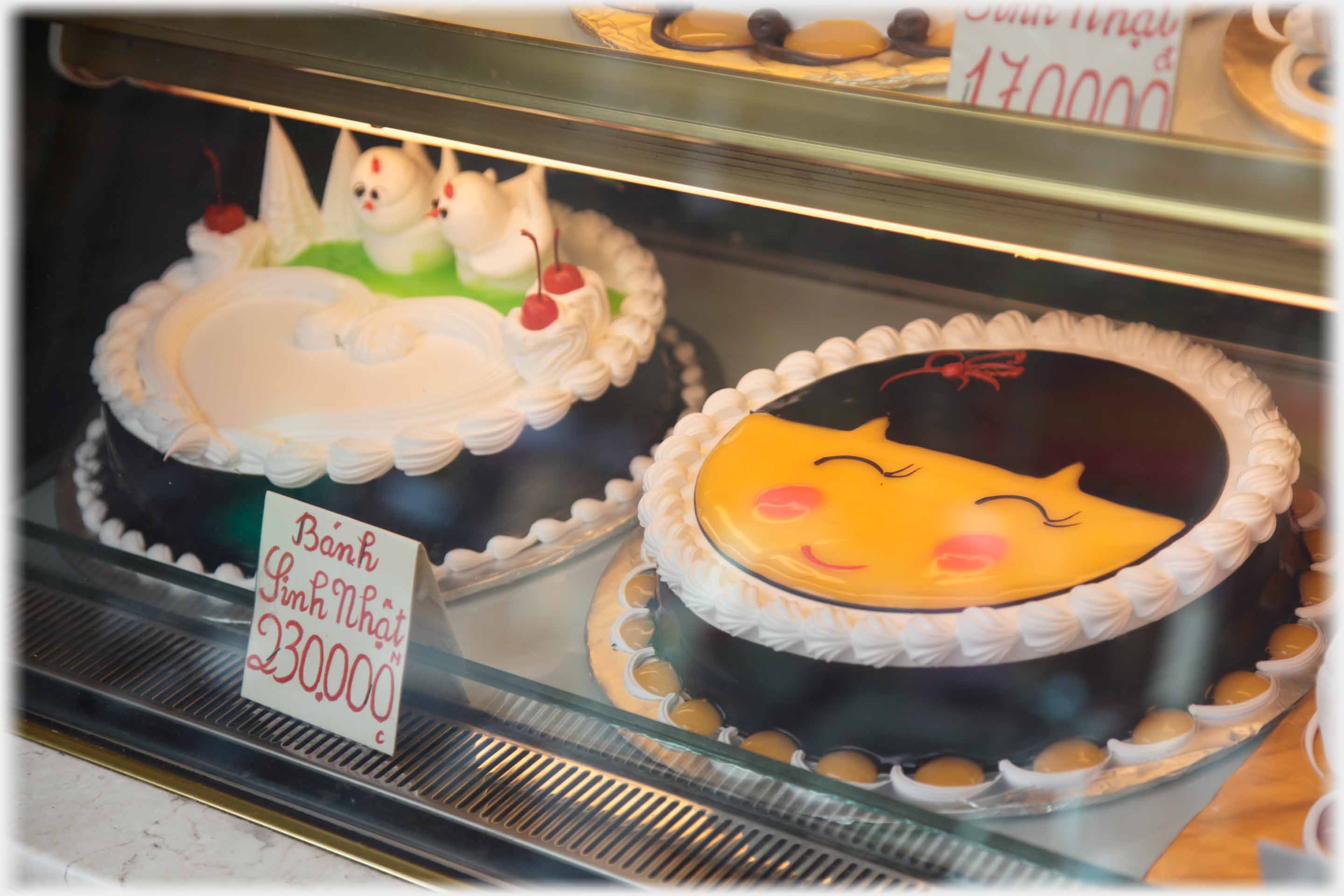 Two very individual cakes on display offering a bespoke service for around £8 ($12)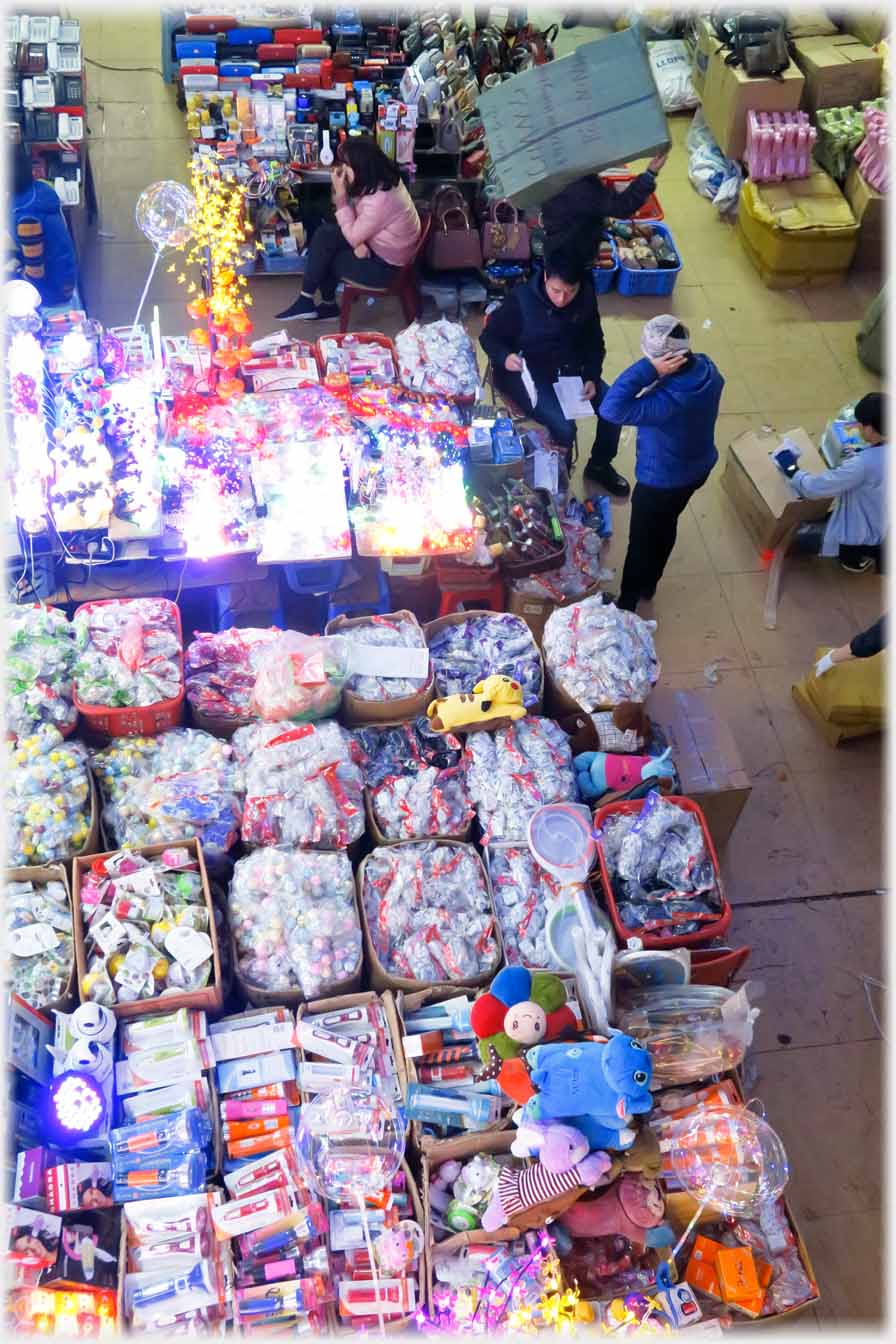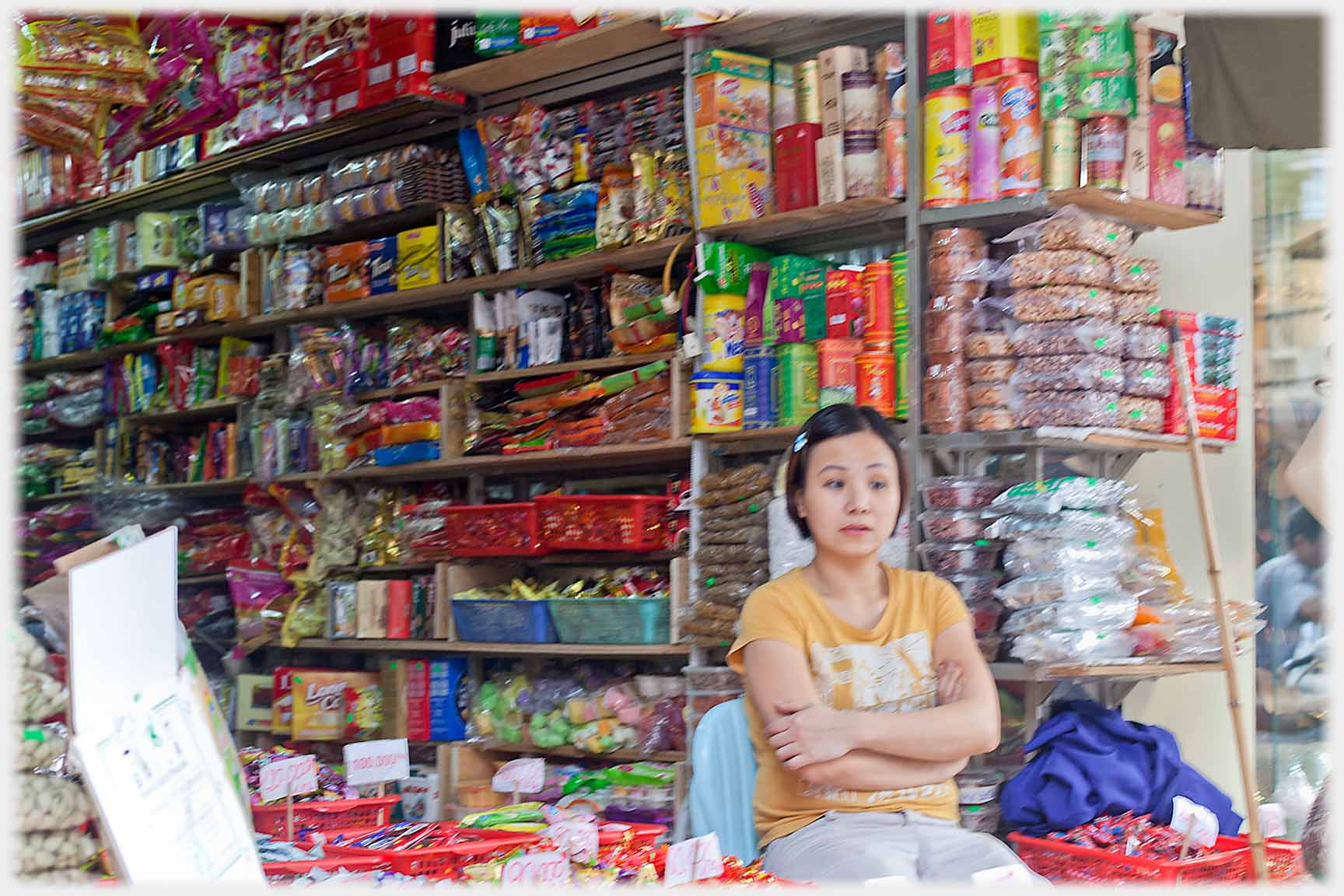 Even less nutritious food. The Vietnamese tooth is not as sweet as some, nevertheless, such shops are not hard to find. It is left to markets and hawkers to supply fresh food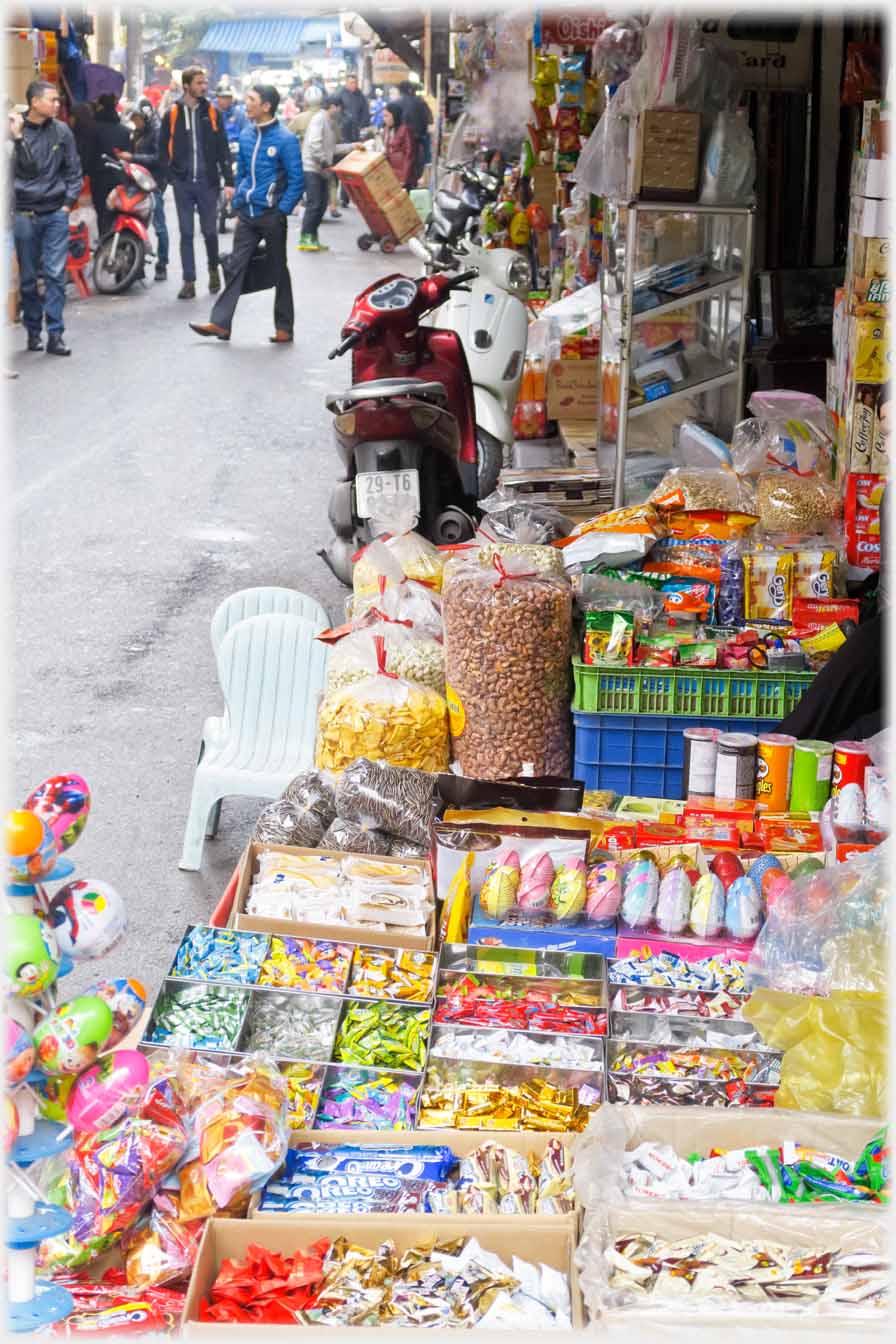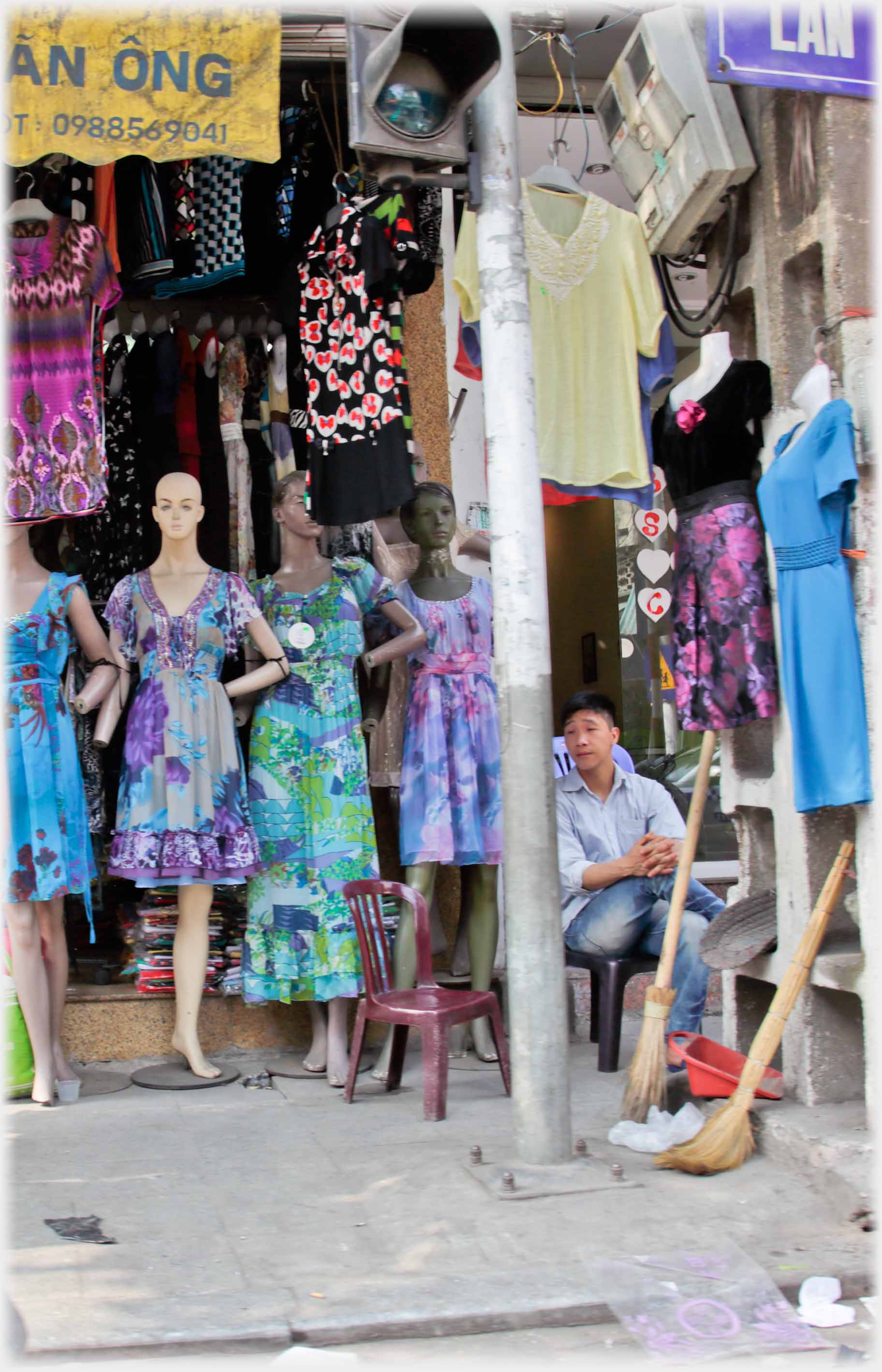 Manikins usually come in western sizes, often leading to bizarre displays towering over their customers; but missing legs and hands are not standard models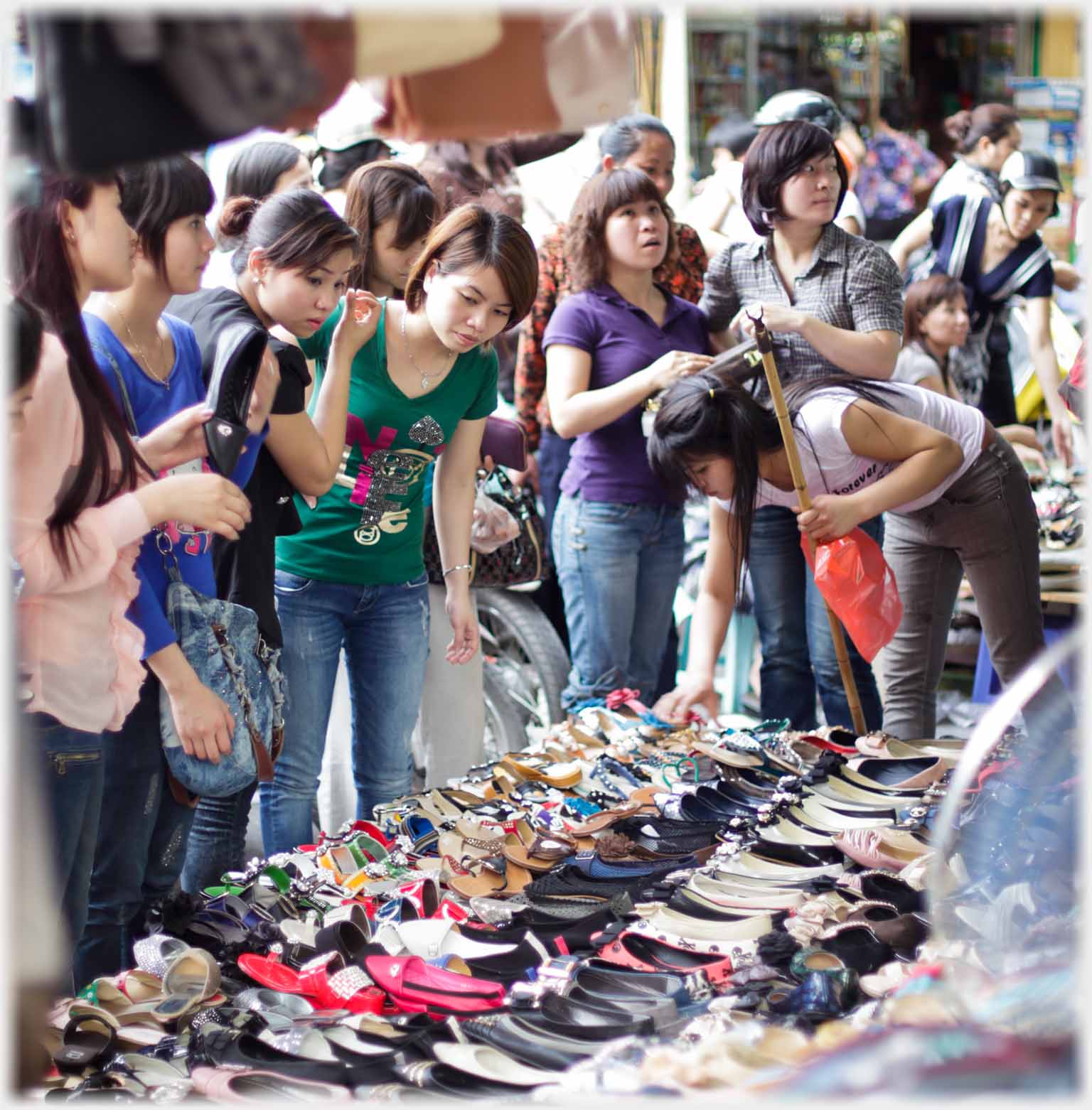 Bargains are in the air here, with the customers almost anxiously looking up to check if the price
can really be true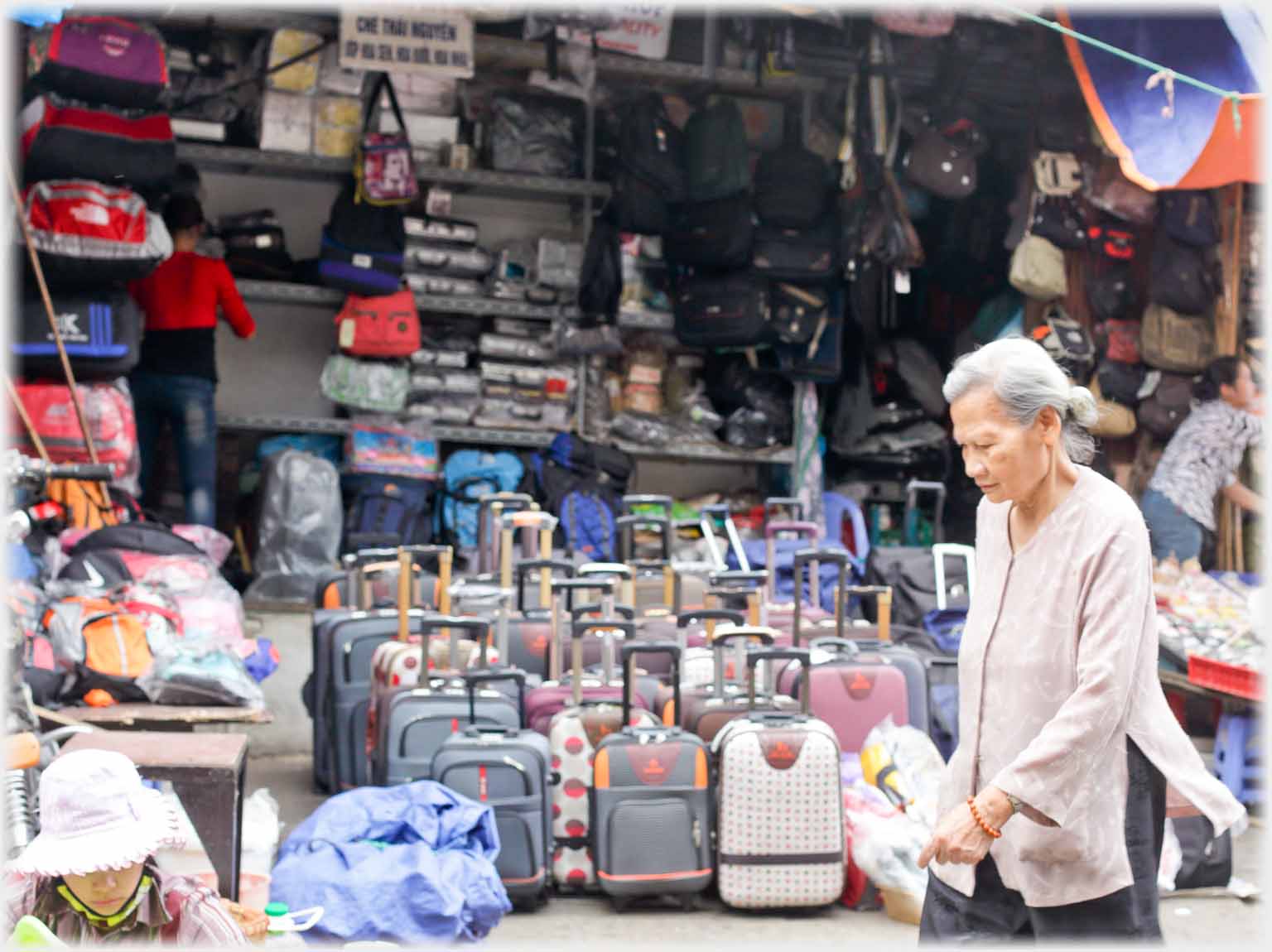 And then bags to put all those clothes into; as a local woman hurries past with no need of airline luggage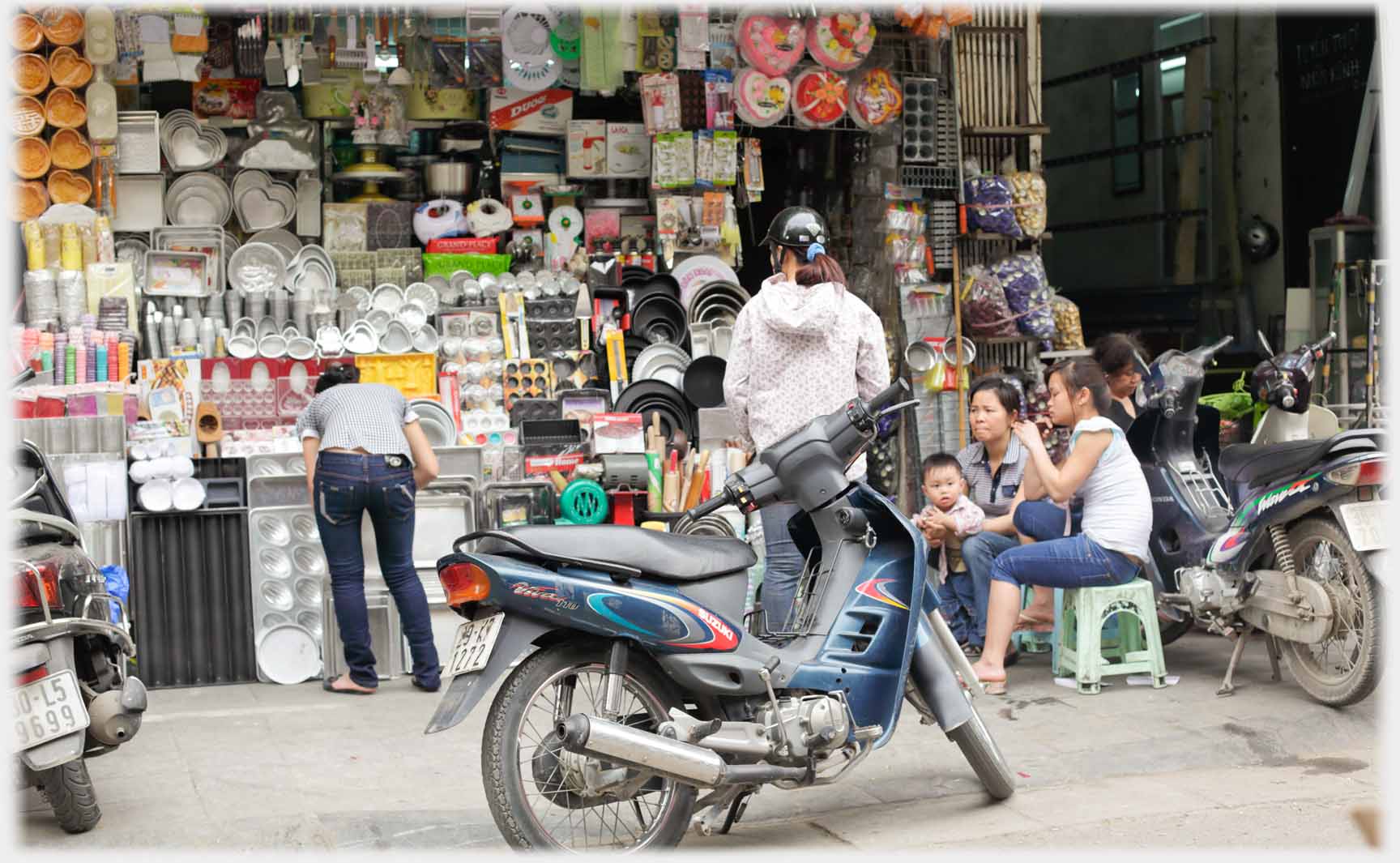 Two shops with, as is customary, carefully arranged and extensive displays...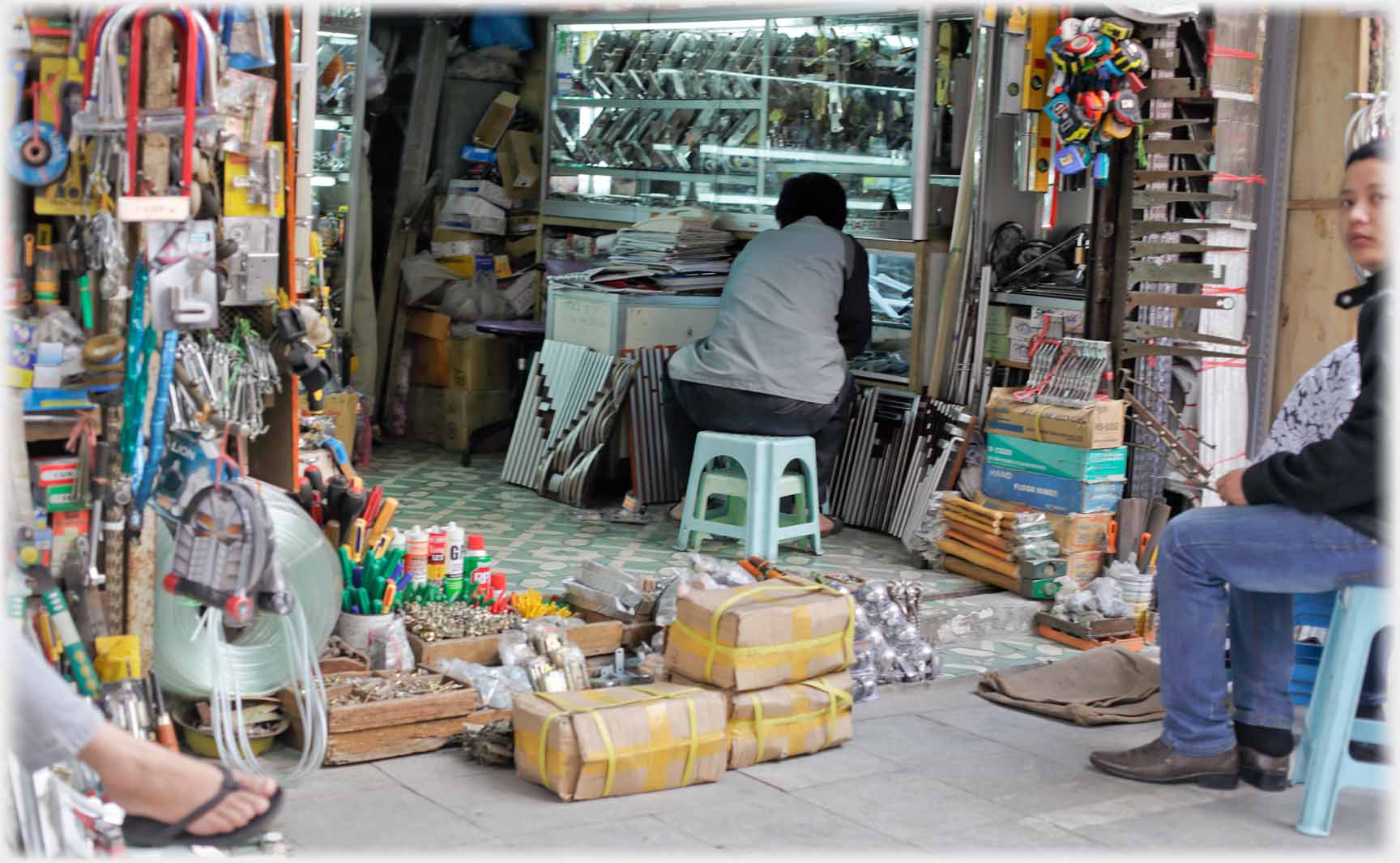 ...but around this care life seems to dump its motorbikes and parcels indiscriminately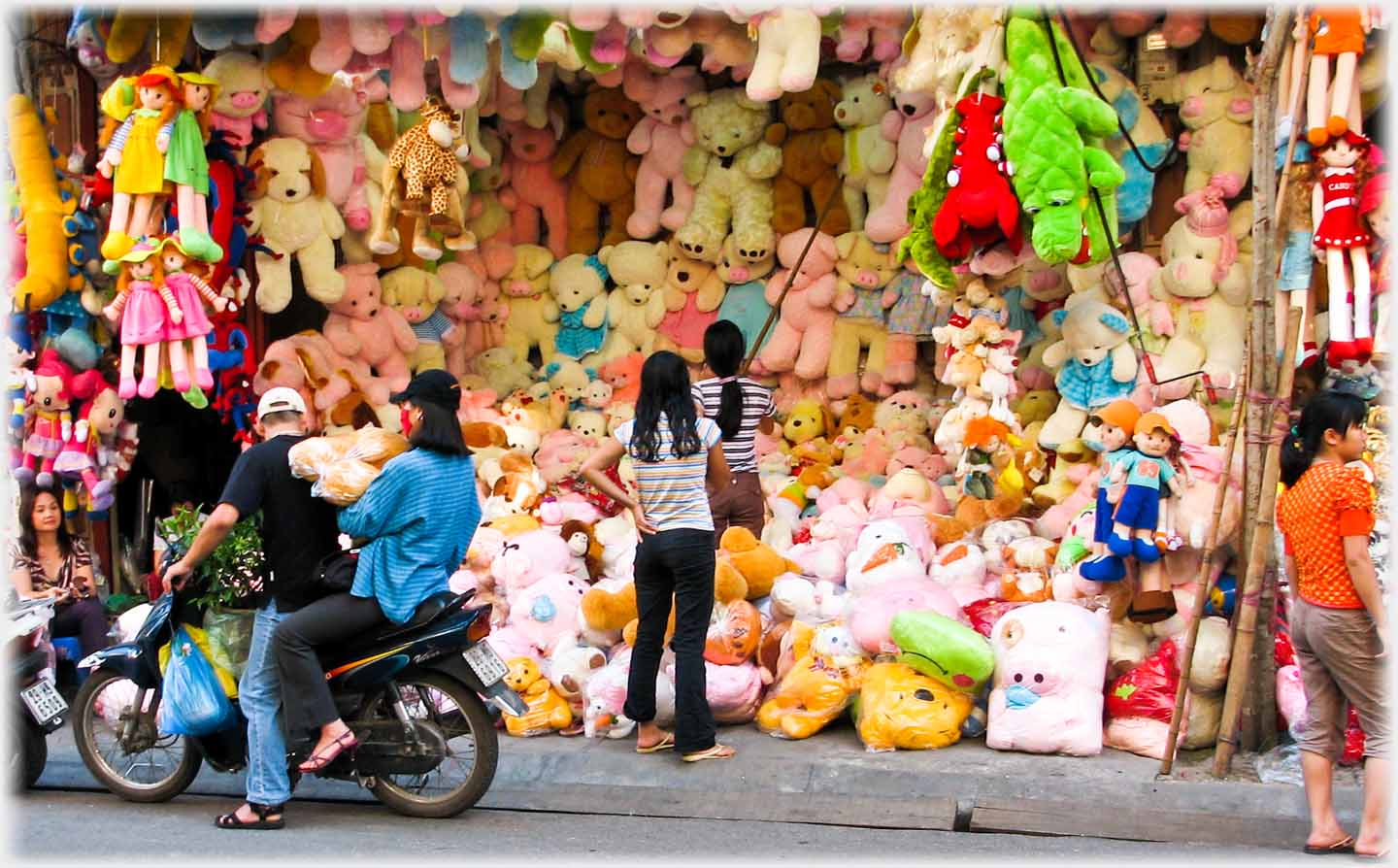 A bear shop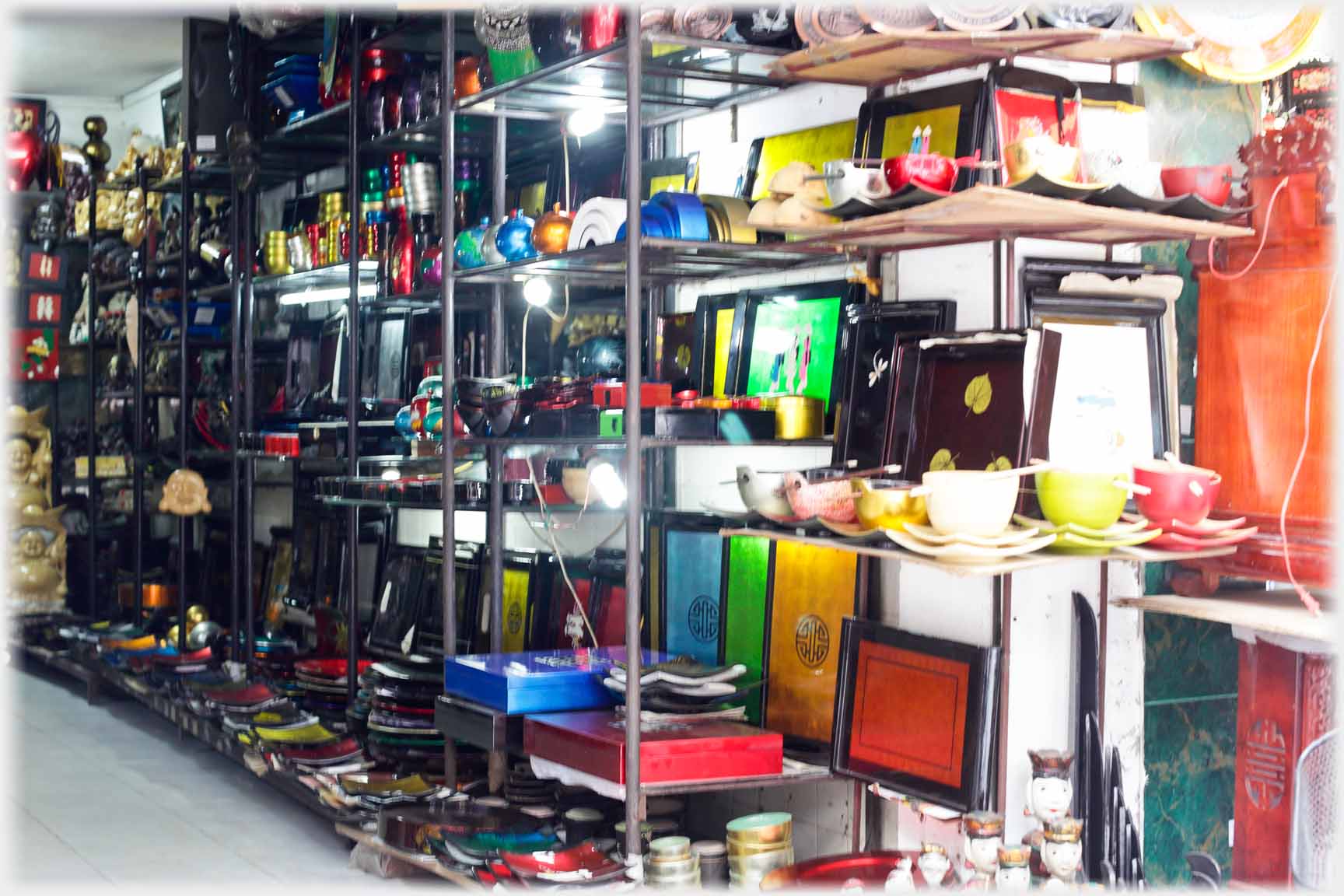 Here presents for adults in the form of lacquer ware...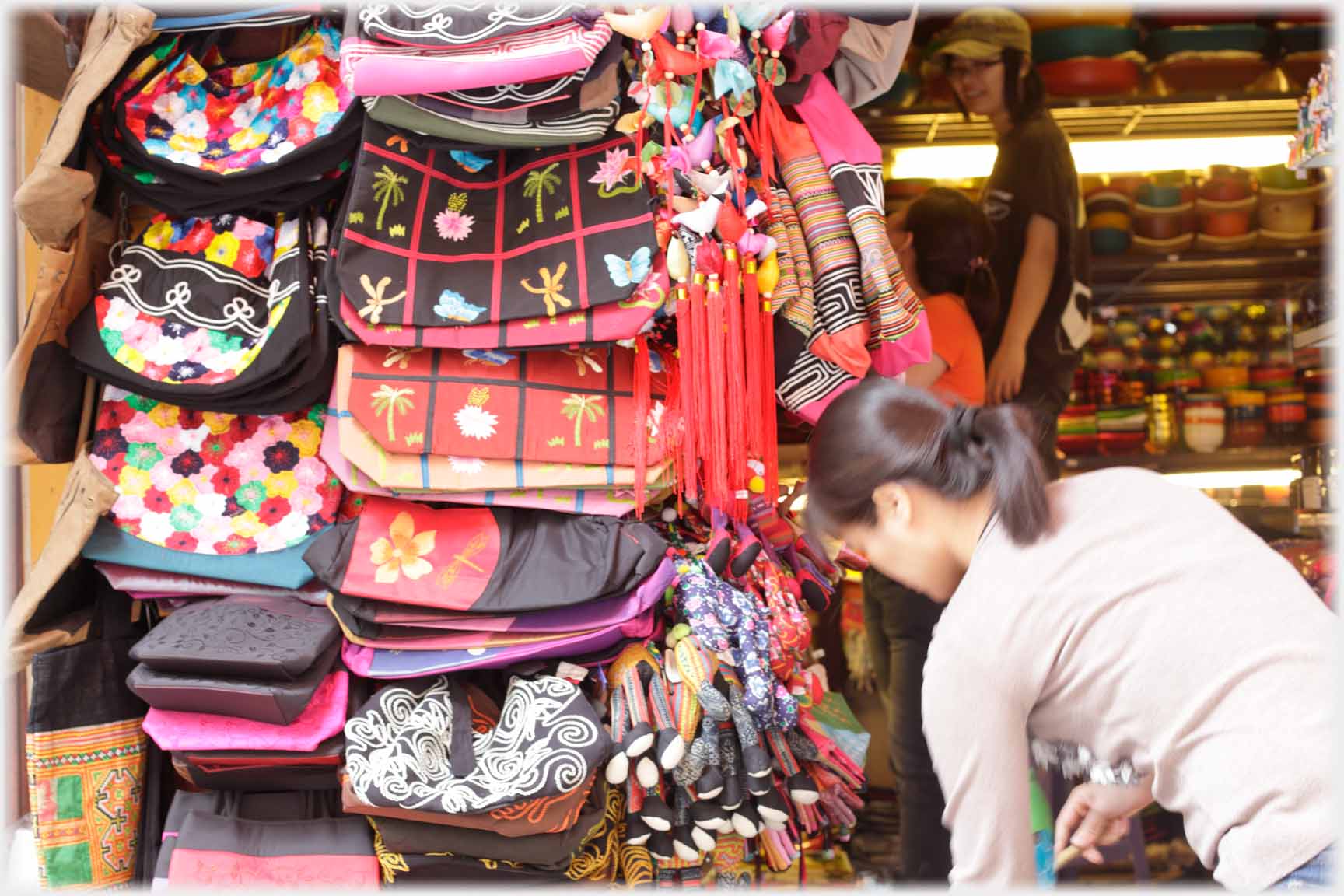 ...and bags for other presents maybe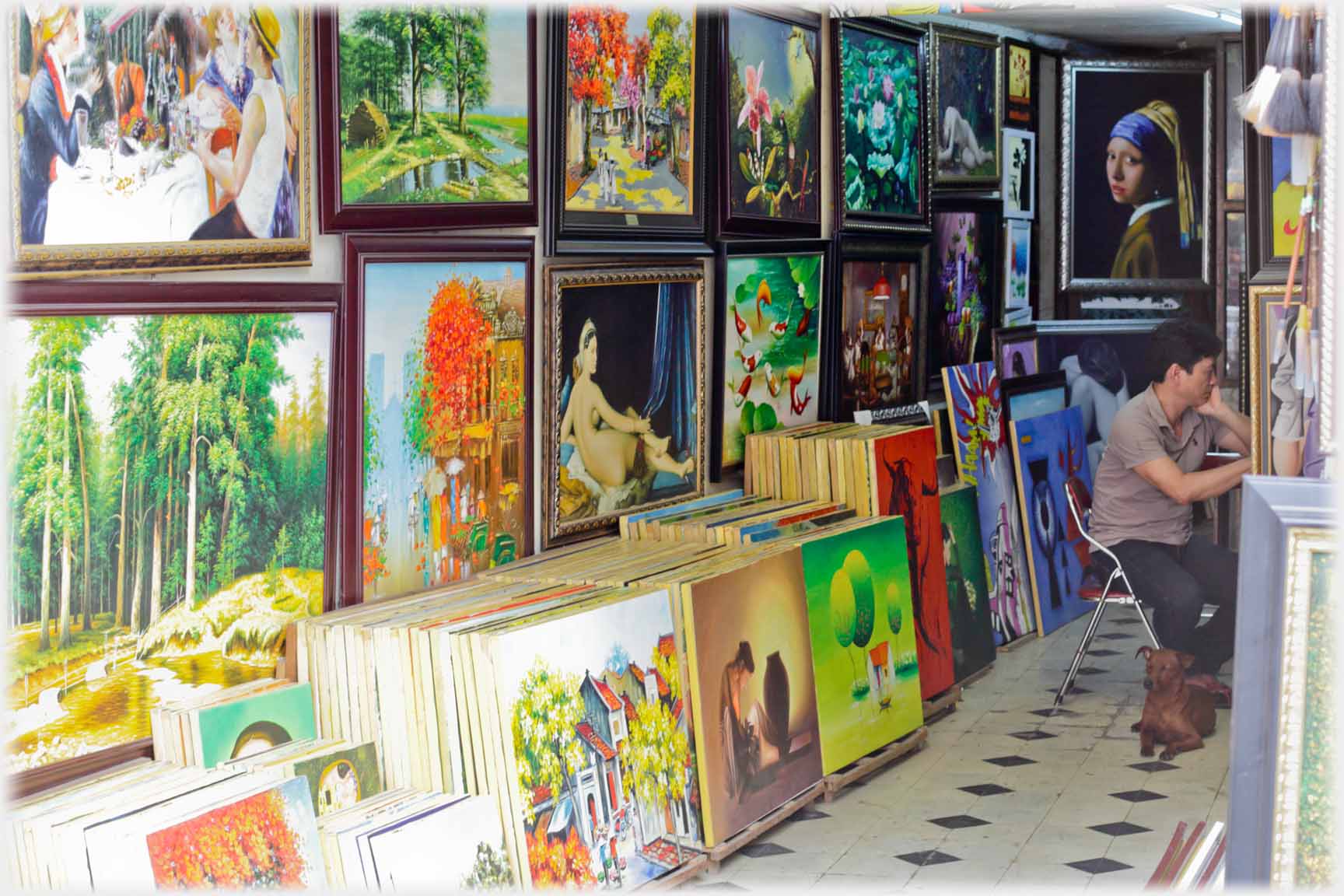 Some streets of the Old Quarter specialise in paintings
and, while selling...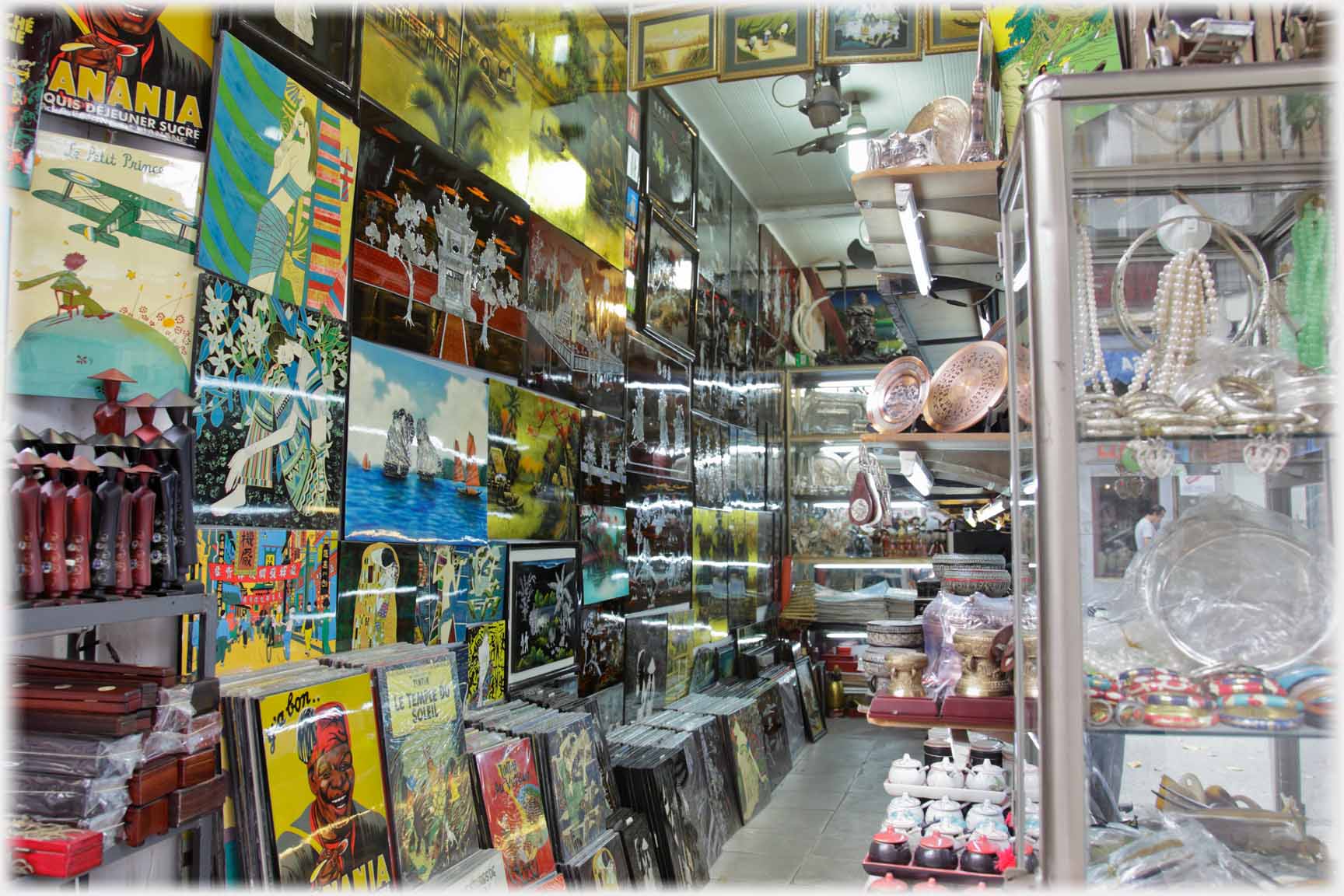 ...large numbers of reproductions, either classical or fashionable, they also often...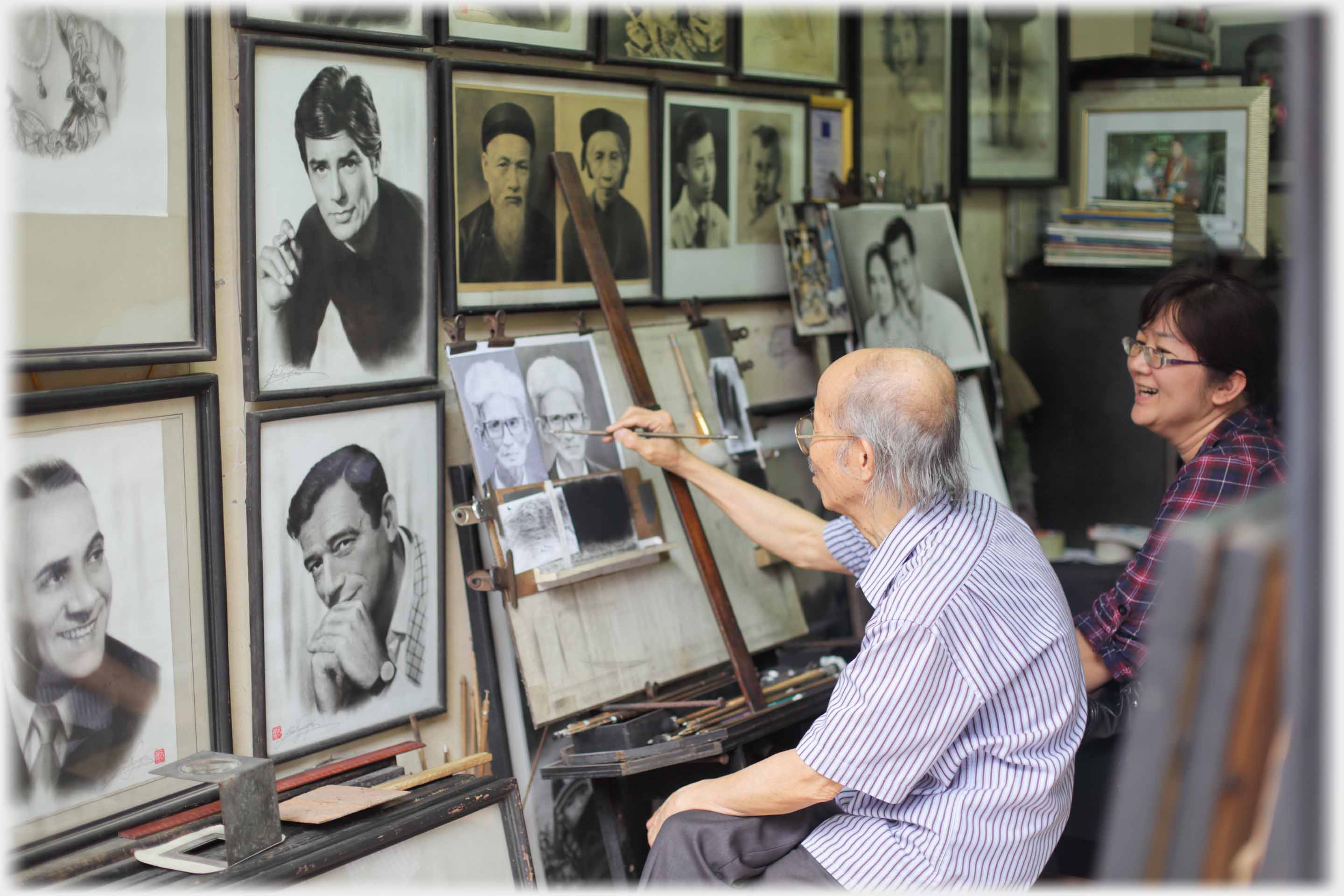 ...feature artists who will turn a photograph into a portrait for you - as above; or start from scratch with on-the-spot portraits
Trailers...
The next page wanders around Hà Nội in search of candid shots.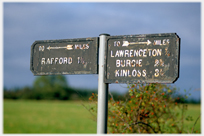 The next page of the Mosaic Section is headed 'Conjuring the Abstract'.
Or go to the contents

Go to the contents of the Mosaic Section.

of the Mosaic Section.