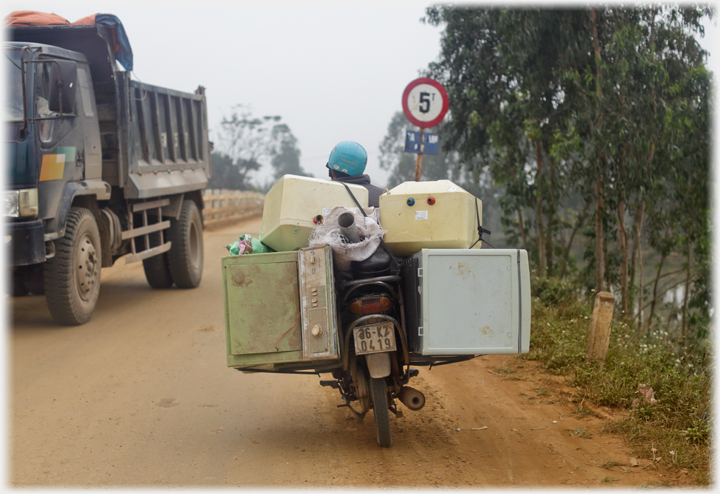 One washing machine, one fridge, two water heaters, but no kitchen sink. And approaching, a twenty ton truck having just crossed a bridge that has a five ton weight limit
Vietnamese motorbikes carry everything. This page shows a few examples of that range; and the next page shows some of the overloading that so fascinates foreigners. The word motorbike needs qualification, these are nearly all around 100cc and badged as 'Honda' or 'Yamaha', indeed they are often referred to as Hondas although they may never have been near an original - except in the sense of being faithful, if inferior, copies. They are simple machines, and parts are readily available, allowing them to stay in service for a decade or more. The photographs here are nearly all taken in Hà Nội. Captioning is largely reserved for hidden complications - the actual loads are usually obvious.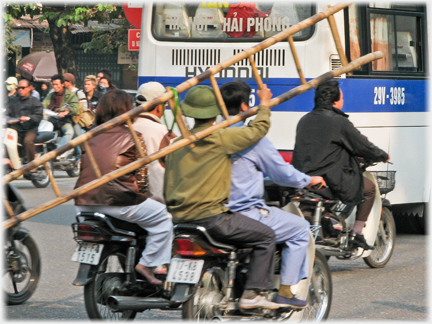 A Hyundai bus. The word in Korean means 'modern'. The Vietnamese word is the same, although it looks different, Hiện đại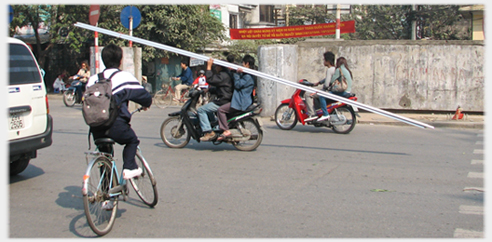 These dark blue and white jackets are worn by every school pupil in the country. Driver's left hand is free to help hold the pipes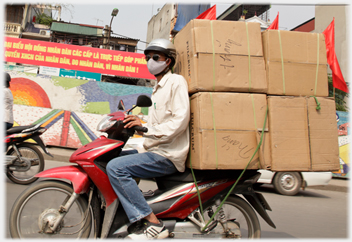 When this was taken 10 years ago: mask, sunglasses and helmet were the full kit, but...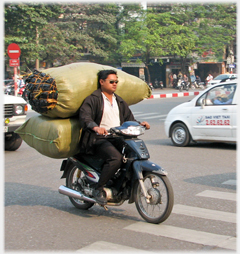 ...back then, helmets were optional; sunglasses de rigueur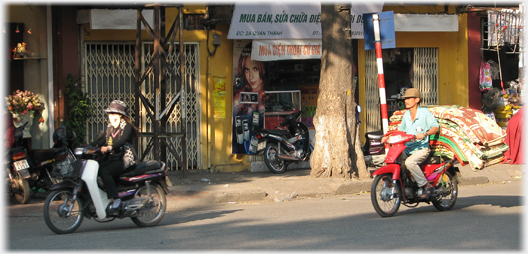 However, maybe hats help, and she might have sunglasses on. The man
is carrying mats, especially used for floor level meals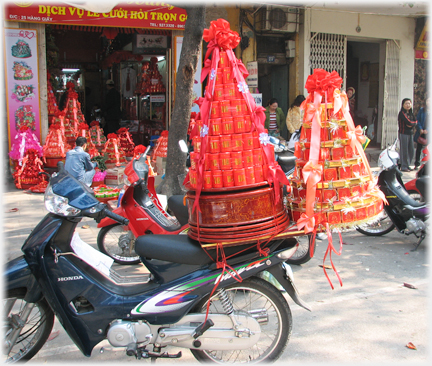 Delivery of wedding extras from a shop, in the background, specialising in them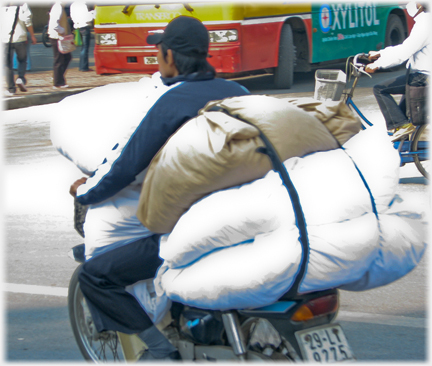 Maybe a motorbike version of the air-bag for those without crash helmets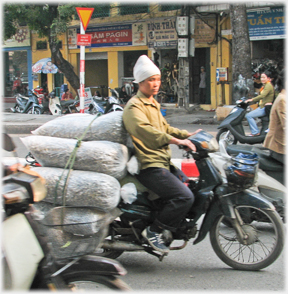 A sort of hat compromise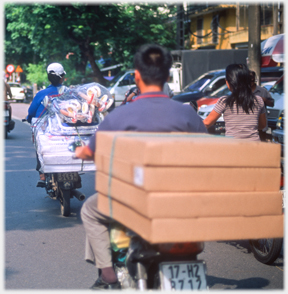 Toys and boxes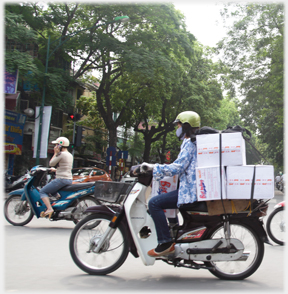 By 2013 helmets were mandatory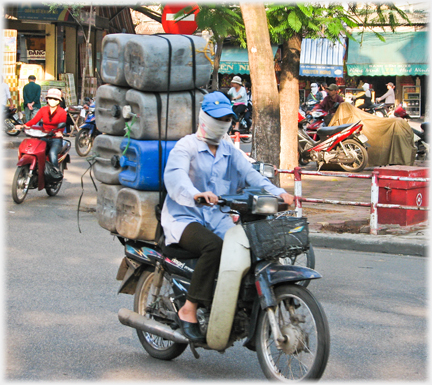 Jerrycans, probably not filled as the weight would topple the bike, and a totally incognito woman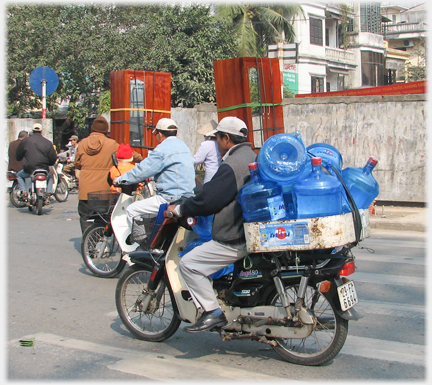 Drinking water bottles, but just showing beyond, two motorbikes each bearing a wardrobe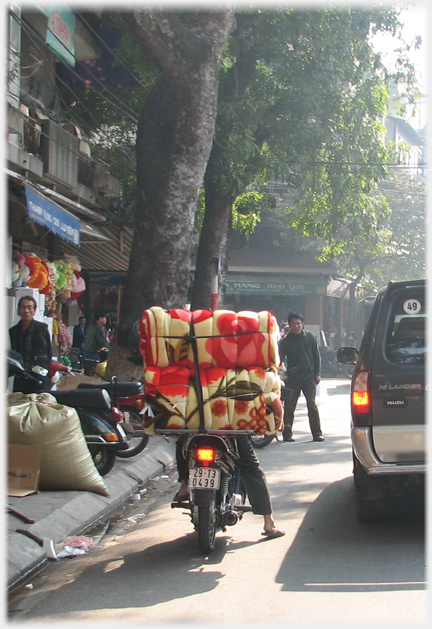 Taken on a sunny Christmas day, but many winter days in Hà Nội are very cold and these quilts are highly desirable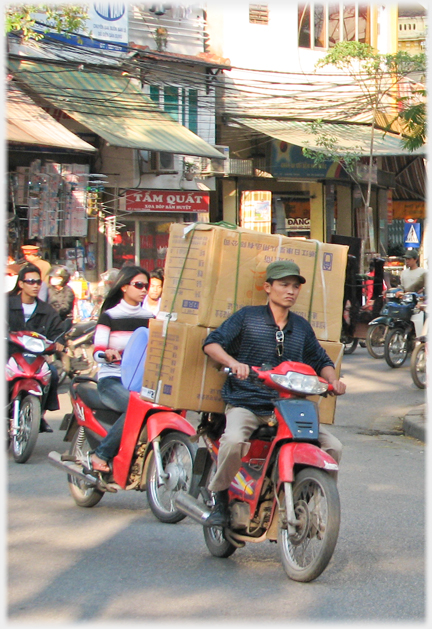 While sunglasses are part of any well dressed Hanoian's kit, they can like his be hanging from his shirt button
Nearly all bikes have automatic clutches ("Women's bikes") leaving the left hand free for vital work: phoning and texting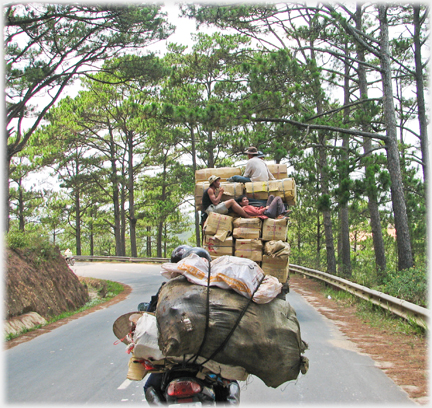 This bike is definitely about to cast its load to the right; the guy in red on the truck is watching in anticipation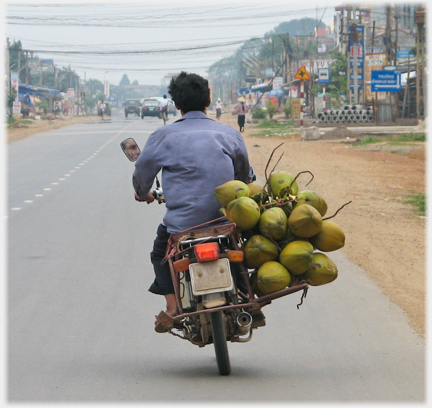 On the other hand this load of coconuts is not in danger, being balanced by the driver's riding angle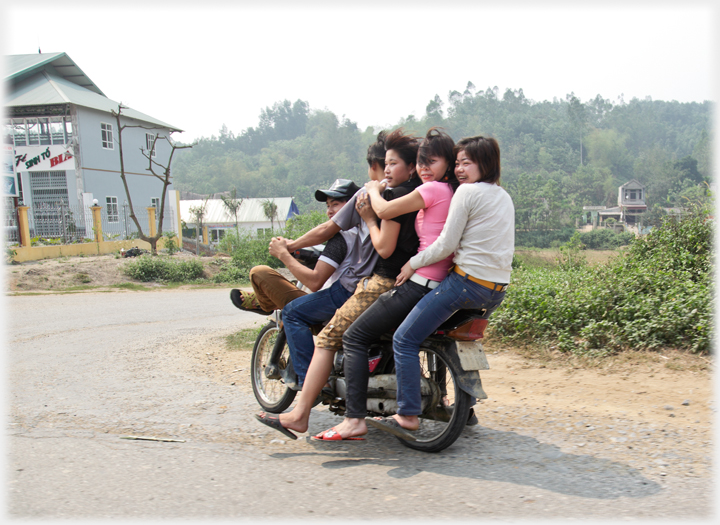 Being overloaded with goods awaits the next page, but in the meantime here are four shots of bikes being overloaded with people. Five up like this is not common...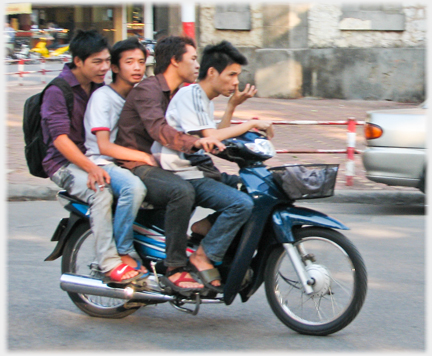 ...whereas four up is often seen...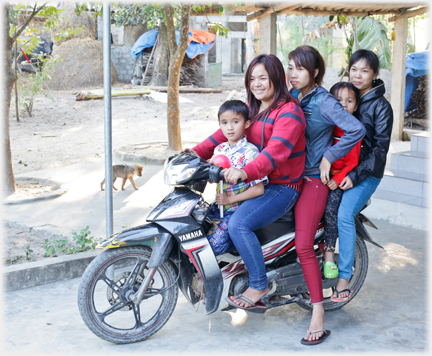 ...here managing five up, but then two of them are halves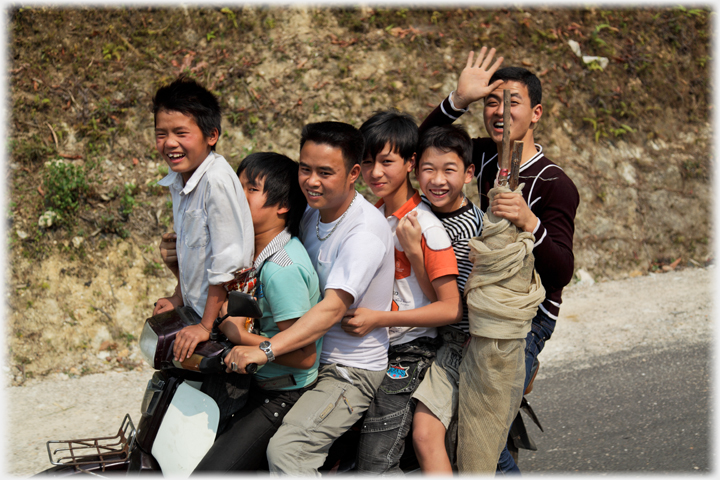 Cheating slightly having four teenagers, but they seem to be celebrating getting six up! The fishing nets might indicate a trip, the product of which is going to be a challenge to carry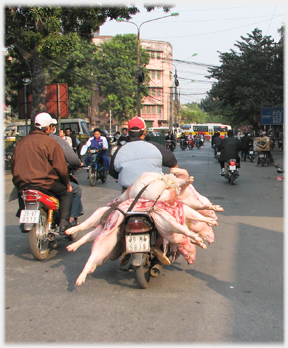 Less lively animals on this bike; newly gutted pigs
And maybe this bundle of greens for the non-carnivores?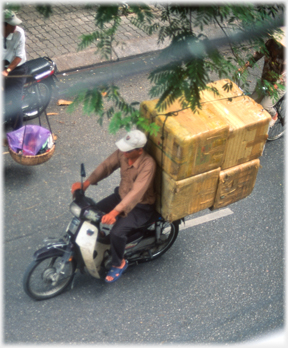 Such packs as these may house unknown delights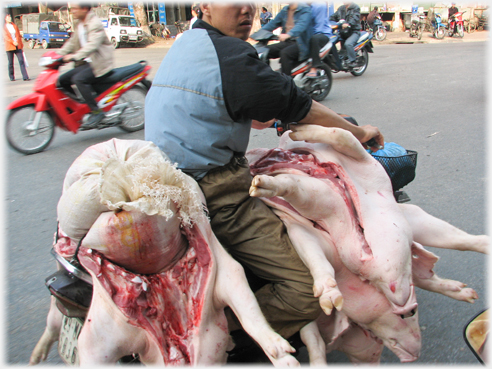 A closer look at those dead pigs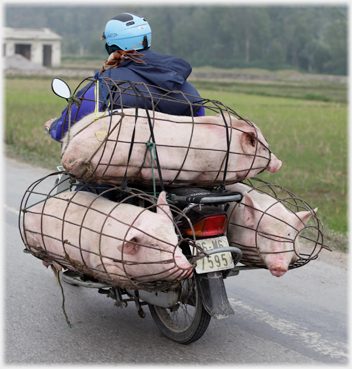 A too common sight - mistreated live pigs
Maybe more acceptable - chickens to market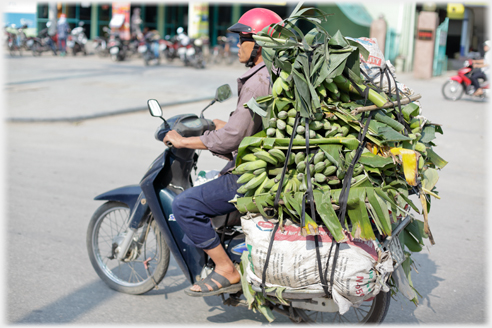 Bananas to the rescue - a food universally regarded as positive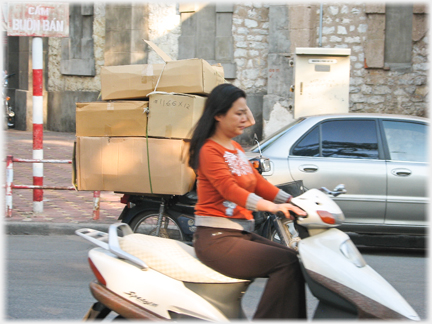 This woman, and her luxury model, are not about to be seen delivering (those boxes are on another bike)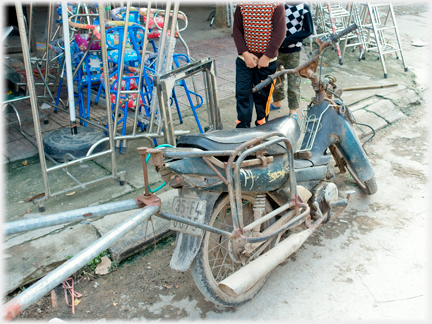 And a venerable beast of burden: side panniers, frame for towing, and the rust of decades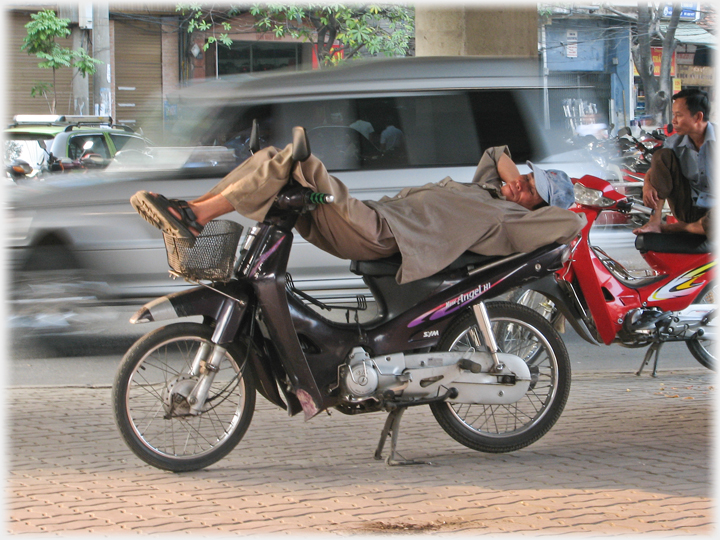 A fitting end to the stresses of transport documented above - a motorbike taxi driver grabbing some rest on an 'Angel', while the traffic roars past
Trailers...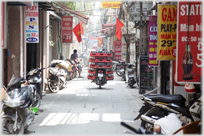 The next page of this section moves from curiosity of cargo to (often gross) overloading of motorcycles,
in and near Hà Nội.
-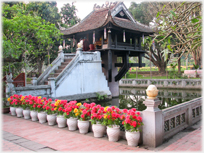 The next page of the Mosaic Section is headed 'One Pillar'.
Or go to the contents

Go to the contents of the Mosaic Section.

of the Mosaic Section.