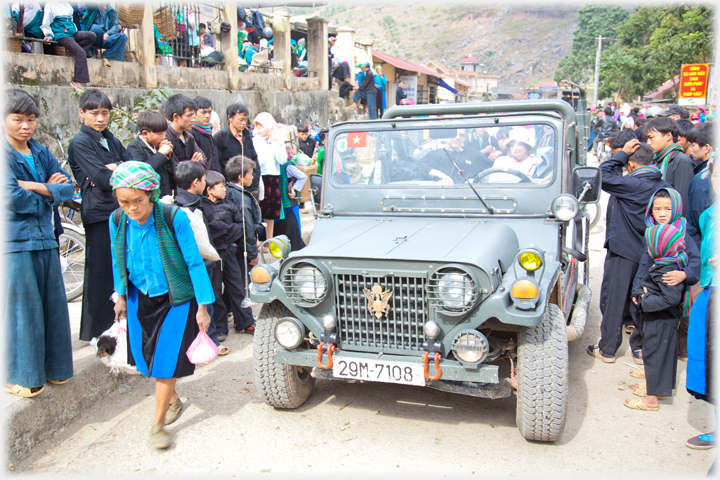 An old Jeep in town is the centre of attention for the male half of the population,
maybe this shopper's face shows more wariness than interest
Mèo Vạc lies at the lower or southern end of the Ma Pi Leng pass

and remains less visited than the Đồng Văn District

at the northern end. Ten years ago visitors were still a source of curiosity, although, as everywhere, having an old Jeep was a passport to friendly interest and interactions. The name Mèo Vạc, as with many Vietnamese places,
is both the name of the district and of the main town in that district. (And although in Vietnamese Mèo means cat, being the sound cats make, the town's name is apparently unconnected.) The total population is 70,000 spread through rugged roadless country along the Chinese border, and the dominant ethnic group is H'Mông.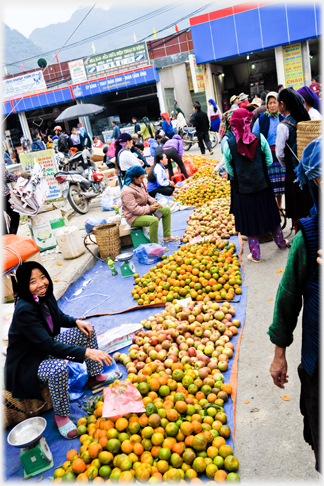 Orange sales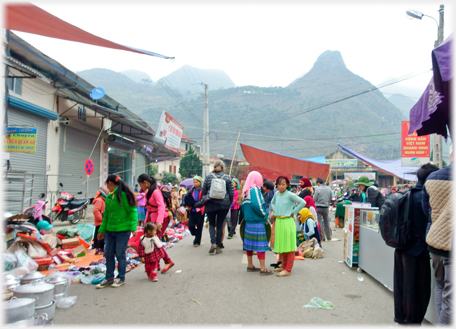 The hills around Mèo Vạc are not to be ignored, here forming the backdrop to one of the streets near the main covered market. Although the distinction between market and street is not exactly sharp as these images show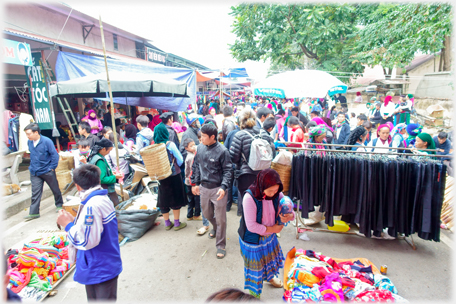 Busy street sales next to the covered market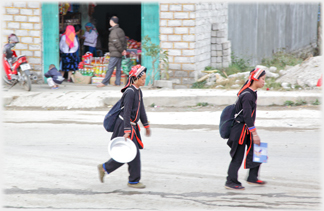 Two Red Đao

women with their shopping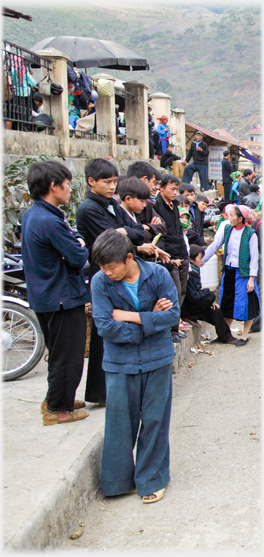 Images from the town centre circling clockwise around the one of Hân holding a rather curious vegetable: traditionally clad men by the Jeep; street tailoring; man in less traditional 'D and G' clothes; girl in front of advert for distinctly urban attire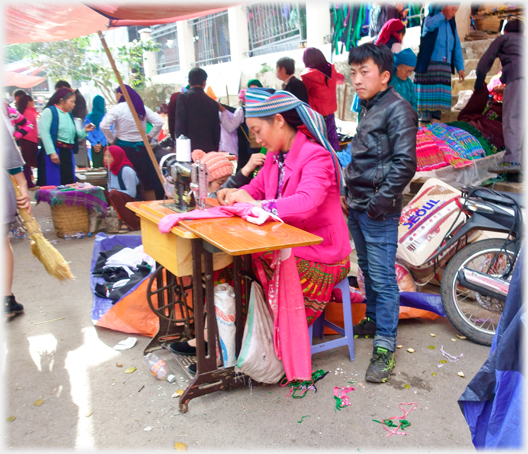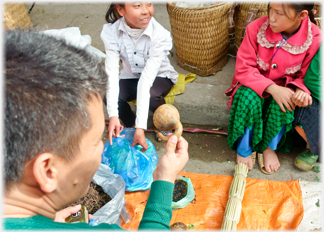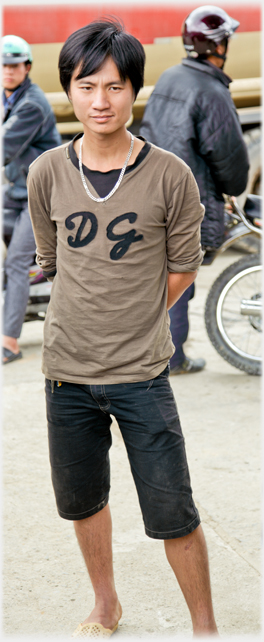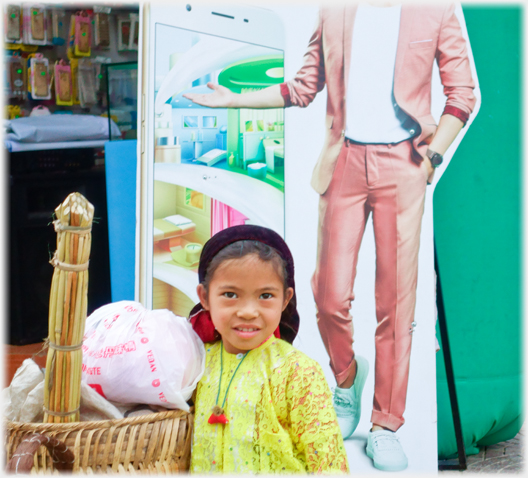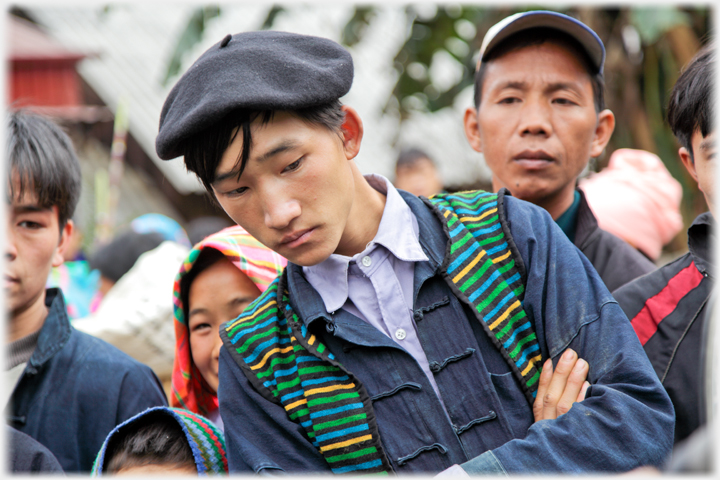 Careful Jeep inspection - commonly men stand with arms folded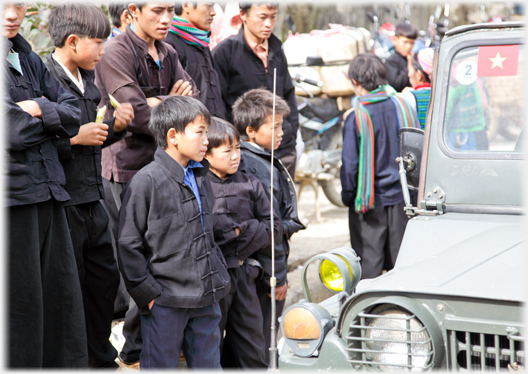 Boys, following their elders with an interest in the strange beast; all clad in the universal black toggle jackets seen throughout Hà Giang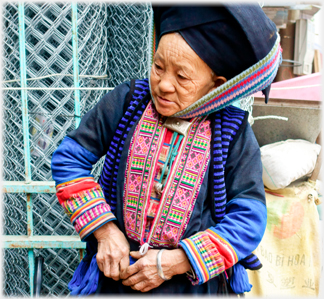 (Rather uncertainly I think this is probably) a Giáy woman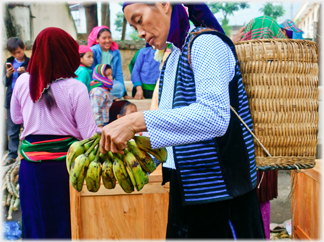 A hand of bananas and the ubiquitous basket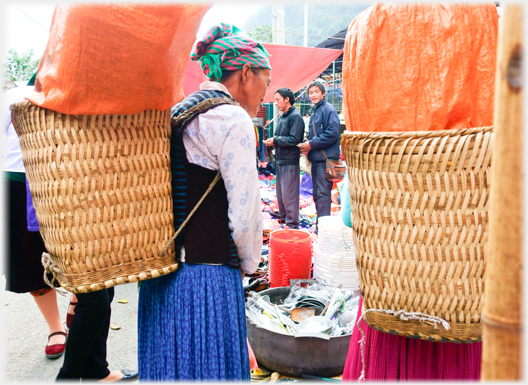 These back baskets are used by everyone in the northern provinces - the narrow strings are uncomfortable, but the weaving is often splendid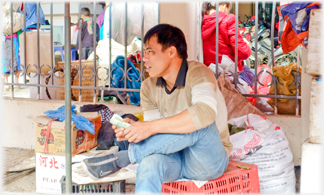 A trader thumbing a wad of notes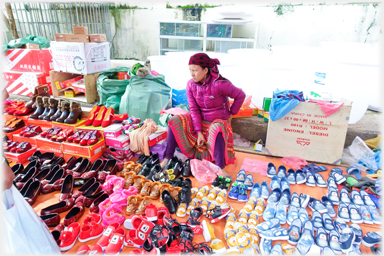 The Vietnamese seem to love shoes and wherever they shop similar spreads of footwear are seen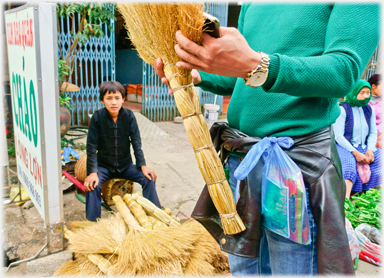 Han selecting a brush - rice soup is being advertised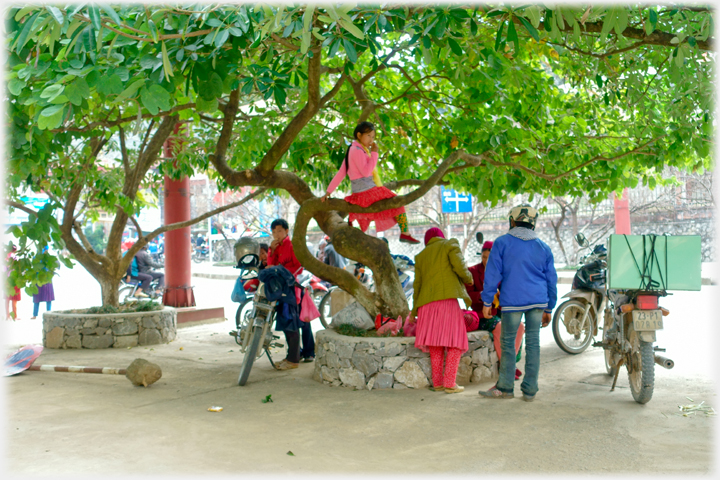 Near the main street a tree gives shelter - and the no waiting sign takes a rest
The next page moves to the street beside the main indoor market where trading is conducted by anyone who wishes to lay out their goods - free of charge. However, a key component of these street markets is socialising, these women are in good mood.