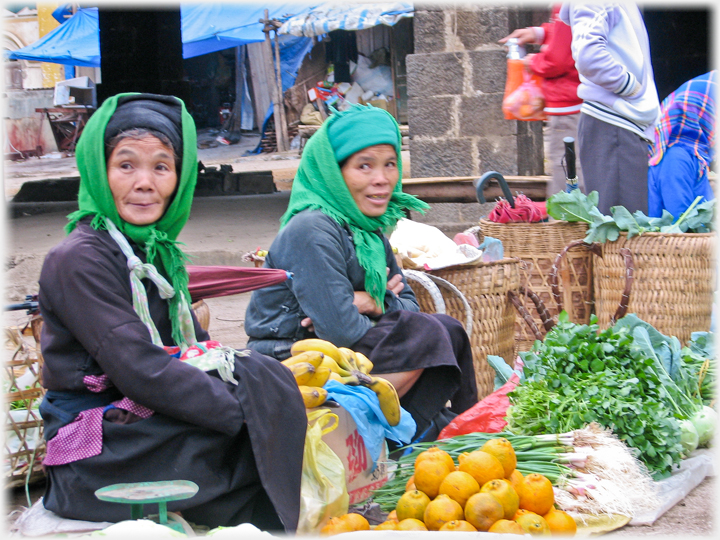 Women at the market in Đồng Văn
Like most of the markets in northern Vietnam, the Đồng Văn Market consists of a mixture of stalls, as seen on last week's page, and local people who come with their produce, and lay it out on the ground along the roads and around the squares of the market place. Women tend to be the sellers of produce and men of services, but it is far from a ridged division.
The central square by the market hall where vendors come to trade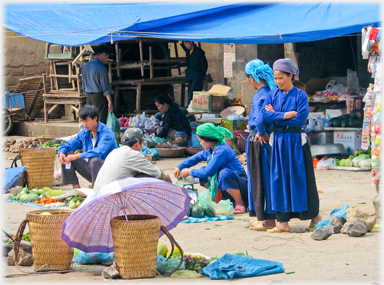 Commonly the goods arrive on the sellers' backs in these woven baskets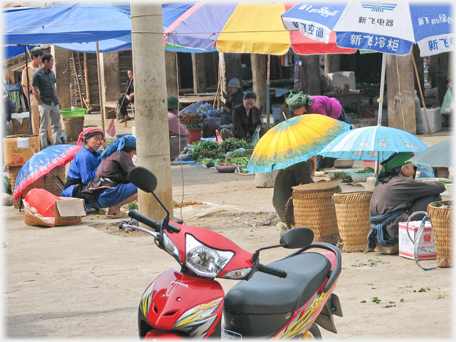 Some walk to market, some come by motorbike
Markets are as important for the social exchanges as the financial ones. The chatter, gossip, banter, and some more open abuse, lead to the roars of laughter that often greet customers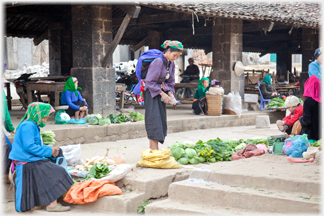 Keeping vegetables looking fresh is a well developed art, often a plastic bottle of water is used to spray the produce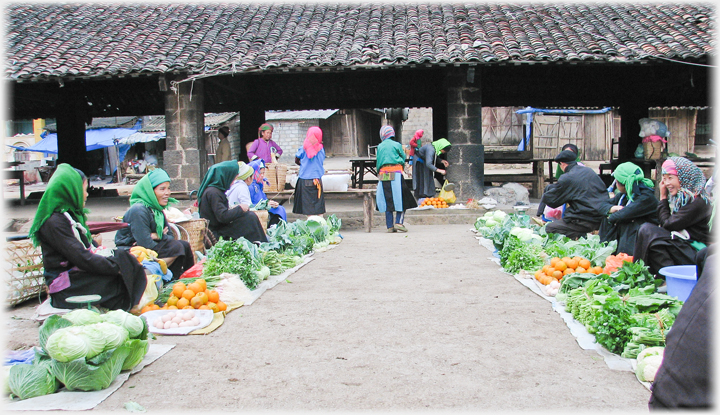 Vendors arrange themselves neatly opposite each other, leaving room for customers, although not to the extent of preventing banter across the aisle
The left team...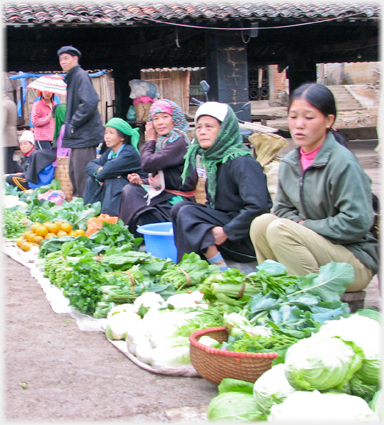 ...and the right team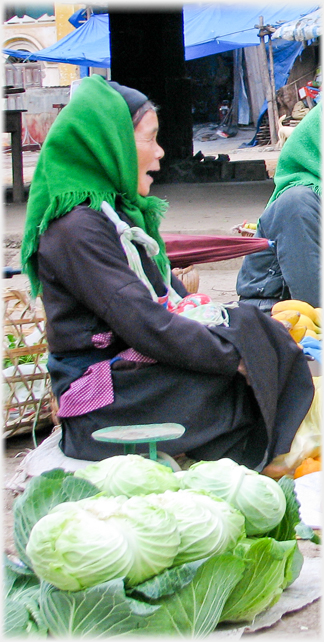 Rocking with delight at the latest joke...
Vegetables and meat account for most sales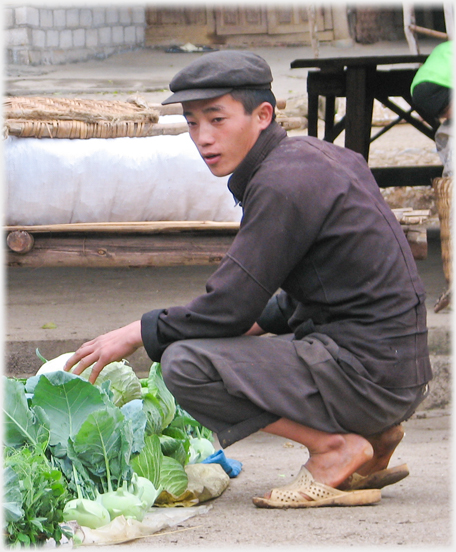 ...which may well be at the expense of any men who come near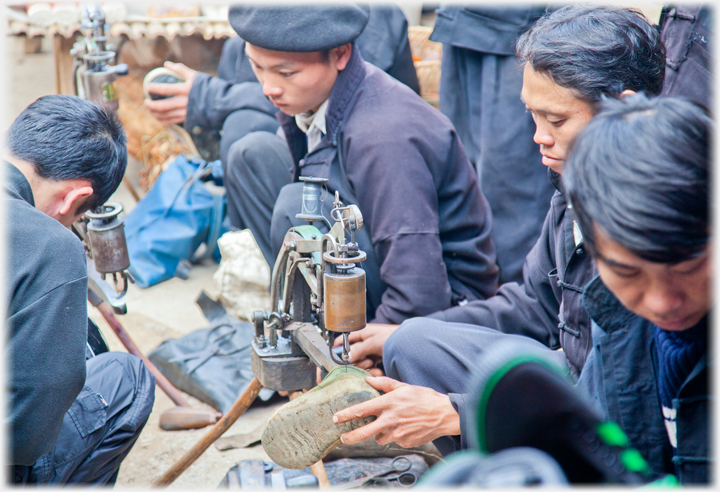 A row of cobblers have their place in the market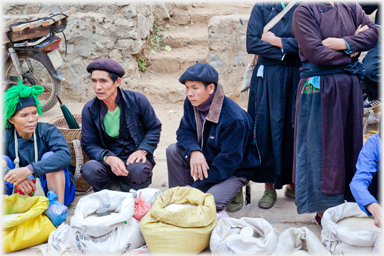 Men and women selling rice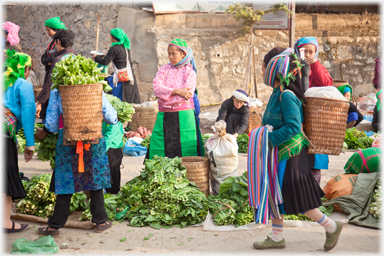 Stocks of greens being brought for sale by basket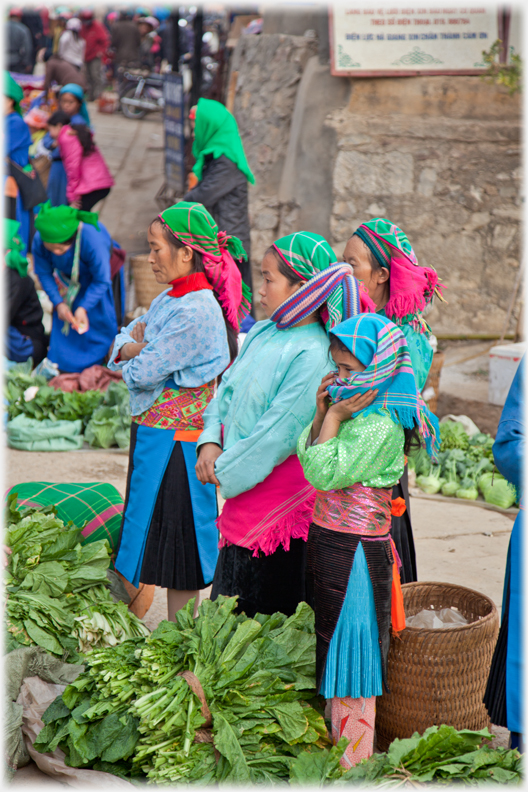 The Vietnamese eat great volumes of greens with their meals - the piles here will be sold within minutes of being displayed - if they are perceived as fresh
Although meat and veg may dominate, all necessary items are available...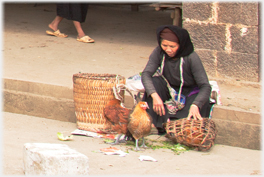 As red meat comes from large animals it is sold ready butchered, whereas chickens are killed in the house in which they are consumed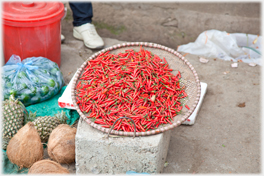 Hot peppers, in northern Vietnam, are not that hot, and are used sparingly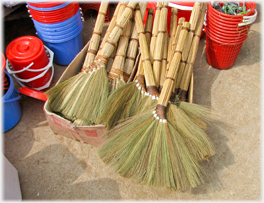 Floors in this hot country are concrete or tiled - the necessary brushes are beautifully made from tree fronds

Next week's page takes a detour for a comparison with one of the biggest markets inVietnam - the Đồng Xuân market in Hà Nội.