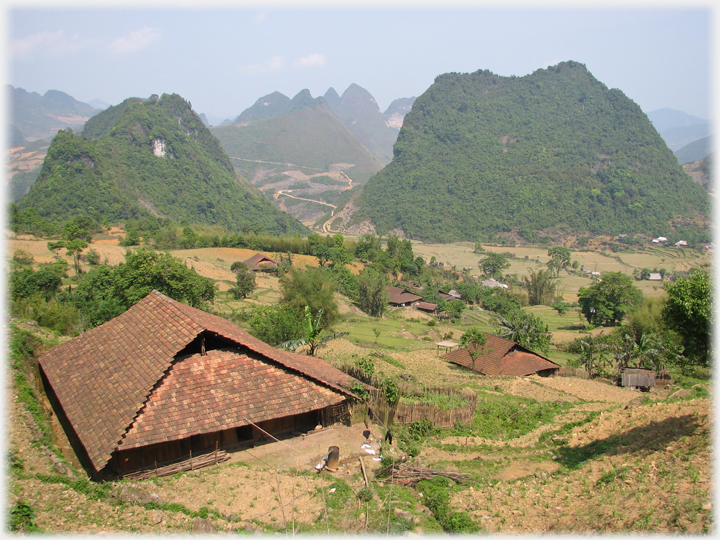 A picture which summarises western Cao Bằng: a karst landscape, heavily wooded, large comfortable tiled houses, and an unmetalled road leading off into the distance
The Western part of Cao Bằng Province, west of the City of Cao Bằng, offers an introduction to the spectacular karst landscapes of north-east Vietnam. Unlike the karsts of the northern province of Hà Giang, here they are fully clothed in rich tropical garb. This gives the region an air of prosperity which is promoted further by the huge tiled roofs of the houses seeming to reflect the owners comfortable livings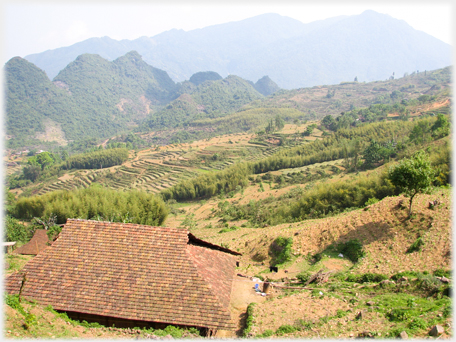 A house with a view: karsts, mountains, terraces

The tiled roofs are massive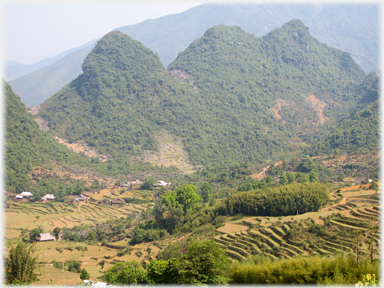 The view of the well-clothed karsts seen from the house in the picture above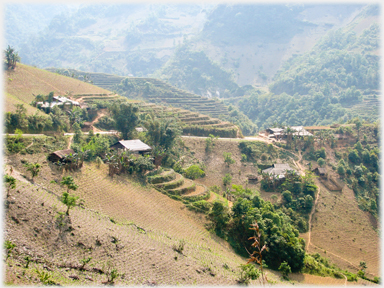 After storms these steep terraces do indeed sometimes slip down the hills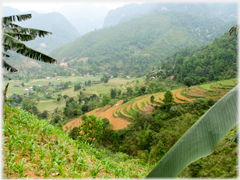 Hillside planted with ginger on heavy clay soil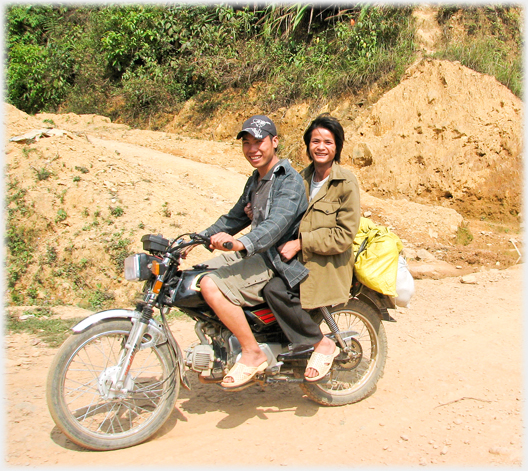 Grinning from ear to ear in response to a strange westerner on a motorbike taking a picture of them from the back of the bike shown in the picture below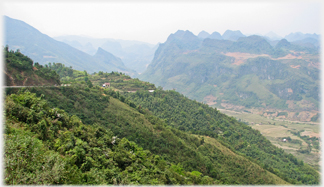 The road swings round a hillside to the open 'strath' beyond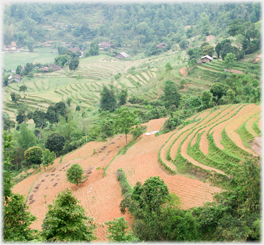 The view as seen by Hân on the motorbike to the right - looking down the terraces to the valley beyond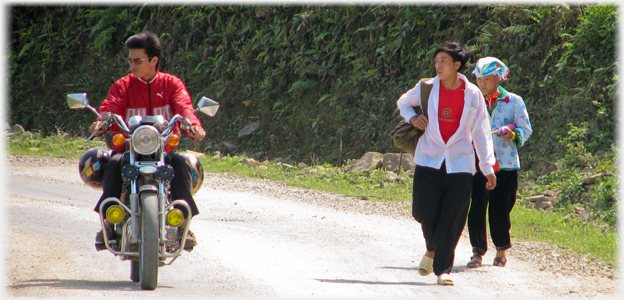 The motorbike again gaining attention, here from pedestrians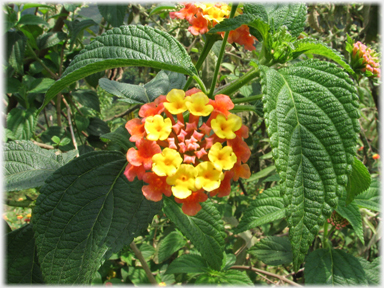 The leaves and flowers of this wayside plant might make it a member of the primrose family?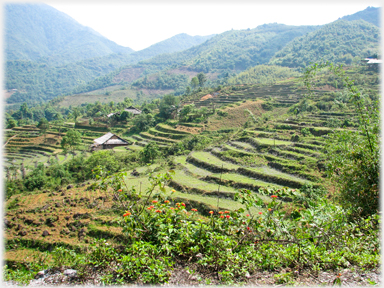 More comfortable terracing, less prone to the slippage likely on the hillside shown above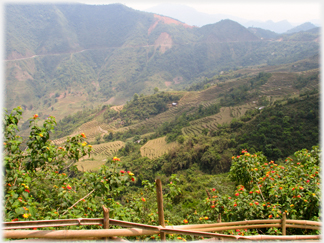 Fence, flowers, terraces and mountains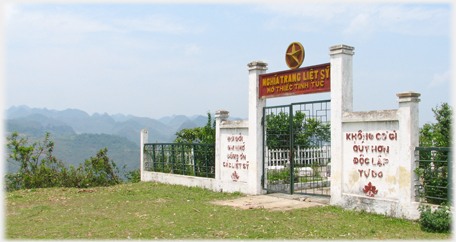 Cemetery gates

near Tĩnh Túc with pointed karsts beyond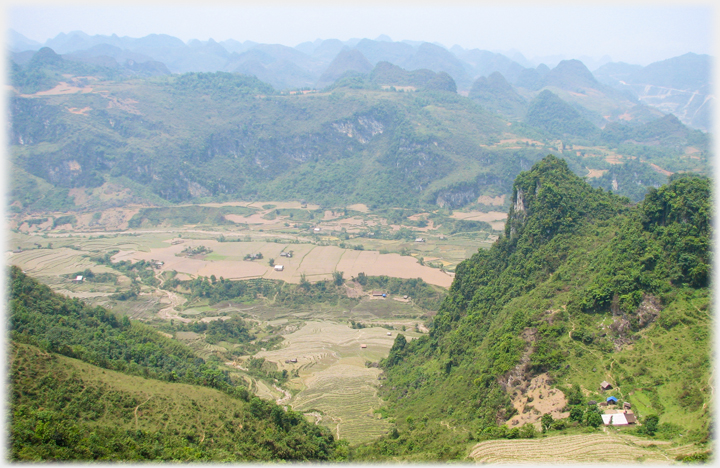 Skirting above this valley the road offers a great perspective on the area, and a cafe near here adds refreshment to the pleasure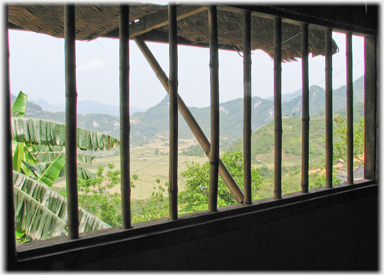 The bars that seem mandatory for windows in Vietnam, obstruct the view from the cafe window...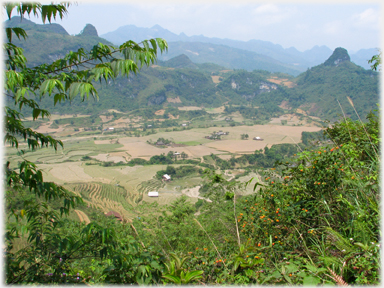 ...shown here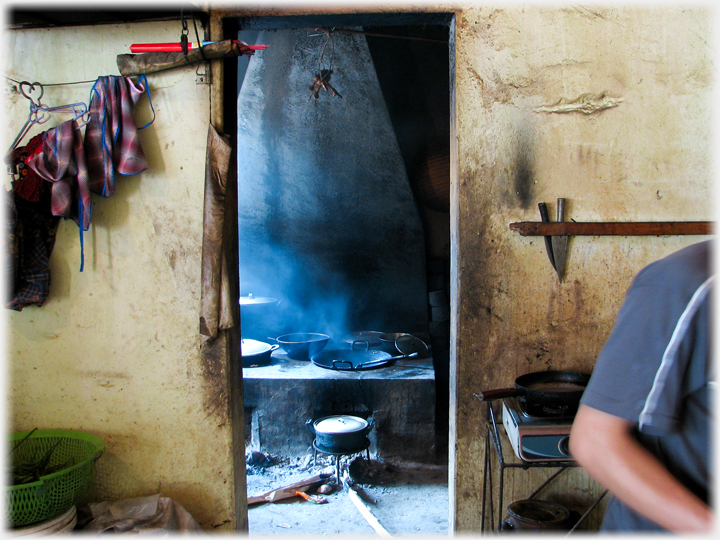 A glimpse past the cafe's chef

into his kitchen with a glimpse of its atmosphere
Trailers...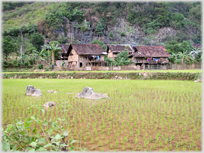 The next page in the Picture Posting Section leads you further into Cao Bằng Province, with images of a variety of communities.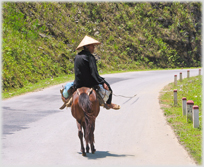 Across in the Mosaic Section – a quotation from Basho on the journey as home.