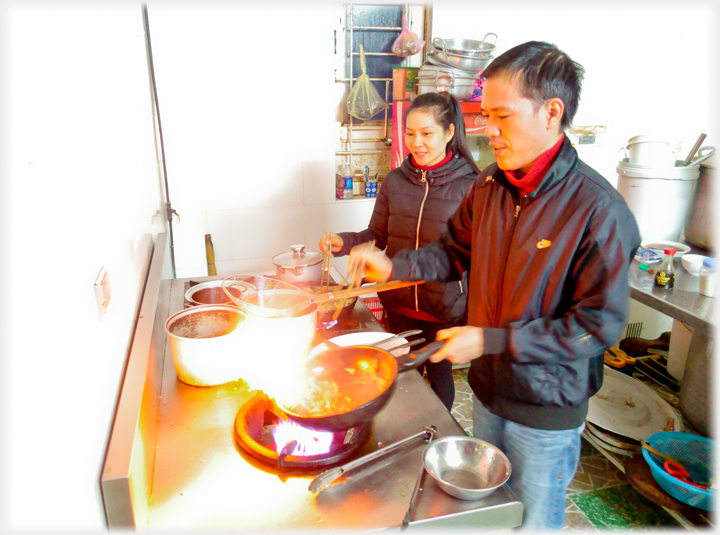 Flaming good cooks. Nguyễn Lợi (head chef) cooking with the fire, and Lê Duyên (owner/manager) watching
This page shows something of what goes into those dishes presented on the previous page. Many of the images here are drawn from the kitchen in Tĩnh Gia that serves the town's premier breakfast cafe: 'Phở Hà Nội'. Each day they produce some 250 to 350 bowls of Phở - pronounced a bit as though saying 'Is that coat made of fur? They also provide evening meals, to order, for up to 70 people. The head chef is Nguyễn Lợi who appears in several of the pictures. The owner Lê Duyên is seen in the picture above.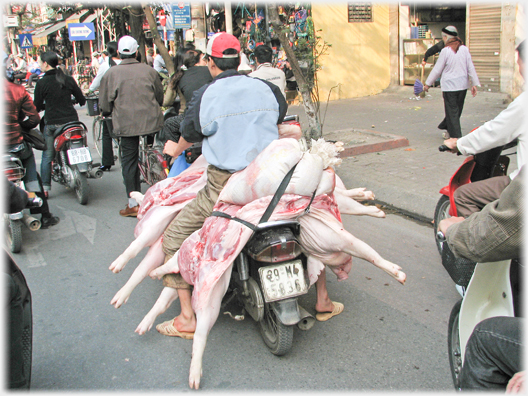 Meat is at the base of many Vietnamese meals, despite the great tradition of fish and vegetables, and the eating of meat starts with carcasses on their way to market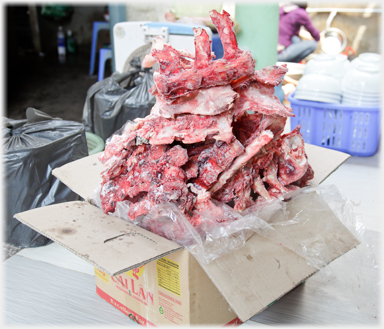 Bones arriving by the box load...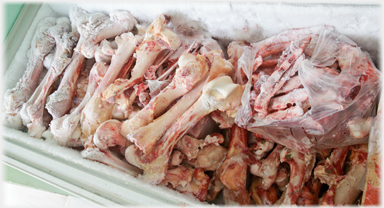 ...are then stored, to provide a constant source for the daily stock making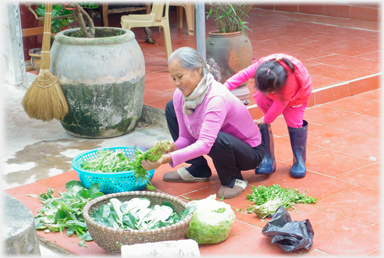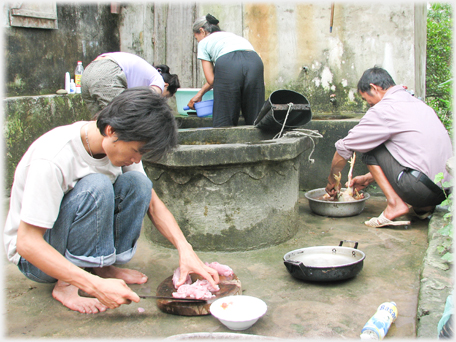 Traditionally food preparation in most homes goes on at floor level and outside, in this case next to the well
Great heaps of greens go into nearly every meal - a preparation not always speeded by the attentions of a grandchild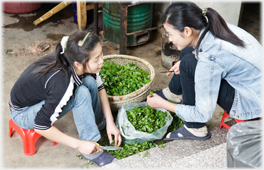 Greens preparation at the cafe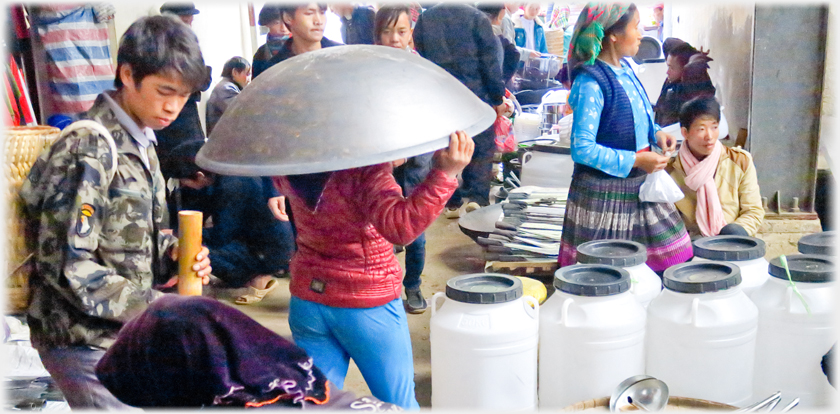 In Mèo Vạc market

a woman has bought a new wok - industrial scale cooking in prospect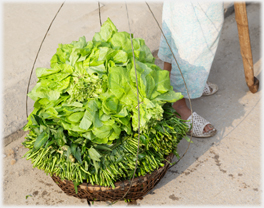 A pile of greens in the pannier of the seller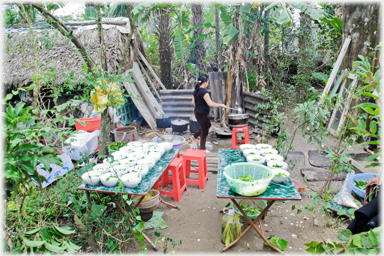 Here an area of a garden has become the kitchen made ready to prepare for a wedding party - gas stove on a plastic stool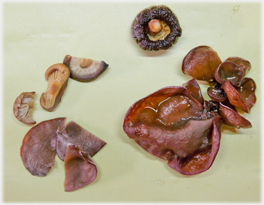 Varieties of mushrooms waiting cooking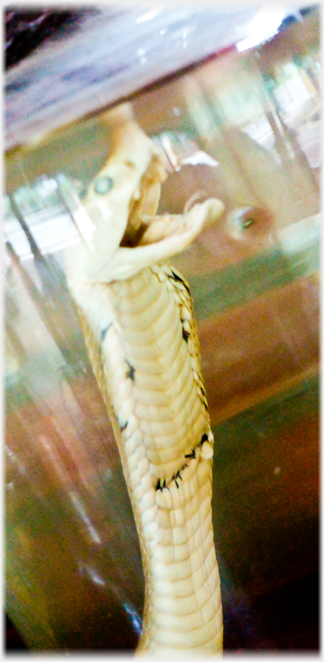 Snake in vodka. Many things are steeped in vodka for periods of months or years - snakes are particularly popular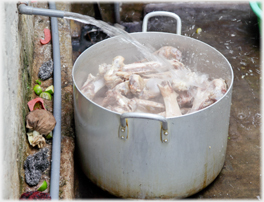 Bones + water = stock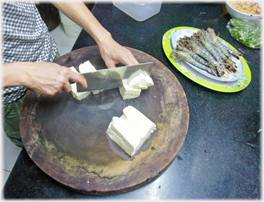 Cubing tofu - a widely available alternative to meat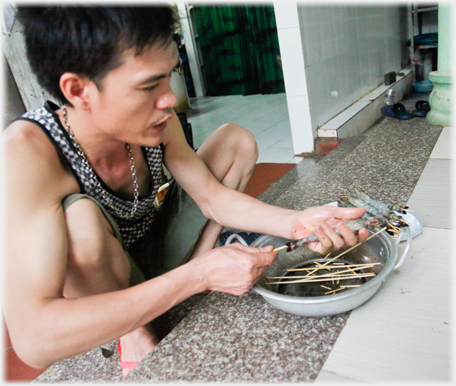 Large prawns are individually skewered ready for cooking over coals. These are expensive even in Vietnam good ones costing around a pound each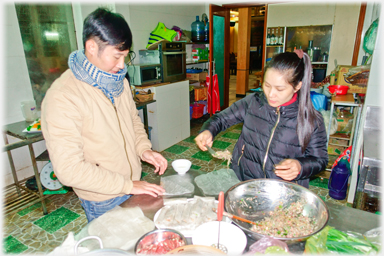 The mixture of mushrooms, noodles and meat or prawn, in the large bowl, is portioned out onto rice paper ...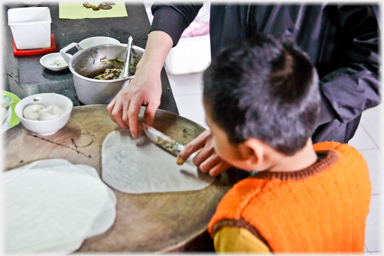 ...to be formed into nem. The papers are rolled diamond-wise, here a child learns by watching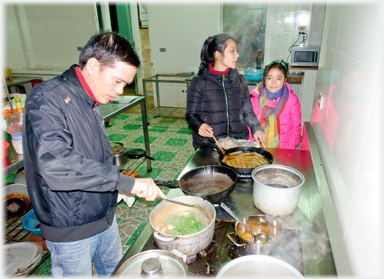 The cafe has two kitchens, here in the main one the chefs are woking with the powerful gas burners...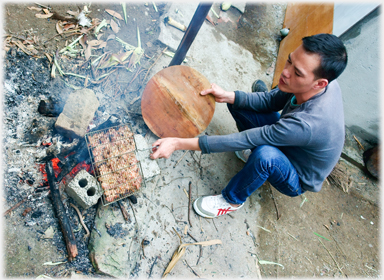 ...while here pork is being grilled over a wood fire in a garden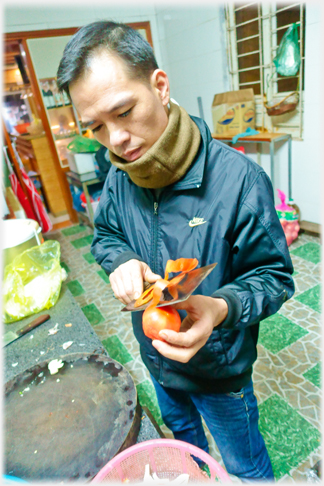 The art of making flowers from vegetables starts with skinning them with the very large knives used in cooking...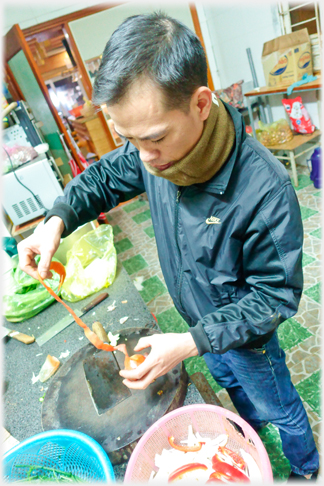 ...The Vietnamese cut away from themselves. The skins are then used to make the sort of decorations seen in the previous page.
Making Bánh Chưng (literally slow cooked cake) is a key activity in most households before the big Tết Festival, similar to the making of Christmas Cake in the west.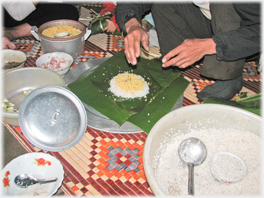 On banana leaves a pile of rice has mung or other beans added...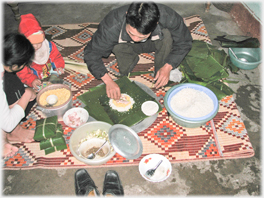 ...and onto these go meats, and then more rice. The banana leaves then tie...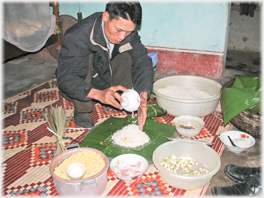 ... it into a square shaped bundle which is slowly cooked for 24 hours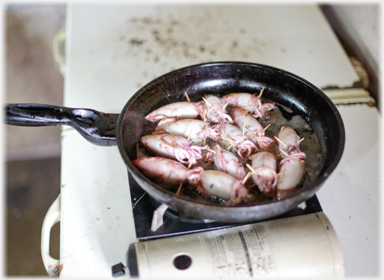 Stuffed squid being fried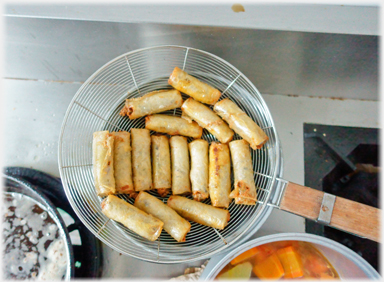 Nem fried in high temperature oil - golden and crisp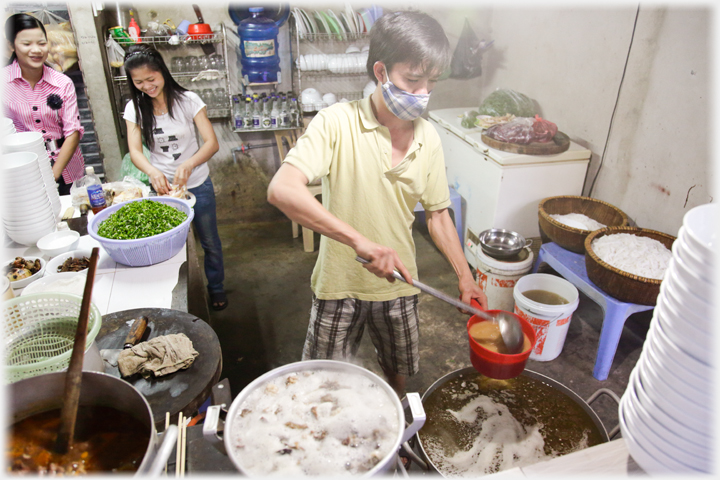 The smaller breakfast kitchen, at the cafe in Tĩnh Gia, from where the phở is served each morning - more on this on the next page
The next page has more detail of one dish: phở. This is the national dish par excellence, consisting of a bowl of stock with noodles, meat and herbs, served, particularly for breakfast, throughout Vietnam.