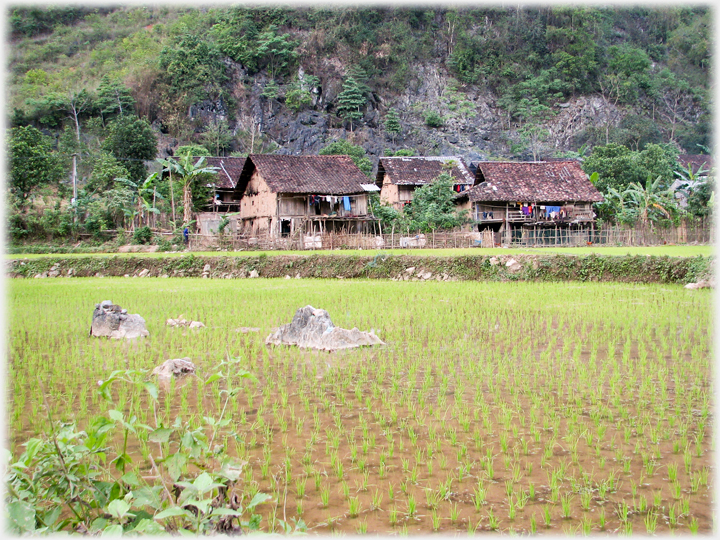 Paddy in front of the houses at Pác Bó village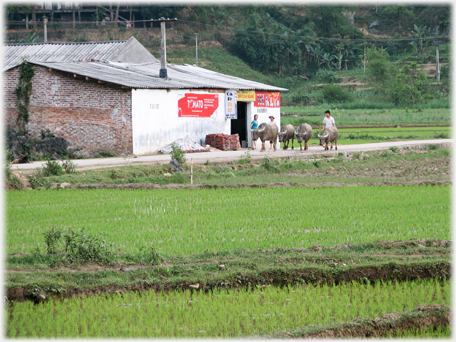 Pác Bó village shop - a rather different architecture
This page shows a range of communities from Cao Bằng Province

which is in the far north east of Vietnam. From tiny hamlets to the city of Cao Bằng the slower paced life of a remoter area is evident. It is one of the most beautiful and least visited parts of the country with many of the traditional ways of life intact. On this page the emphasis is on housing and types of building. Later pages show more of the countryside which is dominated by the extraordinary wooded karsts,

a little of which were seen on the last page.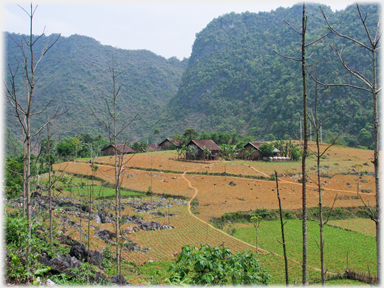 A village in the norther part of the province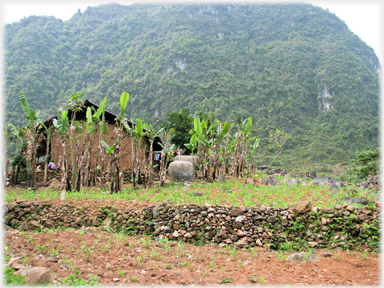 Large storage jars at the side of house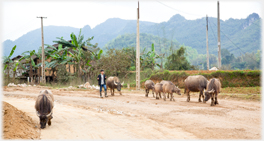 Buffalo at a village entrance...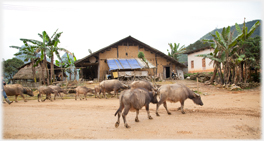 ... passing though the village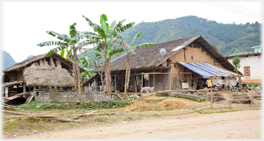 Village house on the 'main' road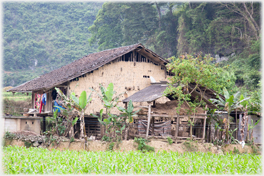 Mud-brick house with outbuildings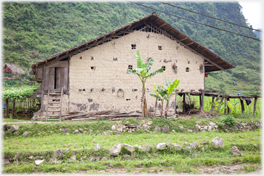 Another end wall of a mud-brick house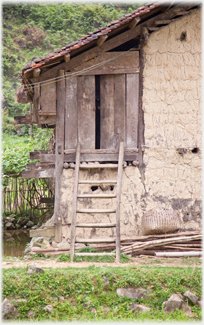 Detail of house to the left
In the north the sight of horses being used is not exceptional, elsewhere in Vietnam it is rare. This is the main street of
the district capital Trùng Khánh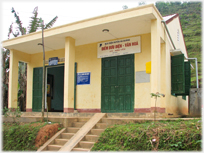 The Post Office in the village of Kéo Yên, northern Cao Bằng, and below its sign in the exact format seen throughout Vietnam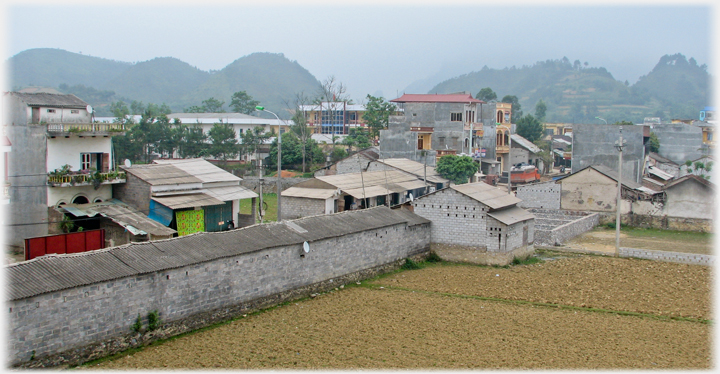 The most north-easterly district of Cao Bằng (Vietnam's most north-easterly province) is Trùng Khánh and this is its main town. As is almost universal in Vietnam the name of the district and its administrative centre are the same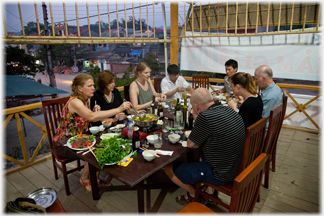 Westerners enjoying full sized chairs and table on a hotel roof in Cao Bằng city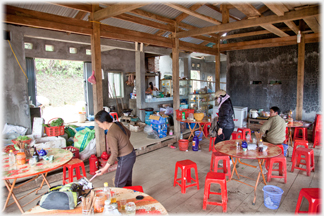 A more conventional Vietnamese cafe with plastic stools and folding tables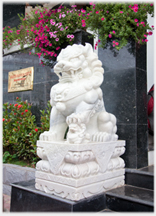 Lion on duty at hotel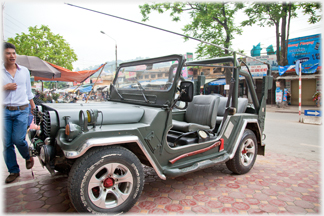 Newly washed in Cao Bằng; a picture of our Jeep

proudly slipped in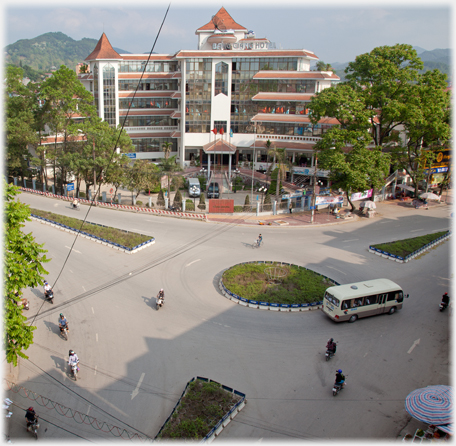 Morning view of the centre of Cao Bằng with the dominant Bằng Giang Hotel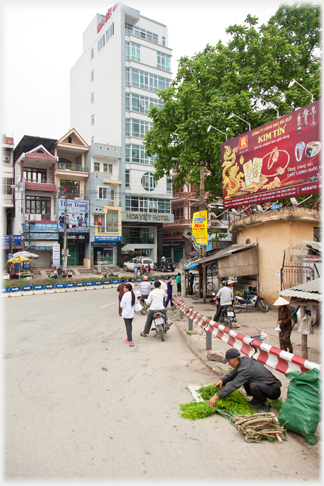 Street seller in the central area of Cao Bằng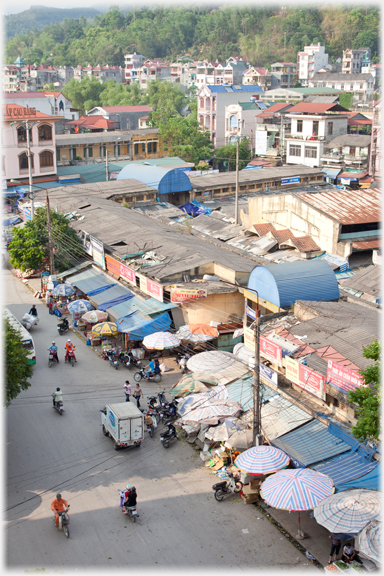 A view across the main shopping street in Cao Bằng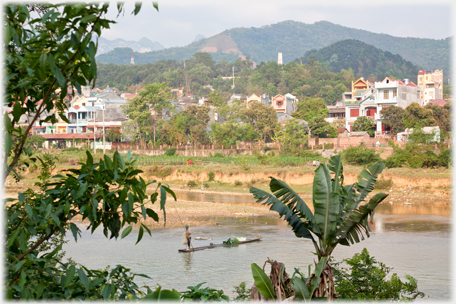 The River Bằng in the centre of Cao Bằng City

Looking over the city with some of the hills, that so distinctively define Cao Bằng Province, in the background
Trailers...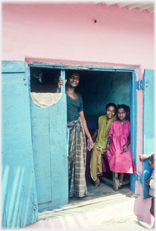 On the next page Picture Posting takes you to a very different provincial capital, that of Bangalore, state capital of Karnataka, in India.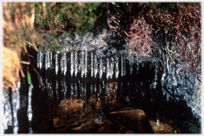 The next page in the Mosaic Section - Onitsura's Haiku 'Icicles'.
Or go to the contents of the Mosaic Section.