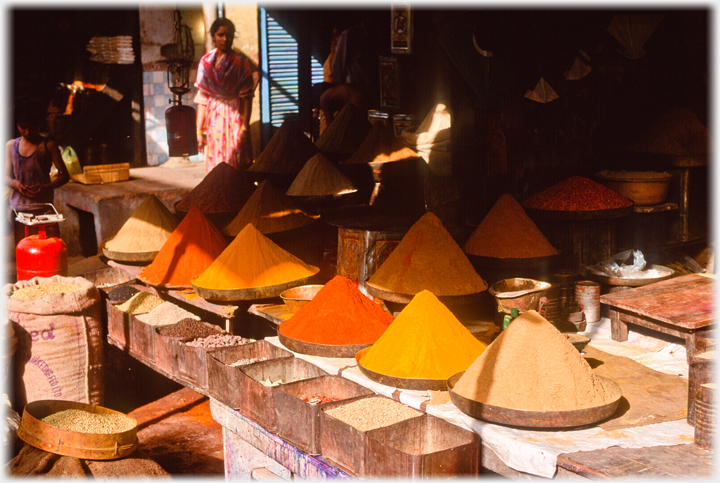 As in so many countries display is everything in India. Each day these piles of spices are carefully arranged in front of the shop - no Scottish winds here
The last page

was about the The Leprosy Mission Hospital

in Naini, this page has a little on the town itself. It is the smaller companion of the city of Allahabad.

It sits across the River Yamuna from its large neighbour, near the confluence with the Ganges, a union making the area one of outstanding importance to Hindus, but as the name suggests, there are many who follow Islam - a sometimes volatile mixture. Additionally it is a place which sees few foreigners, and so it is no bad idea to take a local friend for walks in the town. Some images express this unease, but should not detract from those who, as everywhere, greet strangers with pleasure.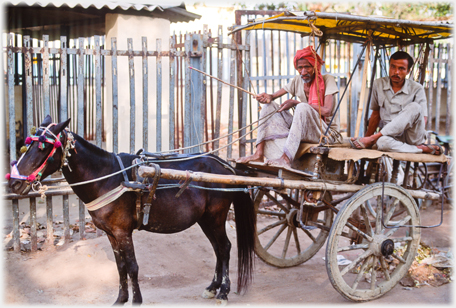 Colourful trimmings for animals are de rigueur throughout India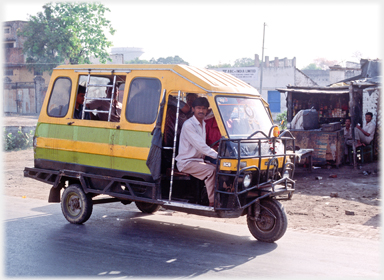 Autos are basically motorbikes with superstructures, and while the vast majority are the ubiquitous ones for two passengers there are also larger versions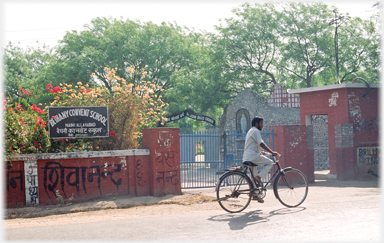 The Bethany Convent School

reminds visitors that Catholicism is also part of the religious mixture of the area. Established in 1965, it was founded to cater for the poor and marginalised, especially girls, and now has some 2,500 pupils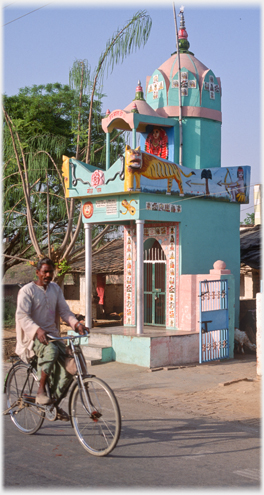 If there is one word that sums up the sub-continent it is "Colour" as with this Hindu shrine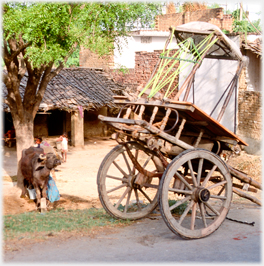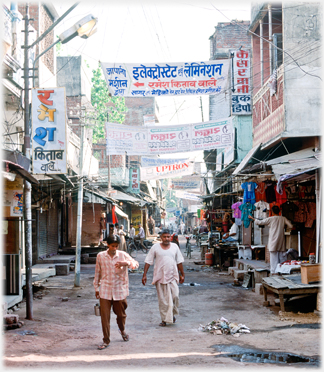 Above a cart with buffalo watching in typical pose

- nose up. To the right, one of the town's main streets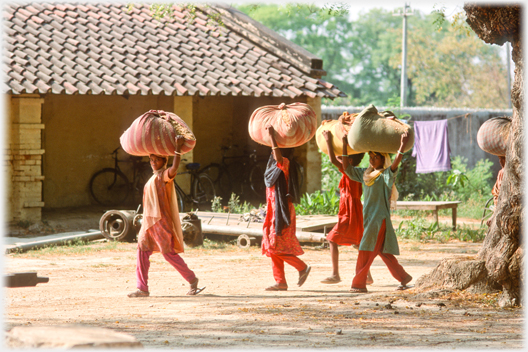 In much of India it is women who do most of the carrying
- usually on their heads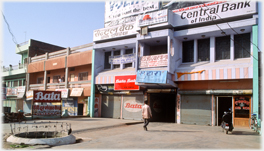 A rather deserted town centre - normally India's 1.35 billion people jostle for a place in every photo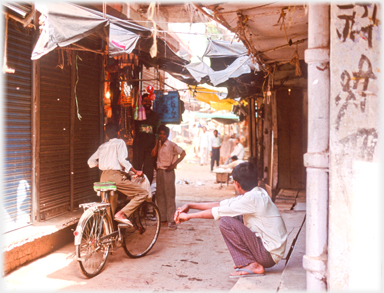 A lane beside the main street of Naini. Squatting is something much seen in Asia. Photographs of queues in the 30s show it is not so long since we too, in the west, hunkered down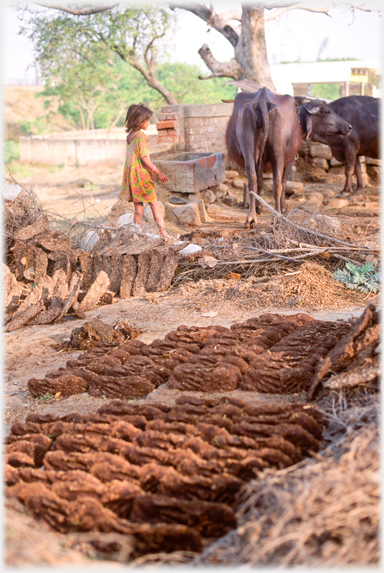 A simple source of fuel, in a country where cattle are ubiquitous, is dung. It is made into convenient sized pats and then dried in the sun, usually by children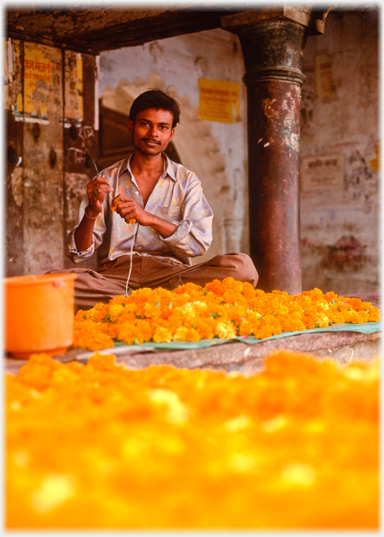 Everywhere in India flowers are made into garlands used on a vast variety of occasions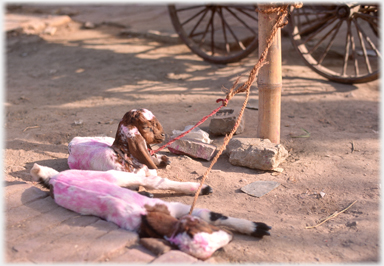 It is not only the accoutrements of animals that are coloured, whole bodies are pained as with these goats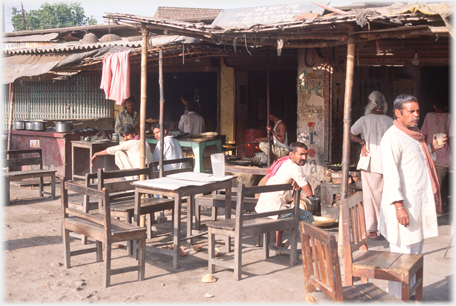 A coffee shop,

early before the sun is troublesome, but strangers may also be troublesome. In many parts of India there are good reasons for suspicion, watchers are ambivalent; this shows in the people sitting above and in the picture above right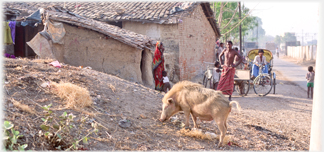 Everywhere you look in India there are birds, animals and people looking back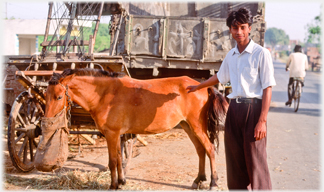 Having a friend, mine is pictured here (the man that is, not the horse) is sensible in such places. This stands in marked contrast to travelling in Vietnam - which is utterly tension free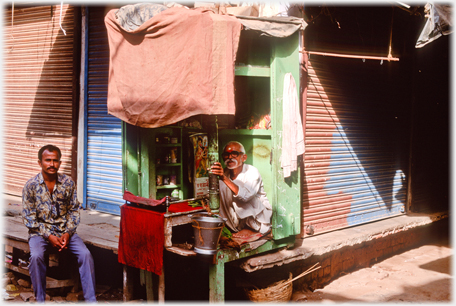 A truly corner 'corner shop'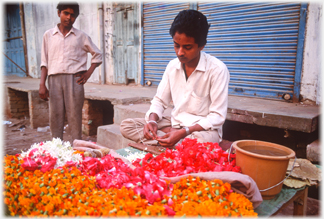 Another garland maker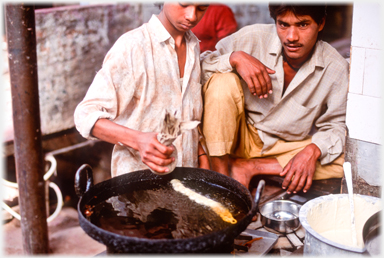 Deep fried food

available at the street side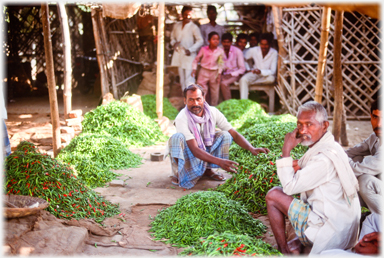 Chillies: heaps proportionate to the vast consumption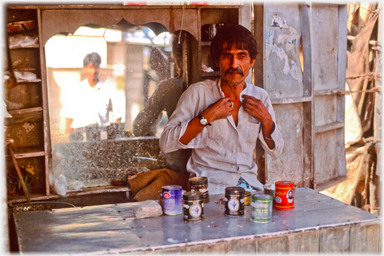 Kiosk shop, possibly selling... chewing betel?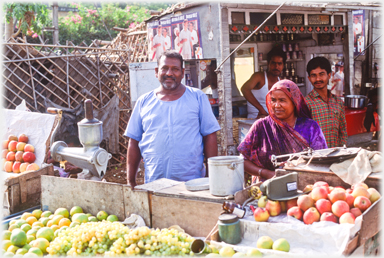 And, as so often, really warm smiles from this trader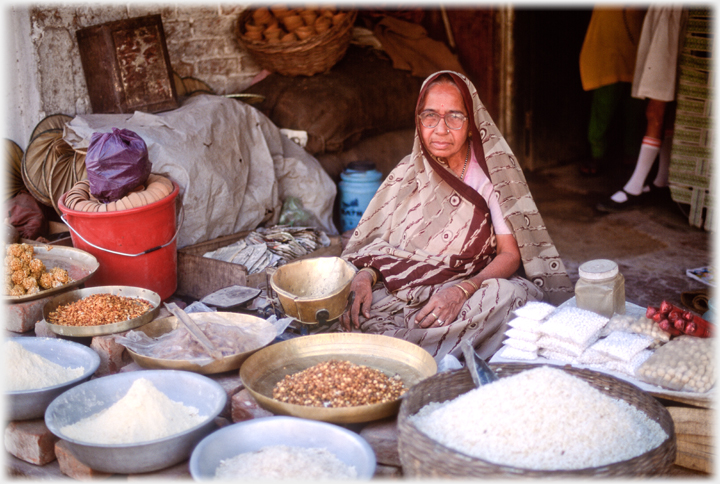 However, the final photograph goes to this woman with her dried goods of rice and nuts laid out so invitingly, illustrating the quintessential skill of the Indian trader
The next page takes you from the turmoil of the 2.4 million people of Allahabad, to the 2.4 thousand people of Moffat. The murder rate in that city is very roughly a 1,000 per decade, in Moffat it is about 2 per decade, so our peaceful community scores double the rate of a sometimes discordant city.