The steep hillsides on which Sa Pa sits, add an extra dimension to its street markets
Sa Pa lies on the border with China in north-west Vietnam at a height of 1,600 m (5,000 ft). During their occupation in the 1880s the French developed it as a cool retreat from the heat of the valleys and plains below, and it also provided an important buffer for the newly established border with China.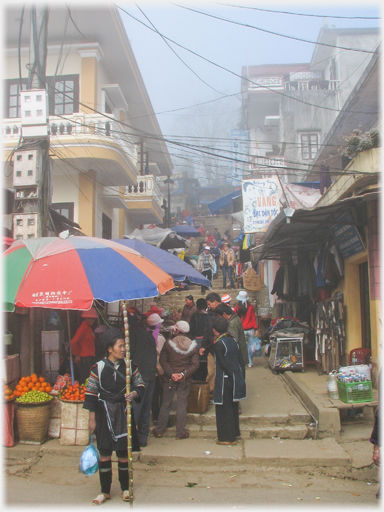 Morning mist clearing from a Sa Pa street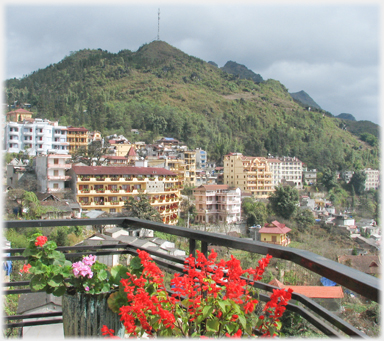 Many large hotels now line the hillsides with fine views...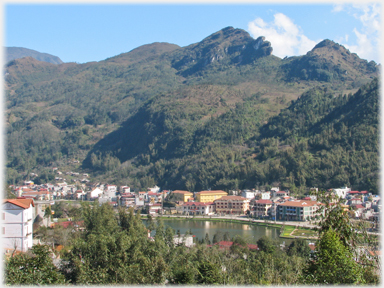 ...while others nestle in the shelter of the hills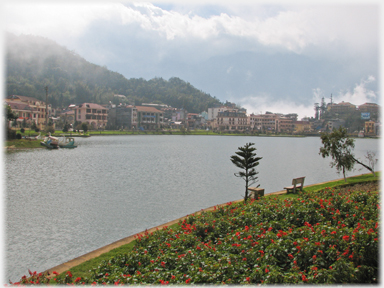 Sa Pa Lake near the town centre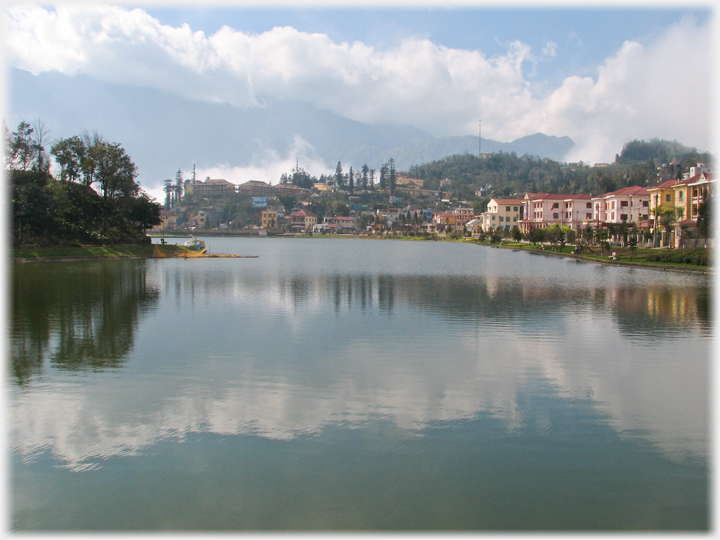 The Lake in Sa Pa with its line of grand villas originally built for the French, although nearly all destroyed by the French war of the 50s, and then the Chinese invasion of the 70s, but now rebuilt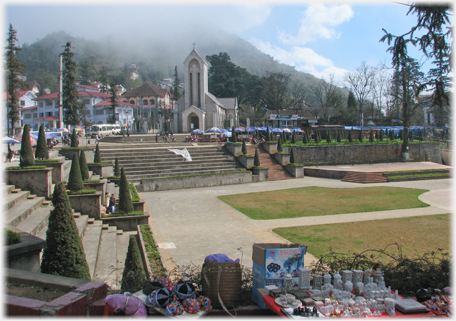 The central square with the Catholic church which dates from 1930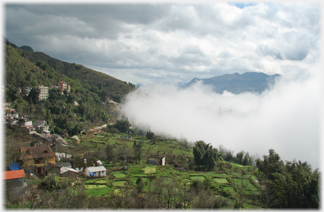 Evening mist creeping up to the town
Sa Pa's growth since the middle of the last century has been rapid, and it is now one of the two main tourist destinations outside Hà Nội. Sadly it follows that it is one of the only places in northern Vietnam where the local people take too much interest in tourists.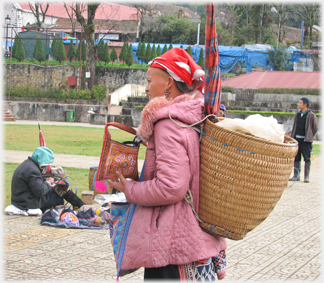 One of the woven panniers seen in many parts of northern Vietnam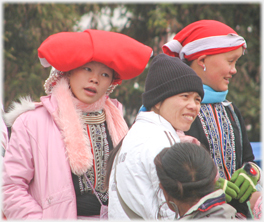 Red Dao women in their best hats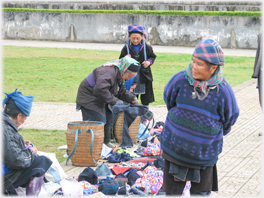 Black Hmong vendors laying out their goods in the central square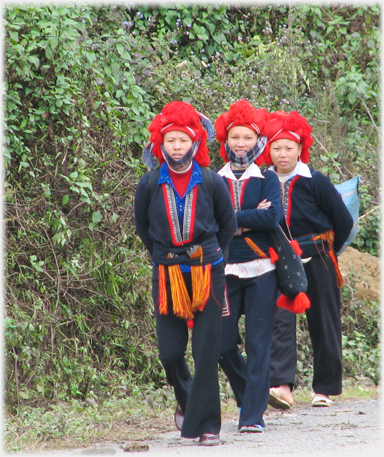 Three Red Dao women walking to the Sa Pa market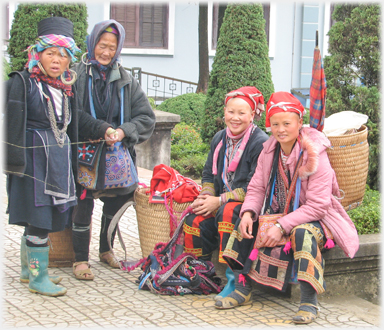 The staple trade of the town is selling a range of embroidery to tourists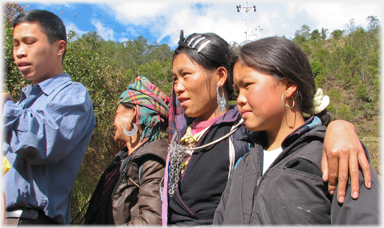 Black Hmong with some examples of the jewellery worn
One of the main tourist attractions Sa Pa has is its diversity of ethnic groups. The largest of these groups are the Hmong people who account for just over 50% of the population, the Vietnamese (or Kinh) are less than a quarter mostly having arrived in the last 40 years. The other major group are the Dao (pronounced zow).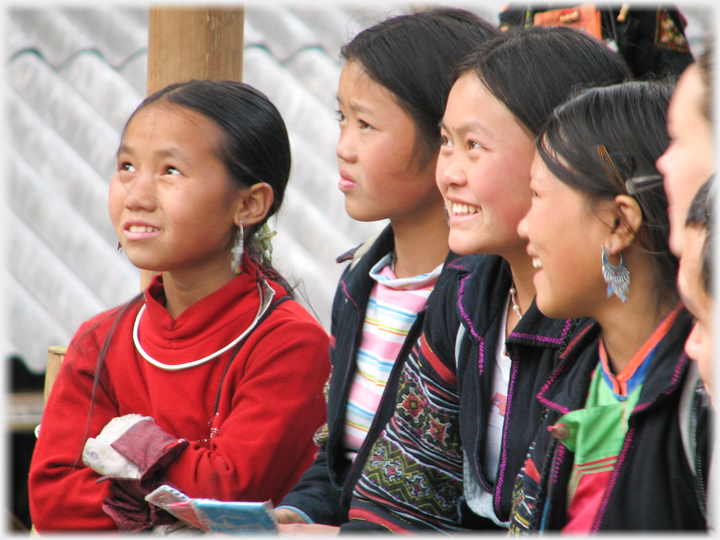 Black Hmong girls being entertained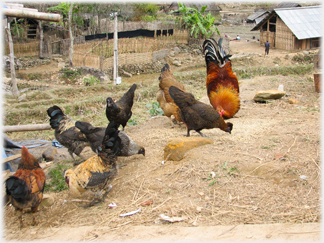 Hens with house and compound beyond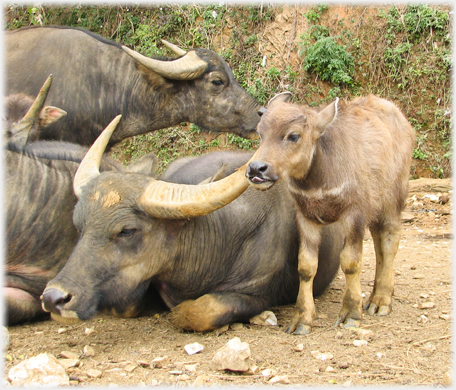 Buffalo and calf
The domestic animals catch visitors attention, most especially the buffalo with their gentle eyes and calm disposition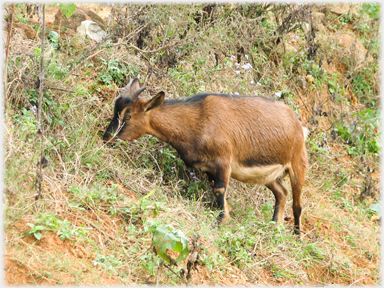 Domestic goats graze with some freedom on the hillsides
Doe eyed Buffalo with the soft ear hair that looks like feathers; in Vietnamese animal hair and birds feathers have the same word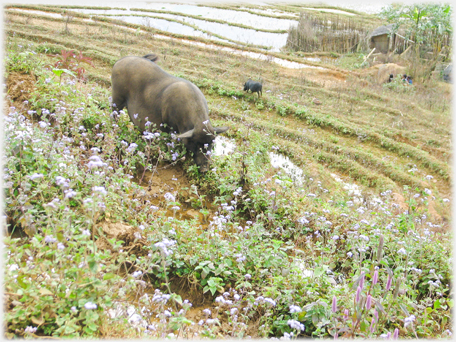 Pigs are left to root along the fallow terraces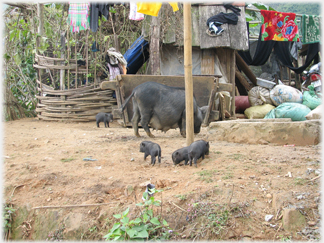 A sow and her piglets beside a house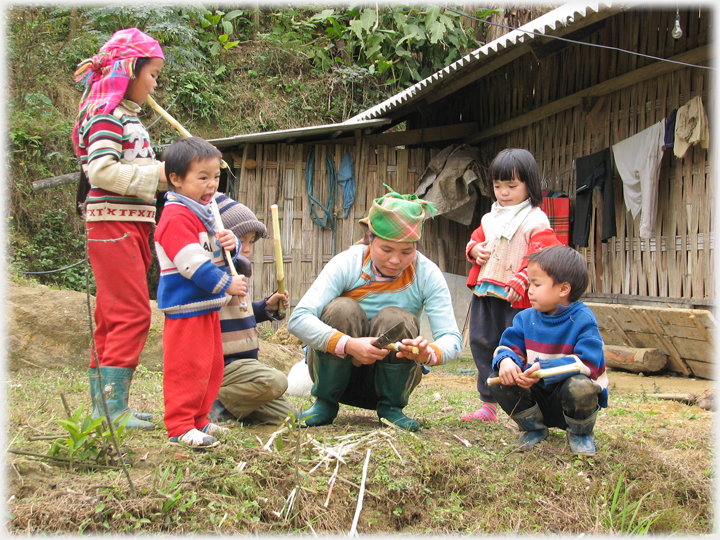 Children eagerly receiving a sweet treat - sticks of sugarcane
The next page goes to the approach to the Mã Pì Lèng Pass - some 200 km to the north-east of Sa Pa