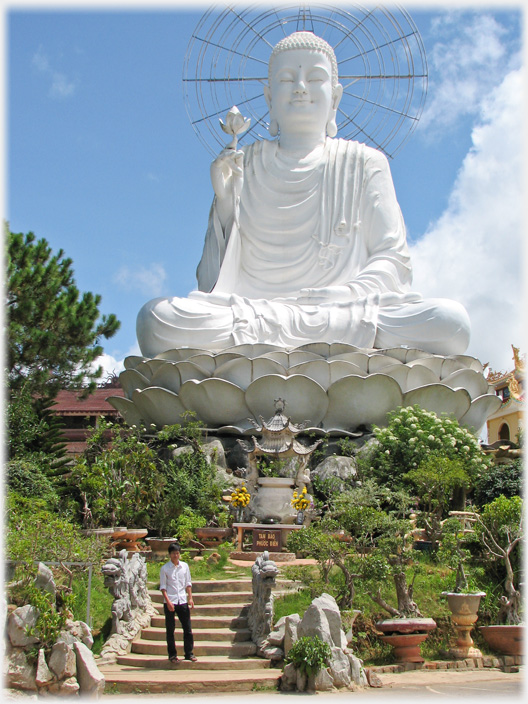 The Vạn Hạnh Buddha is here seen still pristine white - it has since been gilded. It sits 21 metres (65 feet) tall looking south over the city of Đà Lạt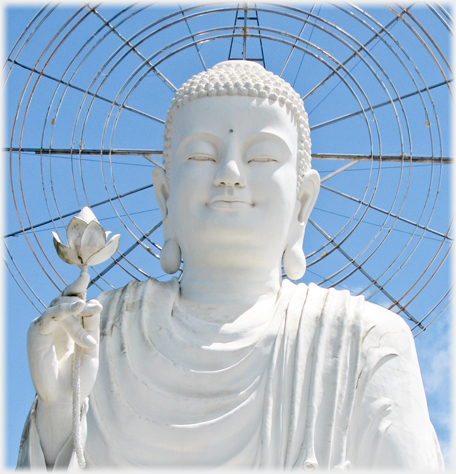 Maybe the neon halo gives this Buddha reassurance at night
- to a westerner it is not immediately prepossessing
Although it is probably most famous for its flowers there is much more to Đà Lạt than plant life. The parks, waterfalls and countryside have already had pages to themselves. On this page are some examples of statues, sculptures and monuments by which humans have introduced their culture to the area, both in religious and secular terms; and in addition to those conventional objects plants can also sometimes be drafted in to serve as cultural 'objects'. So this page might be called a rag-bag or more politely discursive as it wanders from Buddhas to elephants, and from stone plants to dragons.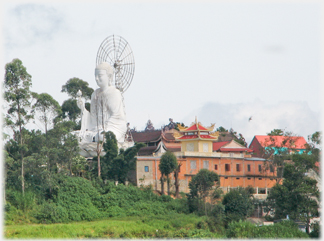 Left, the Vạn Hạnh Buddha looks out over the northern suburbs of Đà Lạt City, and right, the monastery buildings behind the statue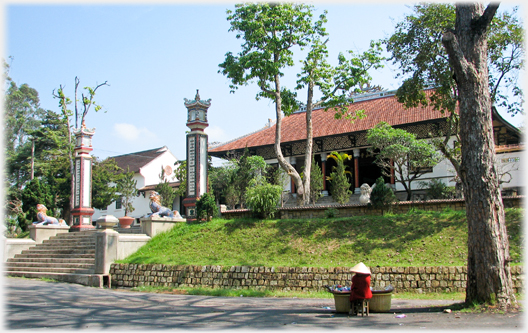 The Linh Sơn Pagoda is in the northern suburbs of Đà Lạt and features these two beasts defending their pillars, and the pagoda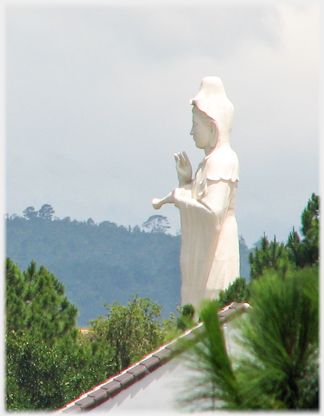 A few minutes drive from the giant male Vạn Hạnh Buddha the above female...
The forecourt of Trúc Lâm, a Chan Monastery. It's hot - the woman needs to cover her head with her jacket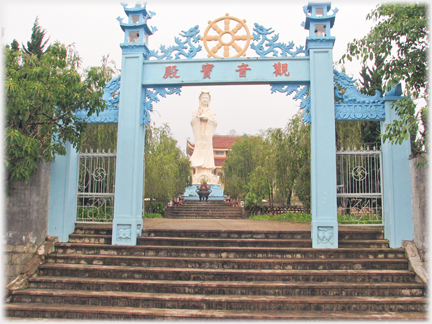 ...Buddha stands modestly in her ground,
above seen from the entrance gate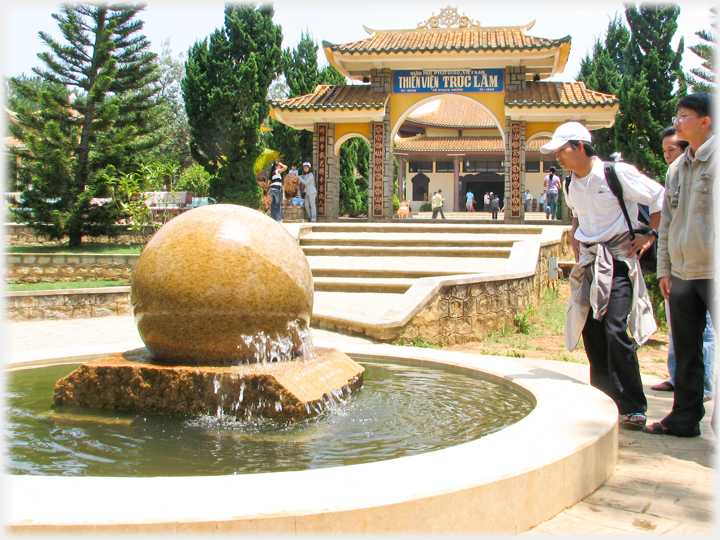 Visitors fascinated by the spherical granite ball forming a fountain in front of the
entrance to the Trúc Lâm Monastery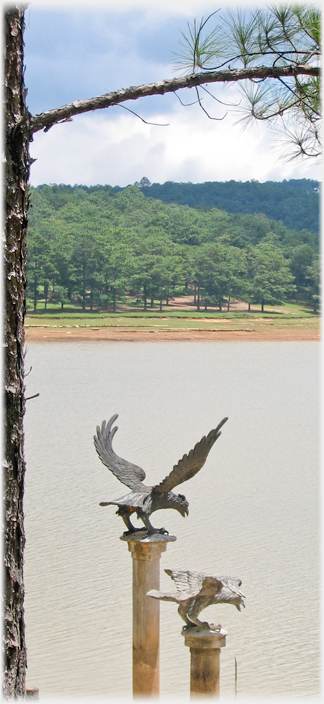 A pair of bronze birds top columns in the Golden Valley Park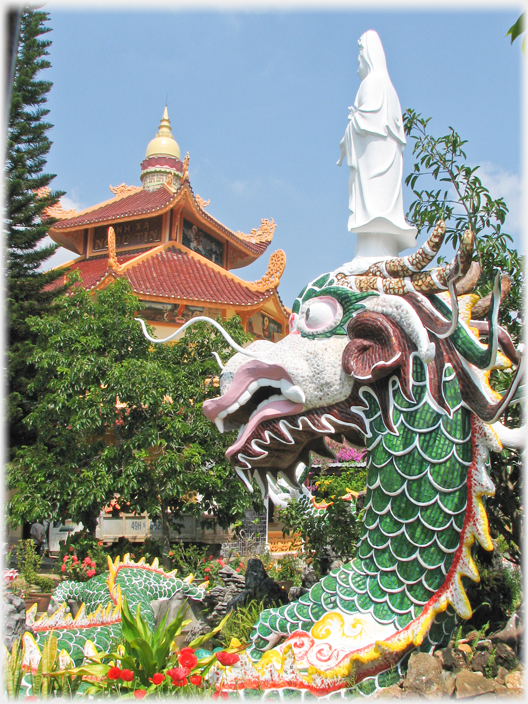 This very splendid dragon is in suburban Đà Lạt and supports a female Buddha similar to the one seen higher up the page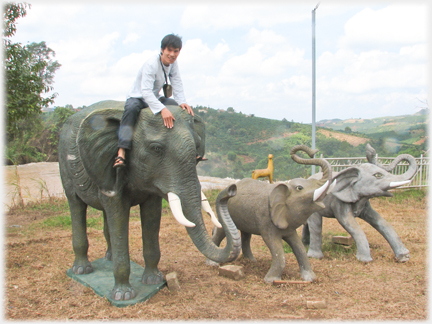 Sculpted Elephants at the Elephant Waterfall...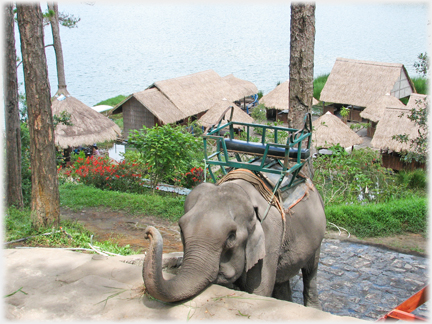 ...and a real elephant in Golden valley being used for rides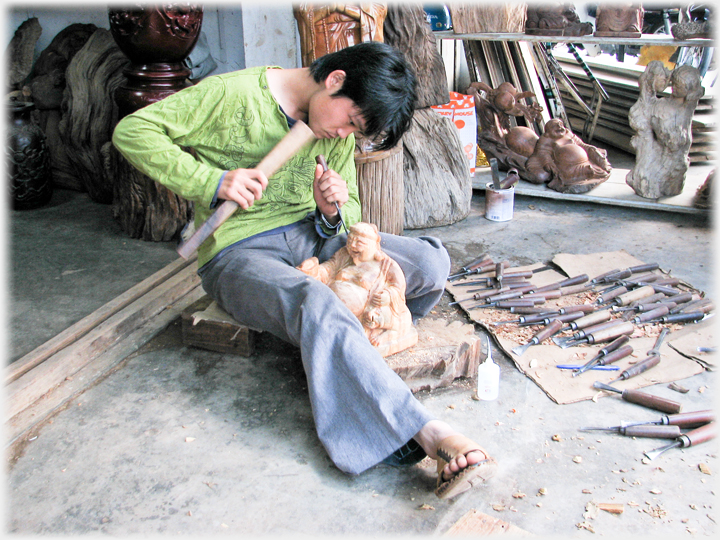 Buddhas being produced just near the entrance to the Love Valley

Park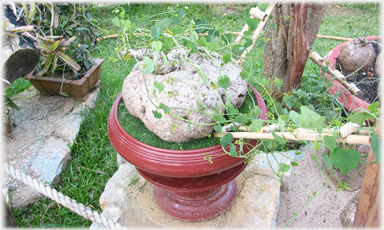 And some natural sculptures: a stone plant in a pot...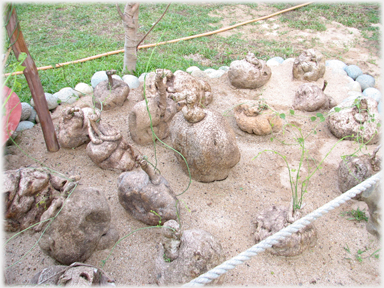 ...stone plants in their nursery...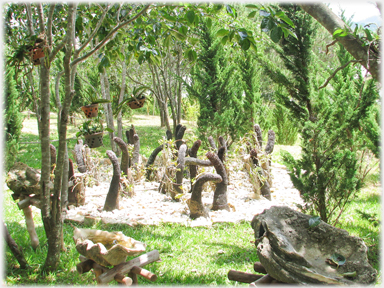 ...unknown plants - looking sociable but mysterious...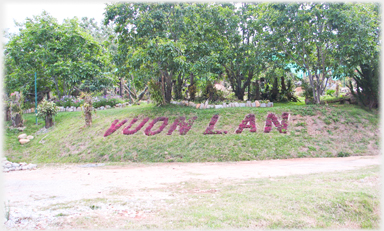 ...plants being used as a signpost to a pagoda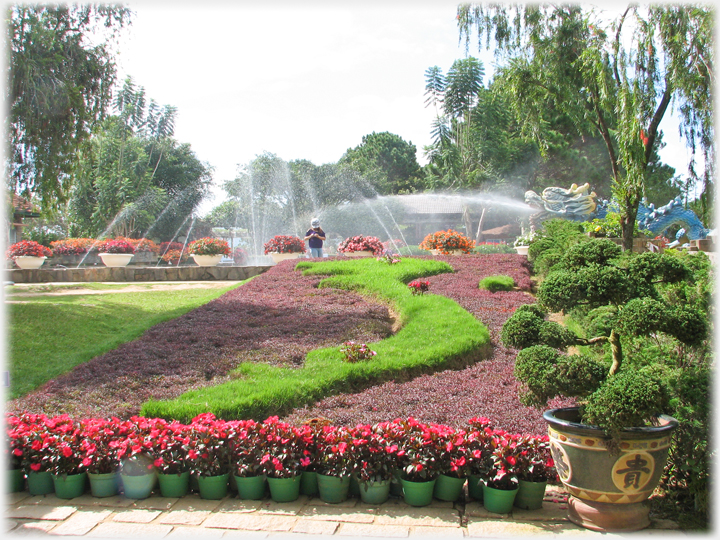 And here, in Love Valley

, the plants form a map of Vietnam
Trailers...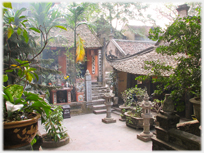 The next page of this section moves from the modernity of Đà Lạt to the Thầy pagoda near Hà Nội, which has been there for about 800 years.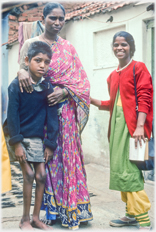 The next page of the Mosaic Section is 'Conscience and Consciousness'.
Or go to the contents of the Mosaic Section.