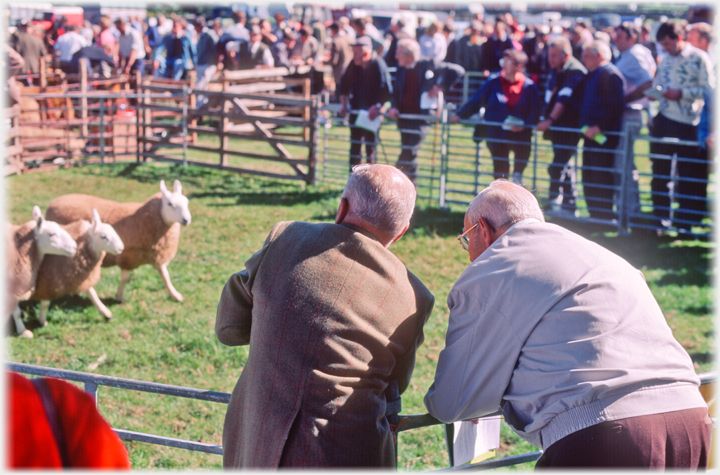 Two canny watchers of sheep
This page brings together two aspects of Moffat with but a tenuous connection: both the Annual Agricultural Show,

and the Moffat Station Park

draw large number of visitors to the town; the former en mass on one day of the year, the latter as a constant stream. The show and its exhibits, most particularly the sheep, draws crowds of viewers and competitors, whereas the park is often part of a stop off, and the passing enjoyment of the boating, or the putting, or a stroll amongst the flowers. (So really the excuse for the page is that neither group photos is really strong enough to stand alone.) First the park or, more fully, 'The Station Park', which gains its name from the ground it occupies. The station having closed

in the 1964, at which time people commuted to work in central Edinburgh, the journey taking only a little over an hour.
Moffat Station Park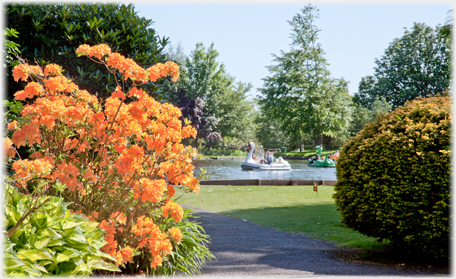 Rhododendrons by the park's pond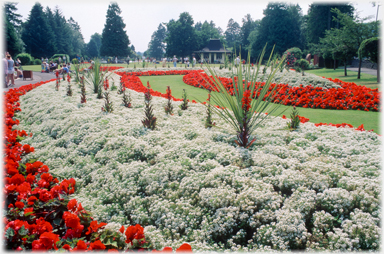 Large ornamental borders, such as these, have...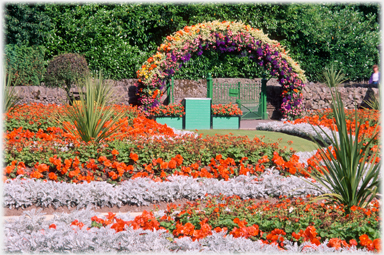 ...been less common in recent years with council cuts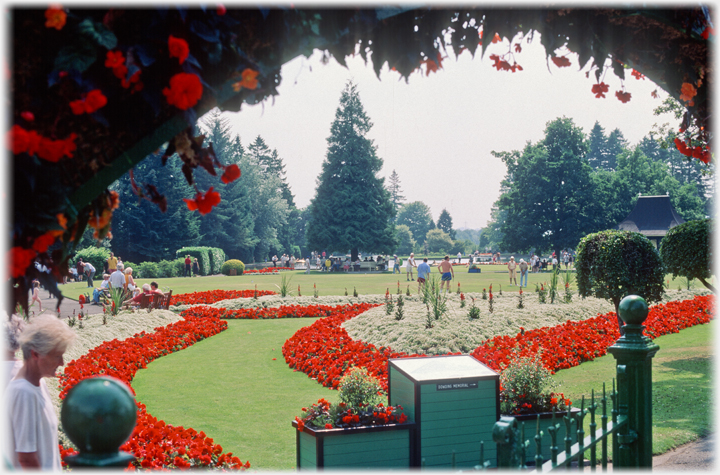 The view from the entrance to the Station Park, flower borders, putting, and beyond the boating pond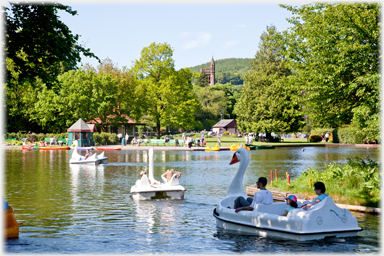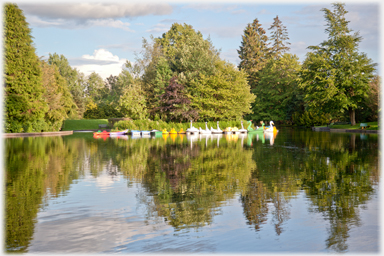 Views of the boating pond with its swan pedalos; St Andrew's church

is in the background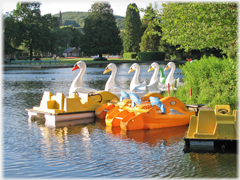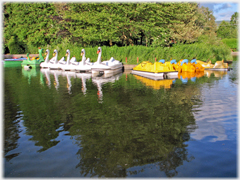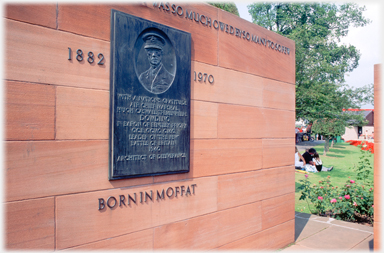 The Dowding Memorial

to the Battle of Britain leader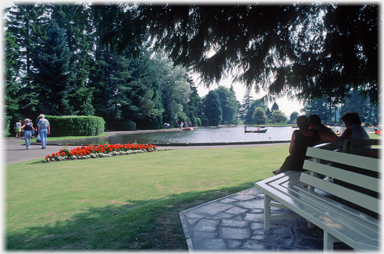 A shady corner with a view of the boating pond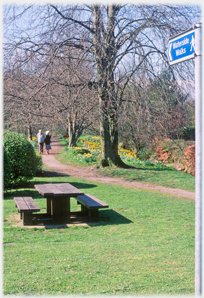 The riverside walk starts from between the cherry trees...
...in the picture above, this is opposite the entrance to the Station Park
The Moffat Agricultural Show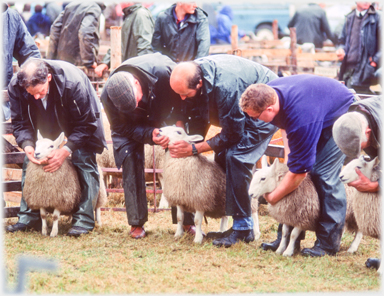 A core activity at the Moffat Show is the sheep judging, when mouths matter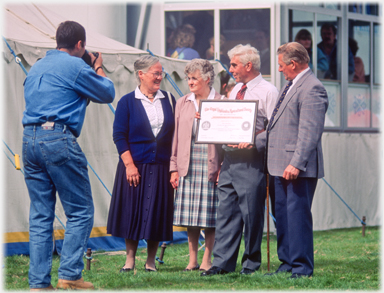 It is not only sheep that get prizes at the show. There is also the opportunity to award prizes to shepherds. Here the Bodesbeck shepherd, Peter Learmonth, is being rewarded for his long service - and of course there is the necessary photo for the local paper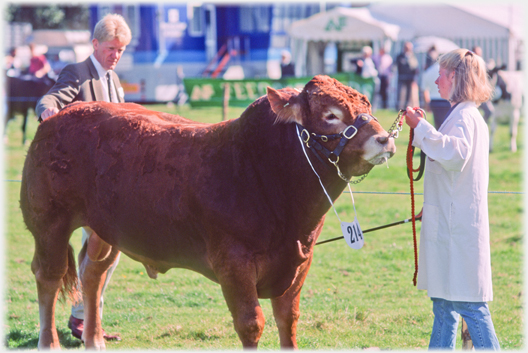 Judging ranges from prize bulls to delicate china...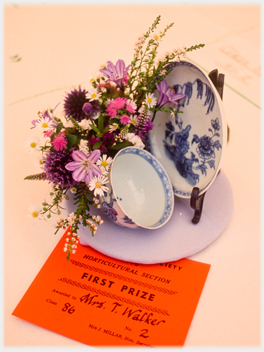 ...two categories kept well apart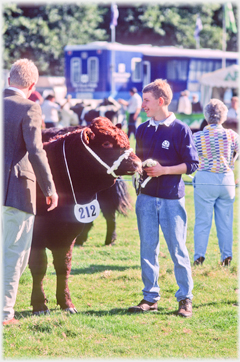 Laugh...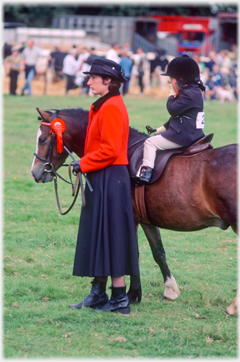 ...yawn...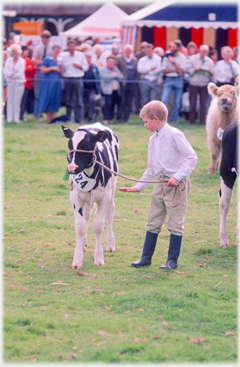 ...sit? Surely not.
Goat judges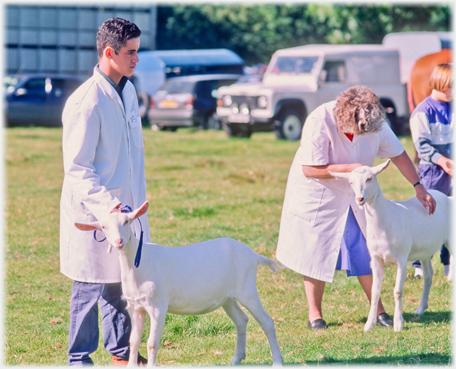 And, while waiting judgement, goats still manage to look interested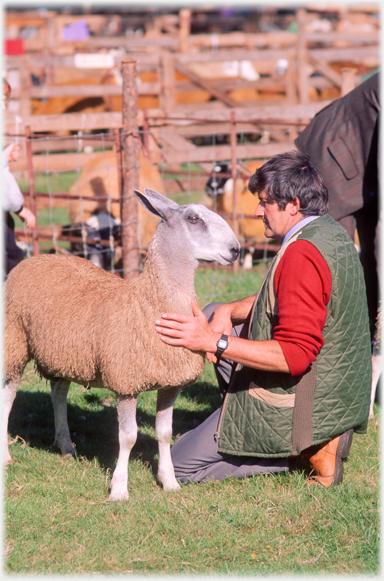 A Leicester

calmed by the touch of its owner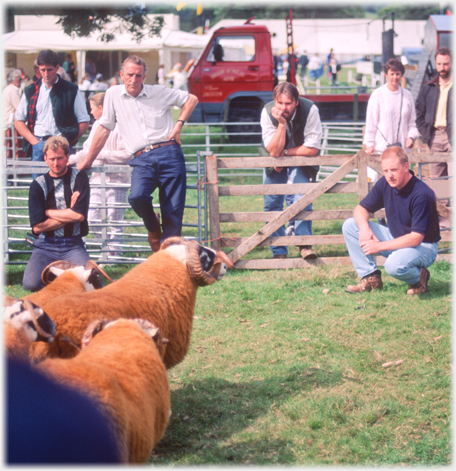 They ask, 'Is it the best in the show'?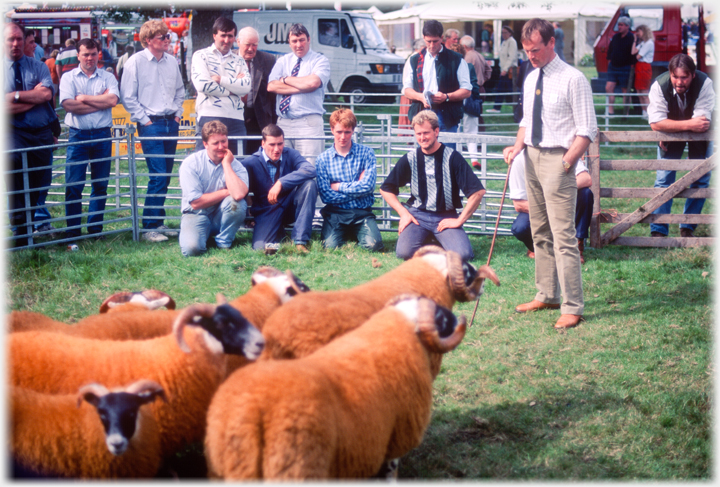 The judge's turn to make his decision which will make more people unhappy than it makes happy - not an enviable task
The next page takes you out of Moffat and looks back to view the town as seen from the surrounding countryside, as well as showing a little of that countryside.