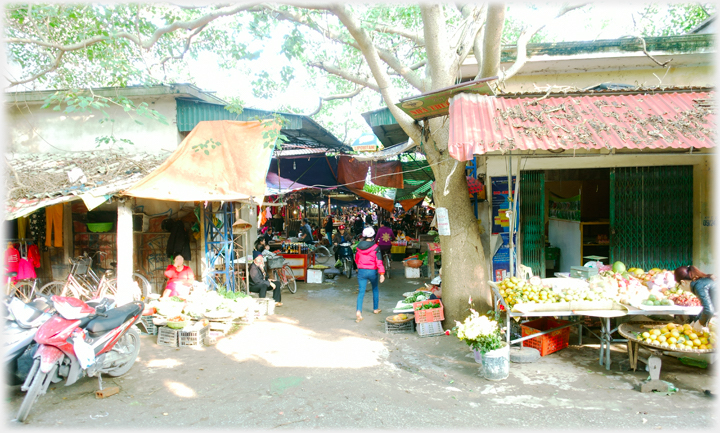 The rear entrance to the Tĩnh Gia Market has no frippery, like that of the imposing arch at the front, and leads straight to the food stalls that serve daily needs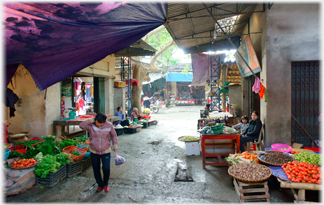 Looking out through the rear gate of the market
The low key entrance at the rear of the Tĩnh Gia Market is not even a gate to a building, but rather to a series of tarpaulin covered stalls - between which the rain pours in.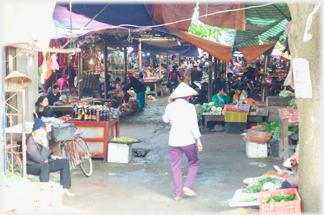 Looking in through the rear gate
Immediately inside the gate are a row of fish sellers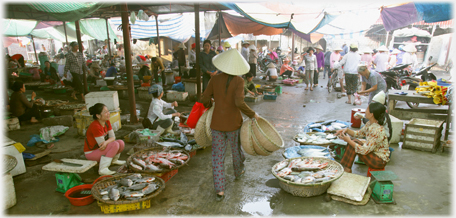 The area at the rear of the market, near the gate, is dedicated to fish. Here fishwives squat along the edge of the lane their husbands catches laid out on woven bamboo baskets. The ground is constantly turned to mud either by the rain or just from the water that is used to keep the fish fresh.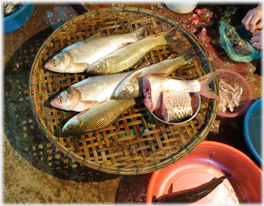 Larger fish are often ready portioned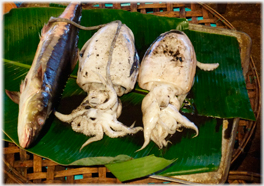 Banana leaves are ubiquitous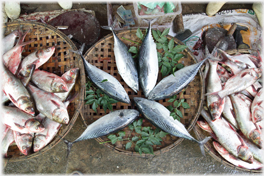 Vendors may attempt displays, although these are usually soon disrupted by customers' examinations of the catch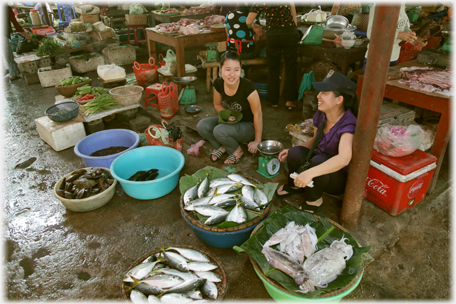 Clams, fish and squid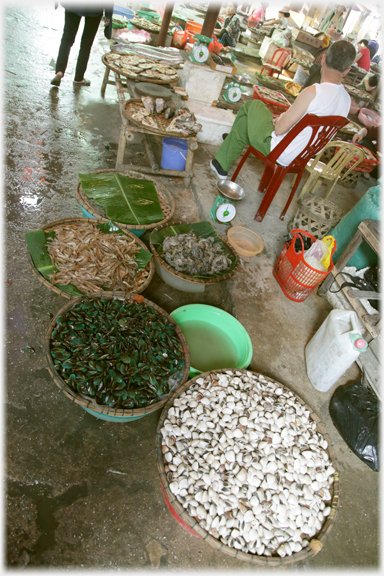 Prawns and cockles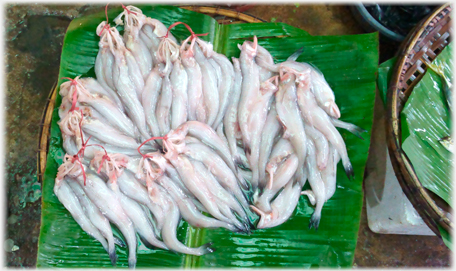 These fish have the consistency of snot full of sharp bones - ugh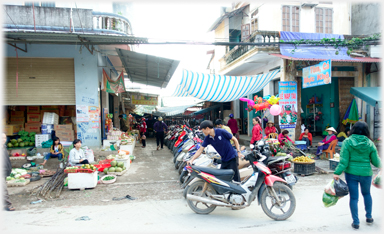 On the north side, motorbikes are parked at the entrances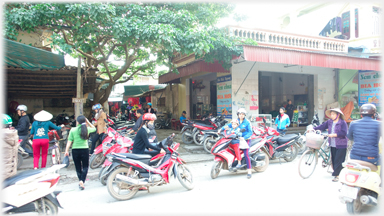 Ba Hai's beer emporium is strategically positioned on the corner of one entrance (where you might find me)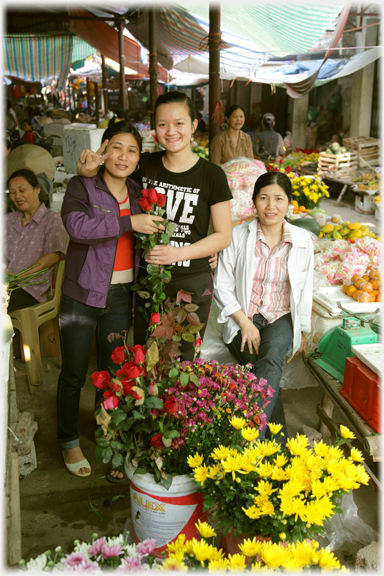 Flower sales are big business in Vietnam; the excuses are endless to give or present a bouquet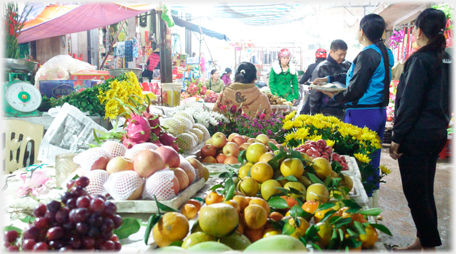 Fruit stalls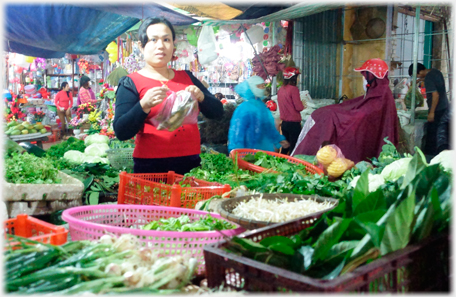 Vegetable stalls...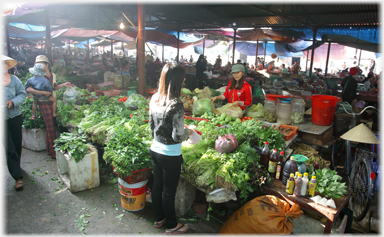 ...more vegetable stalls...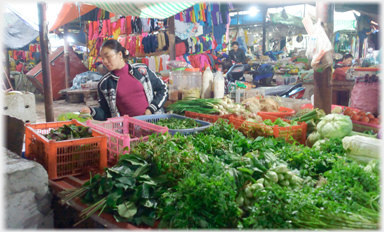 ...and yes the Vietnamese eat a lot of fresh vegetables!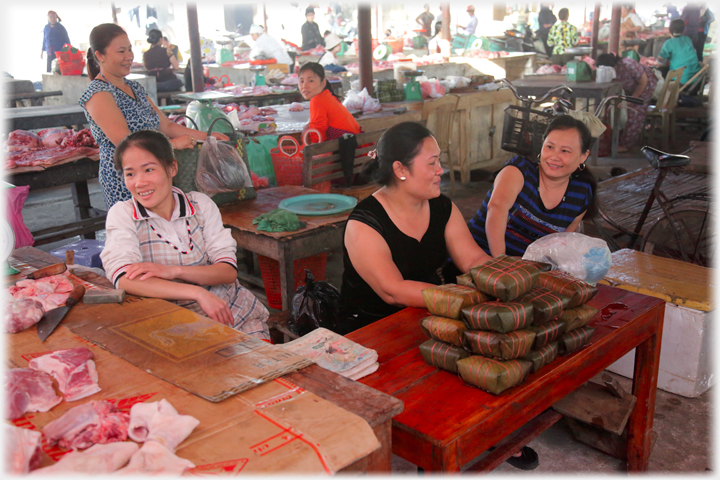 Vietnamese markets always seem to be as much about the social life as the commercial, maybe inevitably so, with the long periods of boredom between sales. Here the sale is of a special 'cake' - bánh chưng - made of steamed rice with meats and corns in the centre and tied up in banana leaves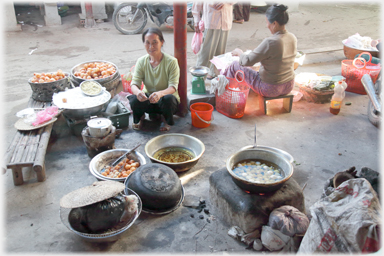 Woman selling eggs, but westerners should be warned, some of the eggs are more expensive, these are fertilised and have chicks inside, through which the Vietnamese appreciatively crunch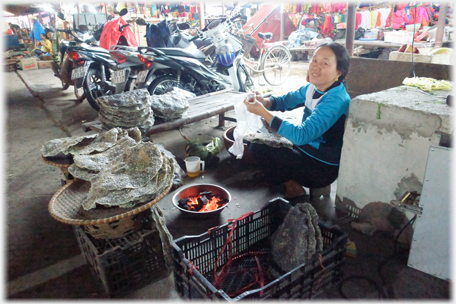 These large, up to a half metre across, crisp-breads made of rice are similar in texture to poppadoms, but covered with sesame seeds. They are freshly heated by turning over a coal flame, preparatory to selling to customers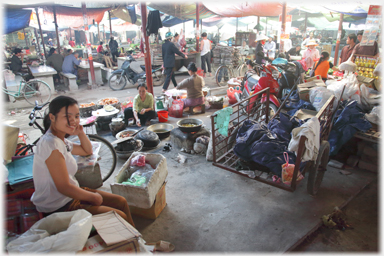 An unusual bit of space just here. Elsewhere stalls are tightly packed together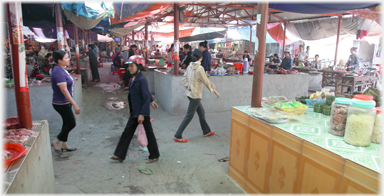 The central area of the food market is given over to cafes each with its own specialty and boundary wall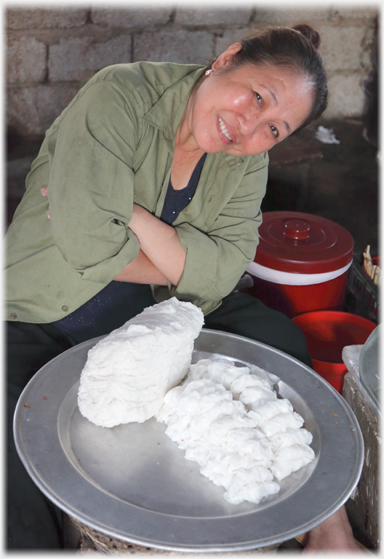 Soft cooked rice to be eaten like a cake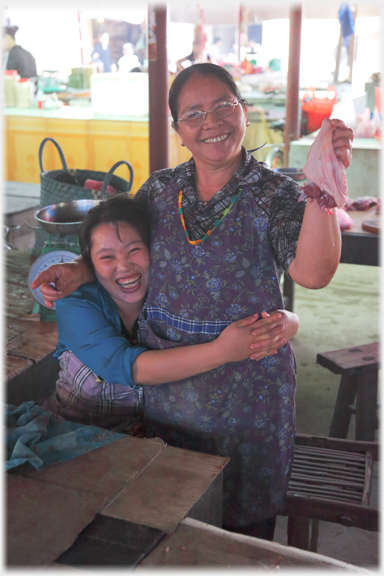 Want to try my meat? However, in the market her words might be a good deal cruder.
The next page goes out on a small road from the town of Tĩnh Gia, where the market is situated, towards the
village of Thành Công.