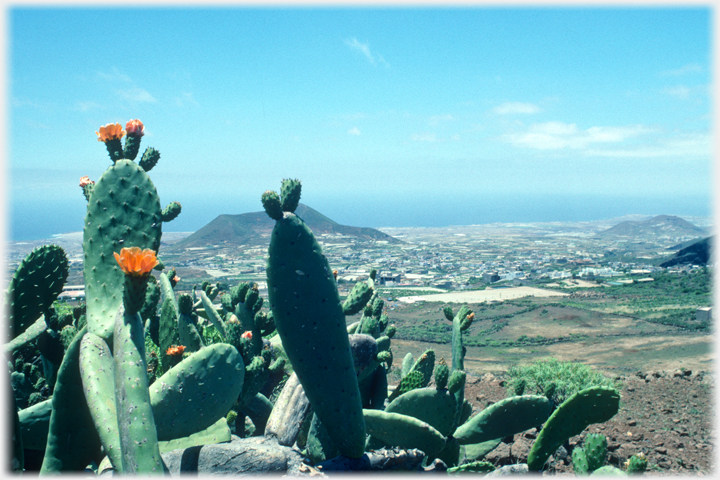 The south coast of Tenerife is fully built-up along a narrow band of the sea, driving a couple of miles to the north leads to open country
Tenerife is easy and cheap to get to and (in the south) offers cloudless skies and clear waters. But there is more to it than that. Most visitors to the coastline want nothing more than what it offers, so drive a couple of miles inland or up to the north and the island is amazingly untouched by the cruder forms of tourism. The twelve thousand feet of Mount Teide dominates the whole island and to its north are lush laurel forests and delightful Spanish villages. This page stays on the south coast and shows a little of the good things to be found there, the next two pages take you to the rest of the island.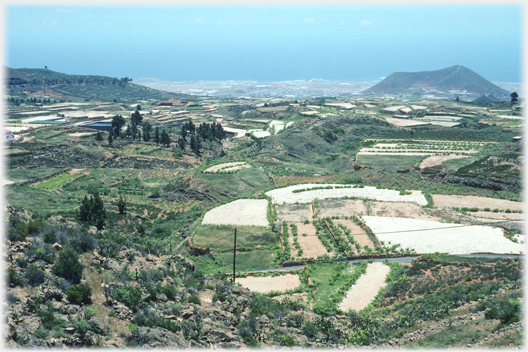 Fields outside the tourist beach belt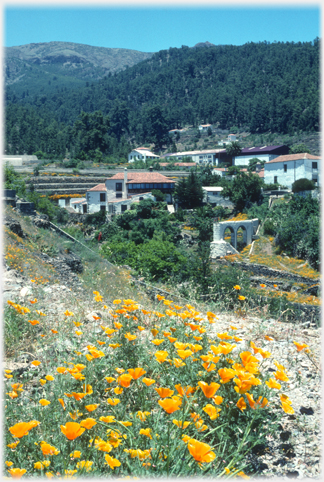 ...more space and poppies appear by the road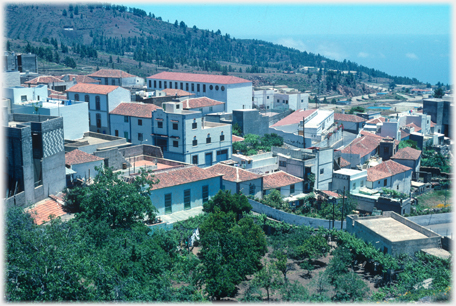 Hillside villas with views to the sea...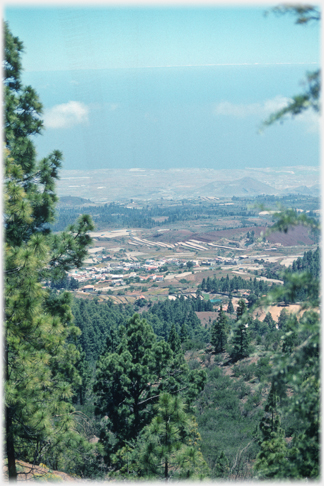 Then a bit higher up the road and beyond the houses, the pinewoods introduce the lower slopes of the mountainous hinterland...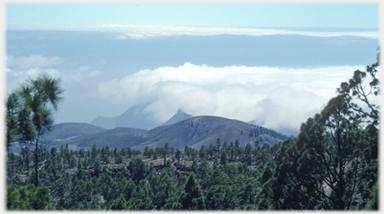 ...and soon the ascent takes the visitor above the cloud level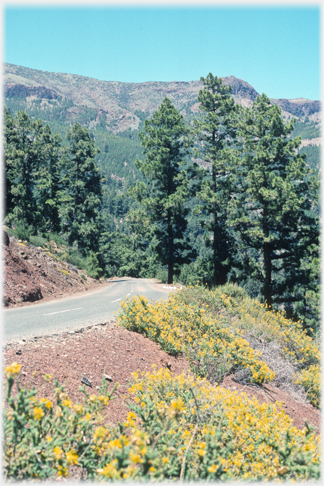 Wildflowers flourish with the cooler air
Another view over the clouds to the sea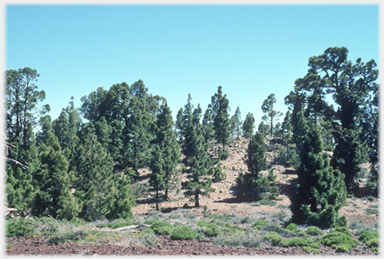 Thinly spaced pines on the light soil of the hillside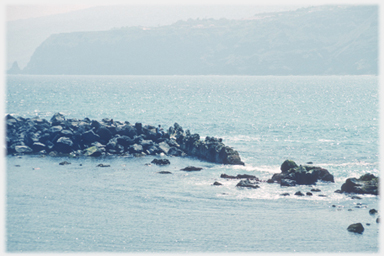 And the contrasting dazzle of the sun at sea level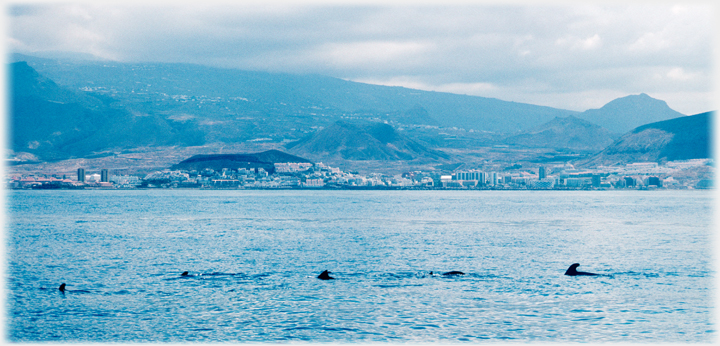 The Playa de las Americas forms the backdrop for the many boats which leave each day to take visitors to see the pilot whales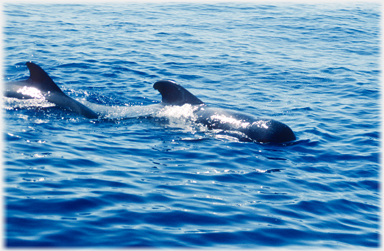 Two pilot whales swim together alongside the boat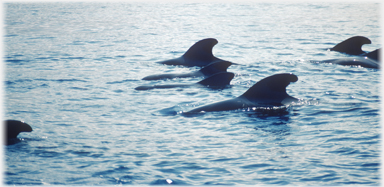 A pod of pilot whales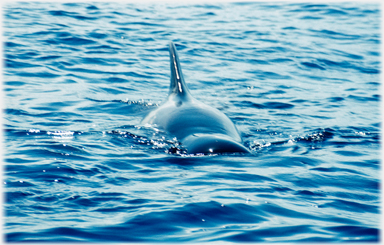 ...and approaches it inquisitively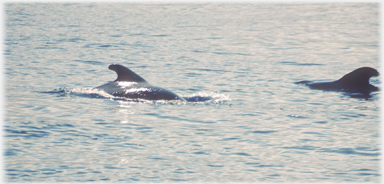 A whale turns towards the boat...

La Caleta and Costa Adeje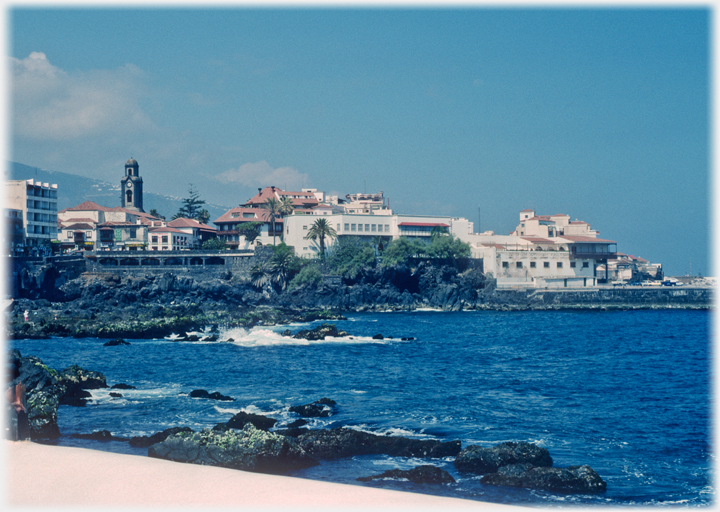 Some angles on this, too often barbaric, coastline can be attractive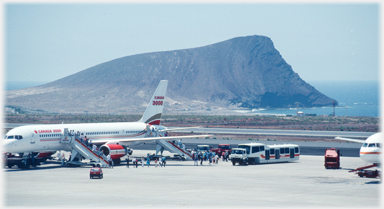 The airport with the (here not so) Red Mountain forming the background, beside it is La Tejita beach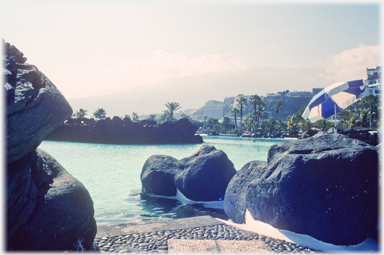 Naturally black volcanic rocks ornimenting a pool
Unnaturally white concrete 'rocks' offer contrast. Tenerife beaches are black volcanic ash, all white sand is imported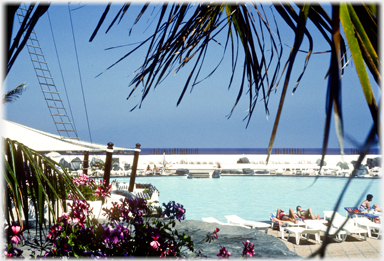 Palms, blue pool and sea - sufficient for many visitors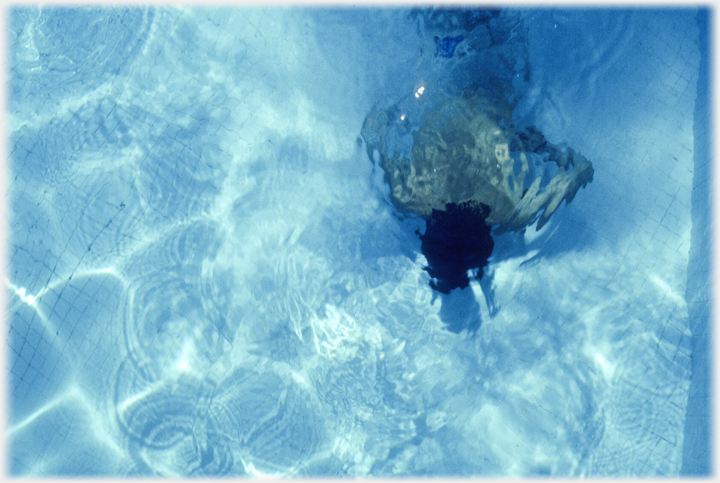 A swimmer in warm clear blue water - Tenerife's south coast
The next page leaves the sometimes monotonous world of sun seekers and goes to the cool laurel forests and Spanish towns of the northen part of the island which are surely diverse and interesting enough for any visitor.