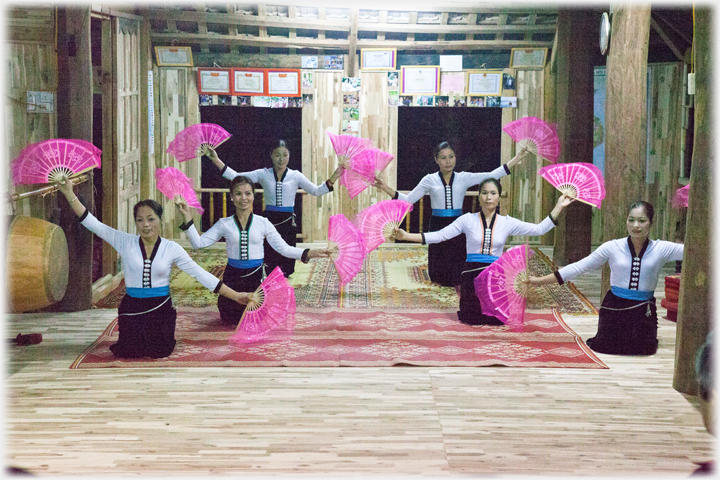 Dances with fans are elegant genteel activities in the Far East, often used as a form of collective exercise. Professional dancers may produce a level of coordination that echoes murmurations in the way separate bodies blend into a single moving whole - a goal for village demonstrations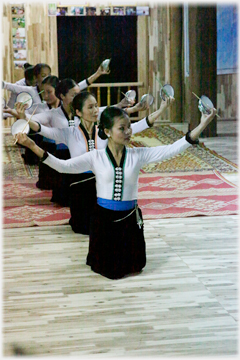 A dance with bowls and chopsticks
The tourist village of Mai Châu was established to help develop tourism in the area, and, as part of that project, guest houses were funded and cottage industries established - in particular weaving, some examples of which can be seen on the last page.

Local dance performances were also encouraged and accordingly there are dance displays held within one of the guest houses on most nights, or on the stage area the village now boasts - although this is dependent on the numbers of visitors staying in the village on that day. The pictures on this page were taken over the ten year period from 2007 to 2016 and so feature many different dancers.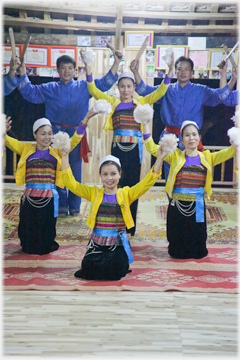 And one featuring pompoms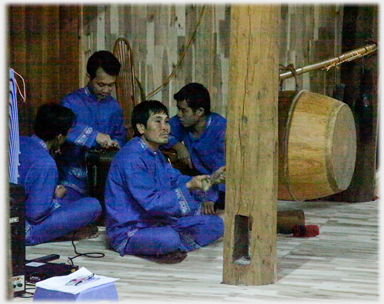 In their dark corner musicians, regularly colleagues...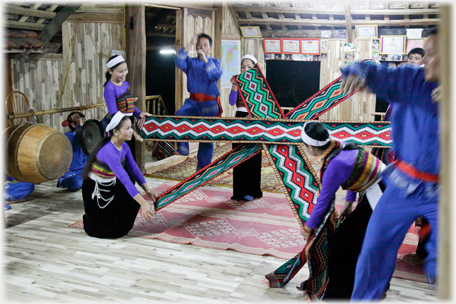 ...of the dancers, accompany the noticeably Thai flavoured set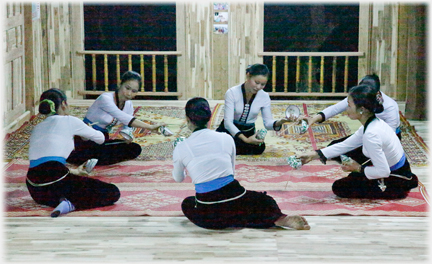 Bowls and chopsticks at mat level this time, and...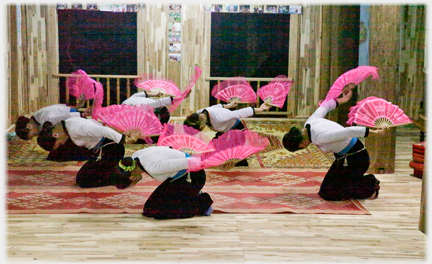 ...a shot from a the traditional fan dance as seen above
Here, a few years later, the pompoms are out again, this time during an afternoon performance. As the popularity of the resort increases so the number of performances has grown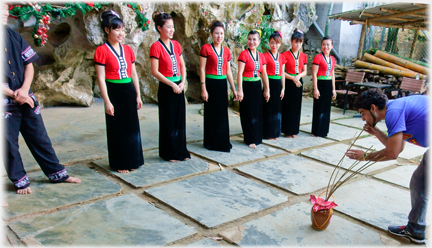 Here are the endings of two performances. Shows conclude by offering the audience the opportunity of sampling a local wine from a communal jar. A guest obliges and...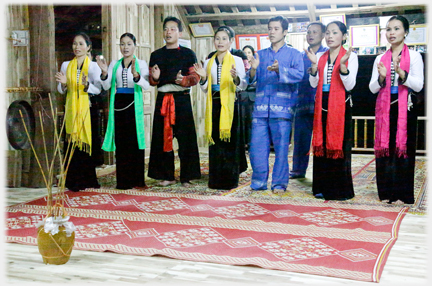 ...above performers clap their audience, as is tradition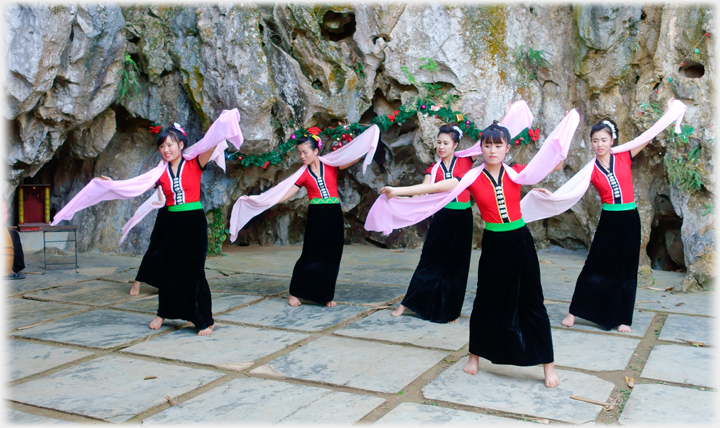 Warm colours but cold stone floor for feet in the winter months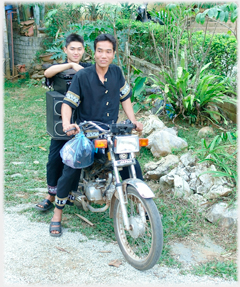 Not quite enough room for a roadie for this band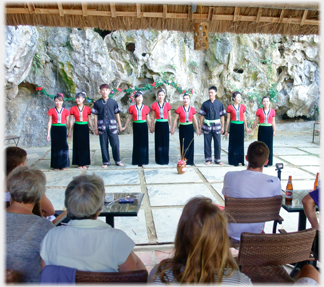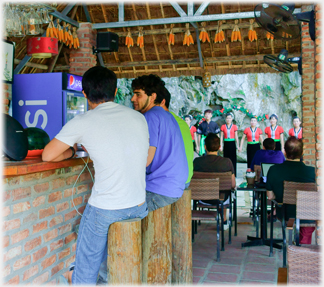 The covered viewing area forms an extension of the bar where the visitor, who appeared above, is already preparing for his performance
Above are two clips of film taken at the open air dance. While the clips are of poor quality (sadly Sony videos are hard to convert for the internet, maybe conveying something of the low-fi sound) you might get a hint of flowing movements of the dancers, and their efforts to draw in the audience.
Back to the more intimate atmosphere of a performance in one of the houses;
a mock Vietnamese monochord as prop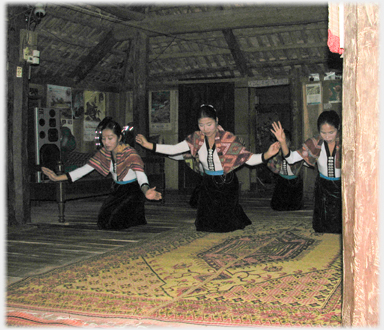 The dance had started from the floor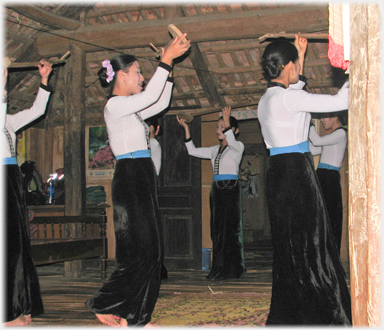 And led at the end to a circle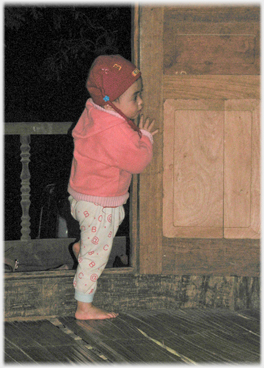 A young audience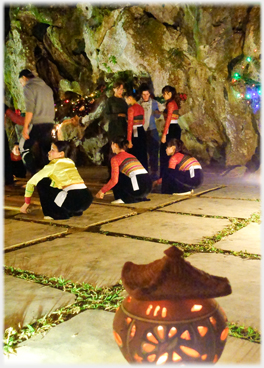 Darkness adds to the occasion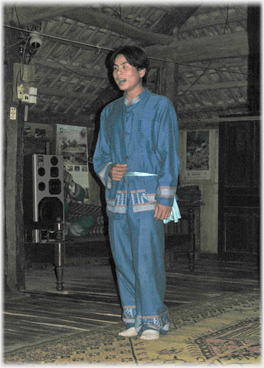 A solo in winter (socks on)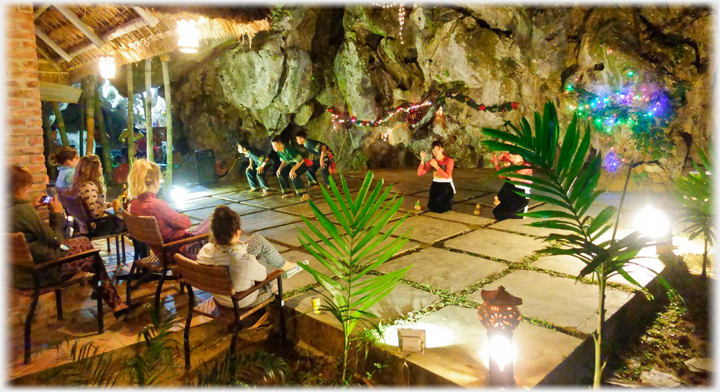 The 'stage' its backdrop and the audience at night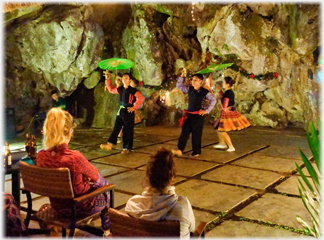 Yes, men do join the performers sometimes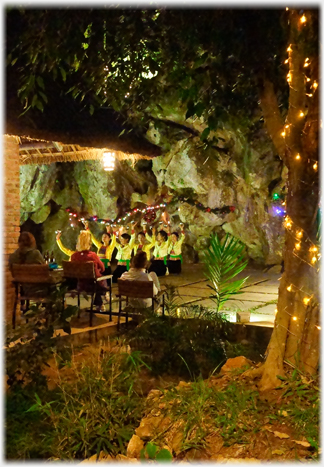 ...different performances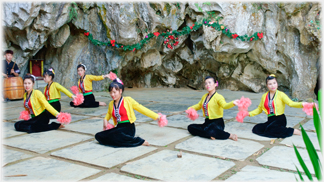 Same costumes at...
'Three Little Maids..." However, in this case, ethnic Thais from a Vietnamese culture with 'Party' testimonials along the back wall to prove it
Trailers...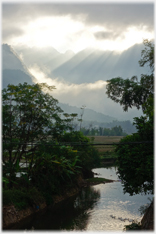 The next page of this section takes you out to the area around Mai Châu village.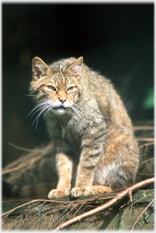 The next page of the Mosaic Section is headed 'Wild Cat'.
Or go to the contents of the Mosaic Section.