This is the 52nd consecutive Saturday on which a new page
has been placed on the Picture Posting section of the site -
Happy Anniversary!
Tell me what you think of it and how to make it better.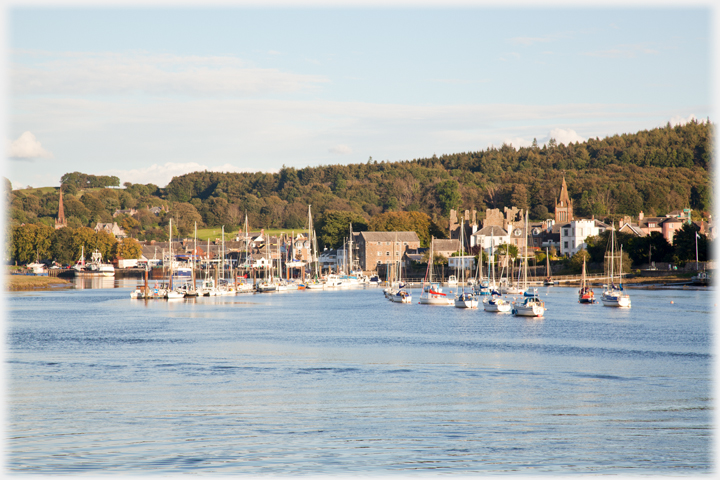 Kirkcudbright from the Stell, on the other bank of the Dee
Kirkcudbright's main delight is the estuary beside which it sits, this opens out into a wide bay and on into the Solway Firth. Together these areas of water give the town the quality of light which has, for over 100 years, attracted artists to work here. Artists still known include: James Guthrie, E.A.Hornel, W.Y. McGregor, S.J. Peploe, E.A.Taylor and Jessie King.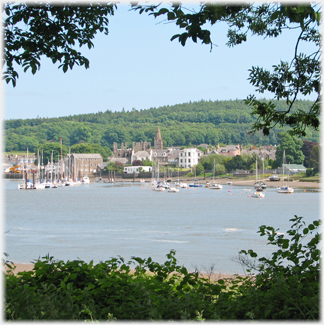 A summer view of the marina with the town behind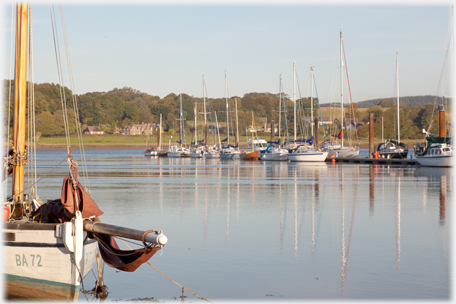 An autumn view back from the town towards the Stell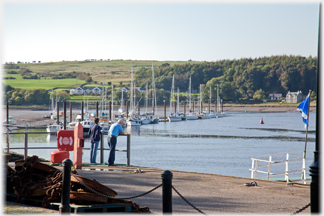 The marina was developed in 2002 following the installation of pontoon moorings in 1995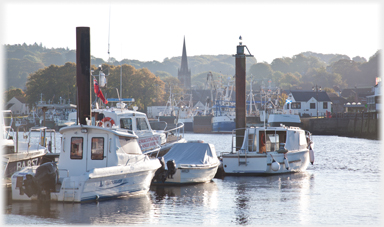 The view from the marina towards the harbour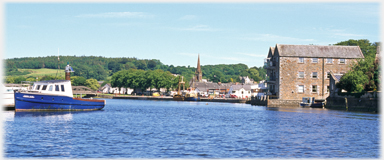 The warehouse beside the harbour was converted to flats over 20 years ago
Today Kirkcudbright is an active fishing harbour, but this is relatively new only really developing in the 1960s
The River Dee provides the town with its sheltered harbour and forms the estuary that leads to the sea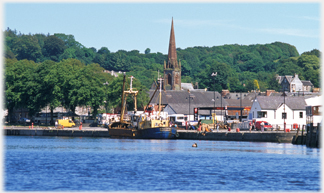 The harbour-side with houses and church beyond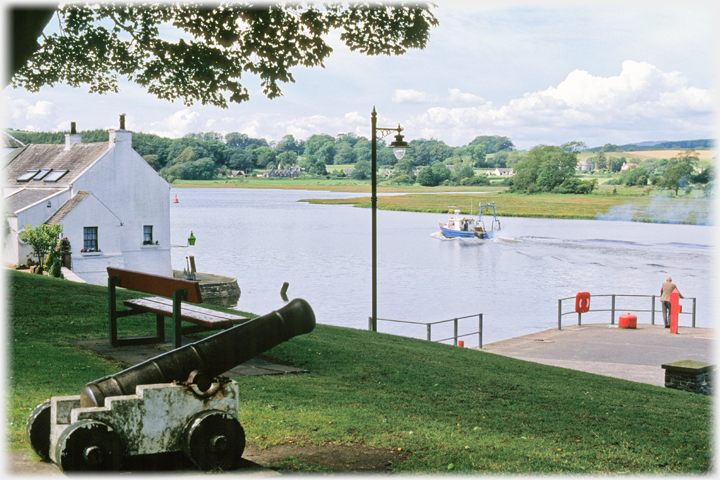 A fishing boat leaves the harbour on the high tide. The big tidal movements here (up to 9 metres) often leave the harbour as little more than a mud bed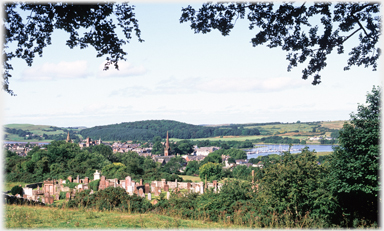 The view of Kirkcudbright from the cemetery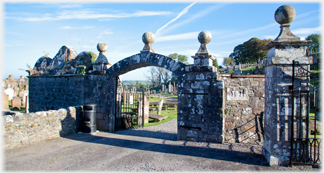 The cemetery on the hill behind Kirkcudbright has entrance gates reputed to have been moved there having previously been the town gates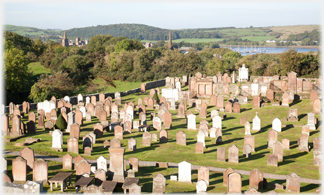 Gravestones
Situated on higher ground the dead and their attendants have a commanding view of the town and the river as it curves into the estuary beyond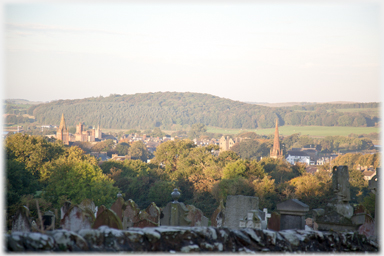 The view across the town from the south side...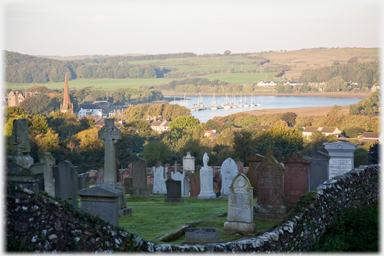 ...and round to the marina and its eastern end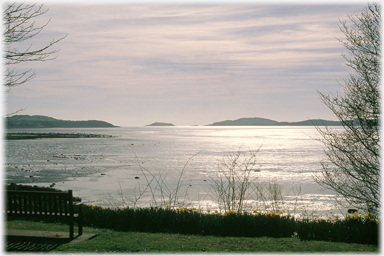 To the south of the town the River Dee opens out to form the Bay known as Manxman's Lake, St Mary's Lighthouse is at the far end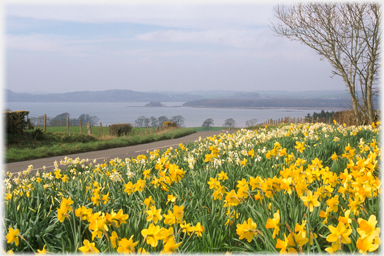 Daffodils above Mutehill overlooking Manxman's Lake. The Bay shares with the Lake of Menteith the use of the English word 'Lake' in an older Scottish name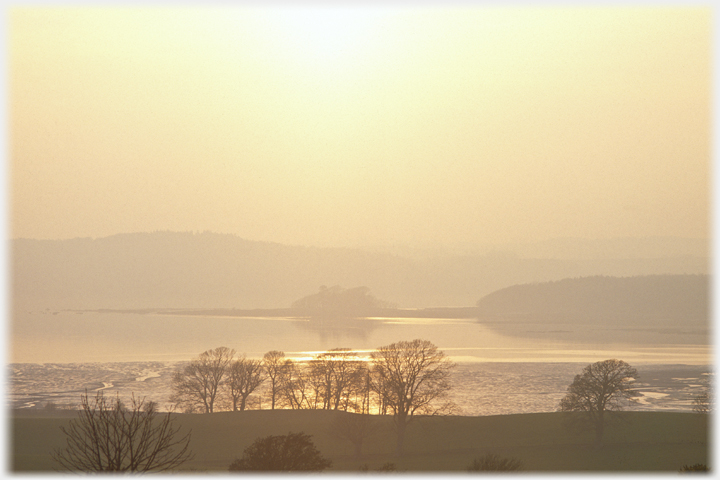 Sunset from above Mutehill looking across Manxman's Lake in winter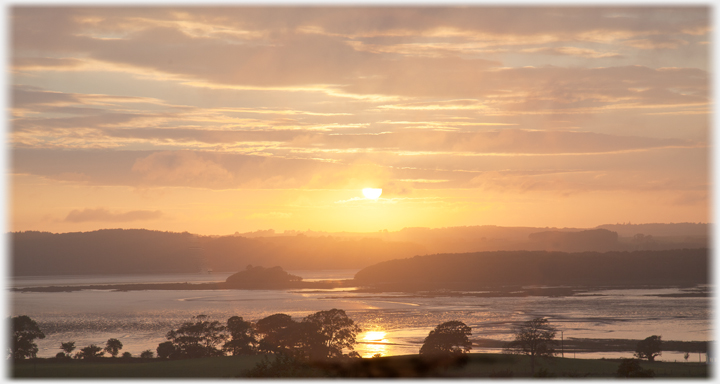 And the same again. This photographer at least finds the view at sunset irresistible!
The next page goes back to Đồng Văn, and a little on the environs of the Đồng Văn Palace.