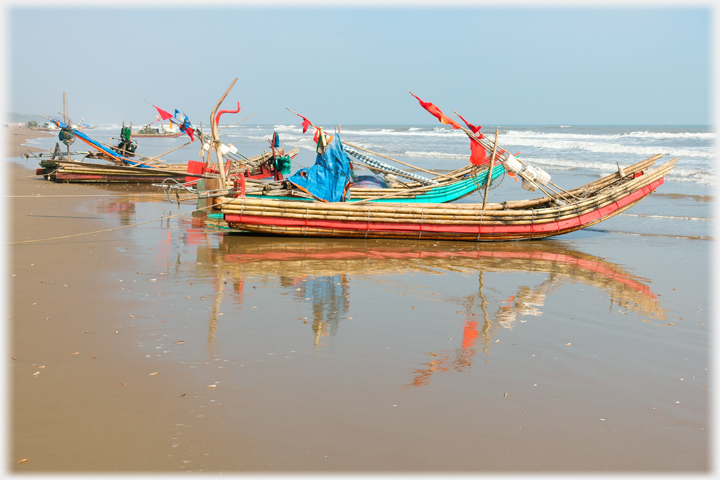 Brightly painted flat bottomed boats waiting...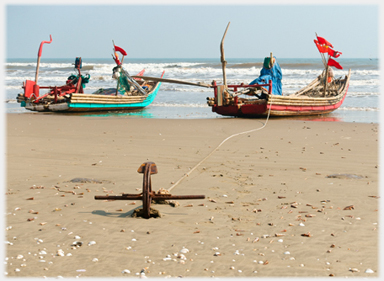 ...anchored at the water's edge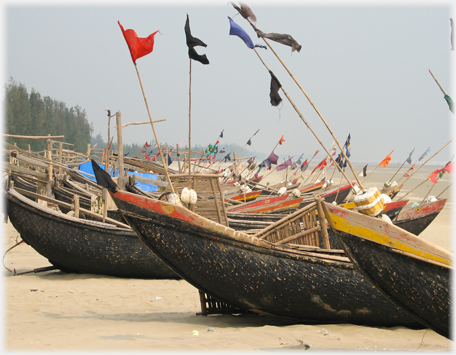 The other common type of boat here is black with a keel
The flat sandy beaches of the Vietnamese coastline are 'home' to the small boats of the fishermen: normal weather conditions mean that dragging the vessels clear of the tide line is all that is needed for their protection.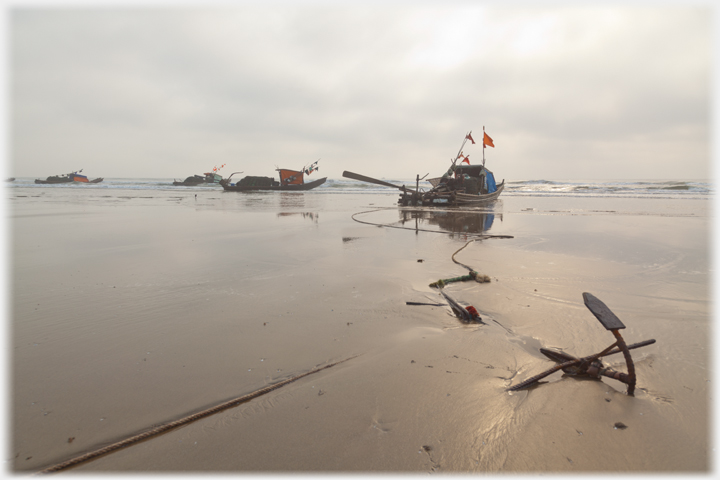 This group of flat bottomed boats, belonging to another village, has cabins
In a walk of a few hundred metres along the shore of Tĩnh Gia, a variety of fishing boats can be seen, all made from bamboo: poles strapped together to form a flat boat, sometimes with a cabin, or the bamboo woven and tarred.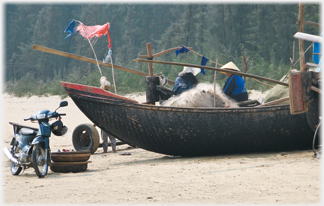 Biking to work
Here a family have left their shoes by the bike, and the man his trousers; the drag mark of the boat, as it was taken into the sea, can be seen to the left of the bike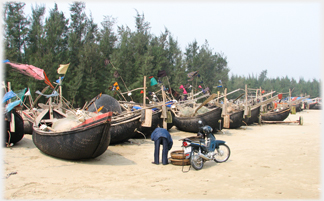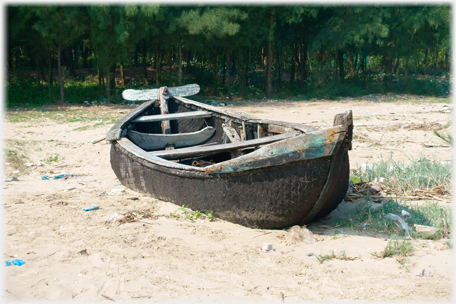 An older boat seemingly abandoned; not filling with water so probably no longer sea worthy
During the day the boats are temporarily moored ready to leave. But if they are not needed they are dragged up the beach to safety. The smaller craft are placed on their sides or overturned completely.
The rudders are used as props to hold the boat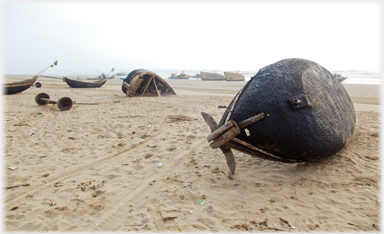 A pair of wheels waits to take the boat to the sea. A set of wheel marks can be seen in the centre of the picture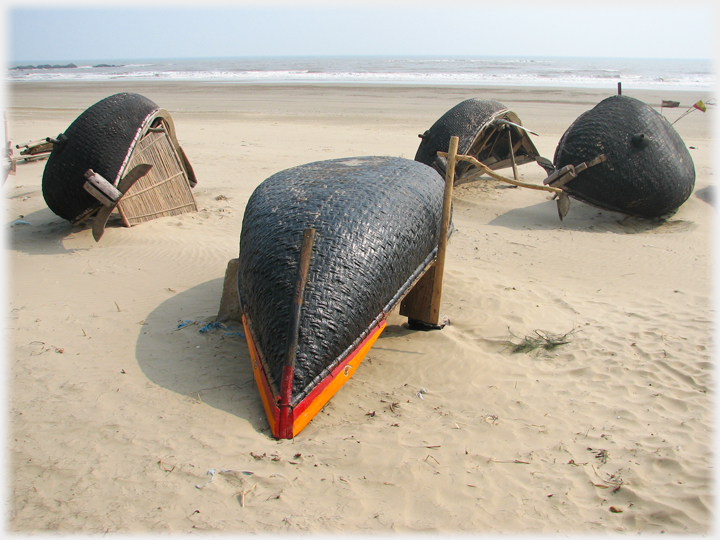 Upturned boats on Tĩnh Gia beach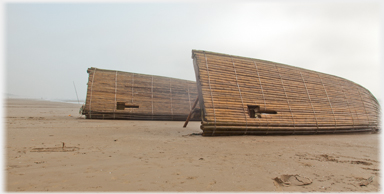 Flat bottomed boats showing the holes for the engines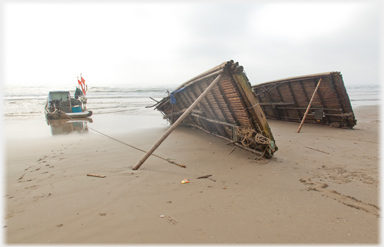 The same two boats from the other side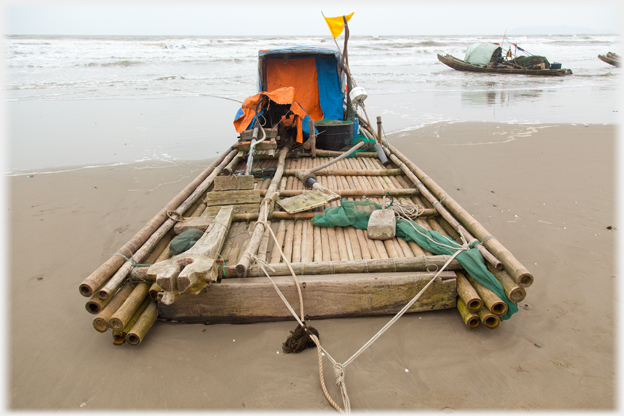 The heavier boats are left nearer the sea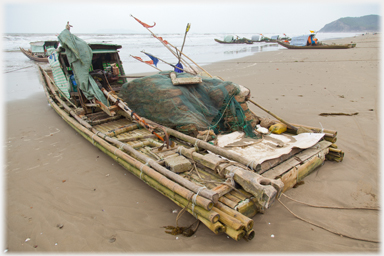 Nets with their poles and the rudder are left on the boat in normal weather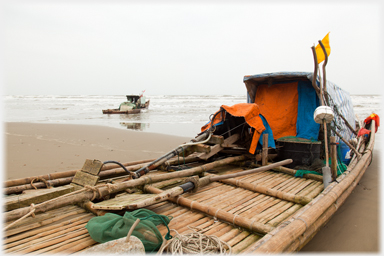 The movement of the tides can be used to let the boat float when needed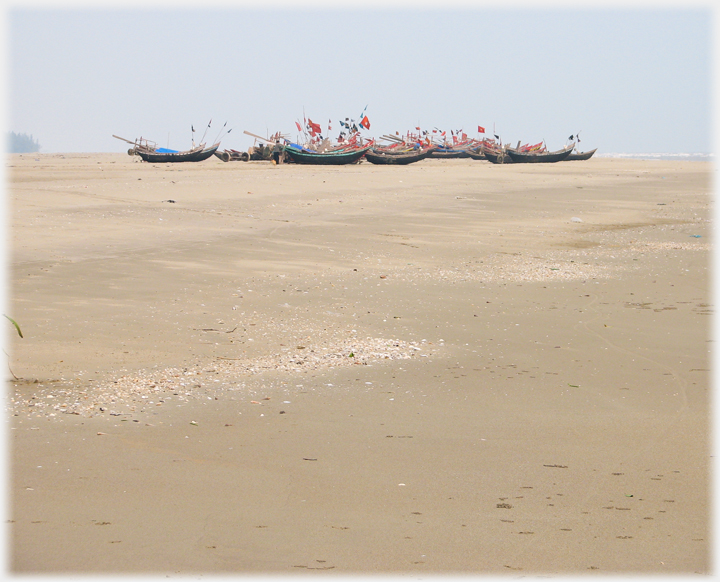 Maybe a storm is forecast; these vessels seem marooned - almost surreally so
The next page goes to the night market in Hà Nội that, on three nights a week, takes over the street that runs from Hoàn Kiếm Lake to the Đồng Xuân Market.