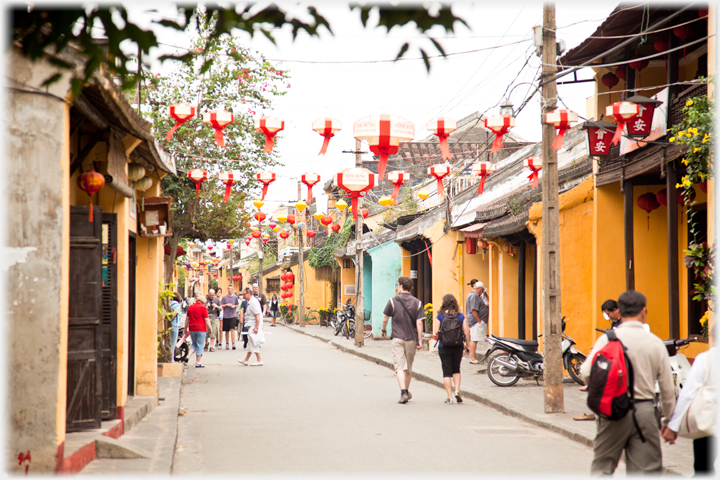 The main shopping street of Hội An populated with many foreign tourists, but also a place the Vietnamese enjoy visiting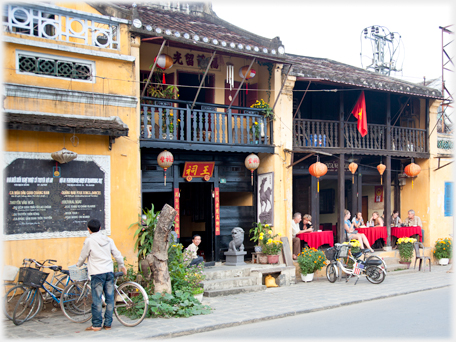 Restaurant and tourist information offices with balconies above
This second page on Hội An is devoted to the main shopping streets, with their pan-tiled roofs and carved doors and windows. As with the river area, the town is schizophrenic: its daytime self and its nocturnal counterpart. While foreigners flock here in droves there are also many Vietnamese who come to see what is rare in Vietnam, a town with older buildings in a state of good preservation.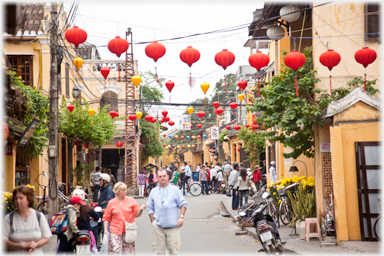 Lanterns are a common feature of streets, although many Vietnamese people disapprove of such overt celebration of the foreign Chinese culture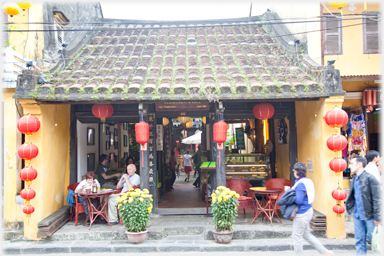 Cafe oozing antique charm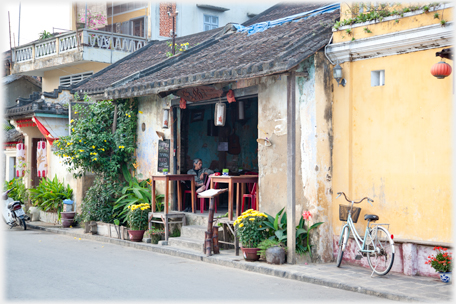 This cafe probably has cheaper and better coffee but clearly does not lay on the charm
A row of clothes and fabric shops in the old pan-tiled buildings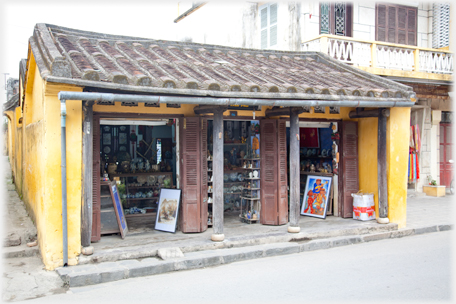 Three kiosk shops sharing one roof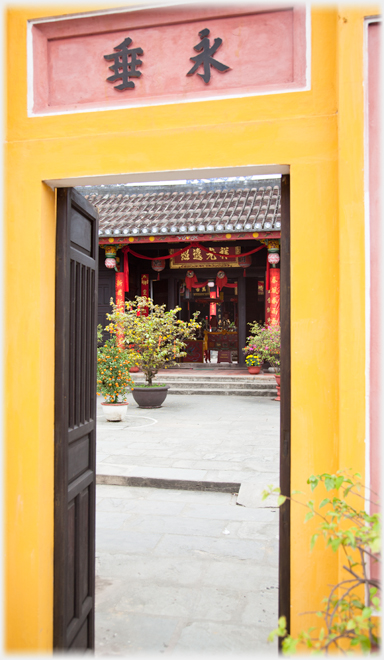 Entrance to the coutyard of the pagoda on the left
Small pagoda (Buddhist building) with its courtyard
Entrance to a temple. Pagoda is used as the translation for a Buddhist temple, and the word temple reserved for buildings dedicated to important people, such as Hồ Chí Minh, and ideas of a secular nature - the nearest cultural equivalent in the west might be the house/museums of famous people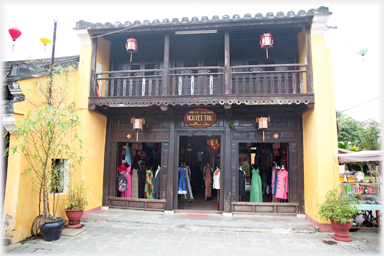 Dress shop with balcony
Shoe shop with balcony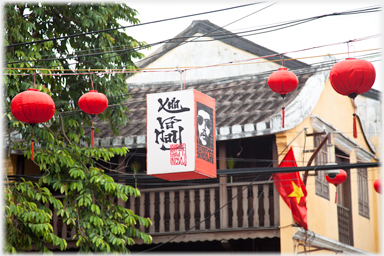 The 'Before and Now' cafe-bar with Che Guevara image
A shop of model ships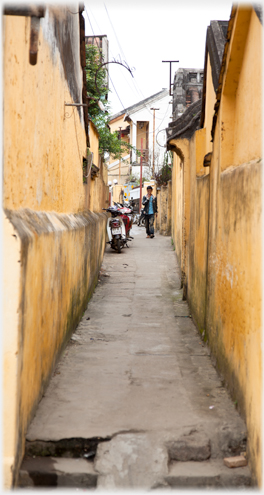 Narrow lane with motorbike ramp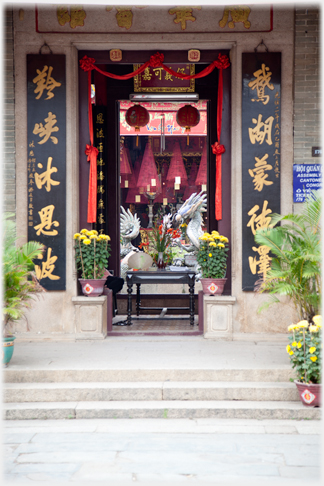 The entrance to a meeting house
Cement walls; so dull compared to ochre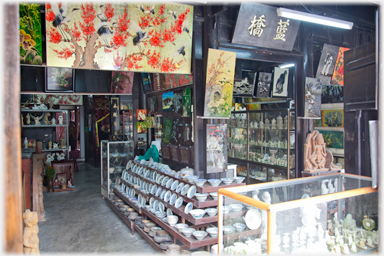 A porcelain shop with a Chinese sign, this latter meaning just as much to the average Vietnamese person as to you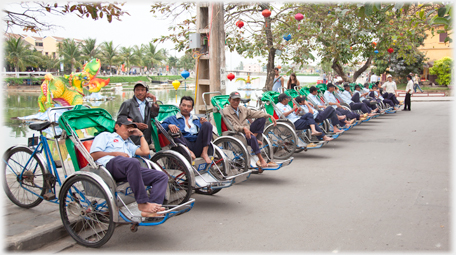 The great advantage of cycle rickshaws is that the driver has a comfortable place to sit, chat from, or sleep in, between customers
Mango cafe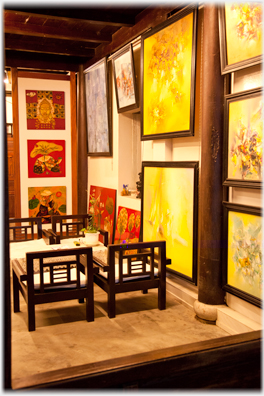 An art gallery with chairs for tea and persuasive selling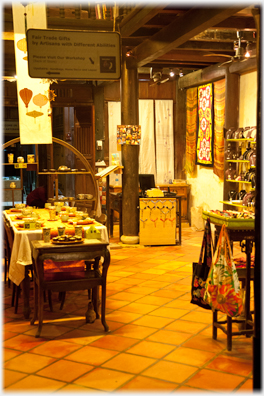 Gift shop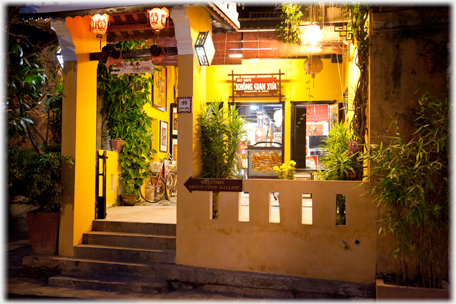 Gallery cafe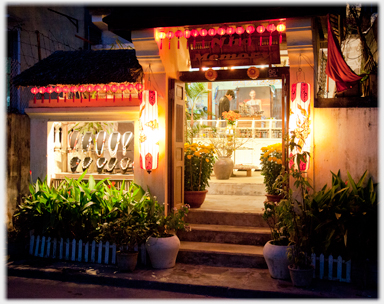 Jeweller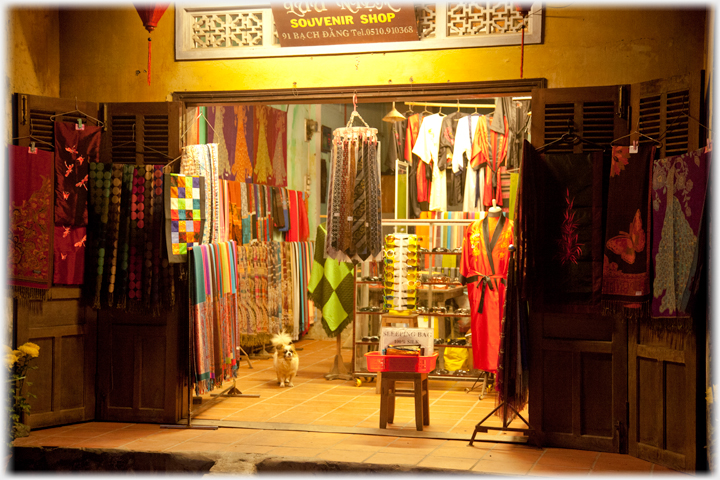 Clothes and gifts from a 'Souvenir Shop'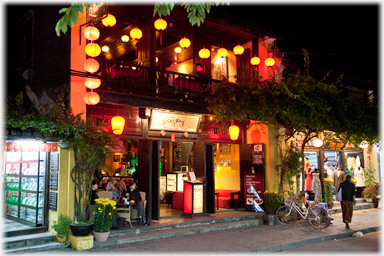 The 'Before and Now' cafe-bar after dark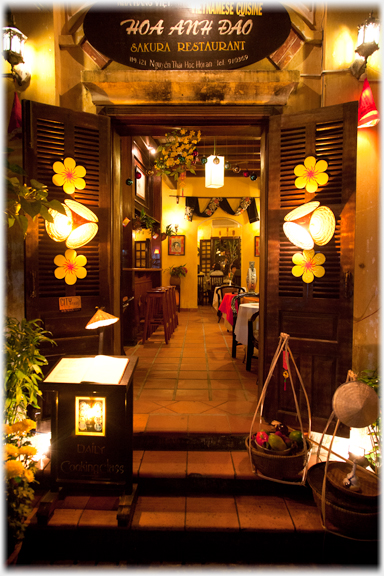 The appealing interior of the Cherry Blossom Restaurant with its menu at the entrance to attract later diners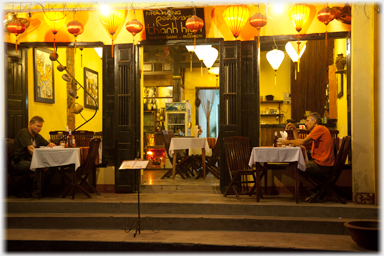 The Thanh Hien Restaurant on Bạch Đẳng street with its stategically placed tables for street watching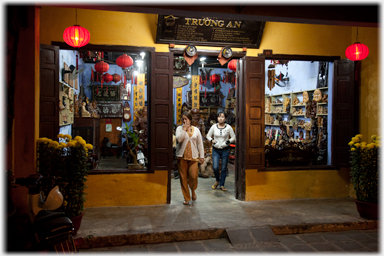 The Trường An gift shop sign above its door offers, amongst other things, "Building of all kinds of construction" and "Restoring of ancient vestiges". Always good to know where one can get ones vestiges restored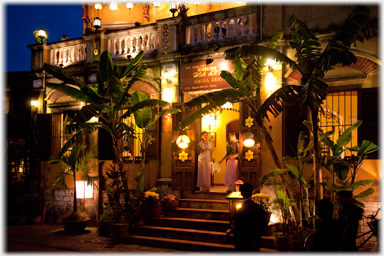 Cherry Blossom Restaurant with its banana trees. Above this picture is one taken an hour or so later. In this picture two waitresses stand at the door and seek to entice early guests into the restaurant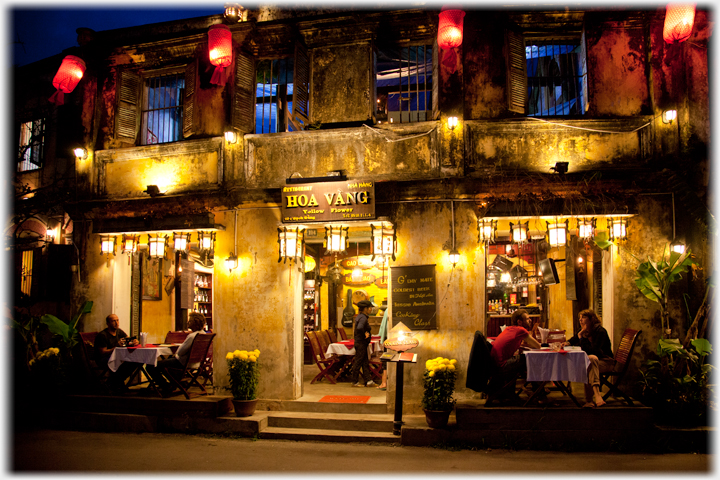 The Goldern Flower Restaurant - summarises Hội An's evening charm
The next page is about a roof; our cafe's roof. Eight years ago it was thatched, quite a long life for palm leaves, they had started to leak, so it has now had a new tiled roof put on. The page has some pictures of both processes.