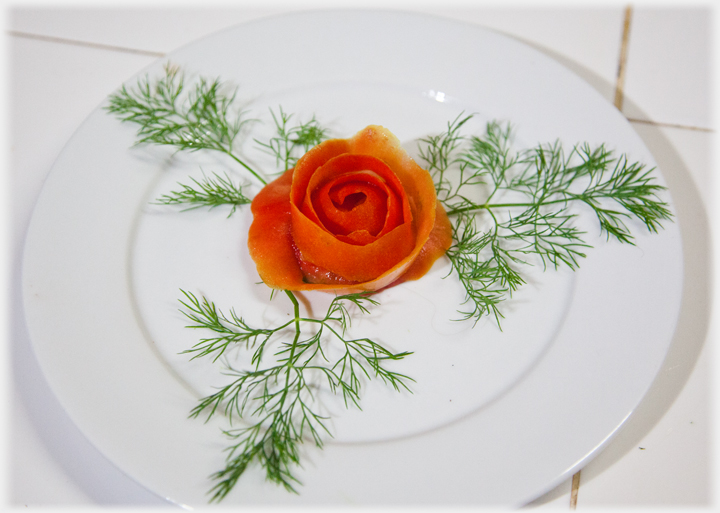 Carrot as flower
Food is central to Vietnamese life. The traditional cuisine dominated by fish and vegetables was immensely invigorated by the French occupation and the addition of sauces and European techniques. Being so central to life inevitably an art of presentation has developed. As in India place settings are immaculately lined up. And, just like a flower arranger, each dish is carefully laid out on its plate.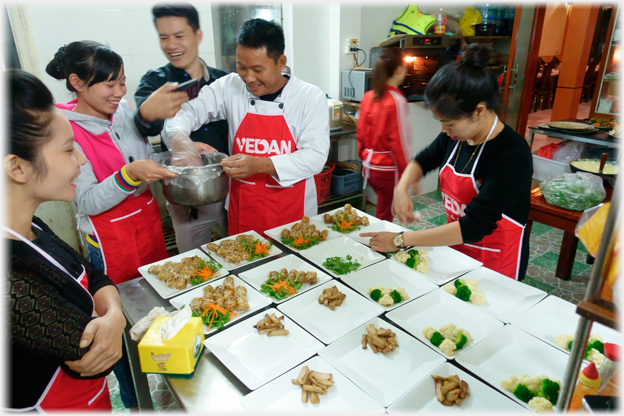 In the kitchen the plates are laid out and each item carefully positioned - and of course photographs taken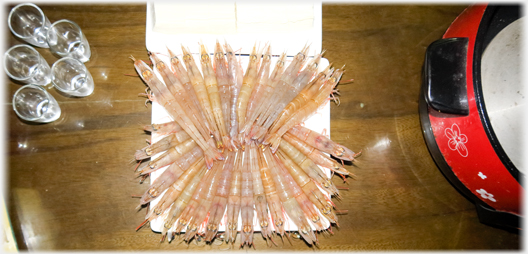 To the left the vodka glasses, to the right the pot for cooking on the table (hot-pot) and between the shrimps waiting in perfect order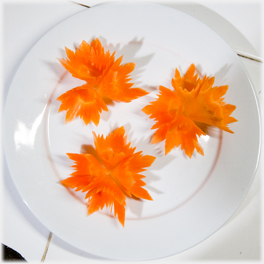 A set of carrot flowers ready for placing on the dish to be served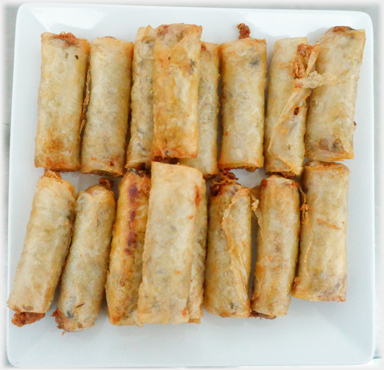 A golden brown plate of freshly cooked nem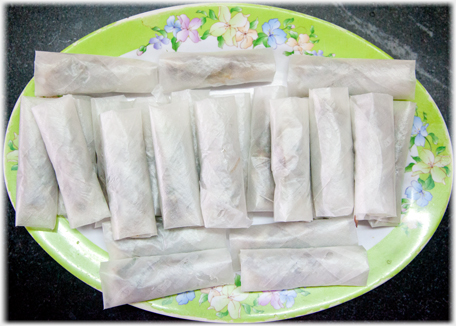 Nem are the delicate Vietnamese equivalent of the Chinese spring roll, they may be cooked as in the last picture, or here filled with salad and ingredients that need no cooking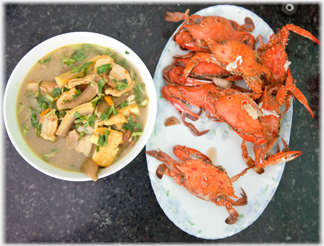 To the left a personal favourite dish, plantains and tofu. But to the right crabs which for me are far too much work for too little gain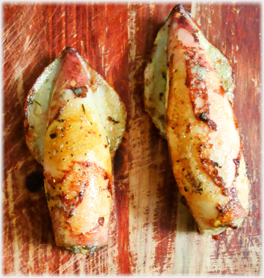 Sadly for them fresh squid is delicious, minutes from killing they melt in your mouth; no relation to the rubber sometimes called squid.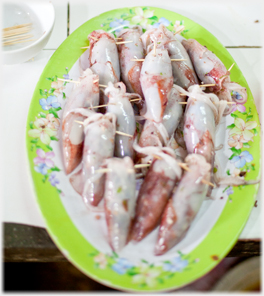 Here both varieties of squid are stuffed. The larger ones to the left are cooked, the smaller ones above await cooking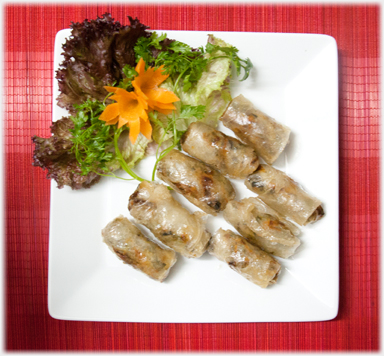 Nem, salad, carrot flower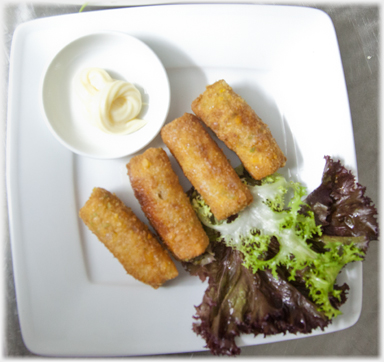 Fish rolls in bread crumbs with salad and mayonnaise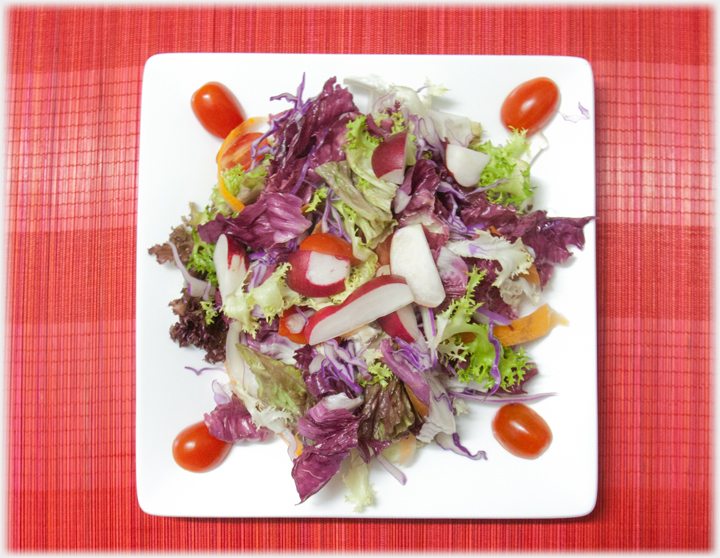 Salad on display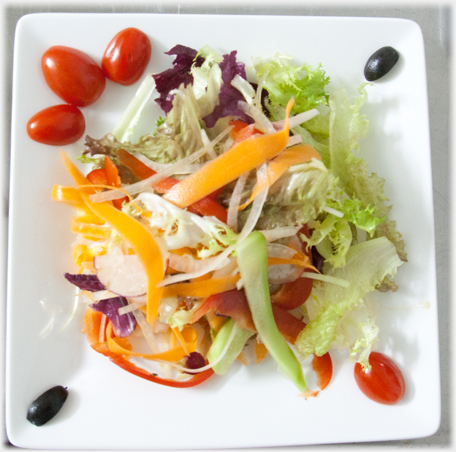 More salad
Steak and sauce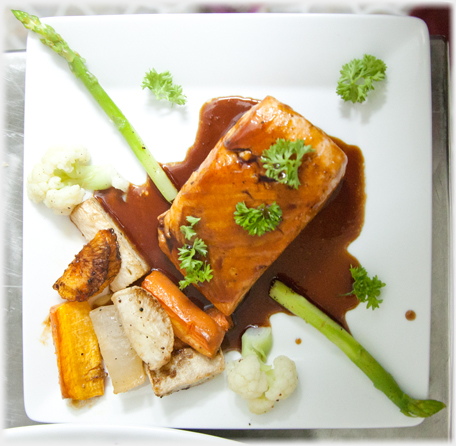 Salmon steak with asparagus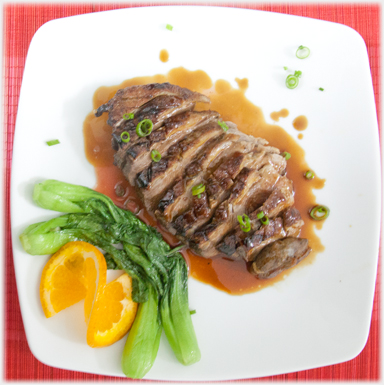 Steak and bok choi. These large helpings of Australian beef are primarily for westerners, who mostly eschew Vietnamese food to eat what they would eat at home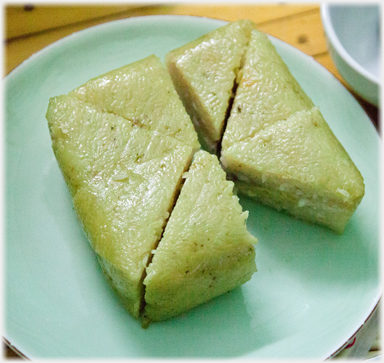 Bánh Chưng - slow cooked moist rice cake with meat/sweetmeats in the centre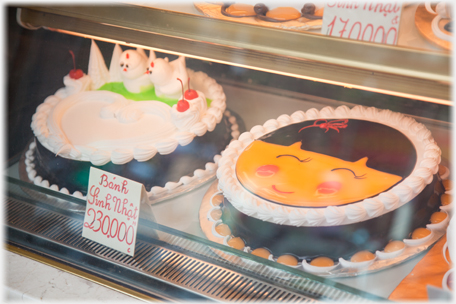 One of few words which works the same in Vietnamese and English is cake/Bánh as in a cake of soap or a shaped processed food. To the left Vietnam's most celebrated festival food - Bánh Chưng - and above examples of confectionary at £7 each. The inside will be as dull and dry as sawdust. Presentation is all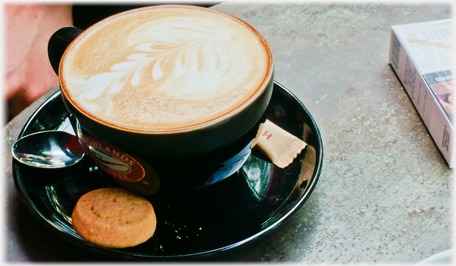 The Highlands coffee-house chain add rather remarkable art work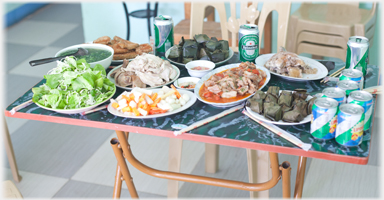 While care is always taken in the humblest of homes to ensure all dishes served look good, furnishings, if any, can be inelegant to an extreme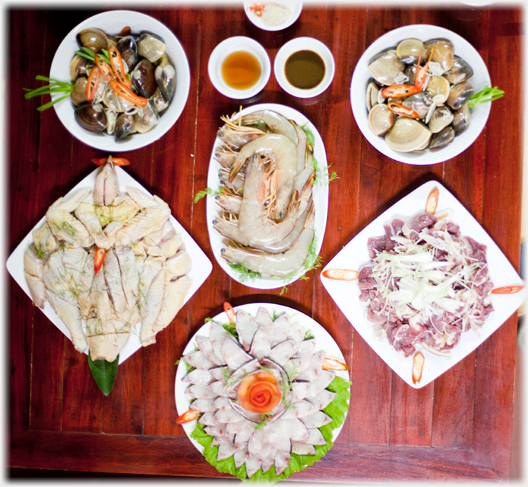 Seafoods and dips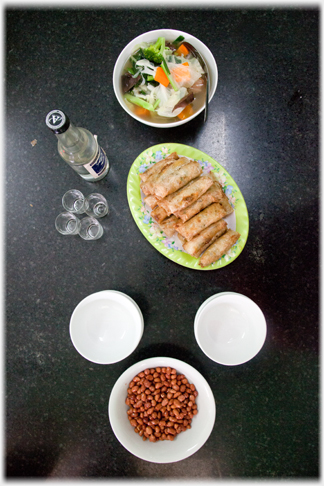 Table set for a snack with the ubiquitous vodka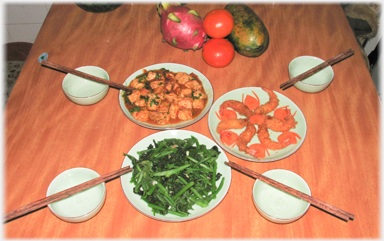 A simple table laid with simple food, but looks are never stinted. A traditional meal to the right with the diners ready to eat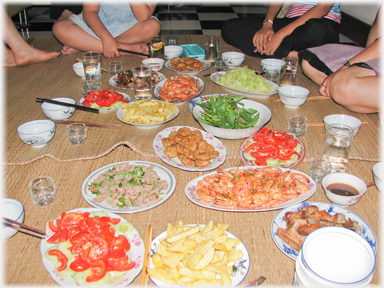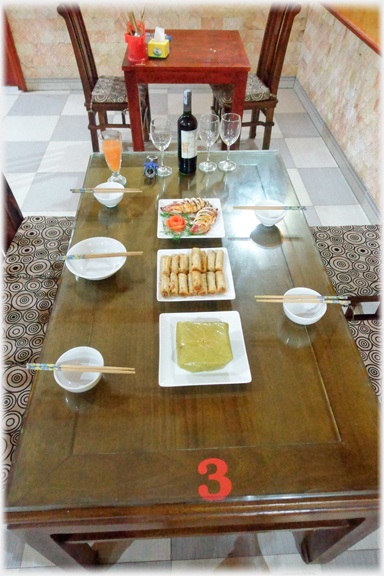 A small family nibble for midnight on Western New Year's Eve - wine is not the norm in Vietnam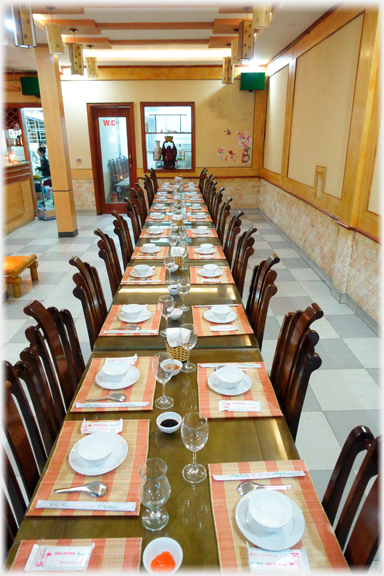 The tables are set for a group of 25 people. Eating in long rows is a pattern that puzzles foreigners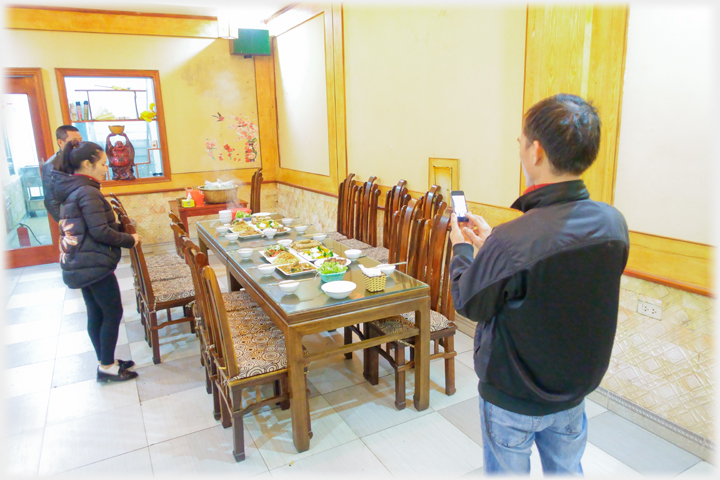 The chef takes a photo of his creations in situ; just as any artist would want to record their work
The next page shows this chef, and others, engaged in the production of food, both in and around the Vietnamese kitchen, which is often a most rudimentary affair.