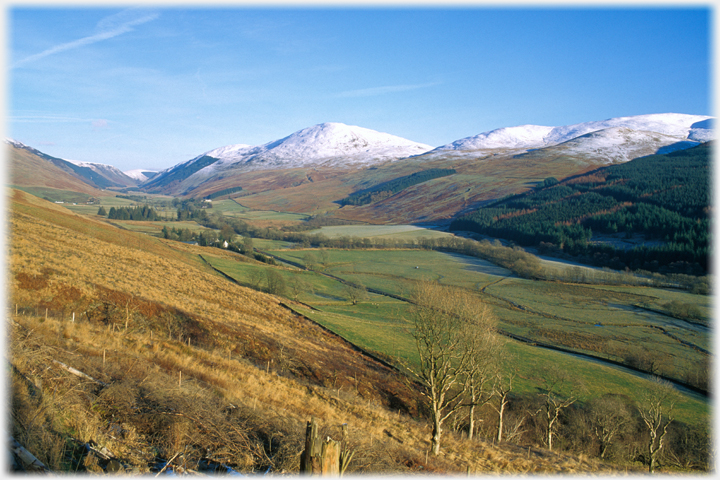 The view looking up Moffat Water, taken from opposite Selcoth.
The dominant hill in the centre is Bodesbeck Law
Moffat Water is one of the more beautiful of the valleys of southern Scotland, indeed the whole of Scotland. It forms a straight line running north-east for 12 miles from Moffat town to the watershed between Dumfriesshire and The Borders. Near its head it is joined by the hanging valley of the Grey Mare's Tail, these formations being carved out by glaciers in the ice age some 10,000 years ago. 'Water' here indicates both a river and its valley, so, although more honoured in the breach than observance, Moffat Water Valley is a reduplication.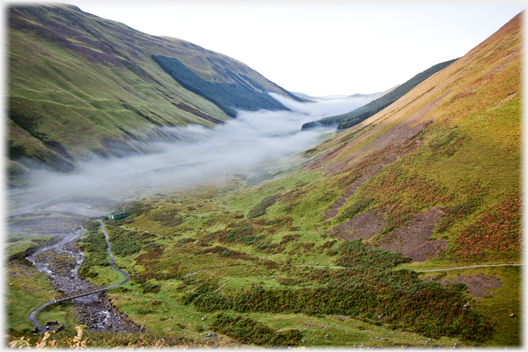 The view down the Moffat Water with the morning mist still lingering in the valley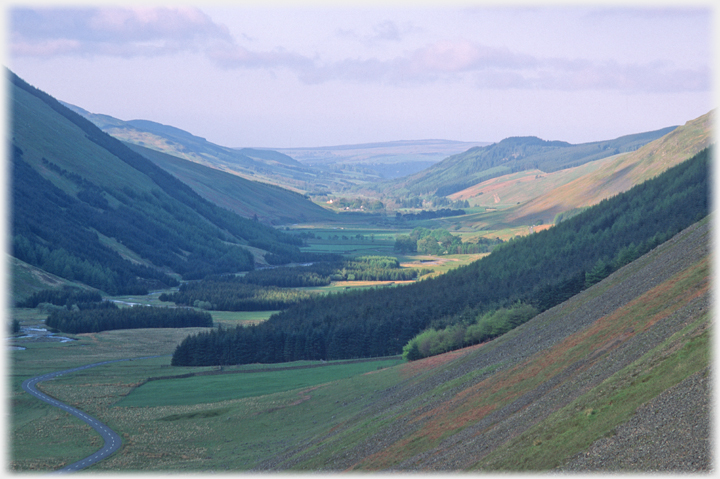 A view of the Moffat Water from the track leading up to Loch Skeen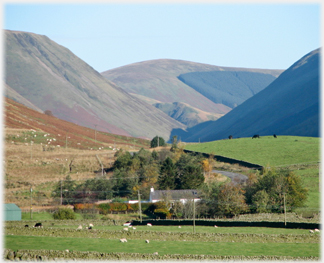 Looking back up the valley from Bodesbeck. Bran Law (at the left) fronts the Grey Mare's Tail, Paper Hill (ahead) is across in The Borders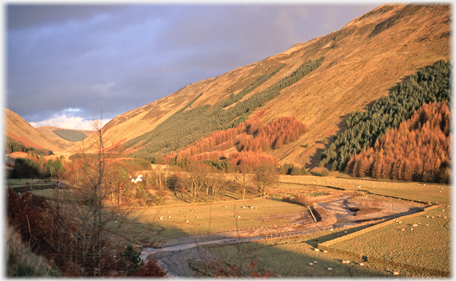 The last farm at the top of the valley is Polmoody, here seen at the height of its autumn colour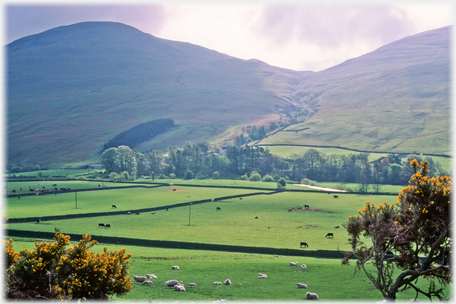 Bodesbeck Law (on the left) is the dominant hill of the upper valley. The hills and the land beyond the line of the trees (behind which the buildings hide) belong to the farm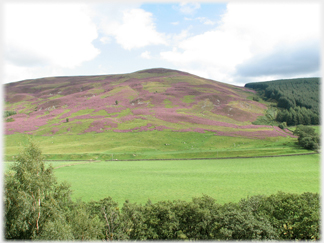 White Hill by Bodesbeck in late August - the heather in full bloom.
In 1817 James Hogg

wrote 'The Brownie of Bodesbeck'

in which he memorialised the area. Part of the Moffat family, who have lived in the area for many centuries and gave the town its name, still live in Bodesbeck Farm.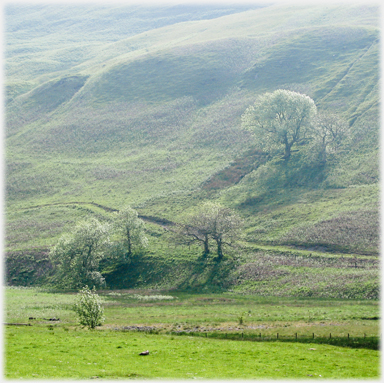 Willows on the lower slopes of Bodesbeck Law made etherial by the morning light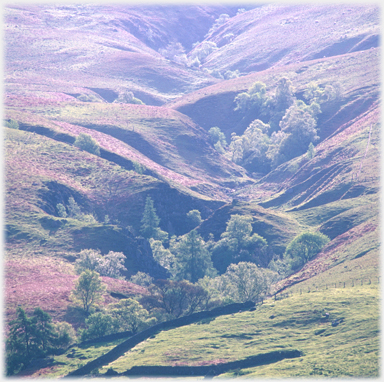 Next to Bodesbeck Farm the hillside is deeply cut by the Bodesbeck Burn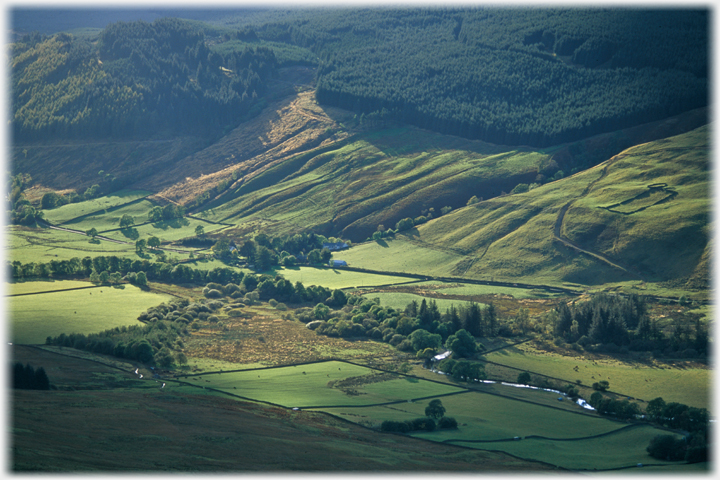 The view from high on Bodesbeck Law looking down into the valley where the hamlet of Roundstonefoot shelters amongst the trees
The hills across the valley from Bodesback Law form a chair for a giant - Saddle Yoke is the seat back, and Peat Law forms its left arm. Next to this up-stream on the Moffat Water lies...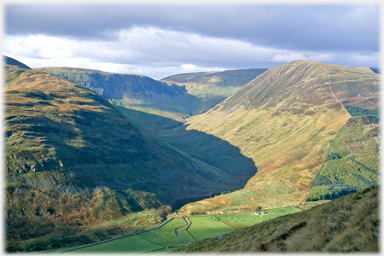 ...Carrifran Valley
In recent years Carrifran has been bought by a group dedicated to re-foresting Scotland, and has since been host to controversy as well as tree planting; although the tensions don't appear on the internet pages which give only the planters' viewpoint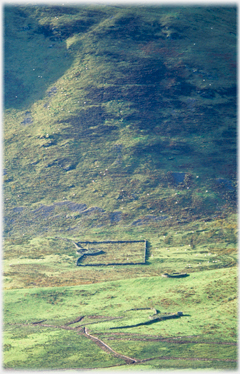 A sheepfold under Peat Hill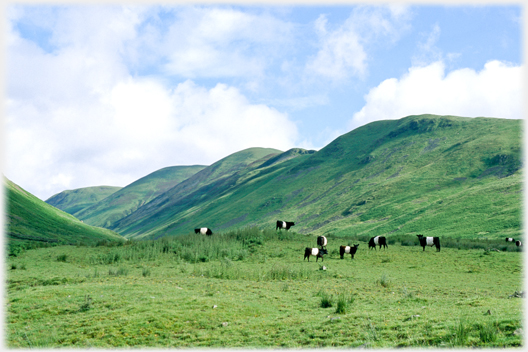 Belted Galloways

grazing in Black Hope Valley
Sailfoot Farm sits under Broken Back Hill and...
...here again with larch and beech adding colour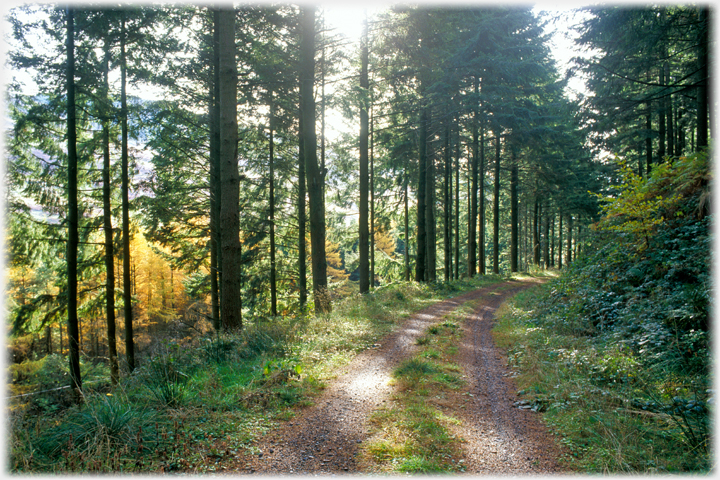 Among the trees the autumn light filters through to a track in Shortwoodend Woods near Sailfoot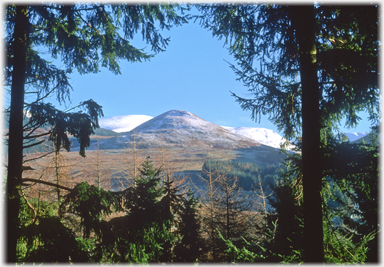 Broken Back Hill - maybe so called from its shape, not visible from this angle, or the complaint of shepherds rescuing sheep from its steep sides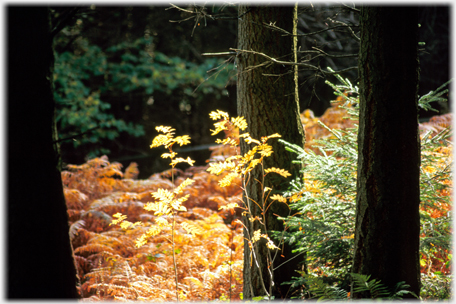 Autumn sapling

Looking across from Craigieburn Woods up the valley at Crofthead Hill and its neighbours above Sailfoot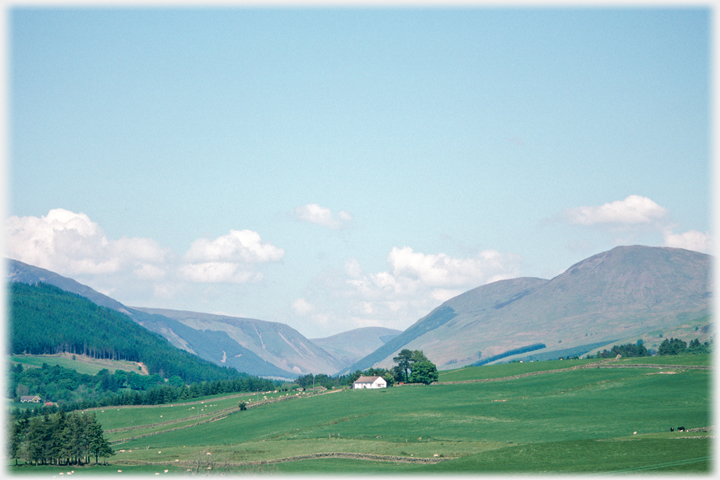 The cottage at Craigbeck Farm, at the entrance to Moffat Water, sits above the surrounding fields and offers superb views to the west across Annandale, and (as seen in this shot) up to the north-east of the head of Moffat Water
The next page takes you on and down the Moffat Water to its lower stretches and the entrance to the valley where the cottage, in the picture above, sits