Japanese calligrapher Ransetsu giving a demonstration of her art in
St. John's Church, Edinburgh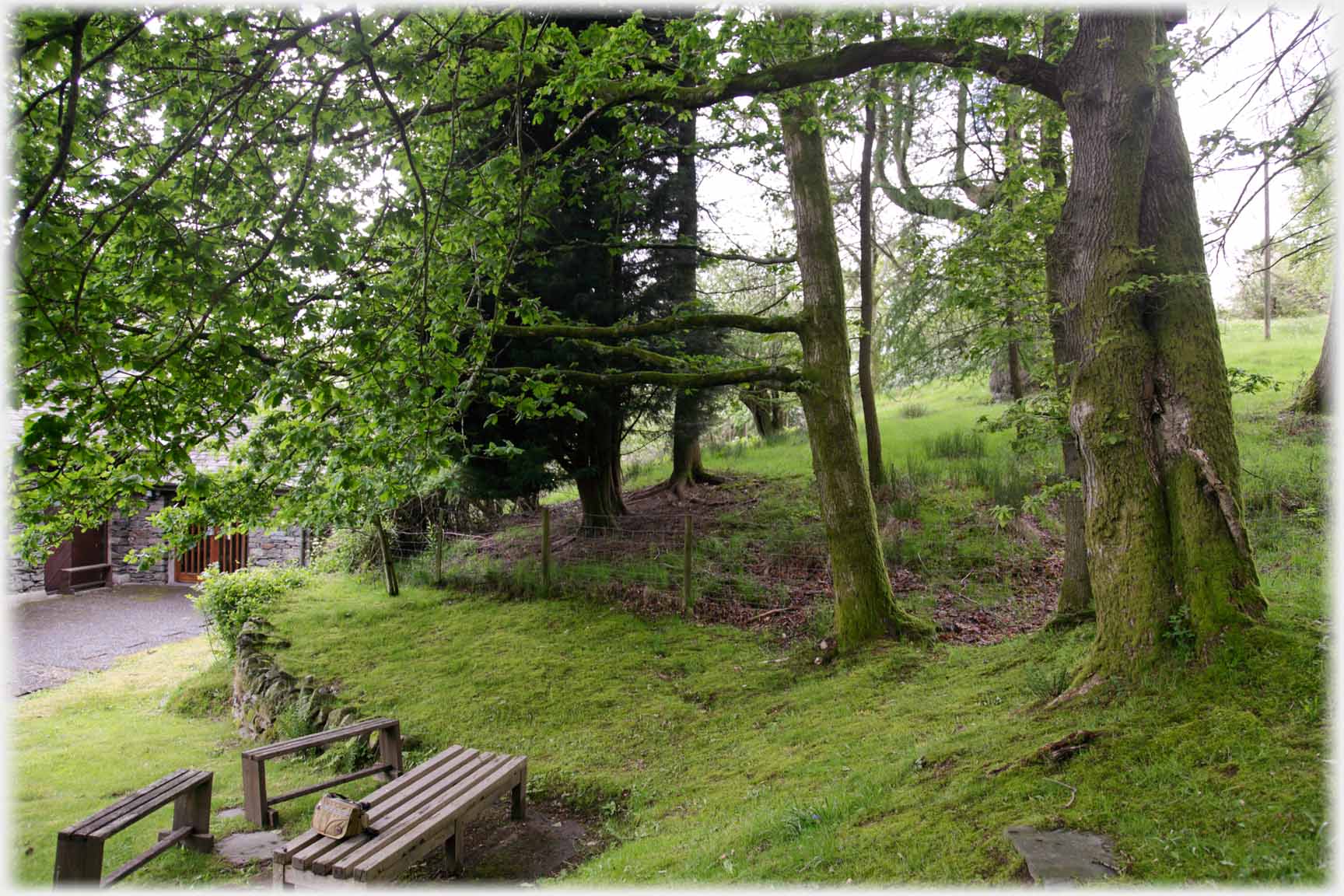 Trees and seats at the rear of the Wordsworth Museum
(the photographer's bag making an appearance)
The last page introduced Japanese calligraphy as seen in the English Lake District. This page offers photographs of two demonstrations of the art, one in Wordsworth's Cottage, Grasmere, and the other in St. John's Church, Edinburgh. For the former the artist used texts from Wordsworth's writing, and for the latter she, and the Islamic artist Jila Peacock, used words of Robert Burns. Below the pictures start with the setting of a treed and stone landscape and move to the city. The next Picture Posting page will then move to a decidedly stranger exhibition of
calligraphy in Hà Nội.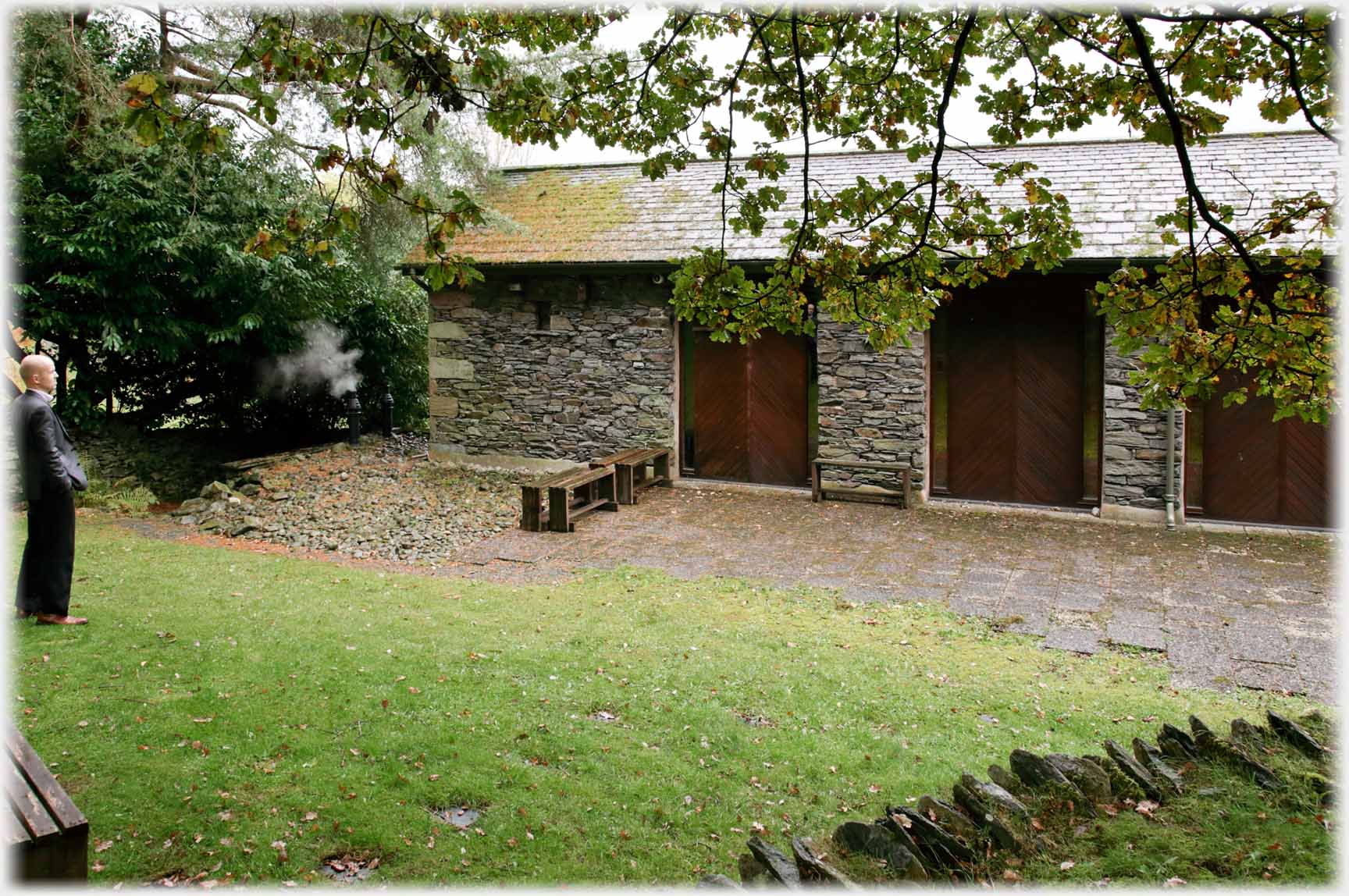 Michael McGregor, the director of the Wordsworth Trust...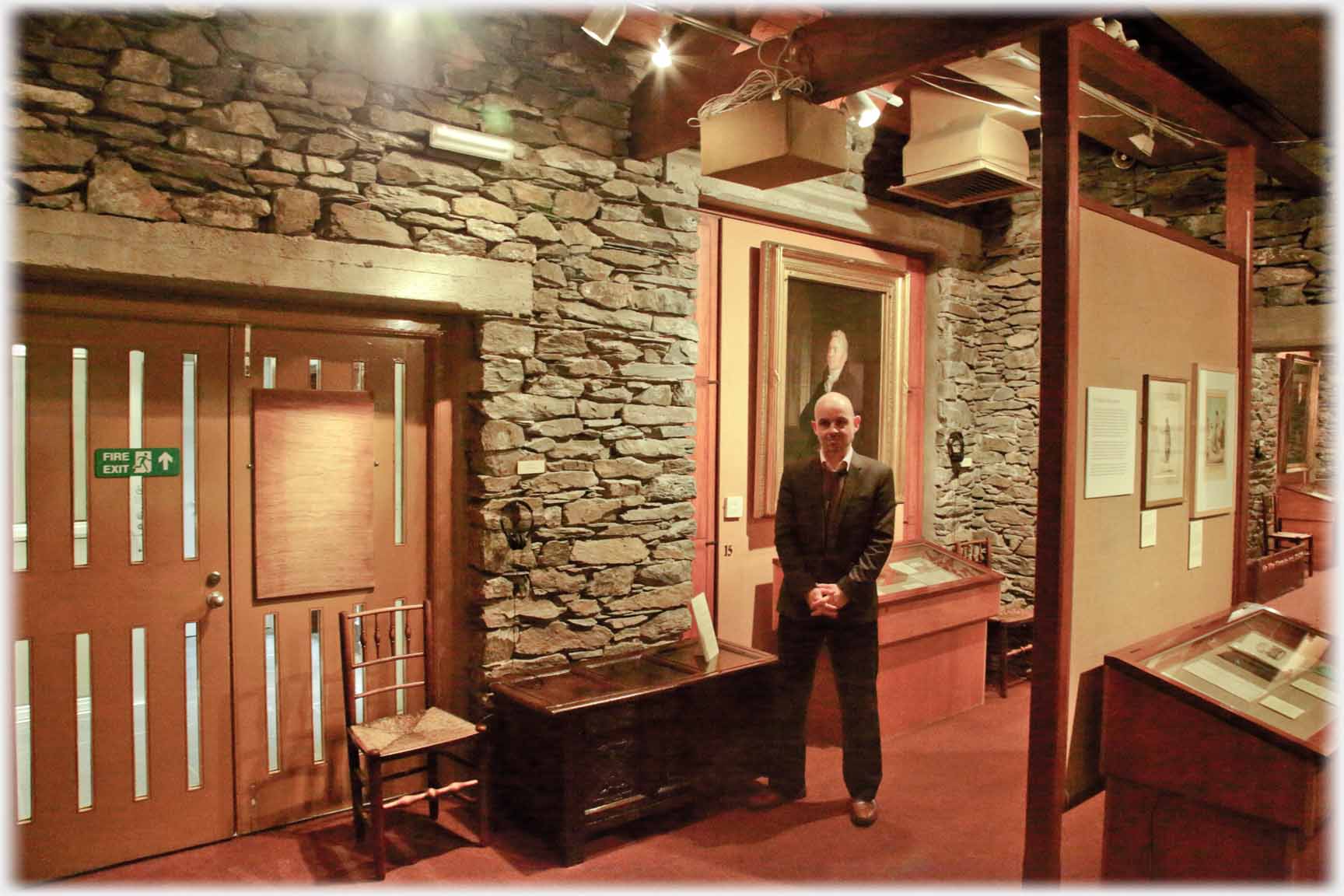 ...leading the way into the unadorned stone building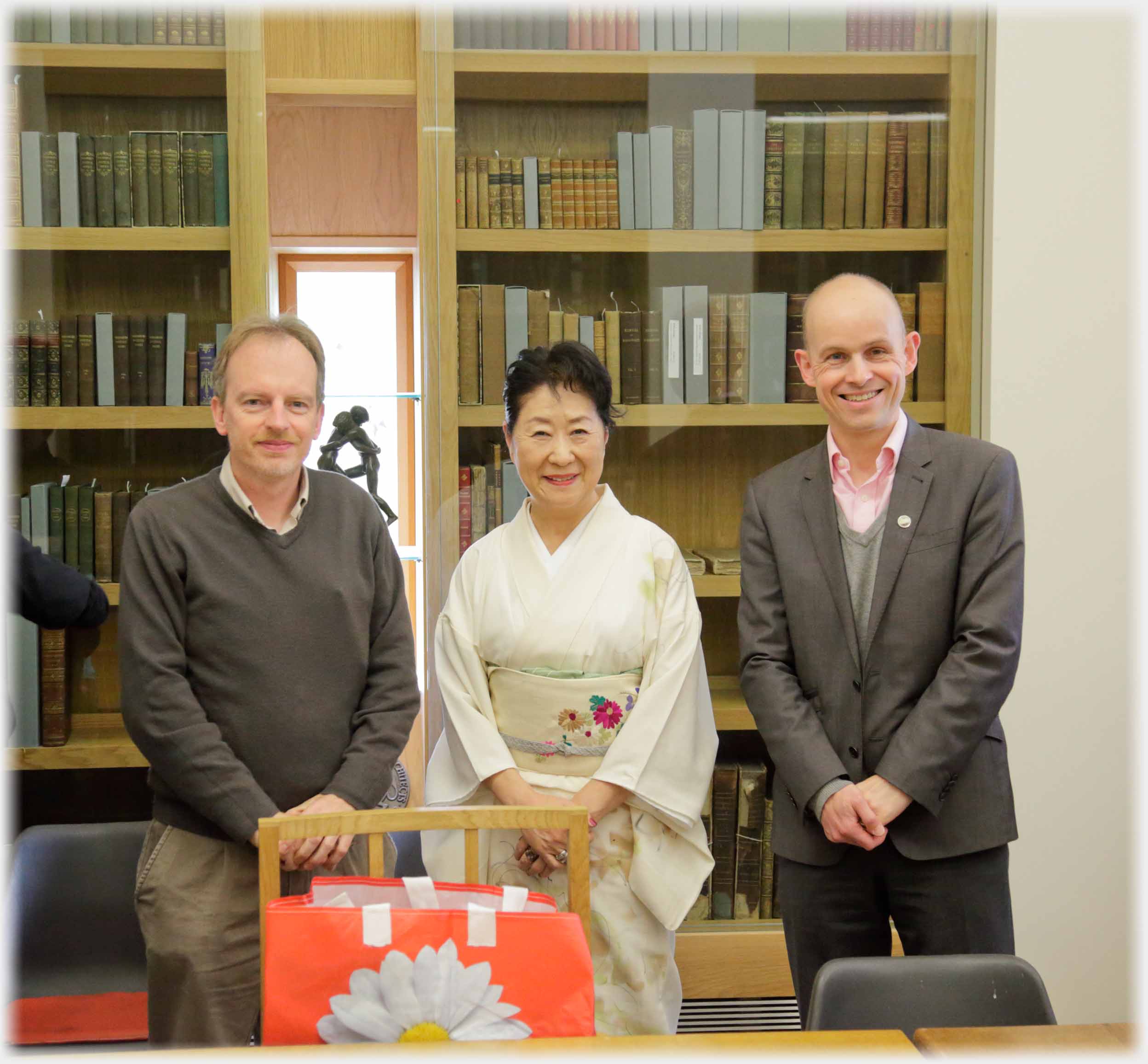 Ransetsu posing for cameras during the demonstration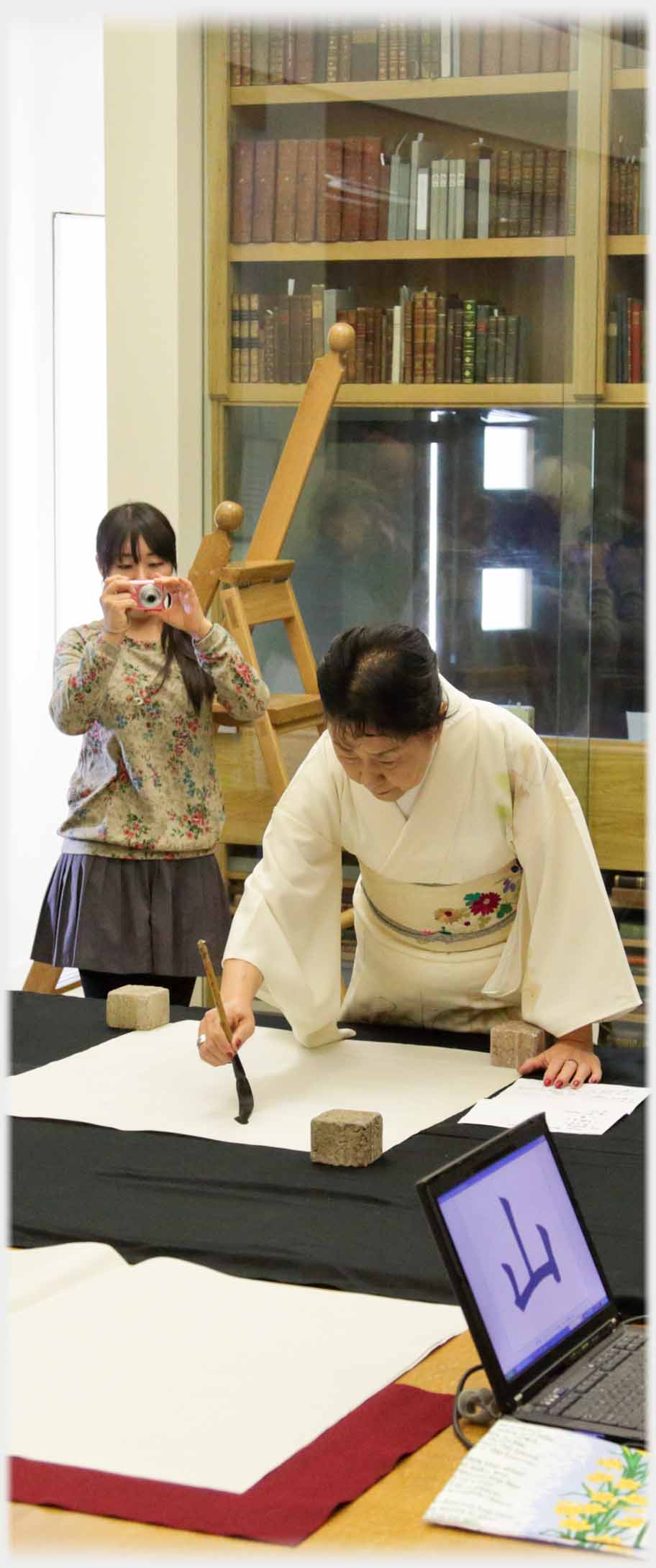 Cameras were much in evidence during the display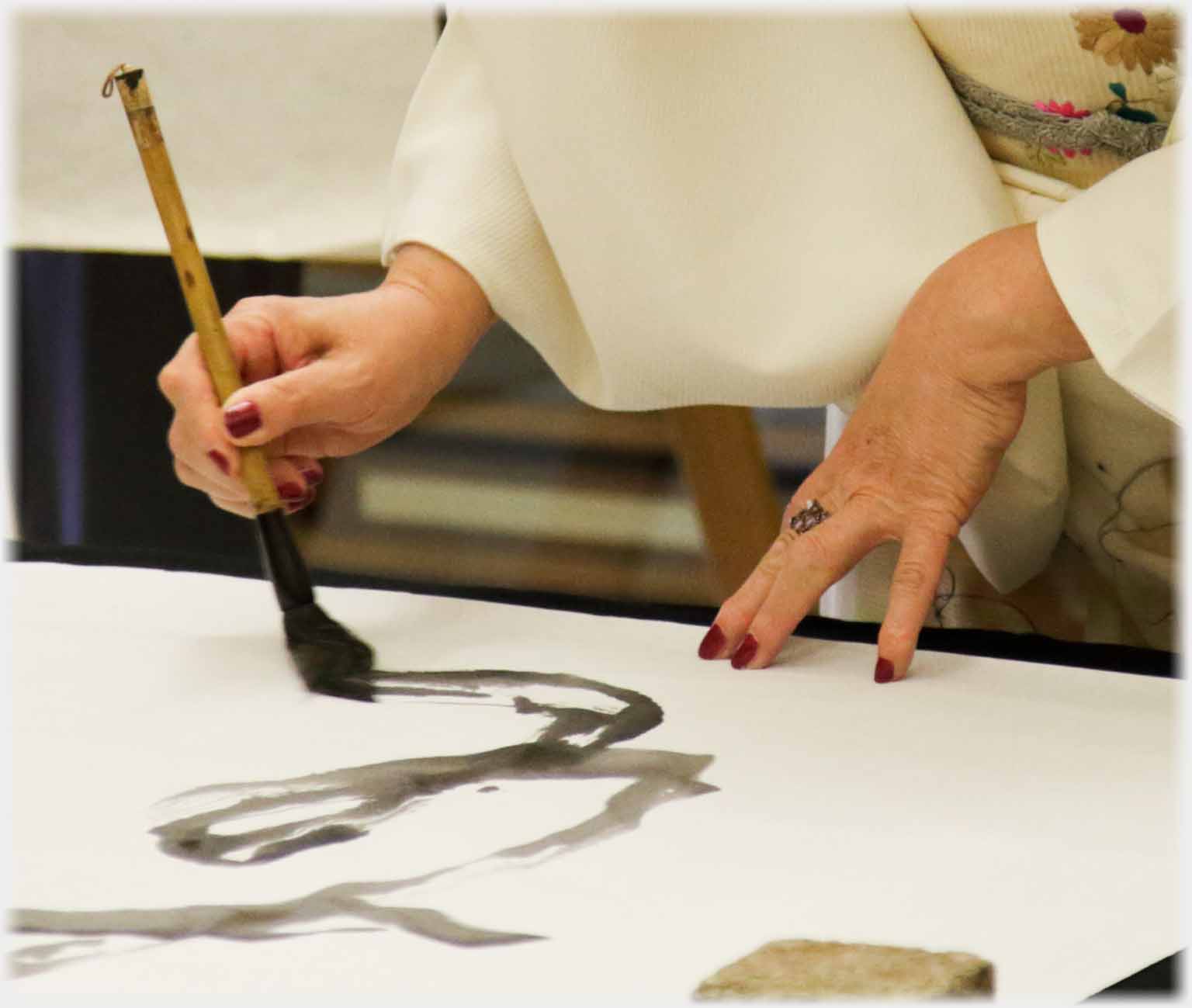 The brush moves towards her right, leaning in the direction it is going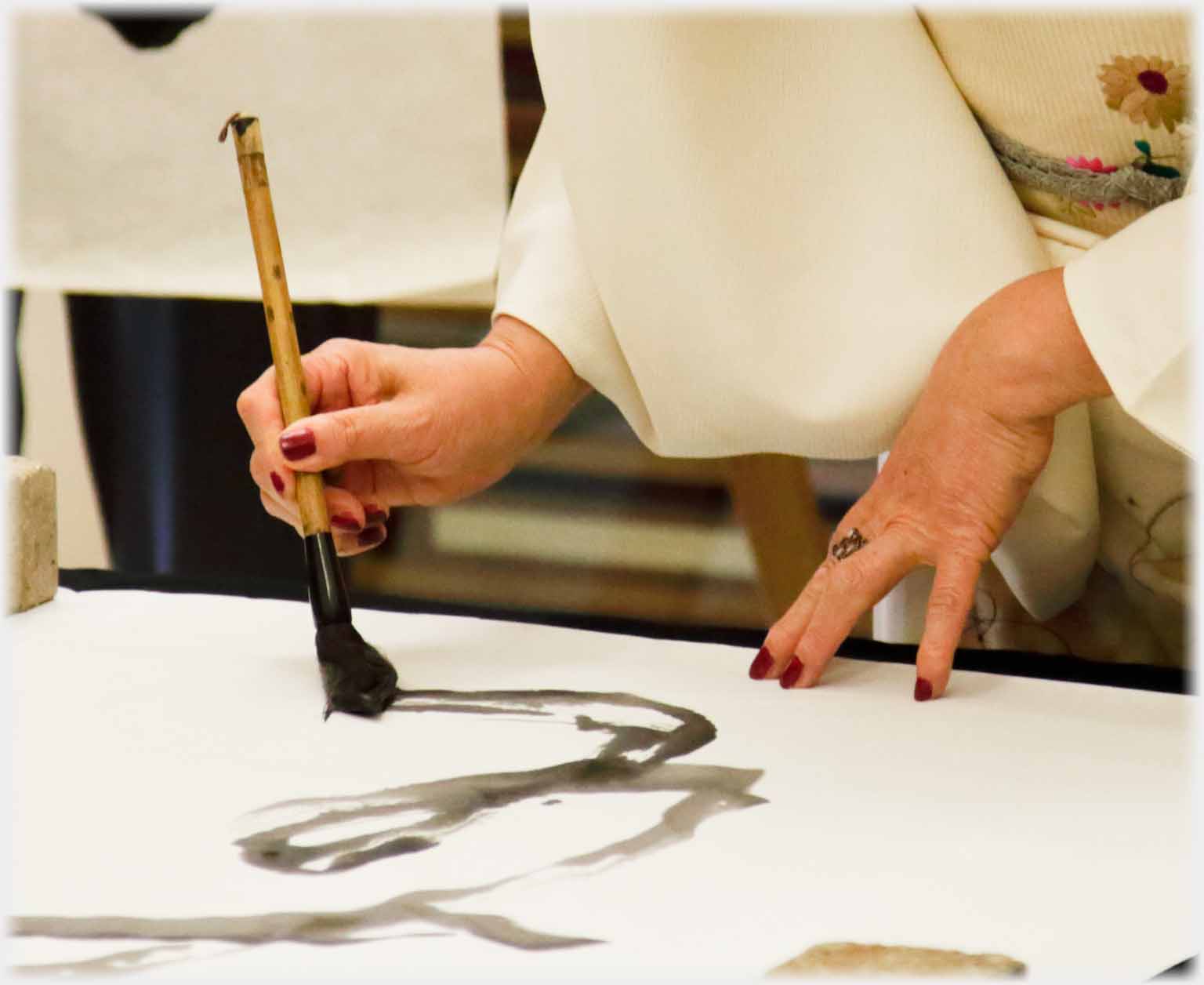 ...now the brush comes upright and the bristles turn towards the camera...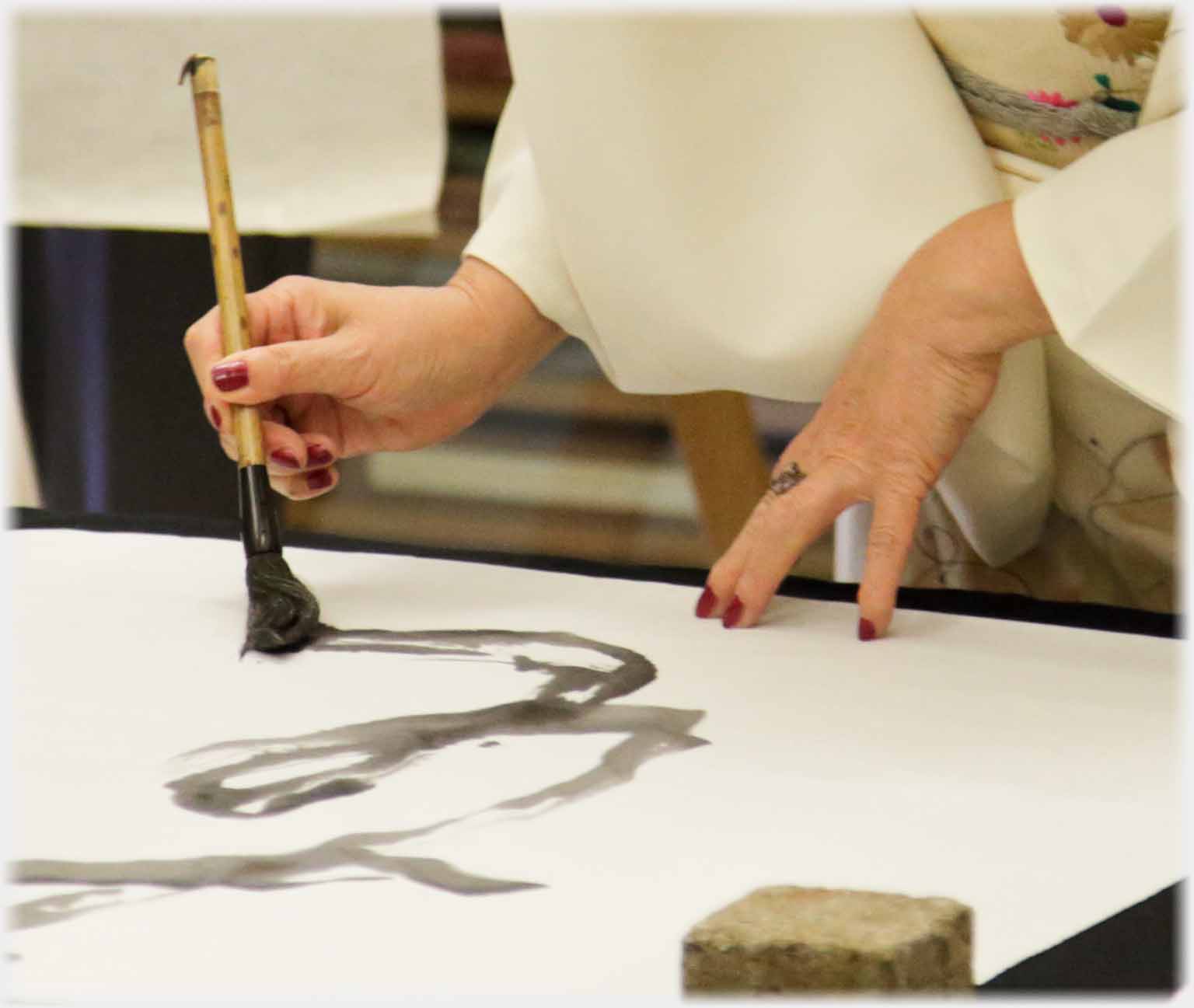 ...the turn completed; the brush is about to lift up

Attendees hold up the characters Ransetsu has written during the display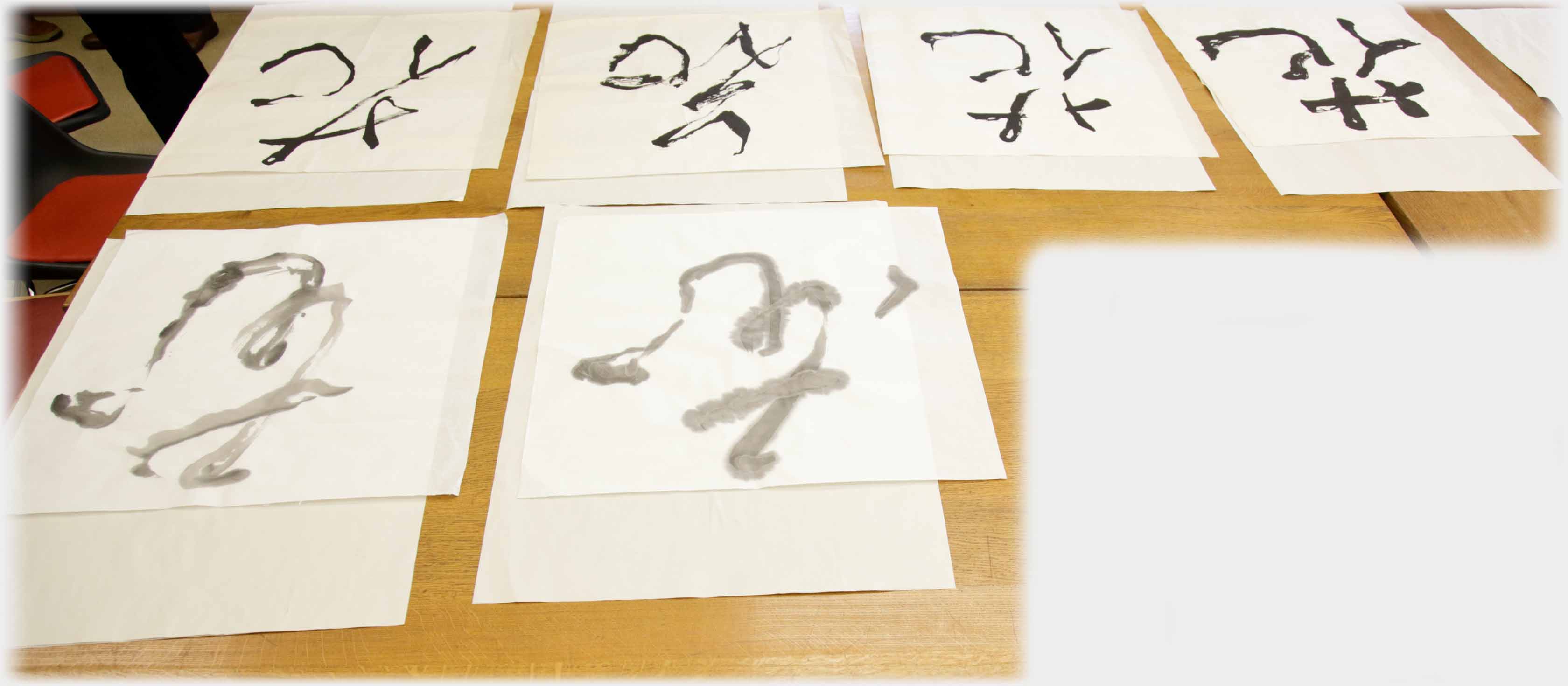 More of her work is laid out

This example well illustrates the way Japanese calligraphy moves away from its Chinese counterpart. The original Chinese character has lost its constituent elements...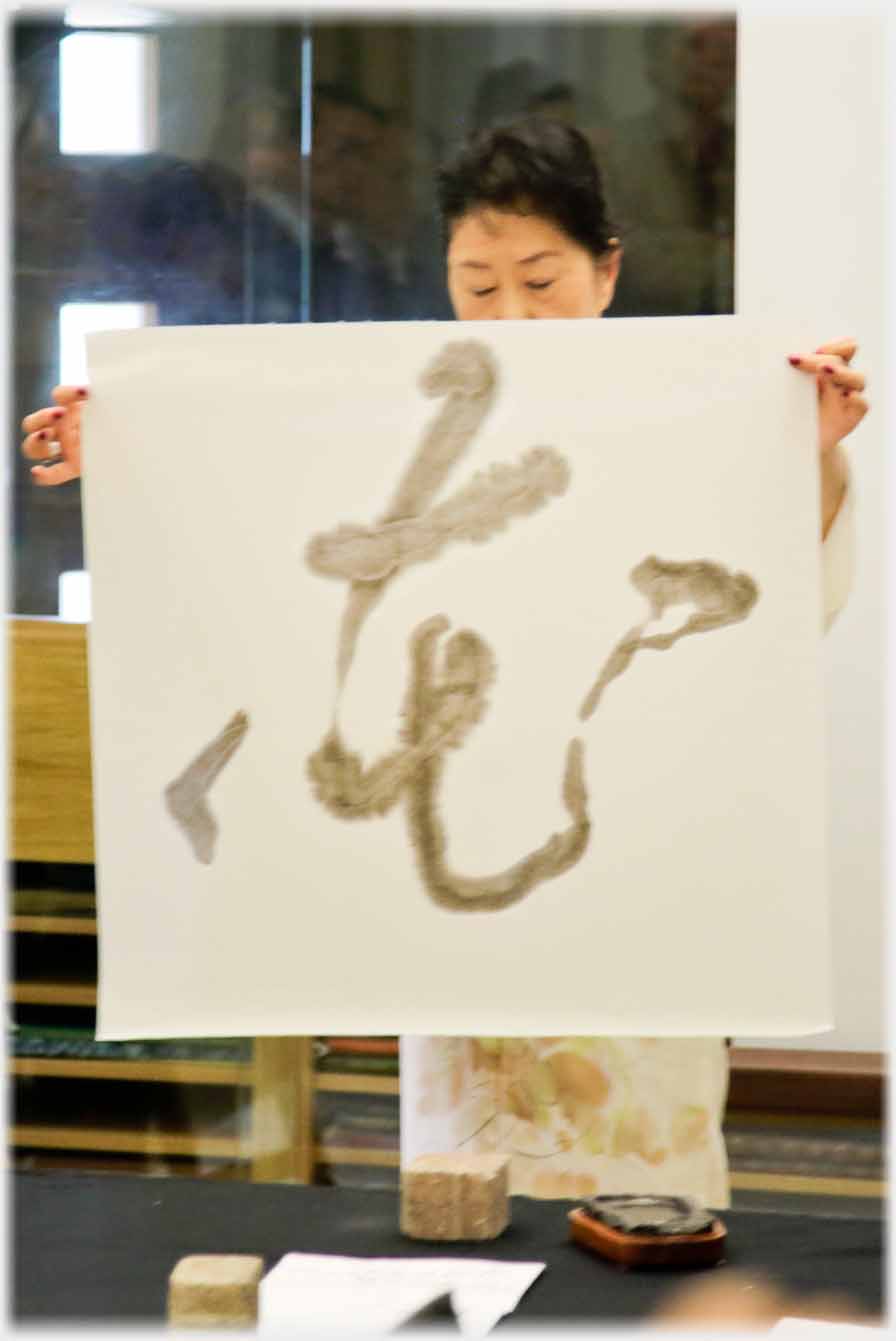 ...with the sharpness of the original line becoming a soft smooth, almost continuous, modulated mark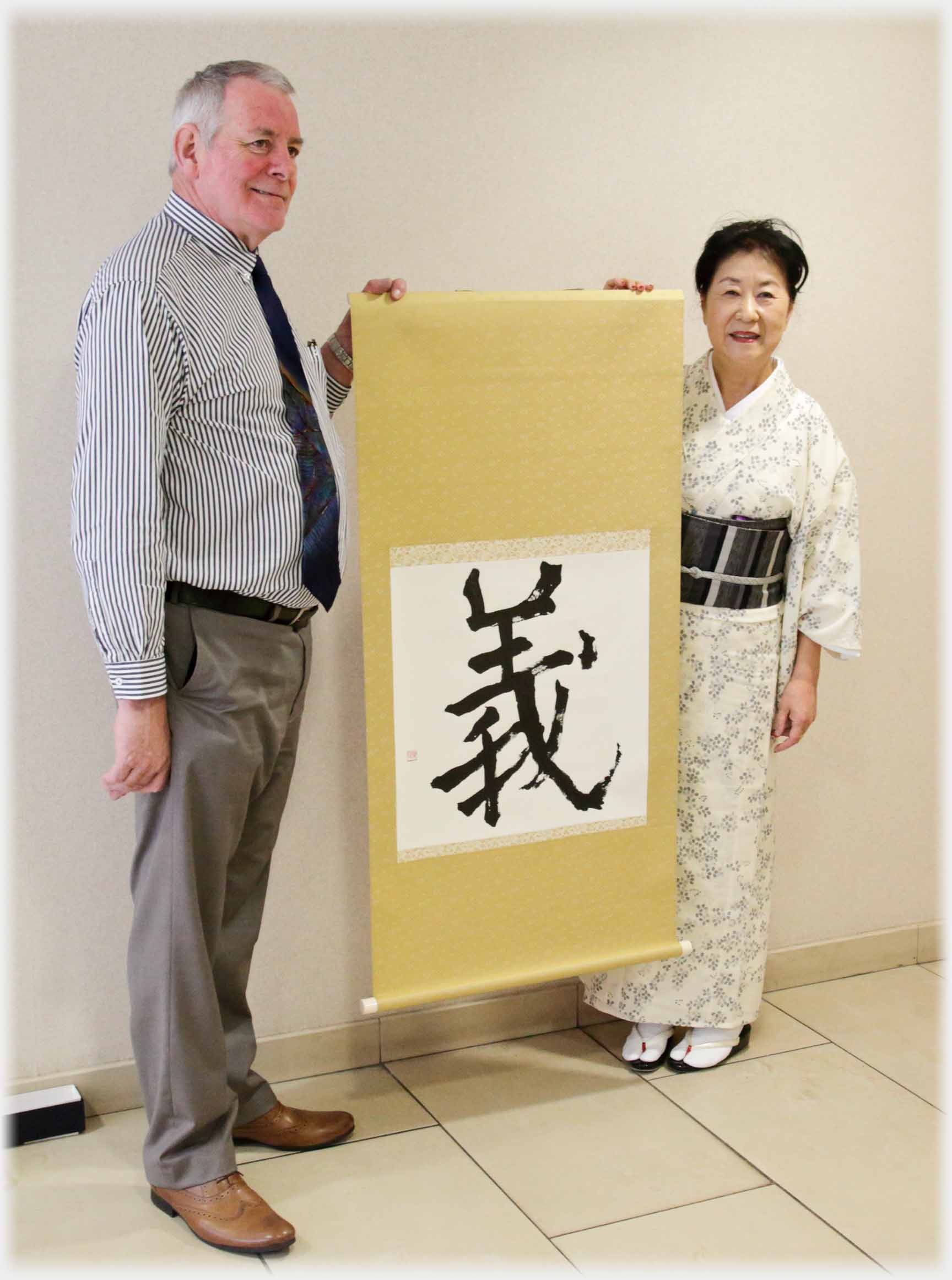 A traditional Chinese character being held up for photographs by Ransetsu and her host Tom Mitchell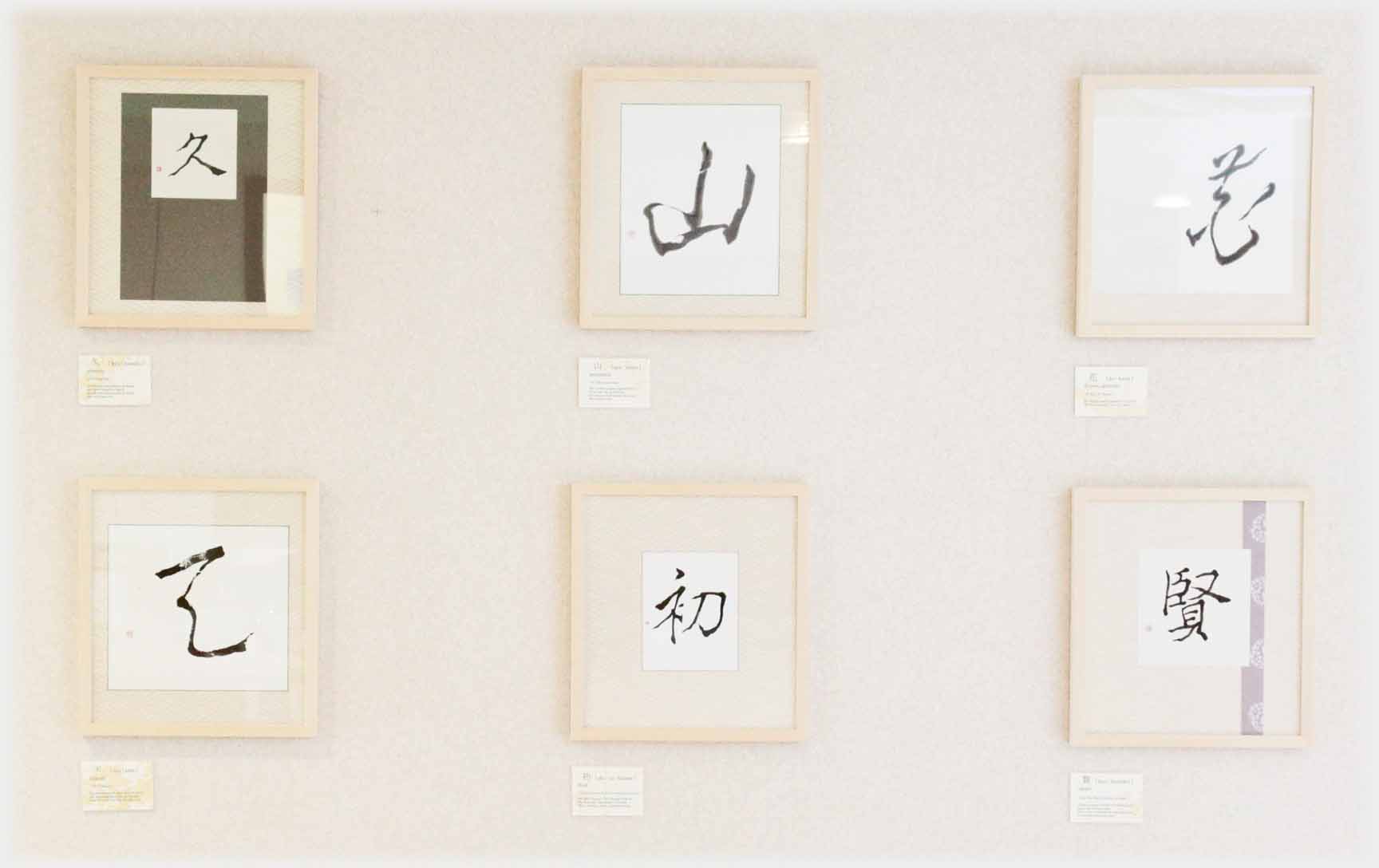 On the way to the Edinburgh demonstration, Ransetsu fitted in a small exhibition at the Select (the electrical contracting industry's trade body) headquarters on Bush Estate, south of Edinburgh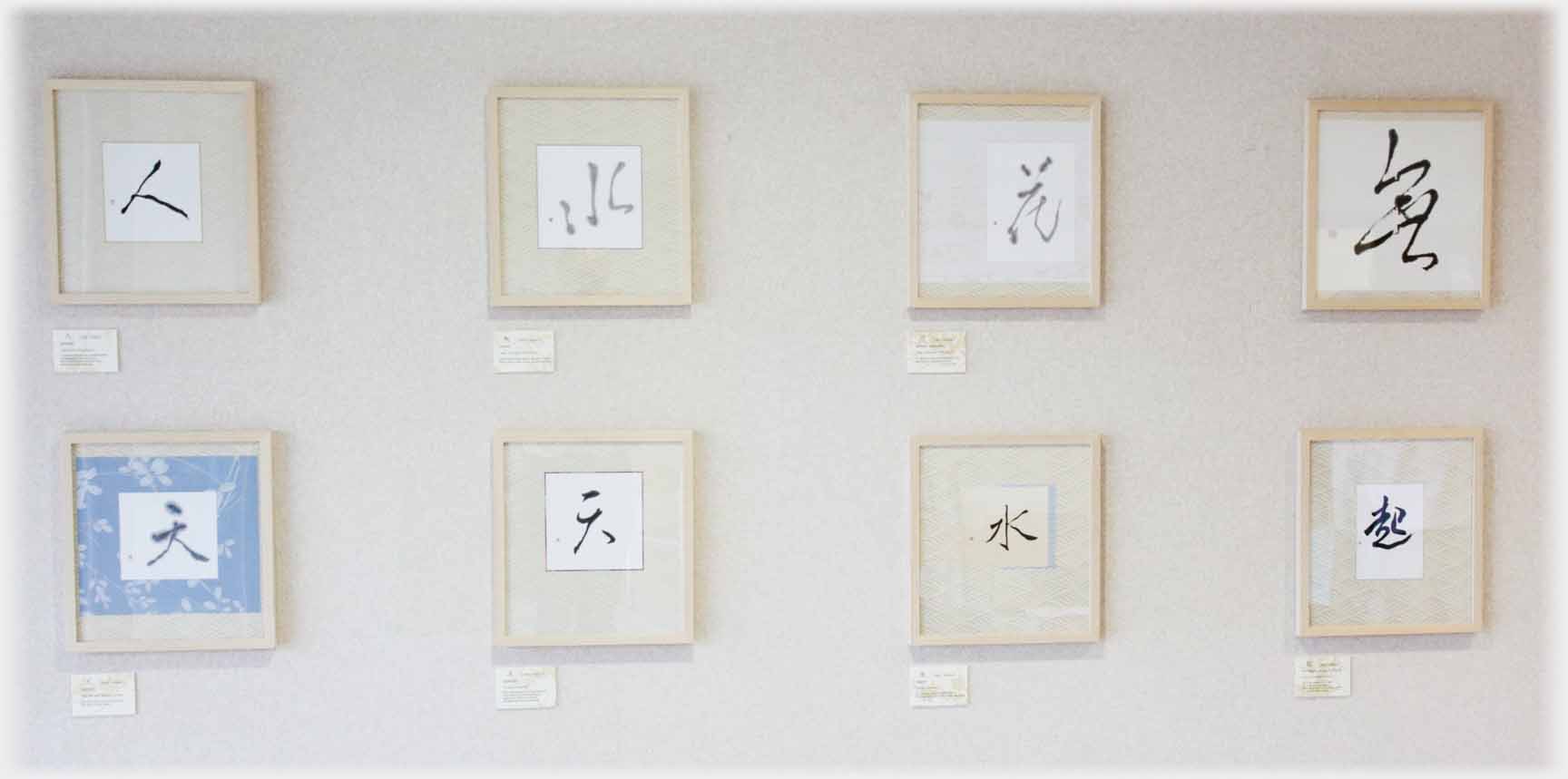 Examples show a range from recognisable to abstract forms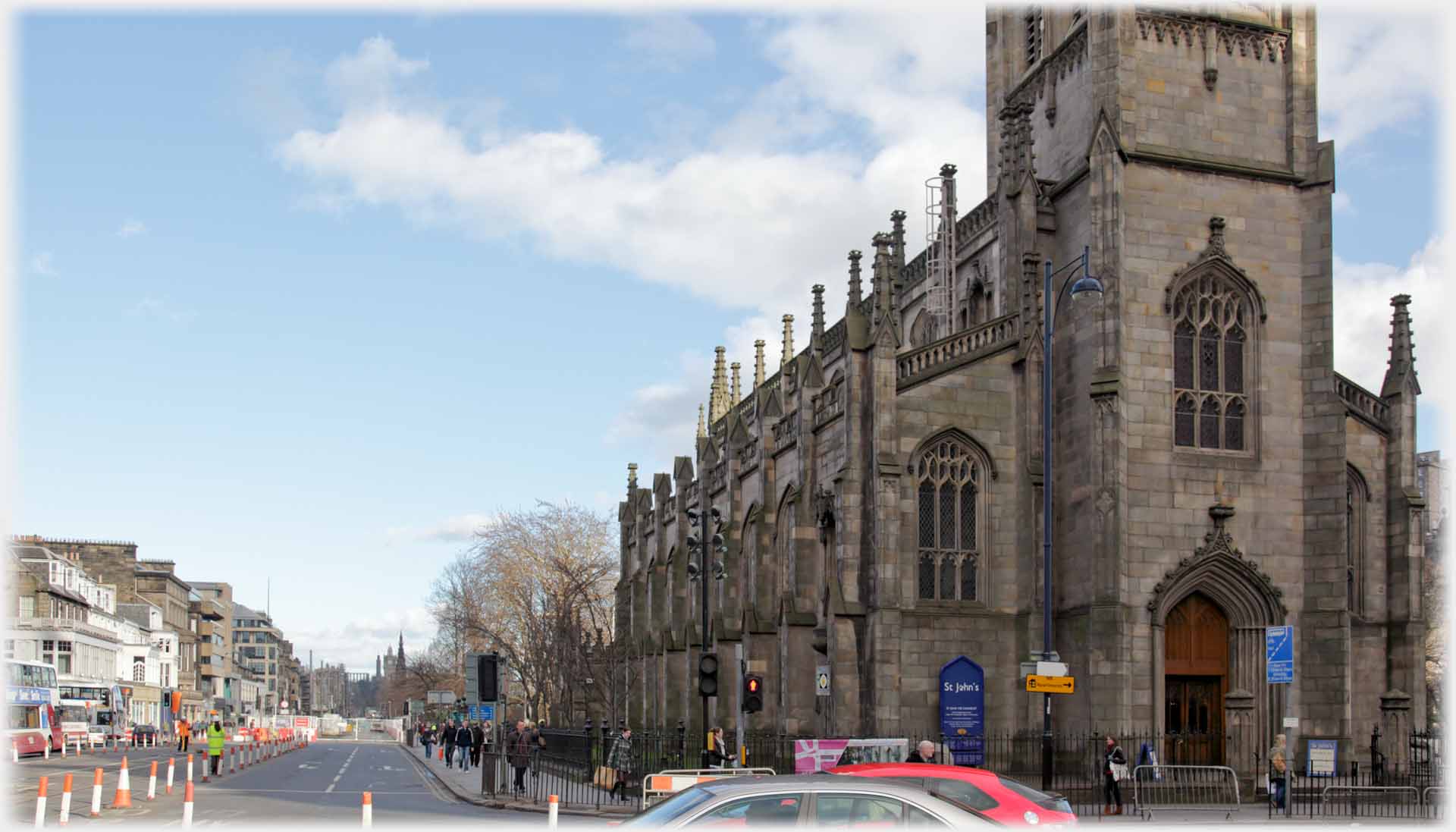 Above, St. John's Episcopal Church stands at the junction of Princes Street and Lothian Road, it has a shop of 'third world' trading, and facilities for exhibitions. To the right, a family who came from Japan to support Ransetsu during her displays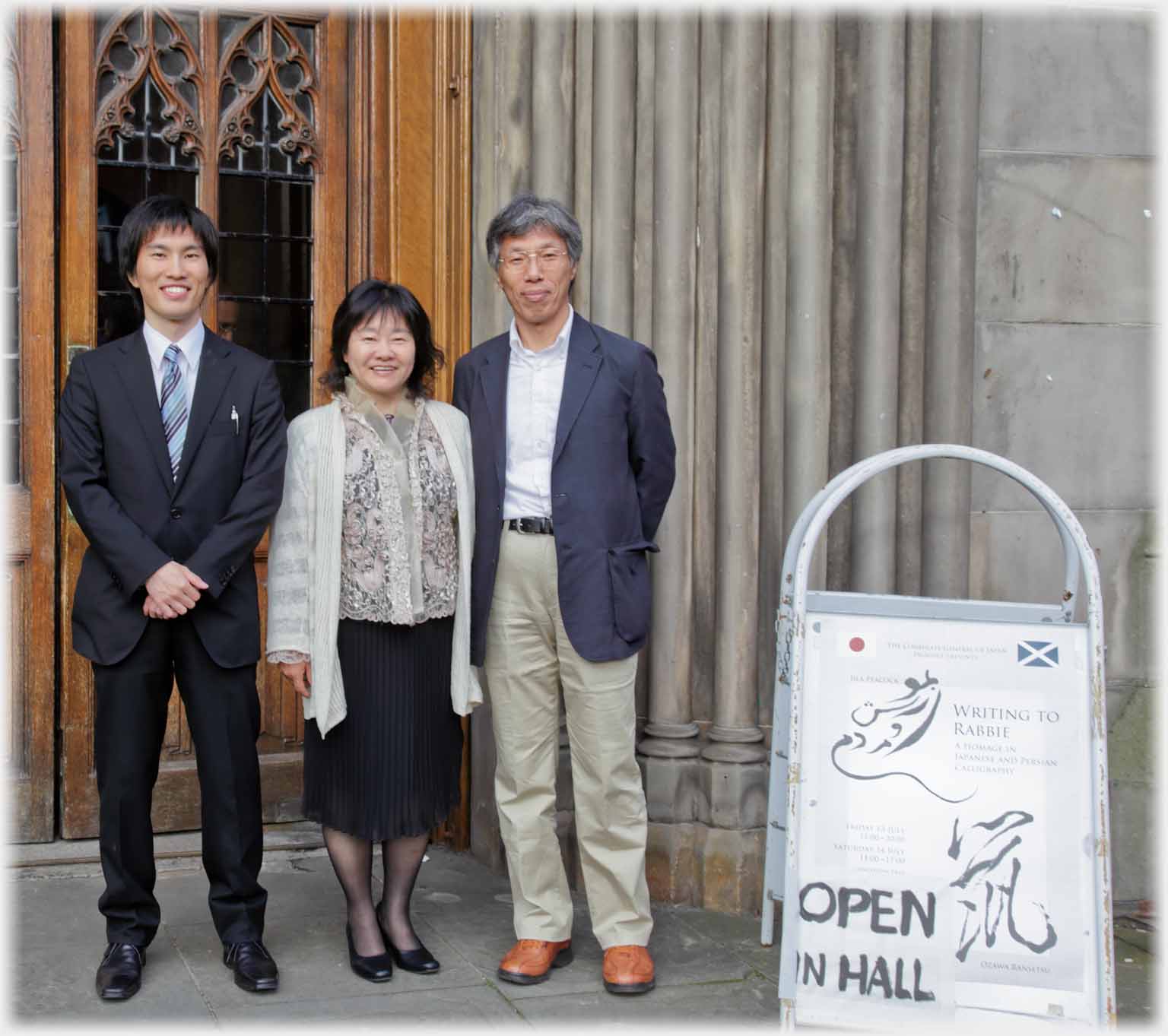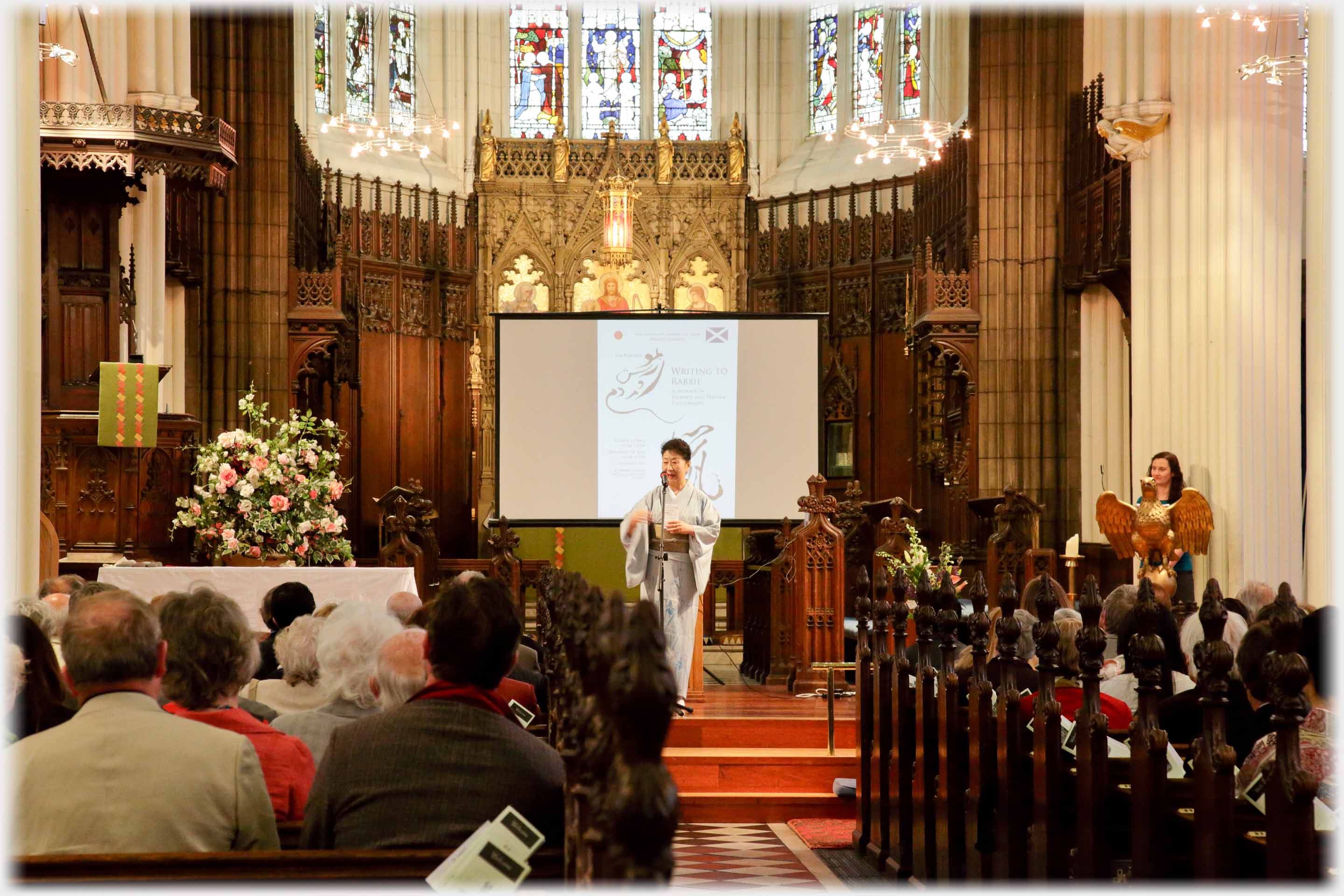 Ransetsu giving a short talk before her demonstration within a church
- an almost surreal contrast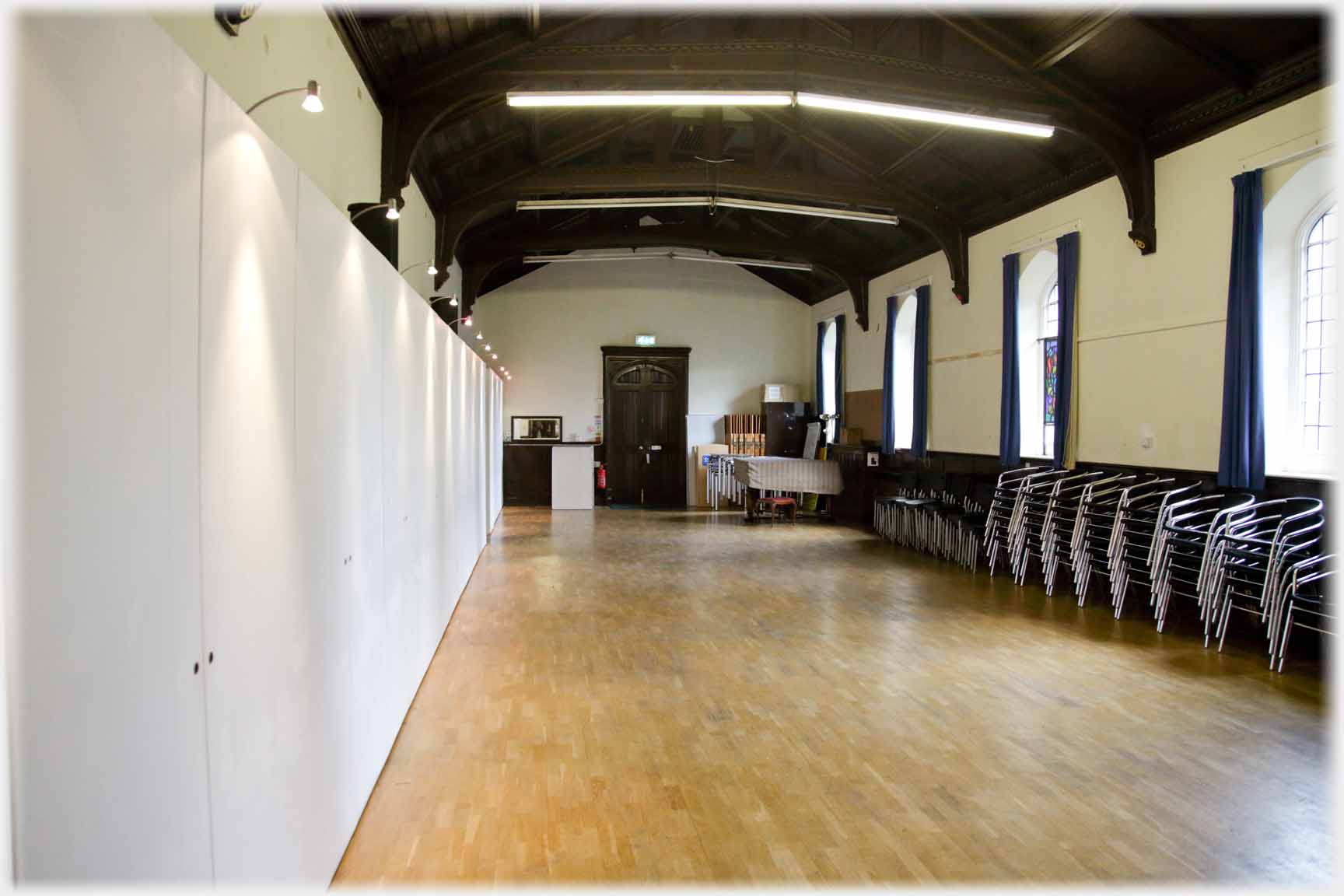 The exhibition space, before...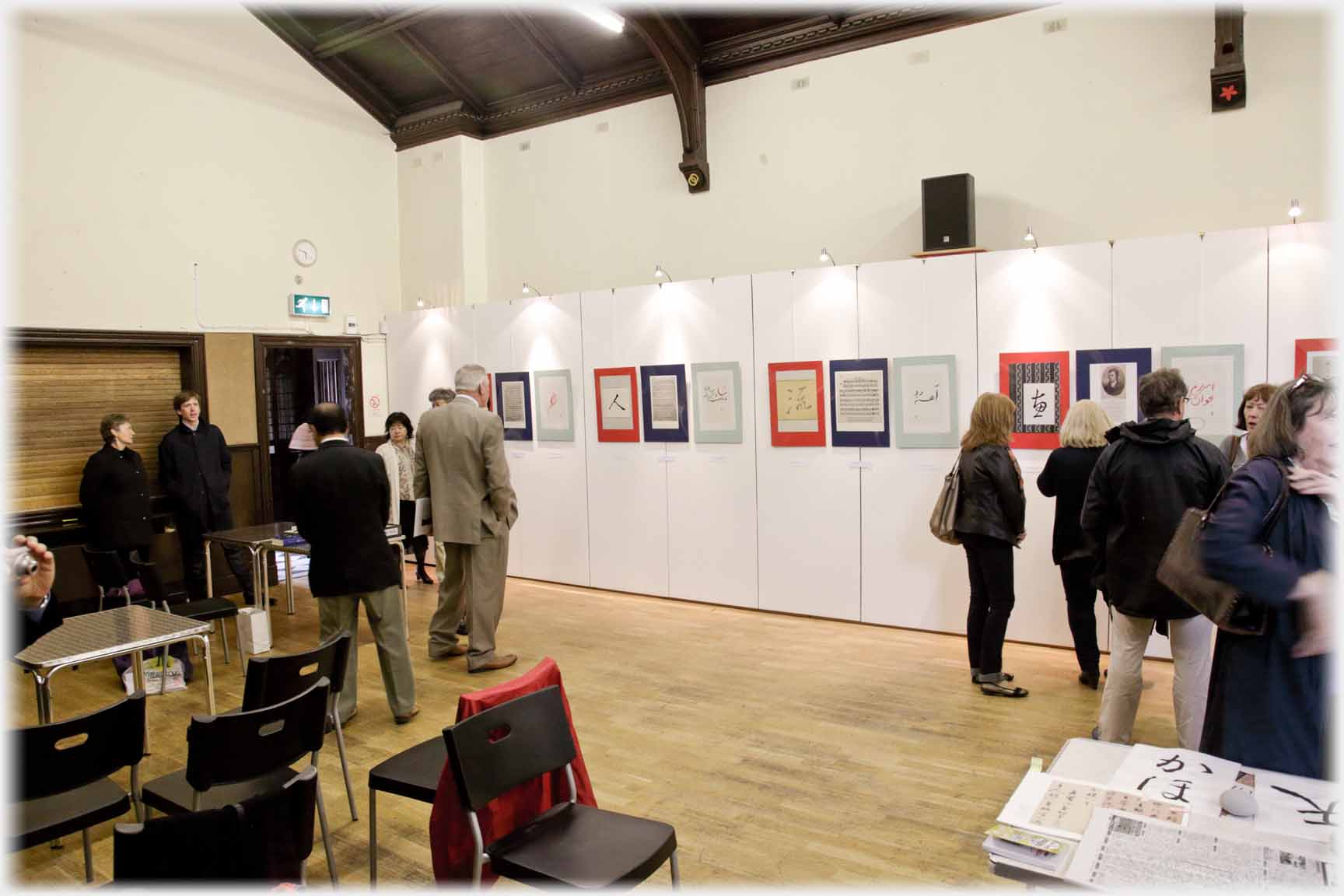 ...and during the exhibition
Ransetsu at work in the church demonstration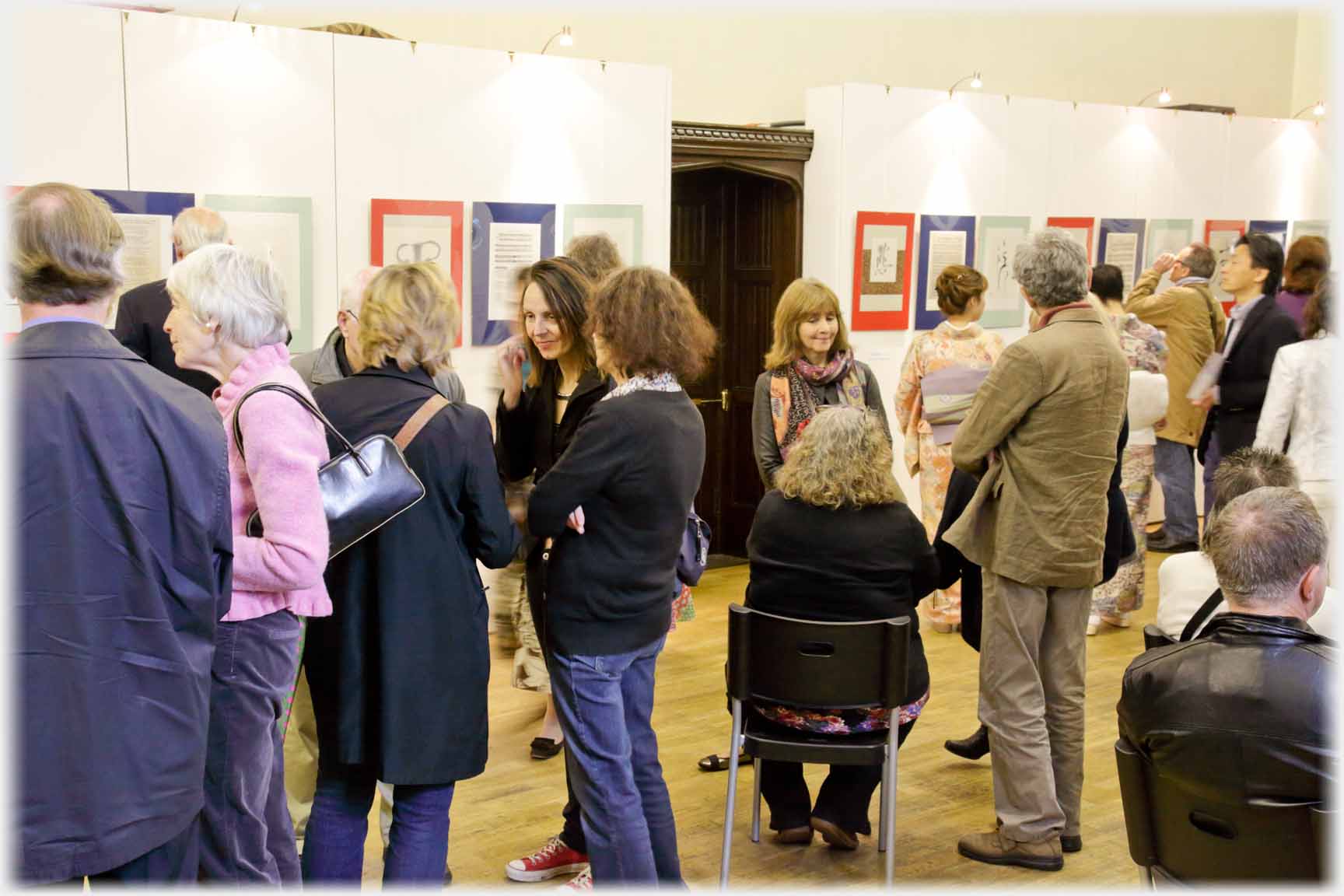 The empty room has the exhibits hung, and
an 'opening' gets underway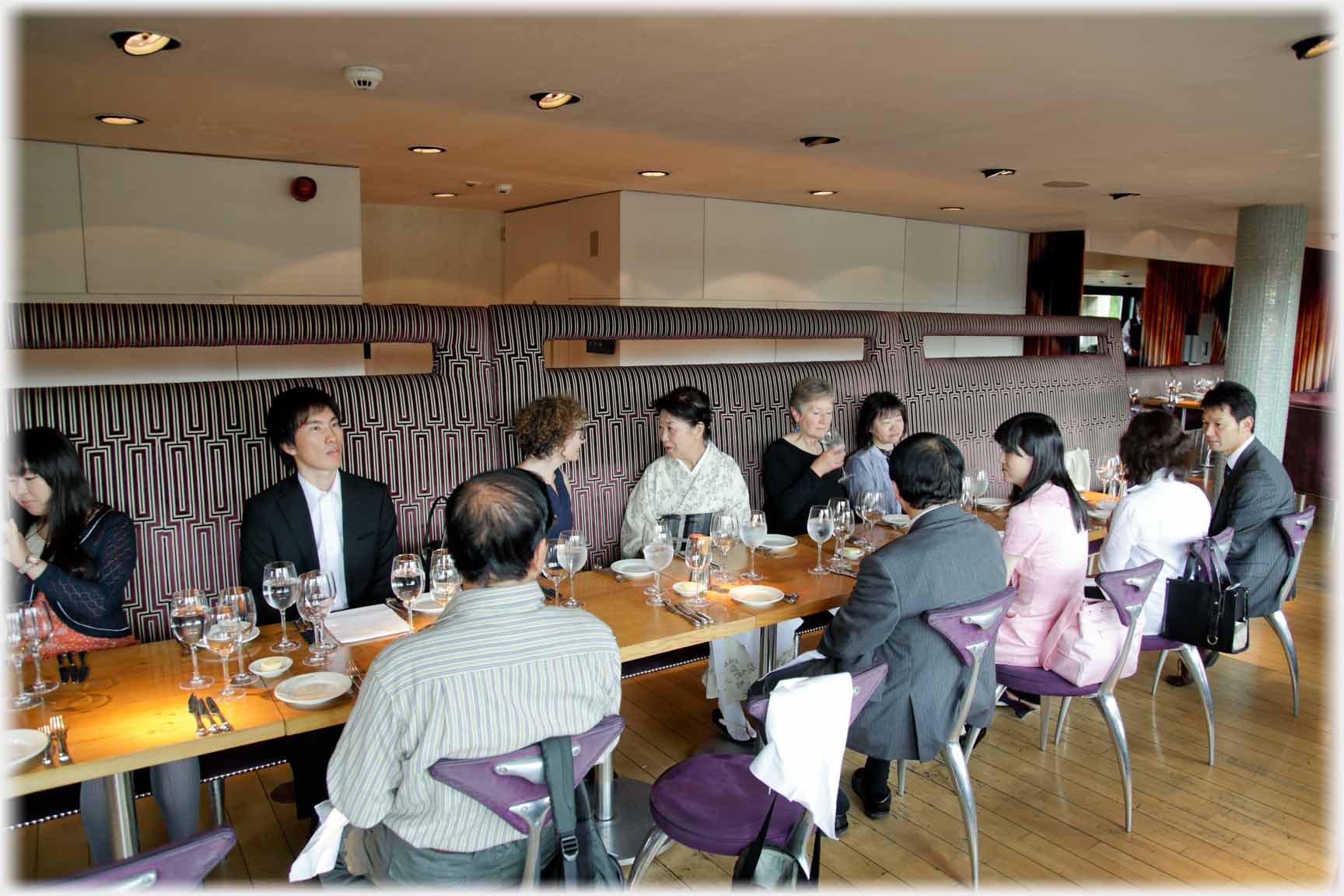 All those involved, Ransetsu is with Jila, having lunch in the Chambers Street Museum
One of the sets of three panels from the exhibition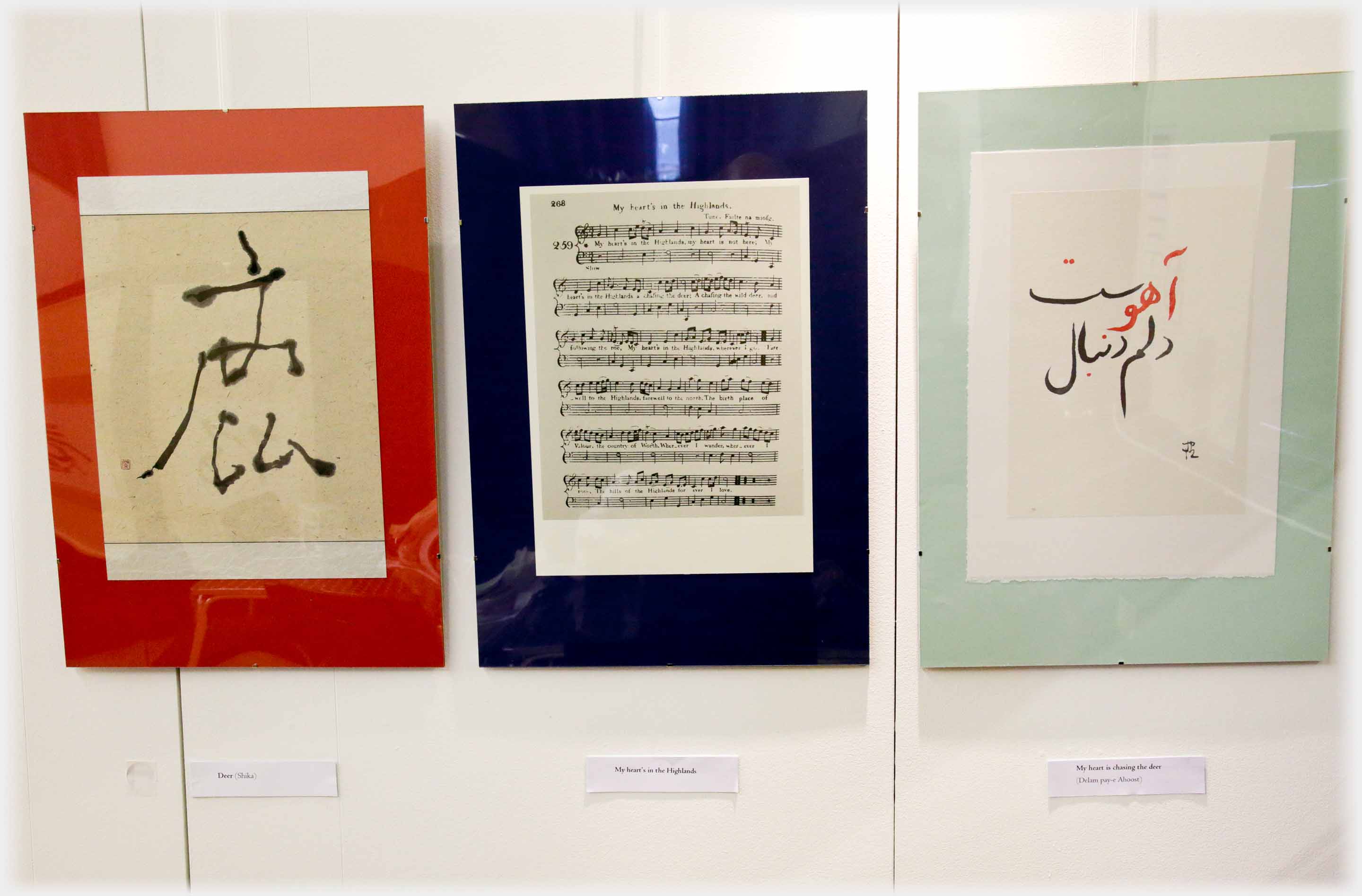 Japanese calligraphy by the Japanese artist Ransetsu which extrapolates from Burns' poem - the character is based on Deer (Shika)
The music for Burns' poem "My Heart is in the Highlands"
An Islamic rendering by the Iranian artist Jila Peacock of the idea akin to - My heart is chasing the deer
Trailers...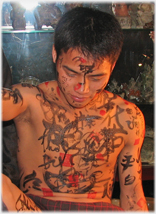 The next Picture Posting page offers photos from a rather different calligraphy demonstration - in Hà Nội.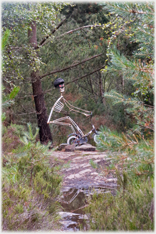 The next page of the Mosaic Section is headed 'Skeletal Worlds'.
Or go to the contents

Go to the contents of the Mosaic Section.

of the Mosaic Section.