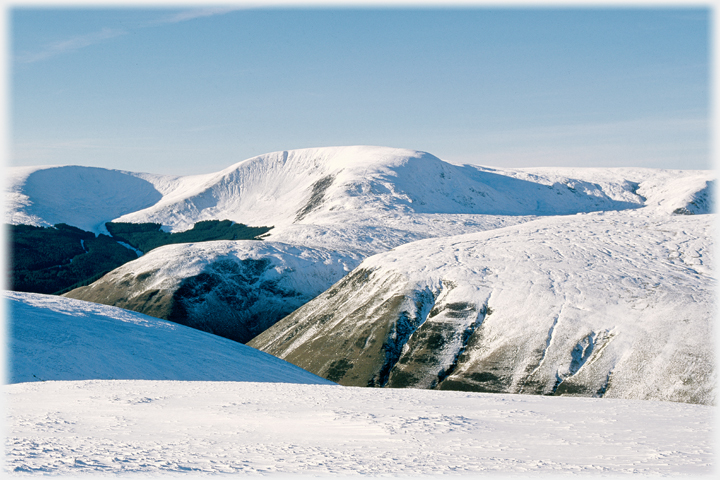 White Coomb is the highest hill in Dumfriesshire at 821 metres (2,700 feet). The lower hill to the right is Watch Knowe, hiding just beyond this is the 'visitor attraction' of the Grey Mare's Tail Waterfall. Loch Skeen, visited on the last page, is round to the right of the picture
As befits White Coomb, the highest hill in Dumfriesshire, most of these pictures are taken when snow was lying, although snow comes only for a few weeks on occasional years. The word Coomb indicates a scooped or hollowed out terrain and this hill looks just as though a giant ice cream scoop had been at work. The naturally formed Loch Skeen is to the north of the hill, and beyond Loch Skeen are the man-made reservoirs of Megget, Fruid and Talla - more on which on the next page.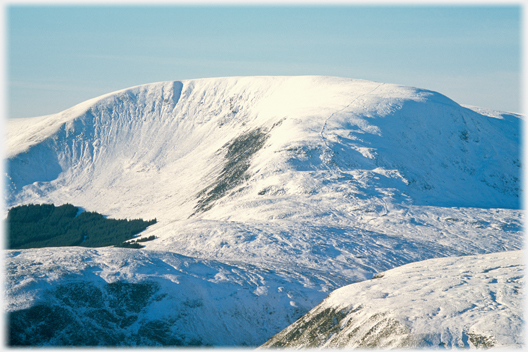 A closer shot taken from Trowgrain Middle of White Coomb which in winter shows the scooped out nature of its east side

From Trowgrain Middle, at the head of Moffat Water, the Eildons...

...and The Cheviot which can just be seen from this corner of Dumfriesshire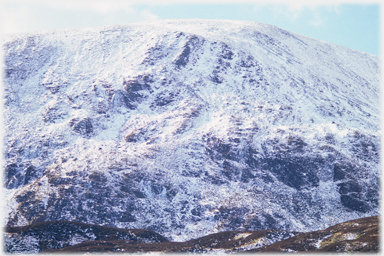 The snow on the north face of White Coomb renders it vast and inhospitable, compare this with the pictures below taken in summer; a very different hill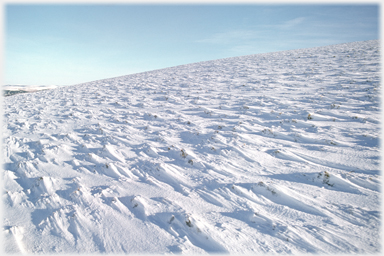 Maybe these miniature hillocks, formed by the wind on the snow, might be called snow dunes. There is actually a word for the wavelike formation in snow - sastruga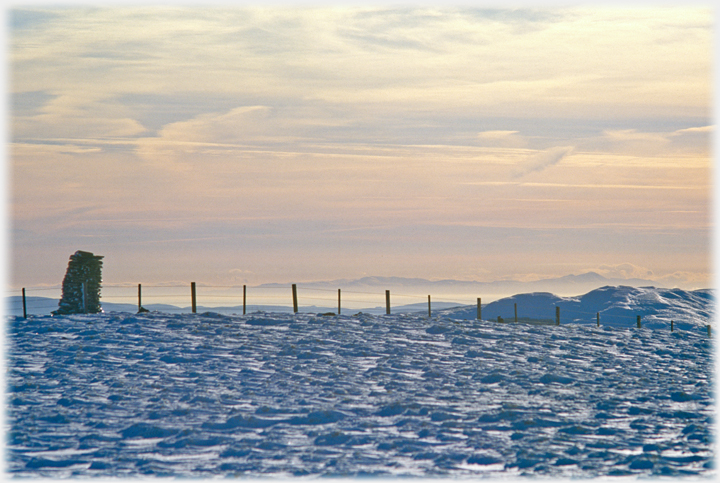 The view from the summit of Trowgrain Middle. Skiddaw in the Lake District, the pointed hill on the horizon, is 50 miles (80 kilometres away)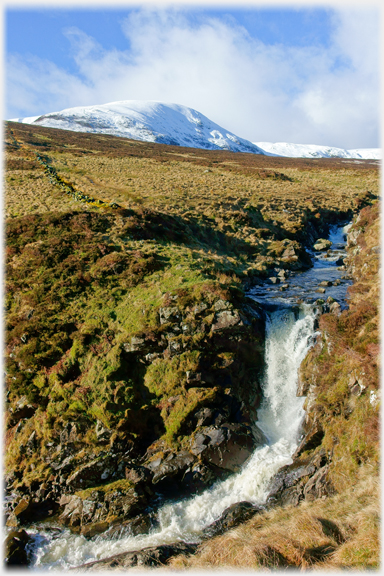 The Tail Burn and snow capped White Coomb in the background
One of the ferrel goats that live in the hills around White Coomb, with that hill as background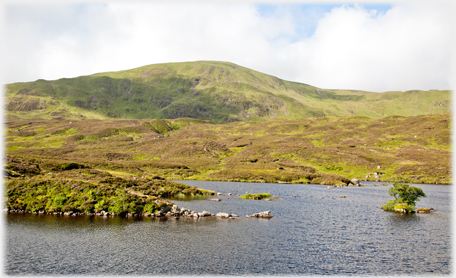 White Coomb in its August guise, so soft and innocent, compared to the images taken in winter and shown above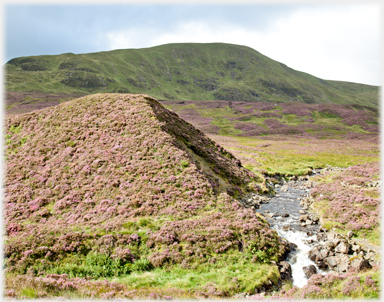 Heather in mid August is beginning to cover the landscape in purple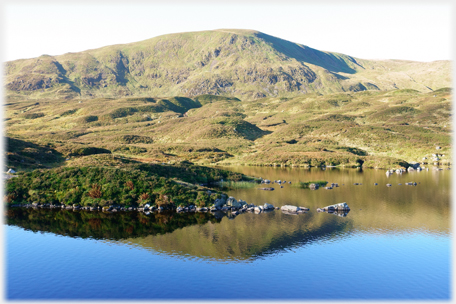 Still morning air lets White Coomb be seen reflected in Loch Skeen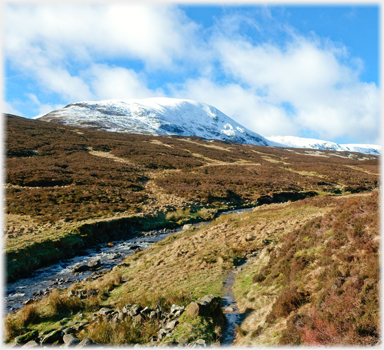 The remains of a shepherd's shelter by the Tail Burn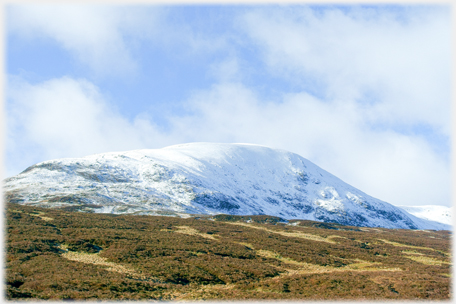 White Coomb at the end of winter; still snow capped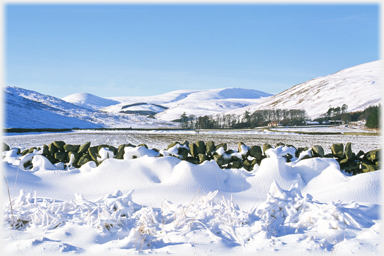 Cappercleuch, and at the head of the valley, sits Broad Law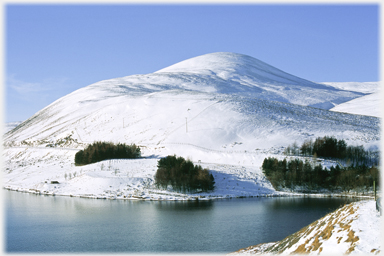 Clockmore by Megget Reservoir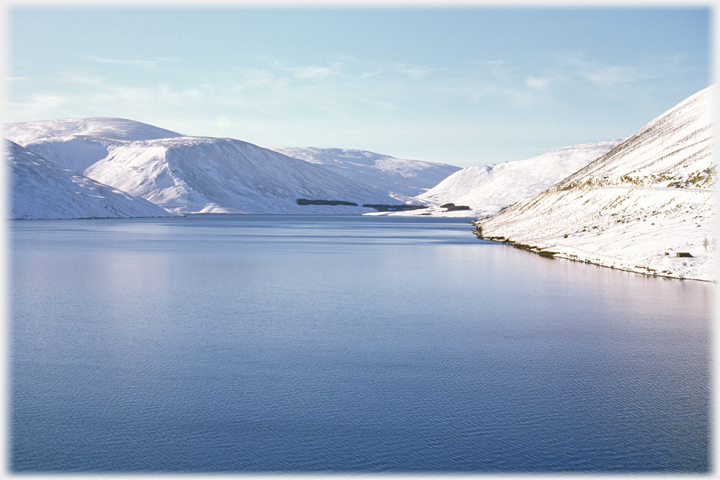 The Megget Reservoir lies between White Coomb and Broad Law; it was opened in the 1980s to help quench Edinburgh's thirst
The next page takes you beyond the head of the valley in the last picture, to the neighbouring Talla Reservoir, built 70 years earlier, and to the area around Tweedsmuir.