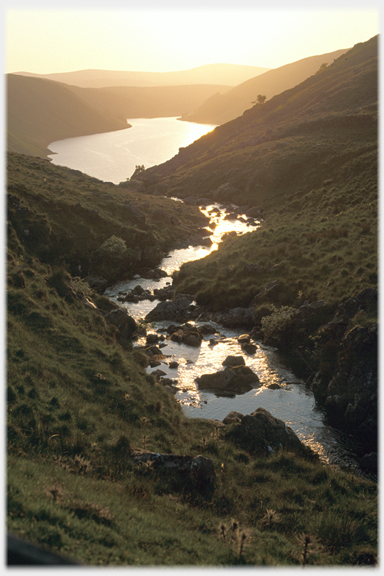 Sunset looking down Talla Water towards the Talla Reservoir some 700 feet below...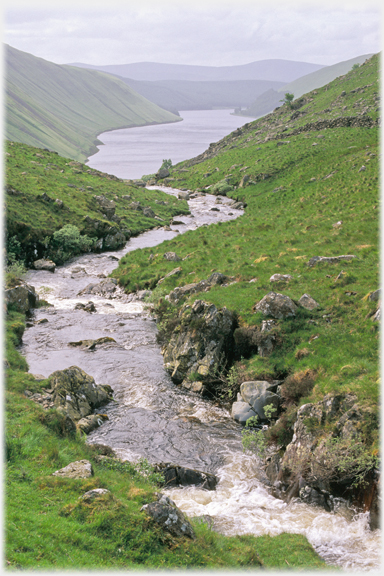 ...and a mile distant; and above the same shot on a summer's day
Across the watershed from Megget lies the older Talla Reservoir which was opened in 1905 to supply water to the City of Edinburgh some 30 miles to the north. A railway line was constructed (to bring materials for the building of the dam that created the Reservoir) and this can still be seen in the valley near Broughton. Over 100,000 tons of goods were delivered to the site along this line. More sadly there are 30 graves, in the churchyard at Tweedsmuir, of workers who died during the construction.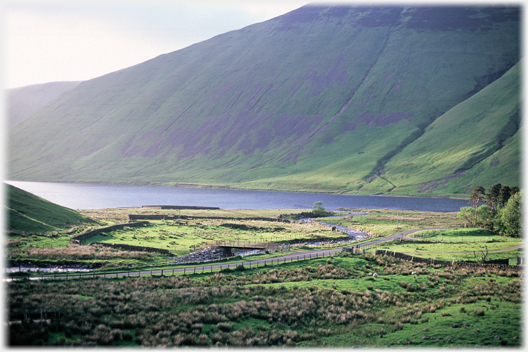 Talla Linnfoots the area at the head of the Reservoir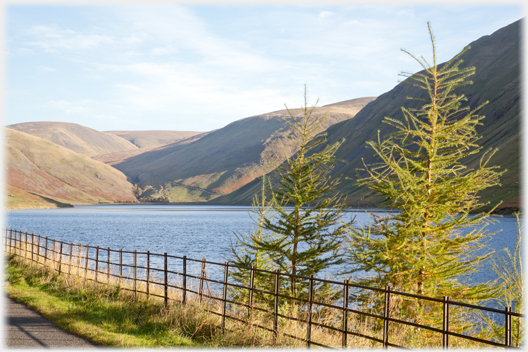 Looking east up Talla Reservoir with Fens Law and Carlavin Law at its head. Between these the vertiginous road passes over to Megget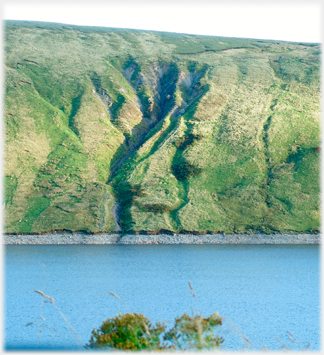 Fissures in the flanks of Garelet Hill on the southern shore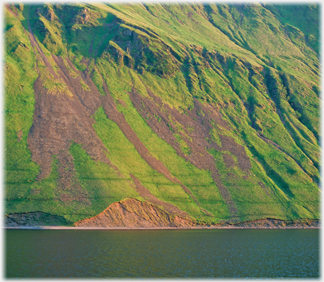 The setting sun casting horizontal shadows on the screes on the south side of the Reservoir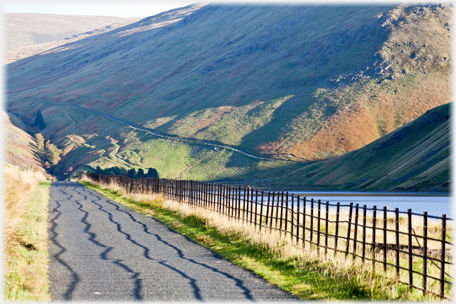 Foreground railings echoing the shadows of the distant tracks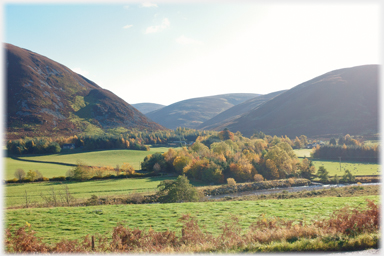 The Tweed passes the entrance to the side valley of Stan Hope just north of Tweedsmuir, and then meanders...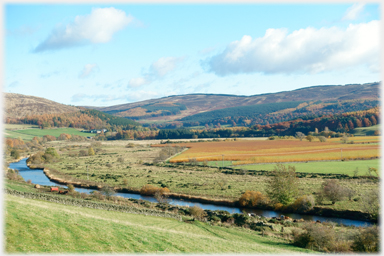 ...past the Dawyck estate (those trees across the valley and up the hill) part of the Edinburgh Botanics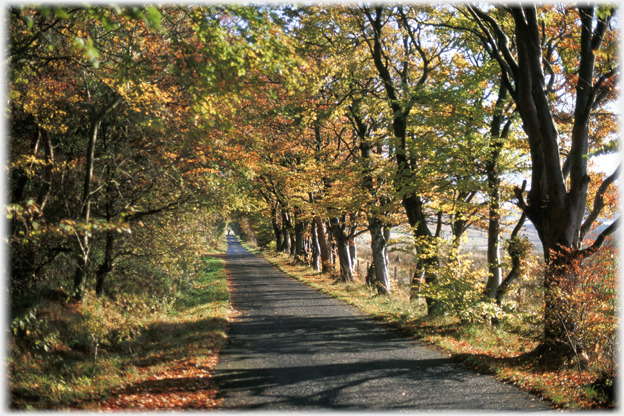 The road from Broughton to Peebles at Ratchell, just outside the village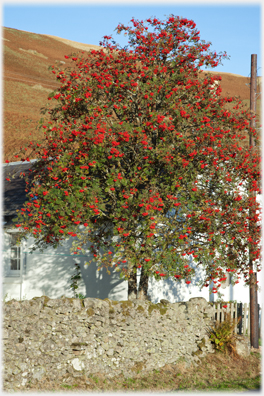 A Summer Rowan in Megget - before the birds have discovered the berries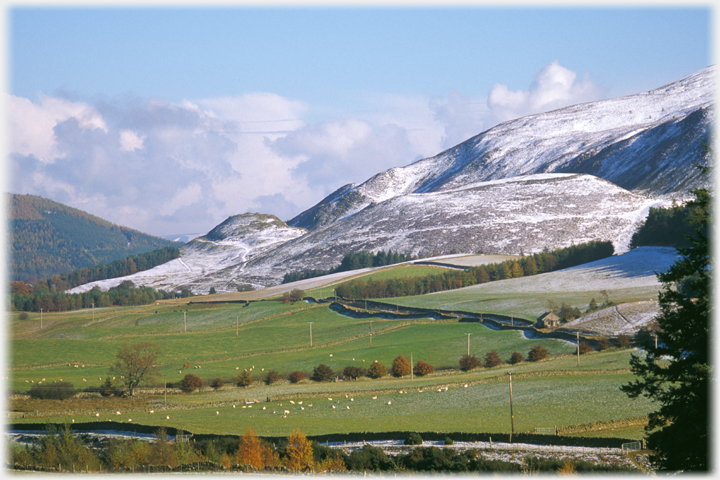 Tinnis Castle (on the knoll with the track leading to it) is a medieval castle set inside an Iron Age fort of uncertain date. It looks down the Tweed towards Dawyck and upstream towards Tweedsmuir: a strategically splendid position

Broad Law, seen from the angle which gives it its name, dominates the horizon in the upper Tweed valley. A barely perceptible bump, slightly to the left of the summit, is a radar beacon which is used by all North Atlantic air traffic as a left-turn sign for the sea crossing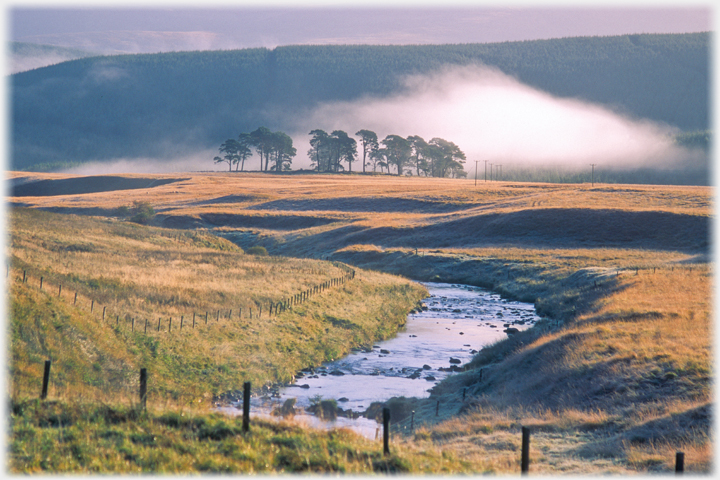 The River Tweed near Hawkshaw with morning cloud still hanging near that photogenic group of trees, and then the same group of trees...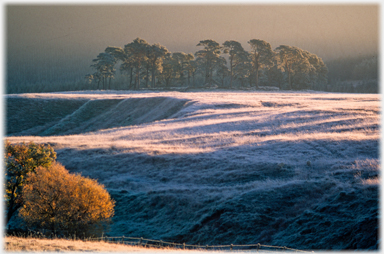 ...showing the frost on the grass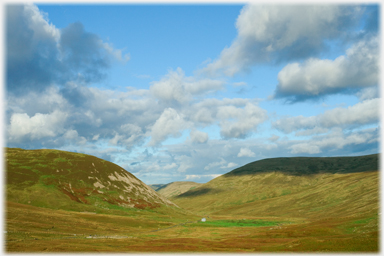 Upper Megget Valley - Wylies Hill and Wood Brae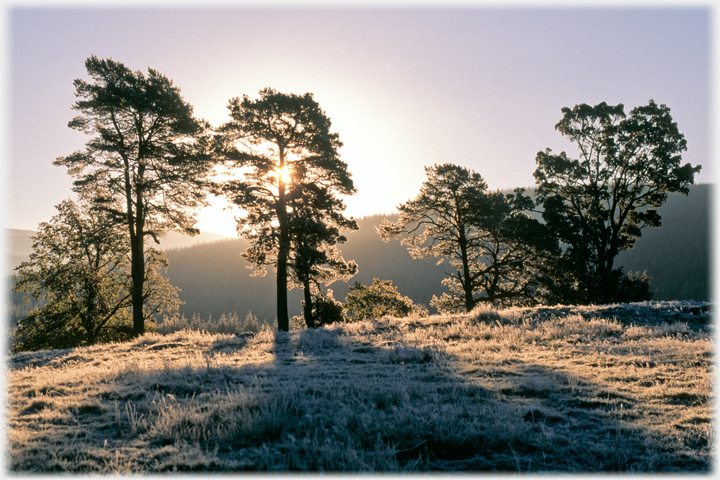 The Winter's sun catches pines and frosted grass by Tweedsmuir
The next page has an autumn look inside the gardens seen (from a little distance) higher up this page - Dawyck Botanic Gardens - which form part of the Edinburgh Botanic Gardens.