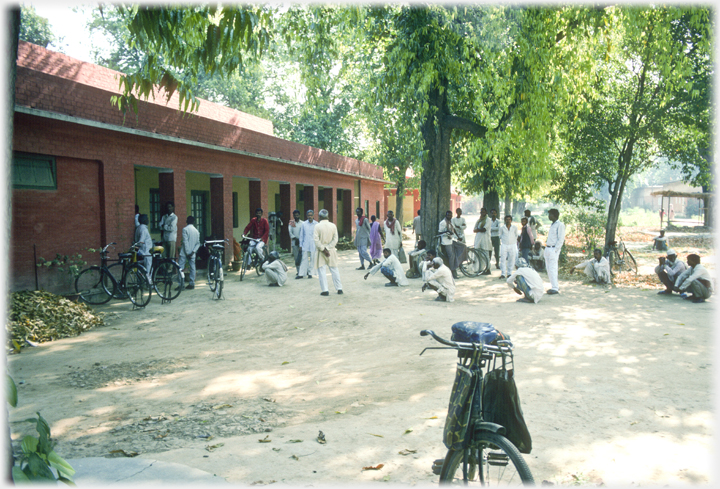 The town of Naini, where TLM Hospital is situated, is across the river from Allahabad,

the city that sits at the confluence of the Yamuna and the Ganges in Uttar Pradesh. The hospital started work in the late 19th century. Here patients are waiting for morning surgery
The Leprosy Mission (TLM)

is a protestant organisation working in India and 29 other countries around the world. Since the 1800s they have been dedicated to the eradication of the disease, and to helping those who have had the disease with the damage it may cause. It is a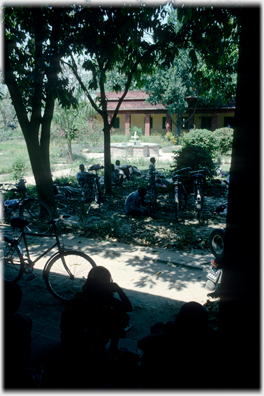 Patients being patient in the shade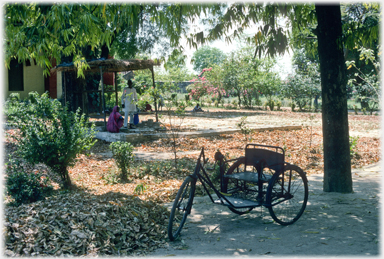 An alternative to a bicycle
disease which survives because of prejudice: it is hard to transmit, and very easily treated.

However, if it goes untreated, it inevitably leads to secondary problems due to a lack of feeling in the effected areas, and the resulting damage to those tissues.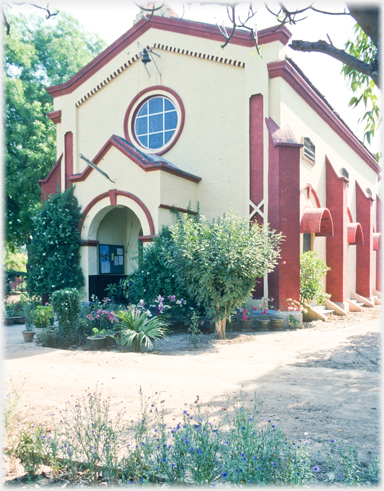 The chapel is about the only clear reminder that this is a Christian organisation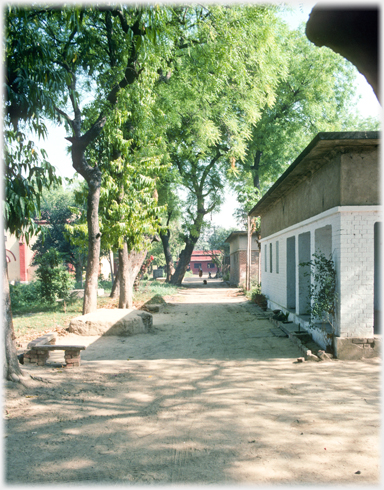 The grounds have buildings set out with open areas between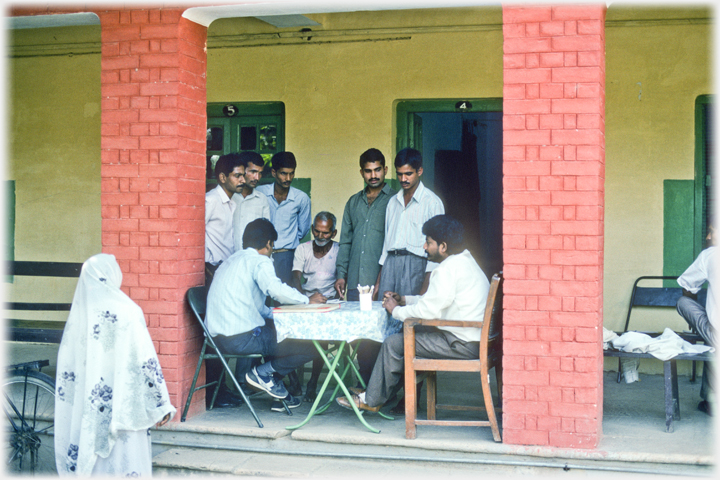 A group of paramedics watch as a new patient is registered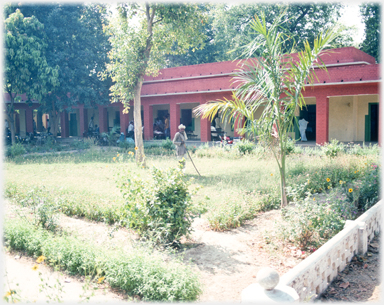 Gardens, and ipso facto gardeners, are maintained in the spaces between the buildings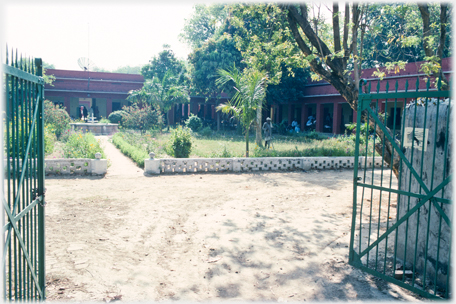 Looking at the central area of the hospital through its
entrance gates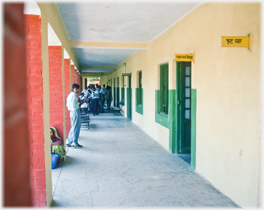 The open colonnades, which form a modern cloister, provide shelter for those waiting to enter the wards and treatment rooms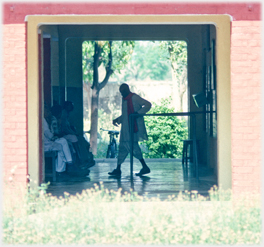 Spaces through the buildings encourage the air to move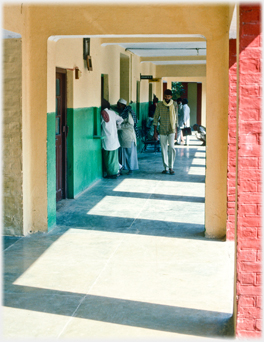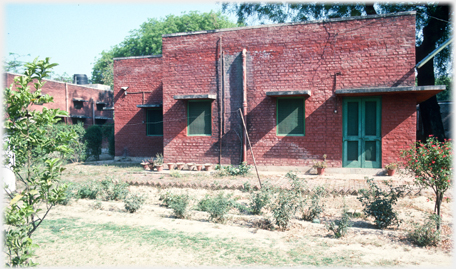 One of the bungalows in the grounds which are available for staff and visitors such as myself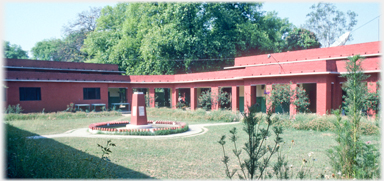 The central square with its cloistered surround. Everything is designed against the heat and to let air flow. The concrete projections over the windows stop the the sun at its height hitting the opening below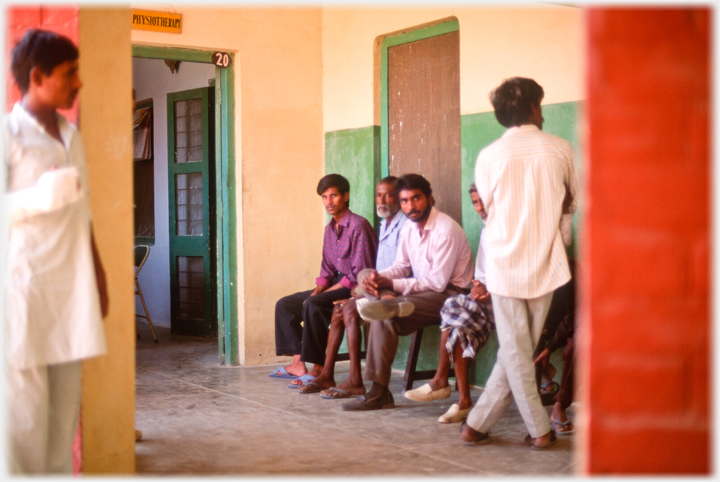 A waiting area with new and returning patients - all equally anxious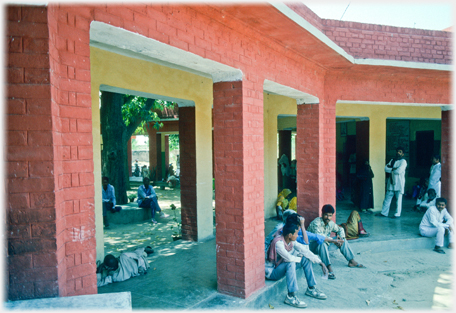 In the early morning, the sun is still leaving welcome shadows that can be enjoyed by those waiting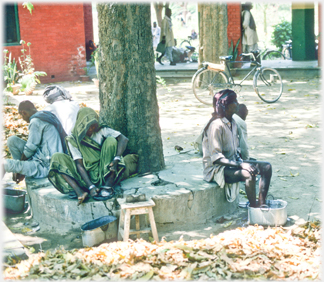 A man soaks his feet (where many secondary problems occur) to make work on them easier. You may just see in the picture that the woman's hands lack fingers beyond the first joint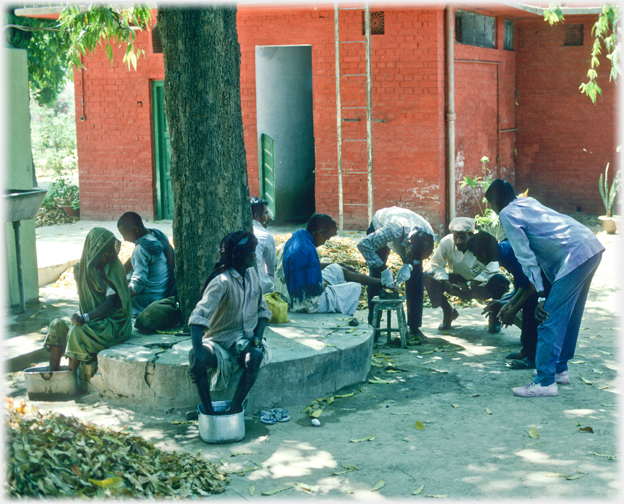 Staff watch as a man has his foot tended. Maybe showing a little tension in their bodies, the next patients watch what is happening. From our comfortable perspective, it is easy to see how the problems of leprosy are secondary. Because there is no feeling in the effected area, sores and wounds develop without the person being aware of their existence. Grit in the eyes, a cut on the finger, a sore on the foot, which we would notice and attend to, are not detected, and the result is blindness, and gangrene with the need for amputation. The lack of sensation also means the patient feels nothing of these medical procedures.
Leprosy is not deadly, but the social stigma is.
The next page has more on the staff and patients at the hospital, with some group photos and a little about the work undertaken there.