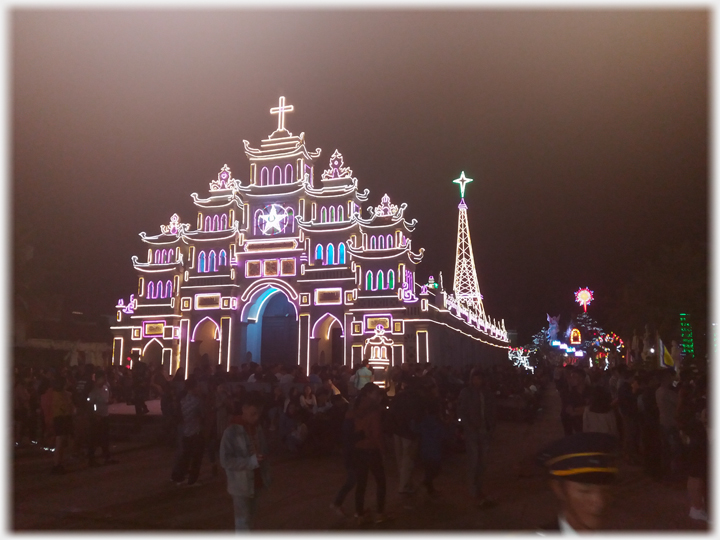 One of the largest churches in the area bedecked for Christmas
The lights shown on the last page were on a grander scale than the ones seen here. But the work that goes into these local illuminations is no less impressive. The photos on this page were taken in the district of Tĩnh Gia. As is common in Vietnam the main town of a district bears the name of the district, and lower down the page the images come from that district's capital. First some pictures from Hải Thanh which was the subject of an earlier page, it lies ten minutes distant from the town of Tĩnh Gia. Hải Thanh is very unusual in this part of Vietnam for having a number of Churches and an established Christian community. At Christmas these buildings are edged with lights, and lights outline much street furnishing and gateways. Thousands of visitors come down here to admire the spectacle each evening and the churches hold large outdoor ceremonies - past which the crowds promenade. The more modest lights of Tĩnh Gia town are celebrating the lunar New Year. Streets get together to arrange their own displays: five metre high wands were popular one year, lanterns another. Many of these photos are taken on a phone.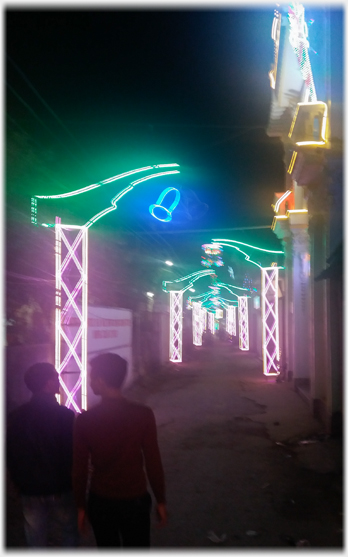 Lights arch the lanes, inviting admirers to enter; and in the dark an Eiffel Tower seems full size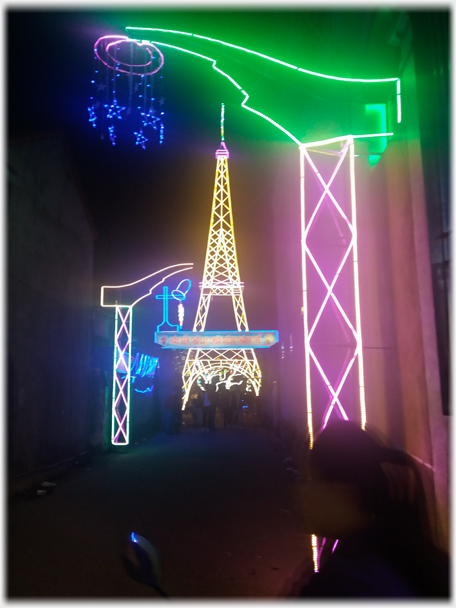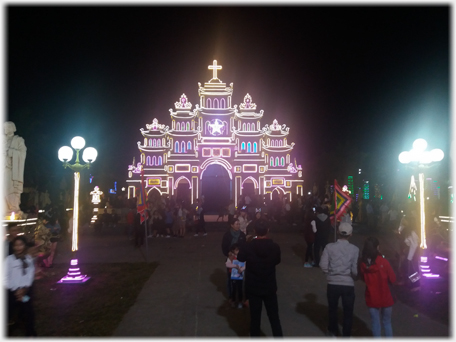 This church gateway faces onto the sea allowing the crowds
to mill along the shore promenade
The new dual carriage-way, by the government buildings in Tĩnh Gia town,
has these elaborate ...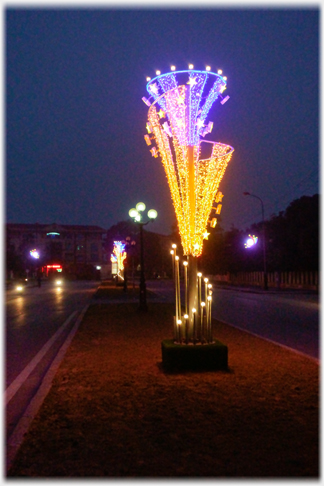 ...emblems illuminated for celebrations, but, unlike in Hải Thanh, there are only empty streets to admire them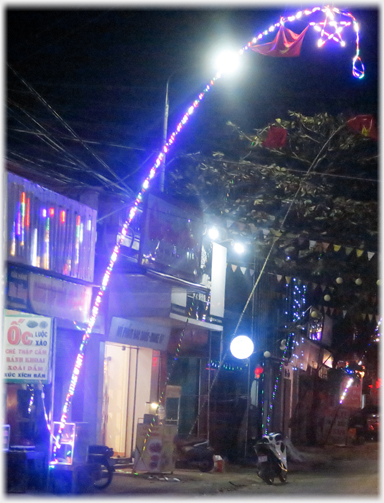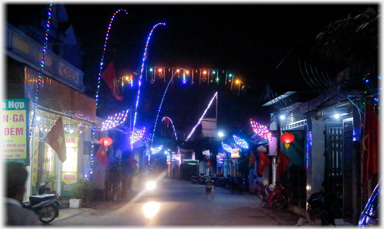 The year of the long wand. One year's fashion saw many house- holds in Tĩnh Gia buy and erect these florescent giants' crooks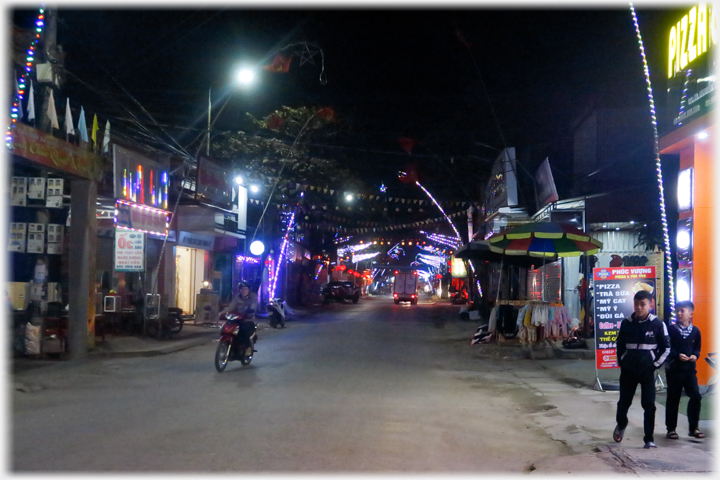 The mixture of motorcyclists wishing to be incognito (no lights), and pedestrians,
is not uncommon in Vietnam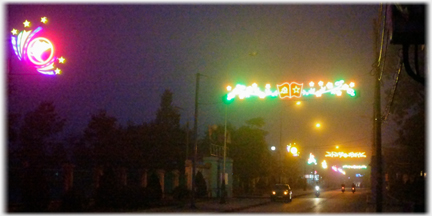 Some streets have overhead banner displays, others...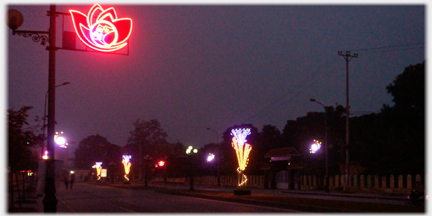 ...feature Lotuses. Again the deserted government street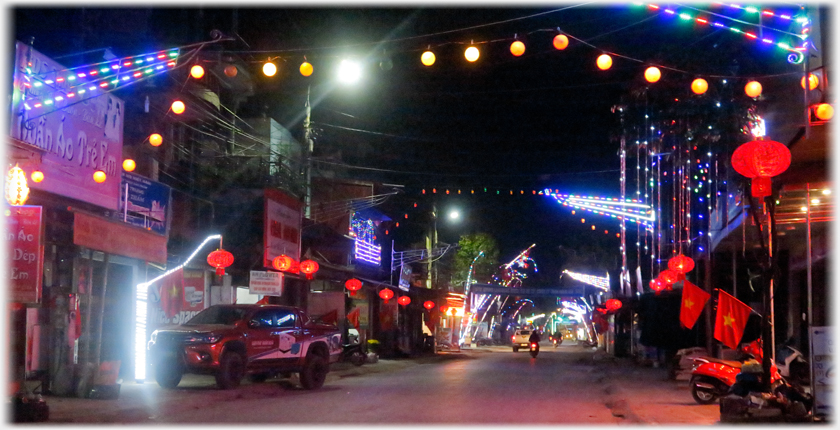 Large Chinese lanterns along this street, so delightful to the foreign eye, are not so simple for all locals,
symbols as they can be, of an overbearing neighbour to the north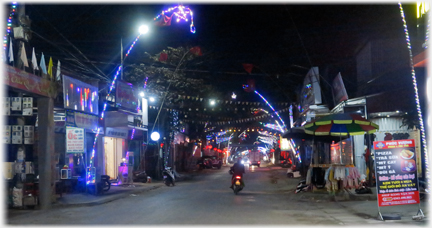 Market street offered snails (Ốc) and, over the road, pizza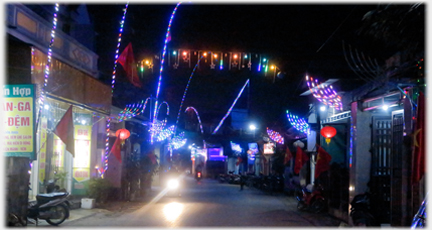 Our street offered these scimitars, in pink or blue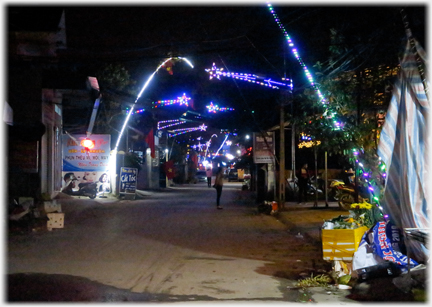 Another street with stars shooting to the road's centre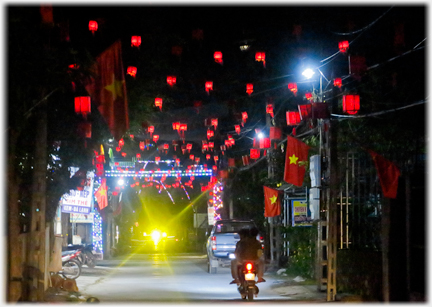 And my favourite last year...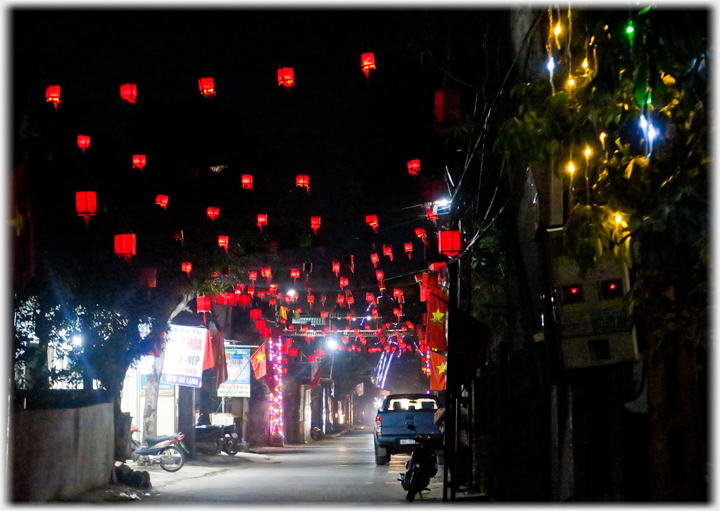 ...small red lanterns strung across the road, stretching off into the distance. This time not Chinese lanterns but delicate affairs quietly announcing the New Year
Trailers...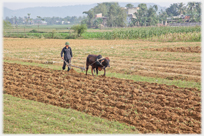 Next comes more on Tĩnh Gia, but this time in the daylight; first up, something of the fields which surround the town.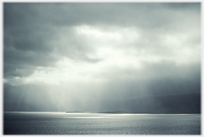 The next page of the Mosaic Section is headed 'Light'.
Or go to the contents of the Mosaic Section.