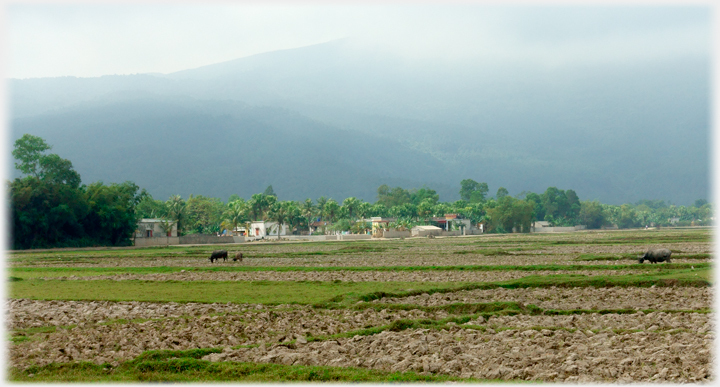 The village is submerged in trees protecting the houses from the heat, presenting itself more as a wood than our conception of a village. View an enlarged image
Thành Công village is relatively modern, it was moved here to avoid the destruction of the American bombing in the 1960s, the old village being too near the main road for safety. The houses then were built of wood and thatched, in the later 90s these were generally replaced with the standard concrete and breeze block affairs that now dominate Viet areas of Vietnam.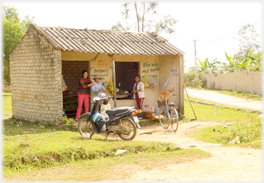 Corner shop at the edge of the village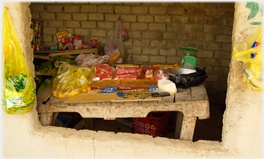 A table inside the corner shop on which meats are displayed for sale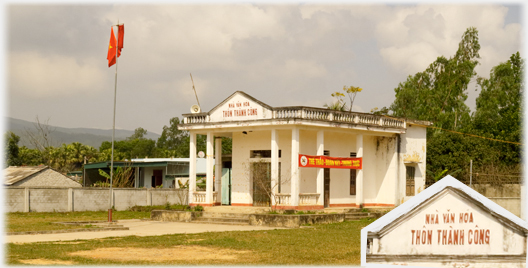 The 'Community Centre' for the village. These buildings in every village of Vietnam have similar proclamations over their doors. Inset: 'Culture House, Thành Công Hamlet' (sic)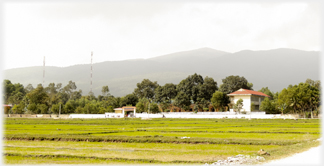 The school sits at the edge of the village. The two story building was recently added, the old ochre buildings hide in the trees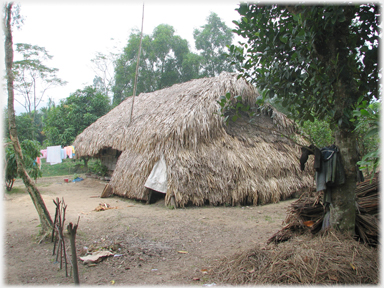 These traditional thick thatched roofs, with openings all round between the thatch and the ground, combat the
heat remarkably well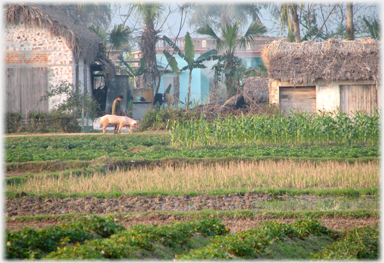 Behind the man walking his pig, a modern concrete house in turquoise can be seen. It has none of the insulation properties of the wood and thatch, and requires considerable amounts of electricity to keep the same temperature as the traditional house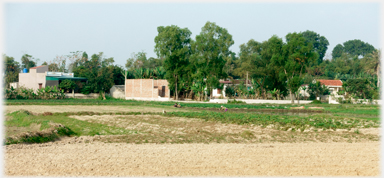 At the edge of the village a modern house is under construction - reinforced concrete piers with bricks between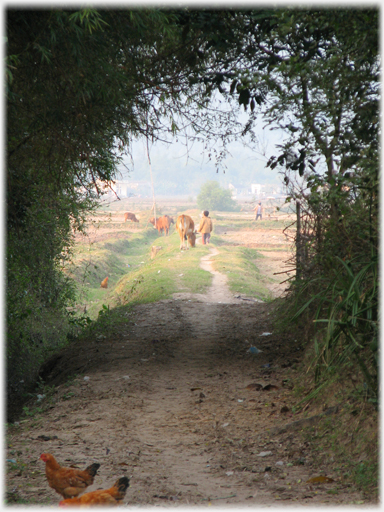 Lanes run from the trees and houses out to the surrounding fields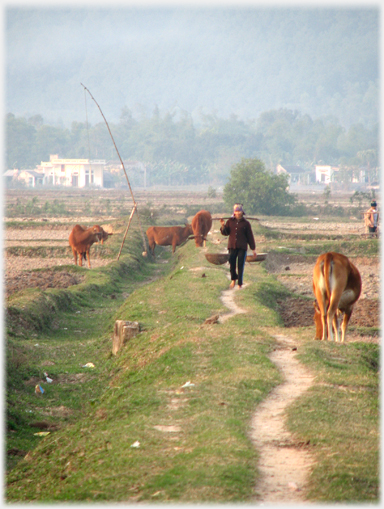 Along these lanes are the village fields, each family having been allotted a range of differing quality patches when land was de-nationalised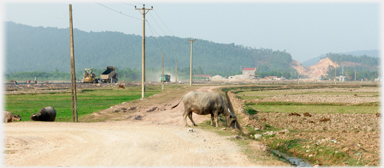 A new road, from airport to refinery, cuts the edge of the village. Clearly bringing opportunities for entrepreneurship, but together with the noise and pollution the village has so far been spared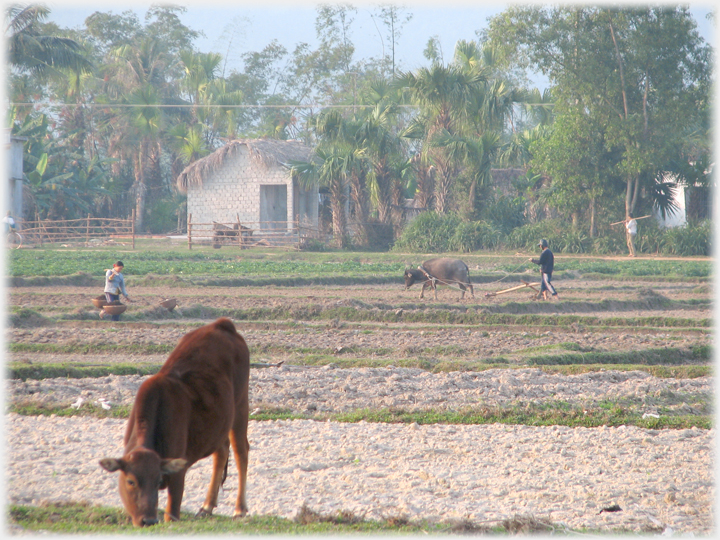 Fields by the village illustrate the peace which still holds - at any rate to the eye of this visitor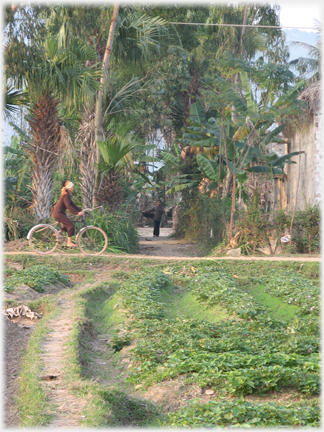 The distances make cycling to the fields a good idea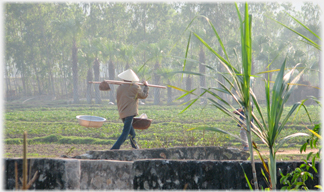 Woman with pannier and tools
Besides the fields where each family has two or three acres, the houses of the village each sit in half an acre or so of land. Together these mean that families can just about be self-sufficient given that the soil and climate allow two crops a year, which commonly consists of one of beans and one of rice.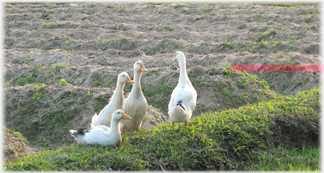 Ducks - wonderful addition to village life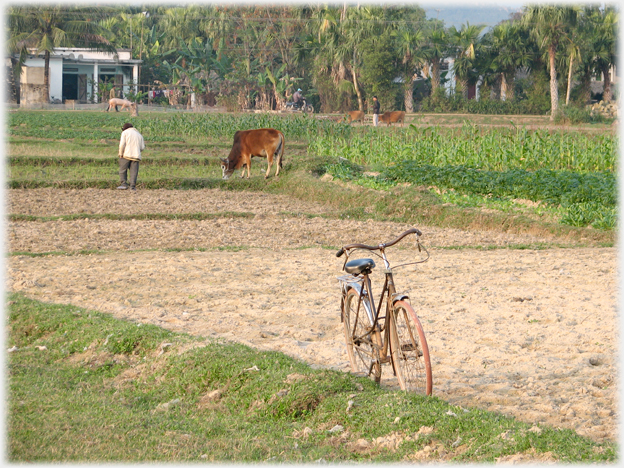 Parked bicycles often make a photograph in Vietnam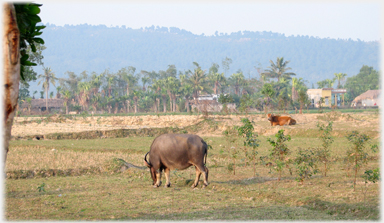 Buffaloes and cows are left tethered to graze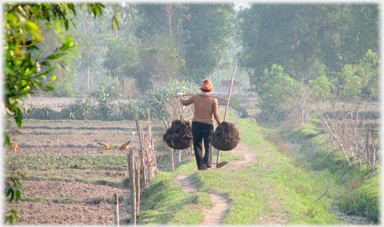 Woman with panniers of stable bedding for her field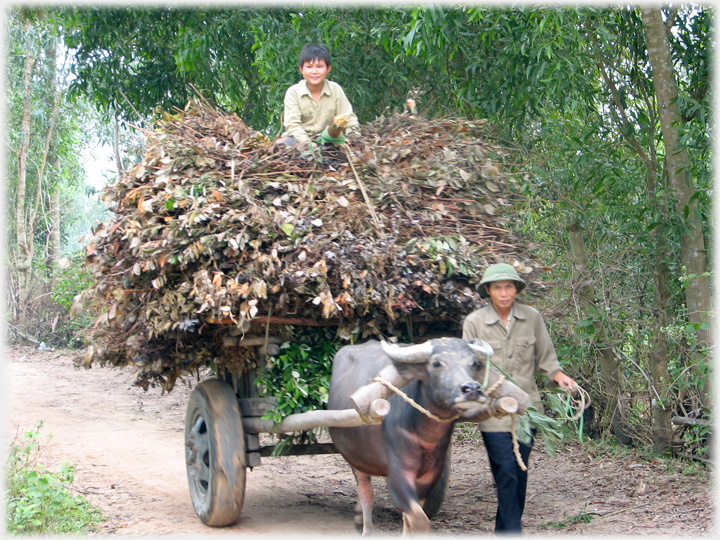 Buffalo cart
The next page has more on the fields and land around the village of Thành Công.