The sun rises as people begin to collect in Lý Thái Tổ Square for the morning exercise sessions...
...and by 6.30am a few dozen - mostly, but not exclusively, women - have gathered to follow the music provided by their leader's ghetto blaster. Even at this early hour, many prefer to be in the shade of the trees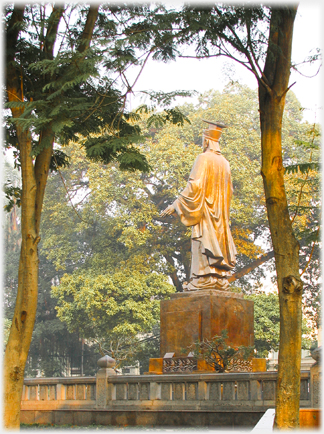 The early sun catching the back of the statue turning the bronze golden
Lý Thái Tổ Square is one of a number of open areas around Hoàn Kiếm Lake in central Hà Nội. Unlike Shark's Jaw Square, where people have to push traffic aside to take over - which they, being Vietnamese, are happy to do, this is a purpose built area for the pubic to gather and relax, free from vehicles.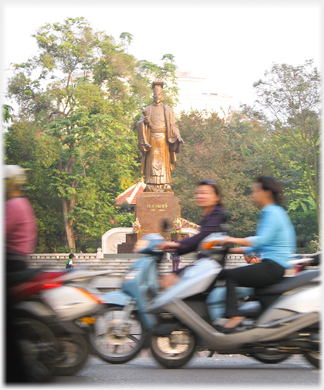 Lý Thái Tổ looks towards the Lake, over the speeding motorbikes on the road below
Lý Thái Tổ is Vietnam's pre-eminent historical figure. His fame over the last 1,000 years, throughout the country, is for establishing Vietnam's independence from China who had ruled it for the previous 1,000 years. His diplomatic skills led to a period of stability and growth for the new dynasty that he founded.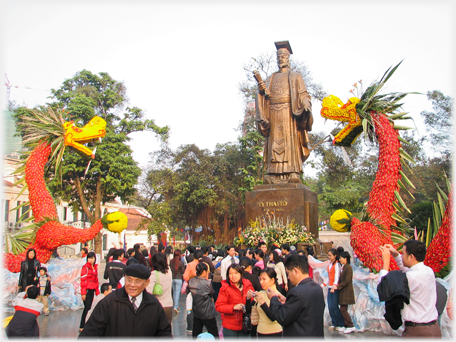 The position of the statue, next to the Hà Nội Parliament House and by Hoàn Kiếm Lake, underlines his other great achievement. He realised the need to move the capital from its old position near modern-day Ninh Bình, where it could not easily expand or link to other centres, to where it now is as the present city of Hà Nội.
Celebrations for the Western New Year draw crowds and cameras for rather un-western symbols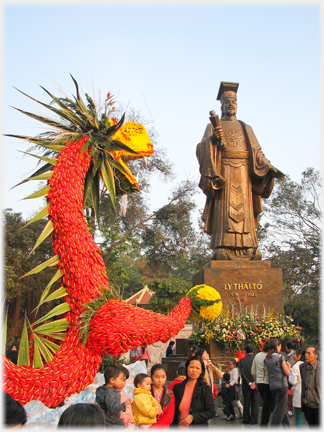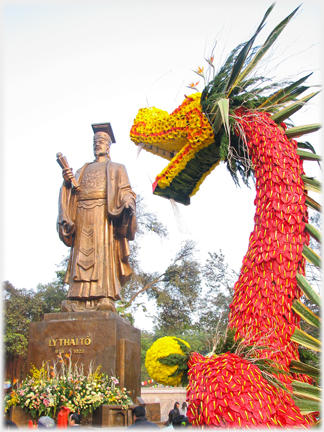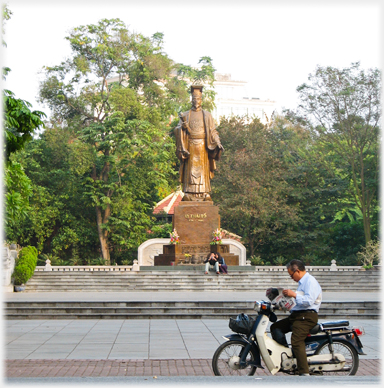 On working days the square is quiet and as peaceful as anywhere can be that is next to a four-lane highway!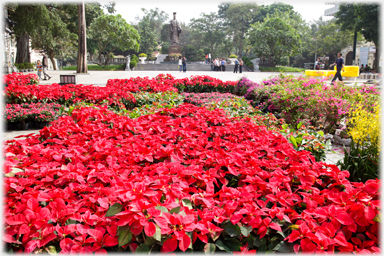 The square converted to a flower display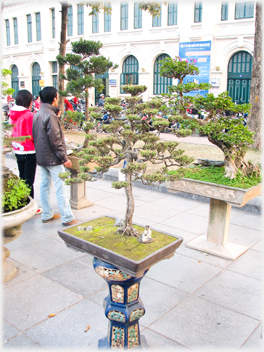 Here dozens of Bonsais have been brought to decorate the square
The square allows a range of activities (and inactivities) often reflecting national celebrations. These range from Bonsai to Dragons, from Roller Skating to Choirs.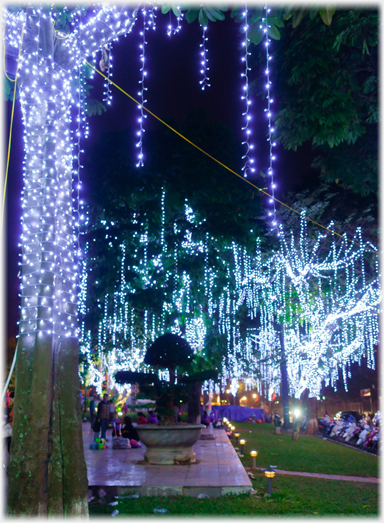 The coming of cheap LEDs has transformed the square at night...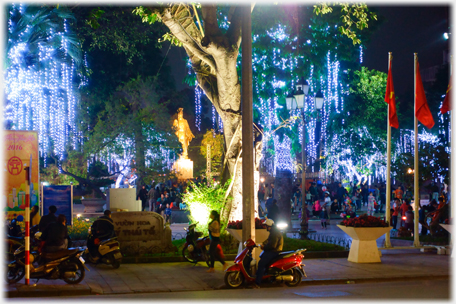 ...turning the drab stone and dust covered trees to an oasis of magic attracting crowds all year round...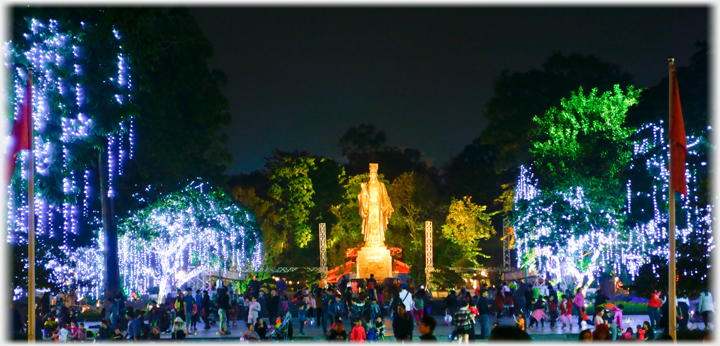 ...however, Lý Thái Tổ still keeps centre stage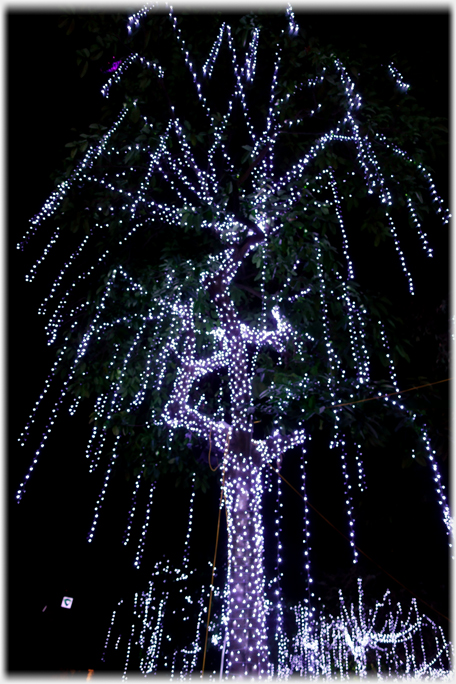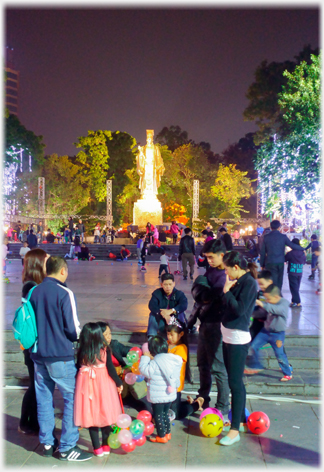 Balloons as always attract families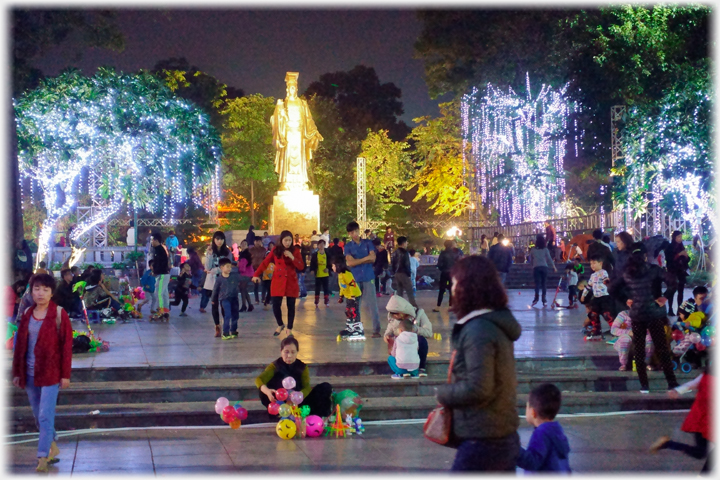 The contrast with the near-by Shark's Jaw Square is marked, here there are no adjacent modern architectural intrusions, no pedestrians fighting with traffic, and no commercial enterprises calling for attention.
The next page takes you to nearby tranquility. Hoàn Kiếm Lake offers peace at the heart of a great city.