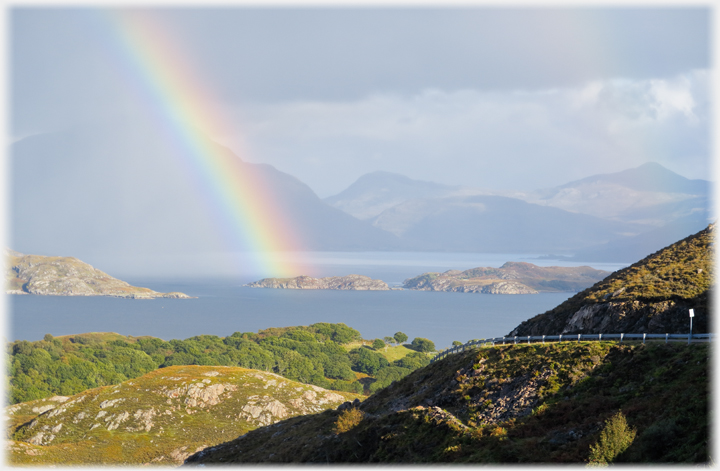 A rainbow hits the islet, Eileen a' Chaoil, that stands on the boundary between Loch Shieldaig and Upper Loch Torridon
The Torridon area comprises three sea lochs that lead into one another: between the outer Loch Torridon, and Upper Loch Torridon, lies Loch Shieldaig. The village of Shieldaig sits beneath Ben Shieldaig and from it runs the 'new' (1976) road round to Applecross village. This page takes you along that road, south of the lochs, to the headland at Fearnmore. The first part of this road, through the birch trees beside Loch Shieldaig, looking out at the grandeur of the Torridon Hills, is my candidate for most beautiful road!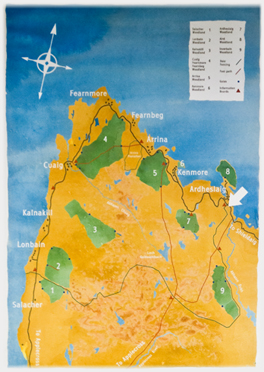 The North Applecross Woodlands Project's area is shown above and is explained to the right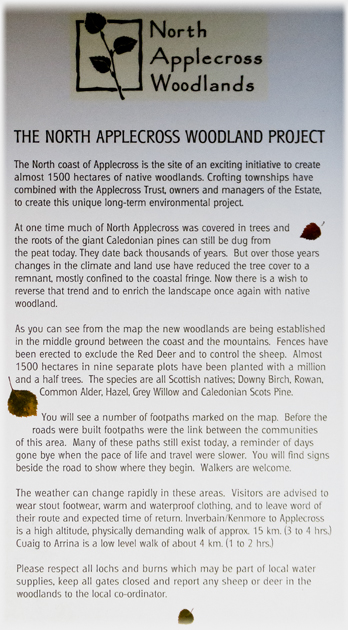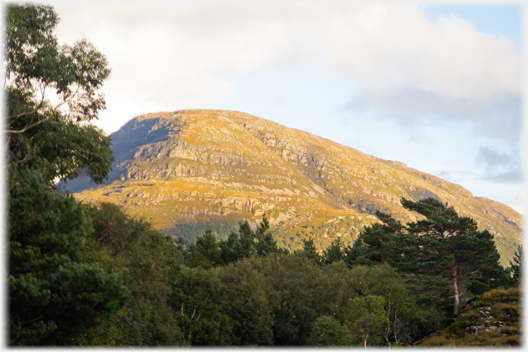 Evening sun catching Ben Shieldaig
As with any set of views of the Western Highlands it is the ever changing light, continuously refreshing each prospect, that makes it so visually enthralling - although sometimes a little dampening! While pictures may replace a thousand words, they pale into insignificance compared to being there. I hope you have been, or can go soon.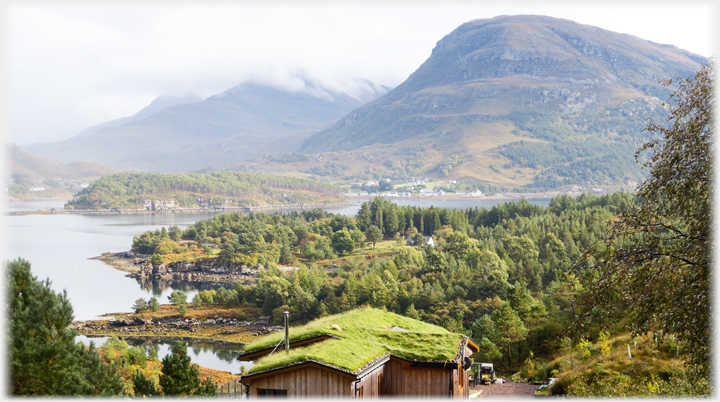 The three Shieldaigs: the hill, the village and the loch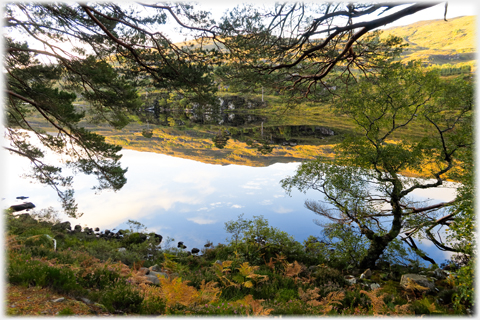 Not a breath of air disturbs the water of Loch Dughail - just to the south of Shieldaig village. These photographs...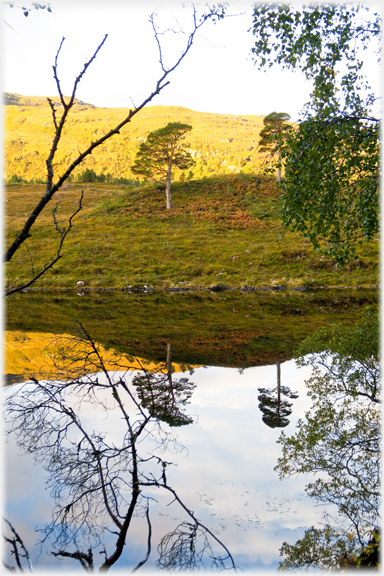 ...and the video below, were taken just as the sun was rising and touching the loch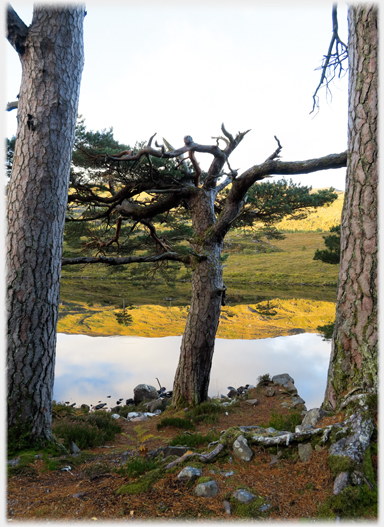 The Chinese have no monopoly on contorted pines
A very short clip of a very long-tailed tit - the only movement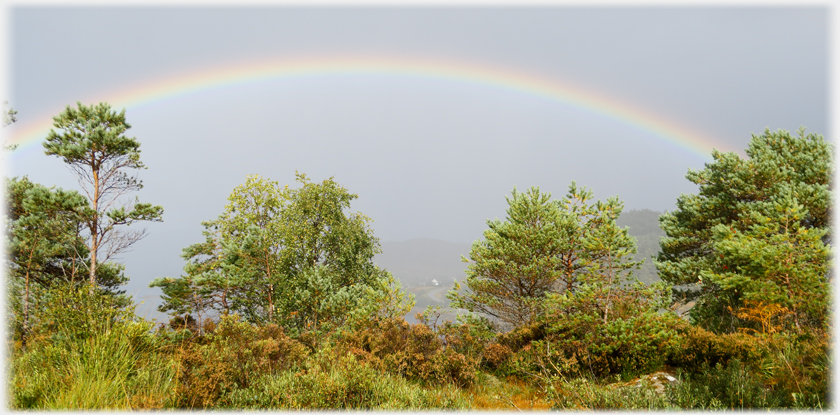 Fleeting showers make rainbows common in the area, here a dark cloud passes between the hills giving a
luminous quality to the green of the trees
Eilean Mor (the big island) in Loch Torridon is
just to the north of Kenmore; maybe a
touch diminutive for its grand title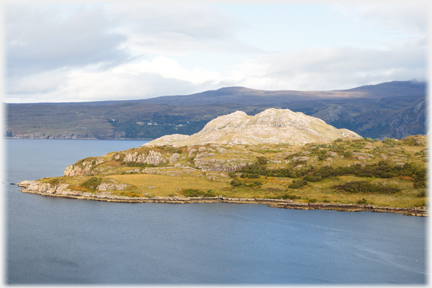 Threes: three lights on three pieces of land; subdued green of a near peninsular, light rock poking up from the peninsular beyond, and the dark hills as background...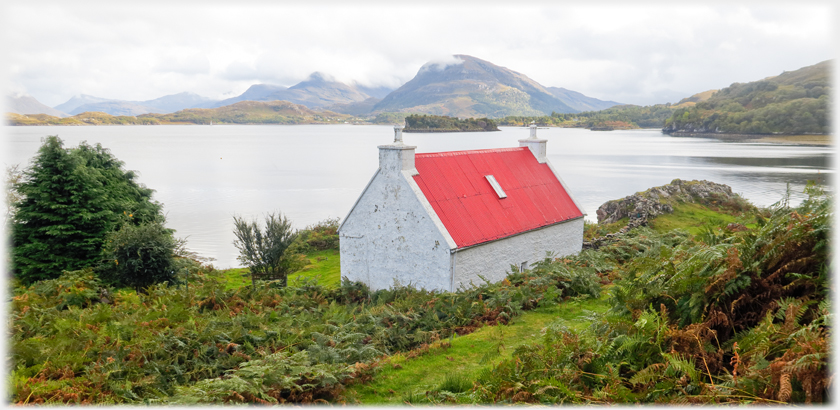 ...Then three views of the same cottage; with Ben Shieldaig shown in three lights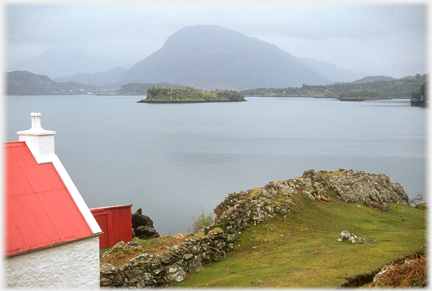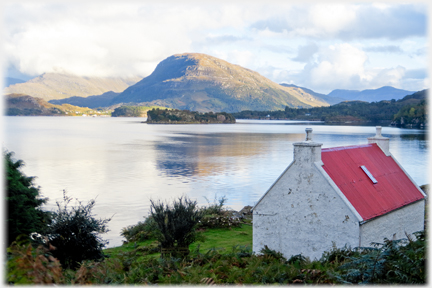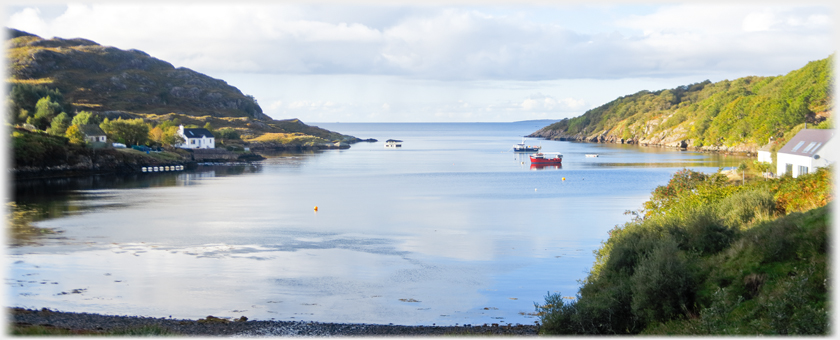 Loch Beag at the hamlet of Ardheslaig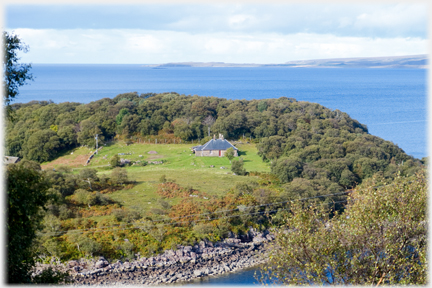 House at Camas an-eilein by Arinacrinachd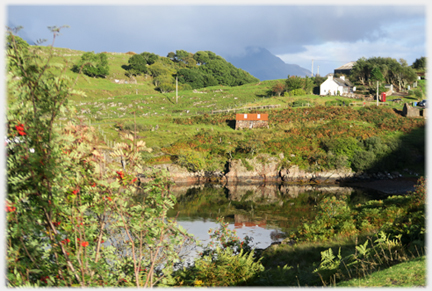 Red berries, red roof and red phone-box at Ardheslaig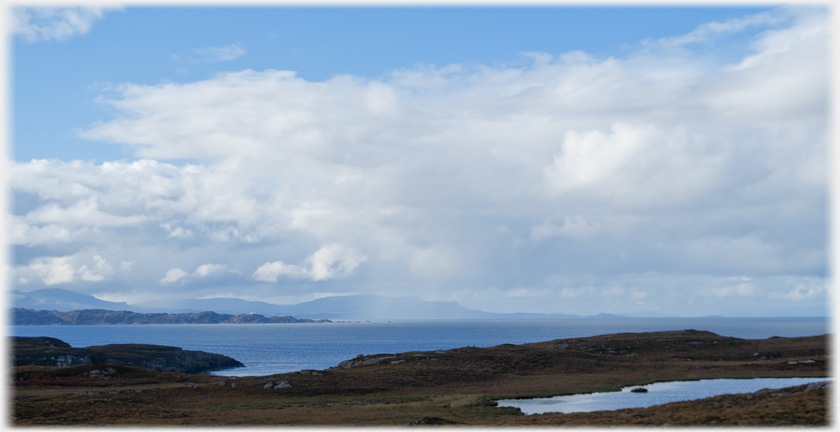 Near Fearnmore, at the north-west tip of the Applecross peninsular where Loch Torridon joins the open sea, the view to the west is of Rona with Skye beyond and along the horizon. Loch nan Eun is in the foreground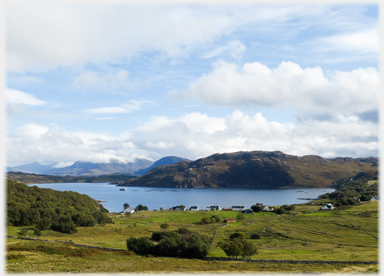 The hamlet of Kenmore looks to the hills in the east
A video clip from above Ardheslaig, complete with roar of traffic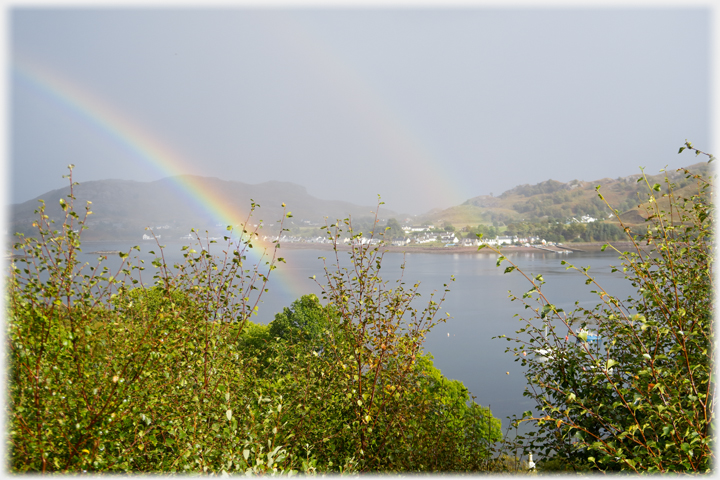 Shieldaig village seen through rainbows
Trailers...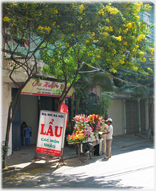 The next page jumps back to Hà Nội, and sales from bicycles on the streets of the city.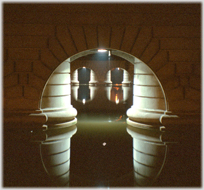 The next page of the Mosaic Section is headed 'Circles'.
Or go to the contents

Go to the contents of the Mosaic Section.

of the Mosaic Section.