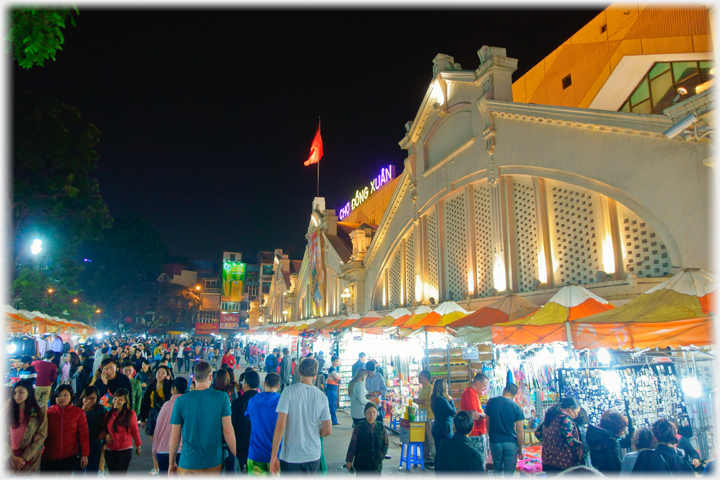 Đồng Xuân Market front
The Đồng Xuân Market, in the old quarter of Hà Nội, is the outstanding market of northern Vietnam. It is huge, originally built in 1889 but destroyed by fire and rebuilt in its present form in 1994. It is arranged on three packed levels, with just room to slip between the stalls, mostly it caters to the wholesale trade; but in Vietnam such distinctions are lax. Around the market the streets are equally packed. Vendors line the streets, hoping to catch shoppers before they go into the building, pedestrians struggle with burdens, cycles and vans thread the crowds, but most characteristic of old Hà Nội are the overloaded motorbikes.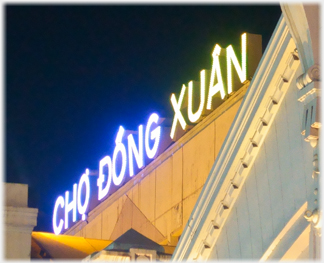 The sign at night displays: Chợ (market), Đóng (pay or hammer), Xuán (Spring). But should read Đồng meaning either a field, or the currency (like £ in English). Neon miss-signs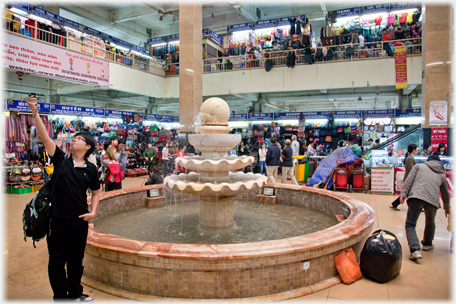 At the centre of the building is an open court with its fountain - here no sales are allowed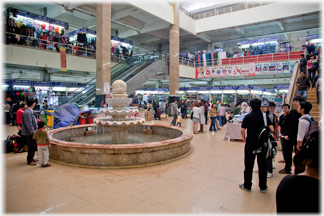 Around the central court the stalls rise on three levels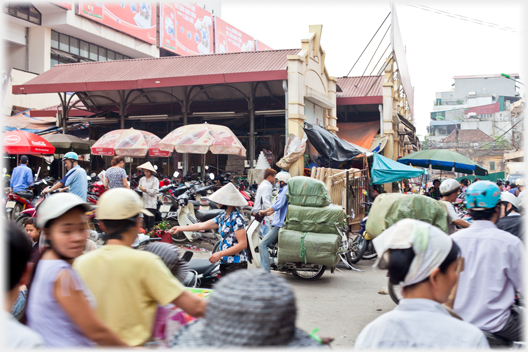 At the back of the market the pandemonium is at its height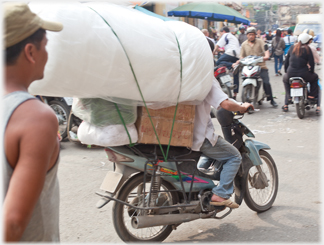 Loaded motorbikes often leave only a small perch for the driver, swamped by his load
About six years ago the estimated annual turnover of the market was four trillion VND or £130 million, this is in a city where a school teacher will earn less than £200 per month.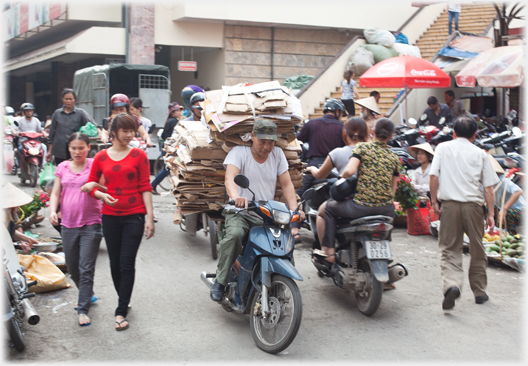 Times are changing, now the cumbersome loads once commonly seen are becoming rarer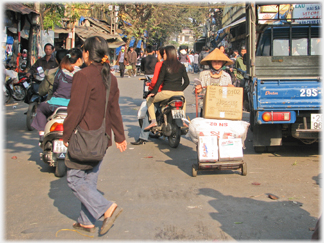 At the bottom of the hierarchy of vehicles used to shift goods is the lowly sack barrow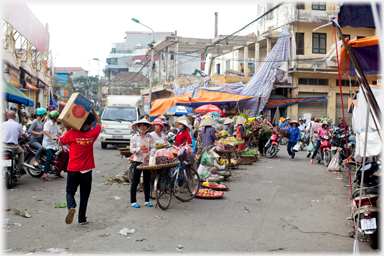 And of course many goods are shifted without a vehicle. Also a woman sells from her bicycle while others have yoked pallets resting on the ground, and ready to flee at a second's notice if 'security' appears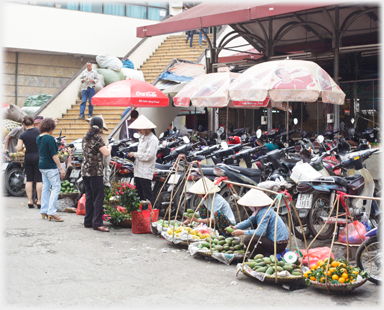 Behind the vendors, steps lead to 'Level 2' of the market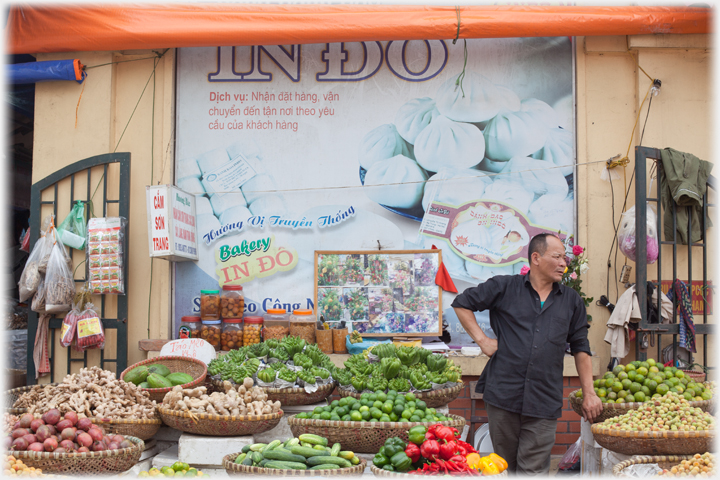 Other vendors have permanent pitches with their produce carefully displayed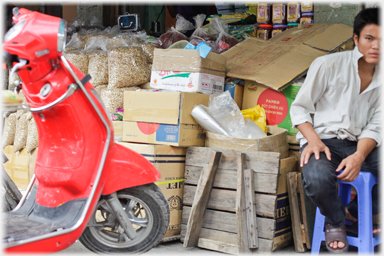 And some have proper lock-ups, such as this nut seller, with his stores piled high
Here the wares are laid out across what might be considered the public pavement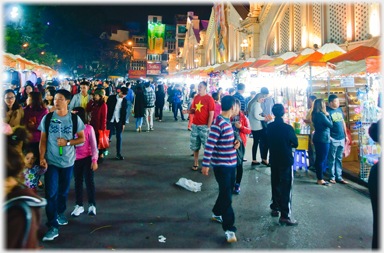 At the weekends, come dusk, stalls are erected in front of the main building for the night market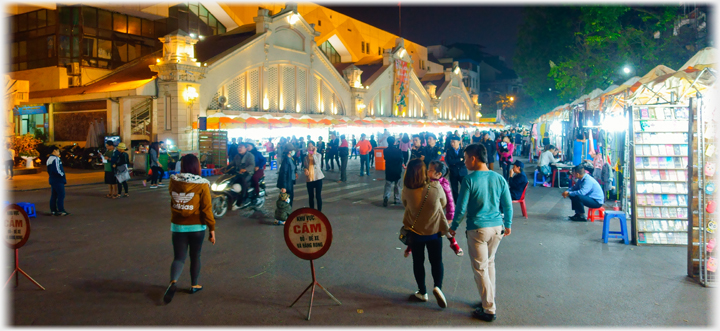 On these nights the streets are cleared to make way for the official stalls of the night market, these owners pay for their pitches, and traffic is banned (cấm) -
although notice the motorbike leaving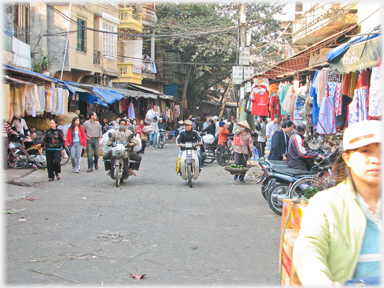 The streets adjacent to the market can trade on this proximity - market shoppers notice them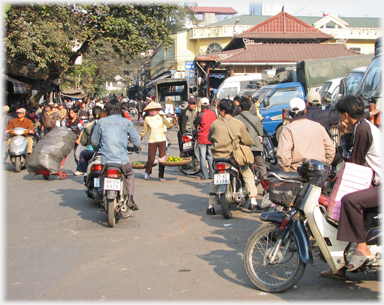 A woman with panniers threads her way through traffic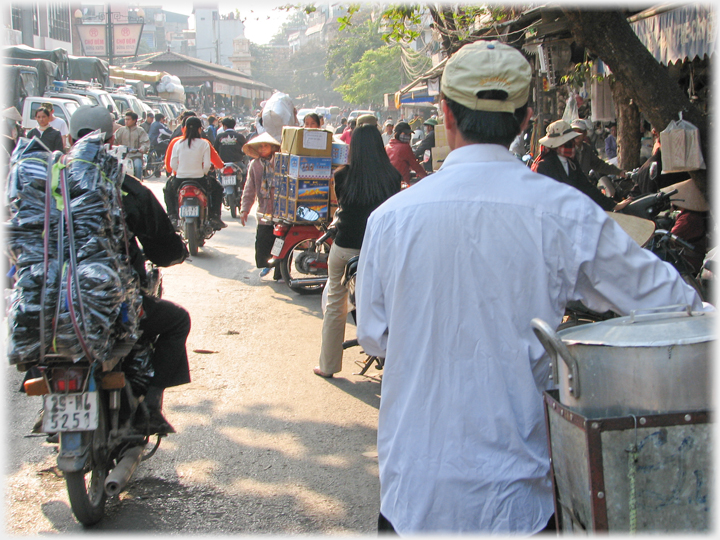 The street at the back of the market seethes with activity: bikes, deliveries, shoppers and hawkers mix into the vibrant street brew that makes Hà Nội so delightful
The next page resumes the tour of Đồng Văn, in the far north of Vietnam, showing something more of the people from local ethnic groups.