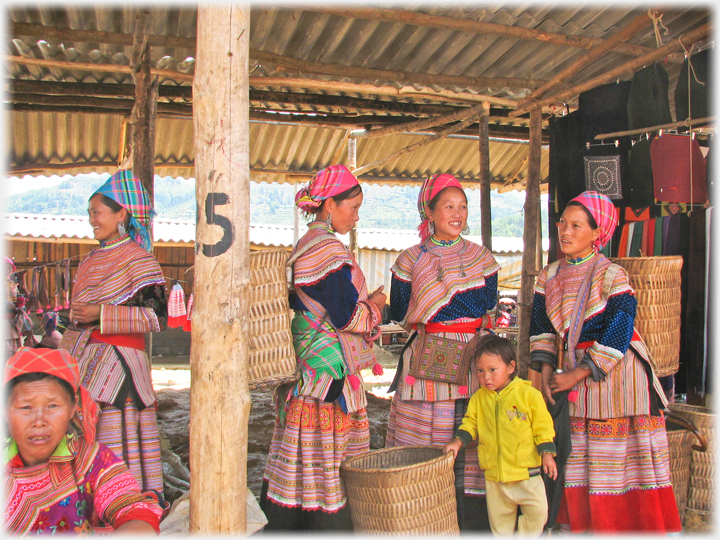 'Five' women and a girl at the Sunday market in Bắc Hà
This page is the first of two on Bắc Hà, which is home to northern Vietnam's most famous market every Sunday. This page shows something of those selling their wares, the next page is about the customers.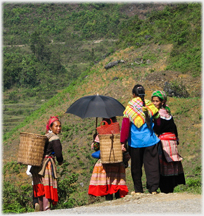 Venders going to market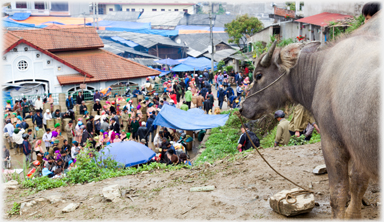 Buffalo watching over the throngs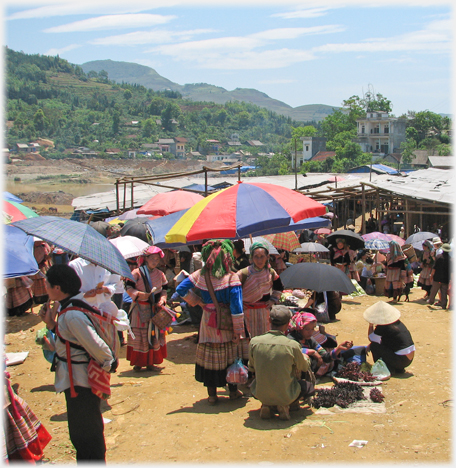 The town and hills at the edge of the market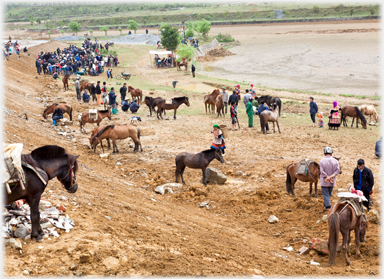 A key sector is the sale of horses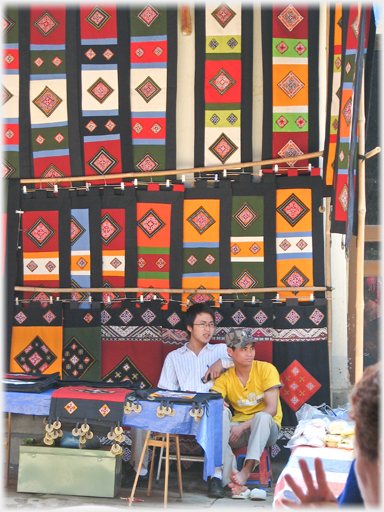 Embroidered hangings in the textile area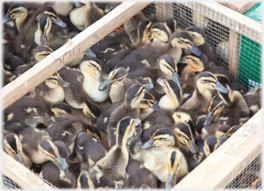 Ducklings by the crate load
This market is big, with areas devoted to everything from horses to chillies, providing tourists who flock in their thousands with endless photographic opportunities.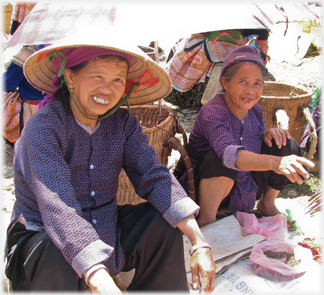 Many people from the ethnic minorities store their cash wealth as gold teeth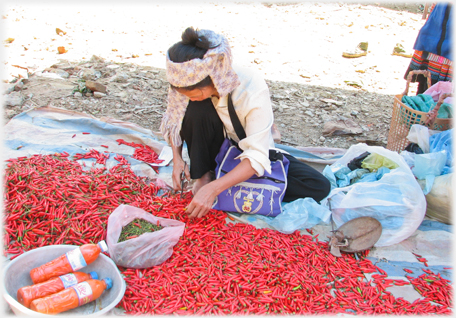 Working her way across the pile she is cutting the green stalks off the chillies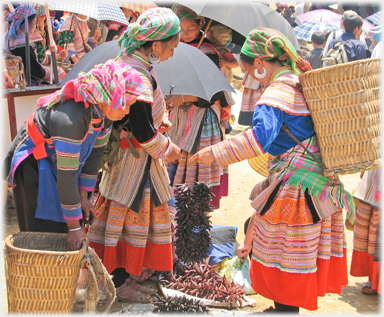 Here a larger variety of chillies have been carefully threaded onto strings
Vietnam is proud of its ethnic diversity. While over 80% of the population are Viet (commonly 'Kinh'), there are also 53 other groups with there own customs and languages. Some 14 of these groups are found in the Bắc Hà district and six of these are H'Mông peoples. The eye catching clothes, that make this market famous, are worn by the 'Flower H'Mông' - their informal name.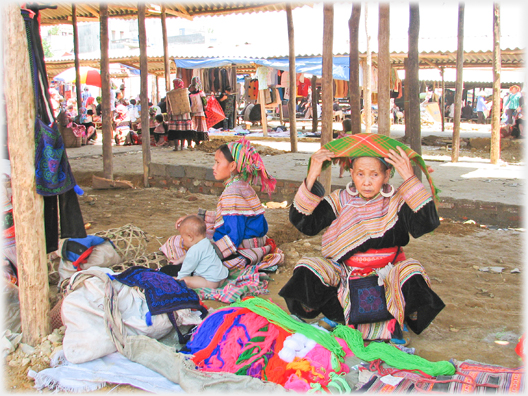 This woman is selling the yarns that are used in the needlework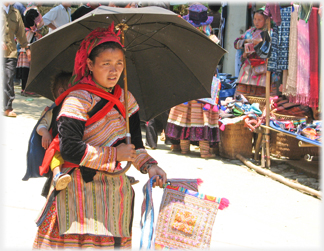 Many women come to the market to sell their embroidery, here in the form of bags, and cannot leave their infants behind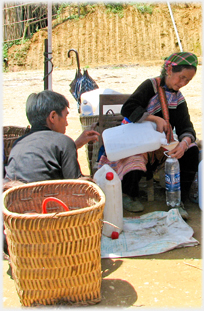 A woman dispenses paraffin
Besides the normal diversity of sales and services found in any Vietnamese market, Bắc Hà offers all that is needed to put the 'flower' in Flower H'Mông - and so creates a key attraction for tourists.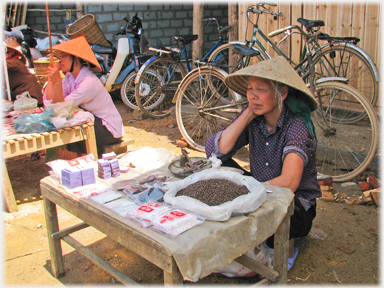 Nut sales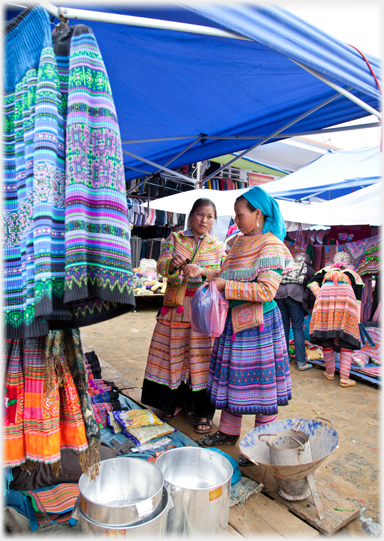 Here the item being bought is a zip from the haberdashers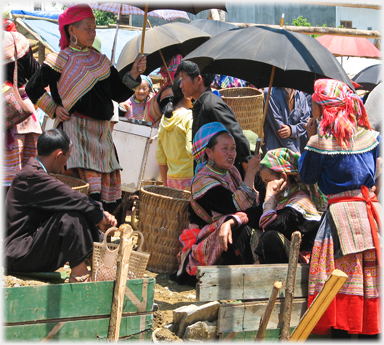 Umbrellas are vital even in April - and the sun will get hotter for another two months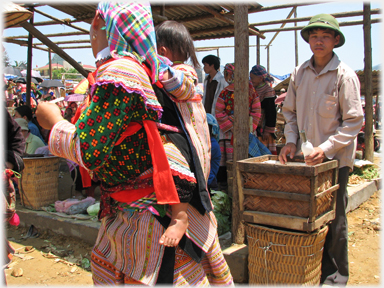 You probably can't see the eyes of this man but his right hand is delicately poised to fill in for his lack of sight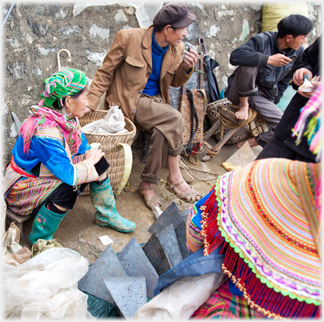 This woman has adze-like farming tools for sale
Protection from the sun is a top priority for everyone. For this umbrellas are popular, while being rather little help against the torrential rain of the summer.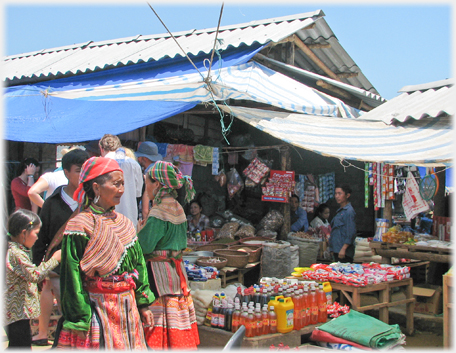 Well laid out stalls like this are found in all the markets; laboriously set up and taken down everyday
At cafes fireplaces are fashioned from the stones found nearby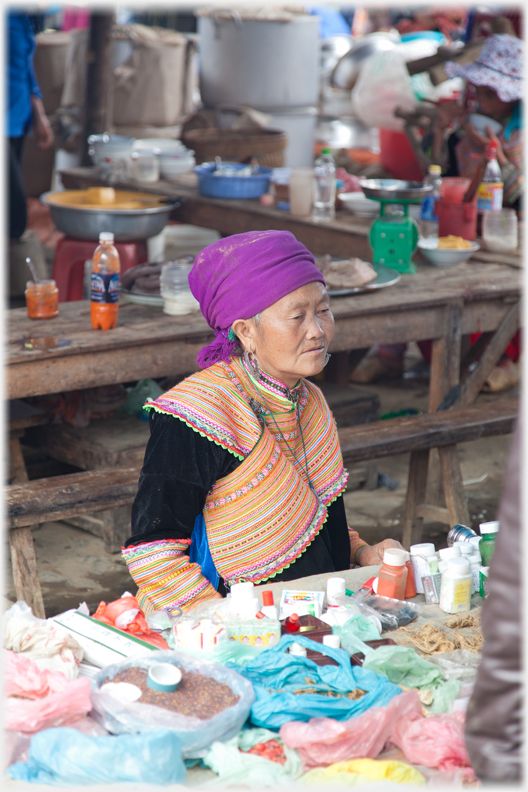 The selling of medicines in rural communities is big business, but conducted in a small non-business way. Often it is older people who provide what is in effect a service, passing on their experience for little return. The products usually cover a range of Western, Chinese and purely folk remedies.
Next week the page continues this visit to the Bắc Hà market, but attention is turned to the customers.