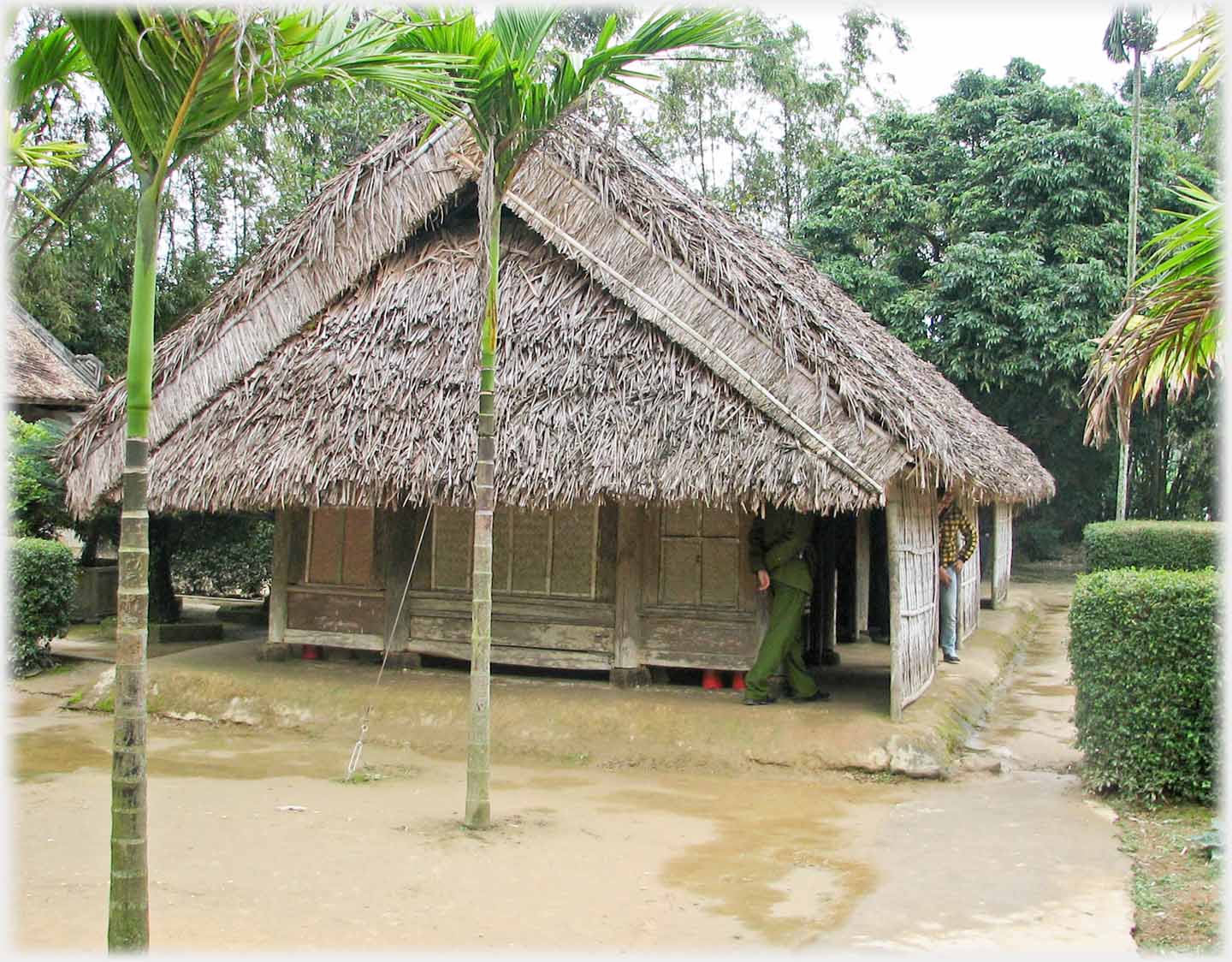 Just to the west of Vinh, in north-central Vietnam, is the Kim Liên commune where Hồ Chí Minh was born in 1890. At birth he was Nguyễn Sinh Cung, becoming Nguyễn Tất Thành as a schoolboy, and only being known by his now familiar name when he returned to Vietnam in the early 1940s. These reconstructions of his family home are close to his actual birthplace
No account of modern Vietnam can omit acknowledgement of Hồ Chí Minh. His is not so much a presence, more an omnipresence. From Hà Nội's extraordinary Mausoleum (at the foot of this page) to the cottage in which he was born (above) and on every house altar between, you will meet him. This page marks three points in his life: birthplace, workplace and resting place. Another key event was his re-entering Vietnam after a period of some 30 years, mostly in Europe and China, when he stayed briefly in Cao Bằng (more on that page). During those years abroad his life was dominated by explorations of the many left wing movements that were burgeoning at the time, at first by attending conferences and meetings and later by helping found committees and societies.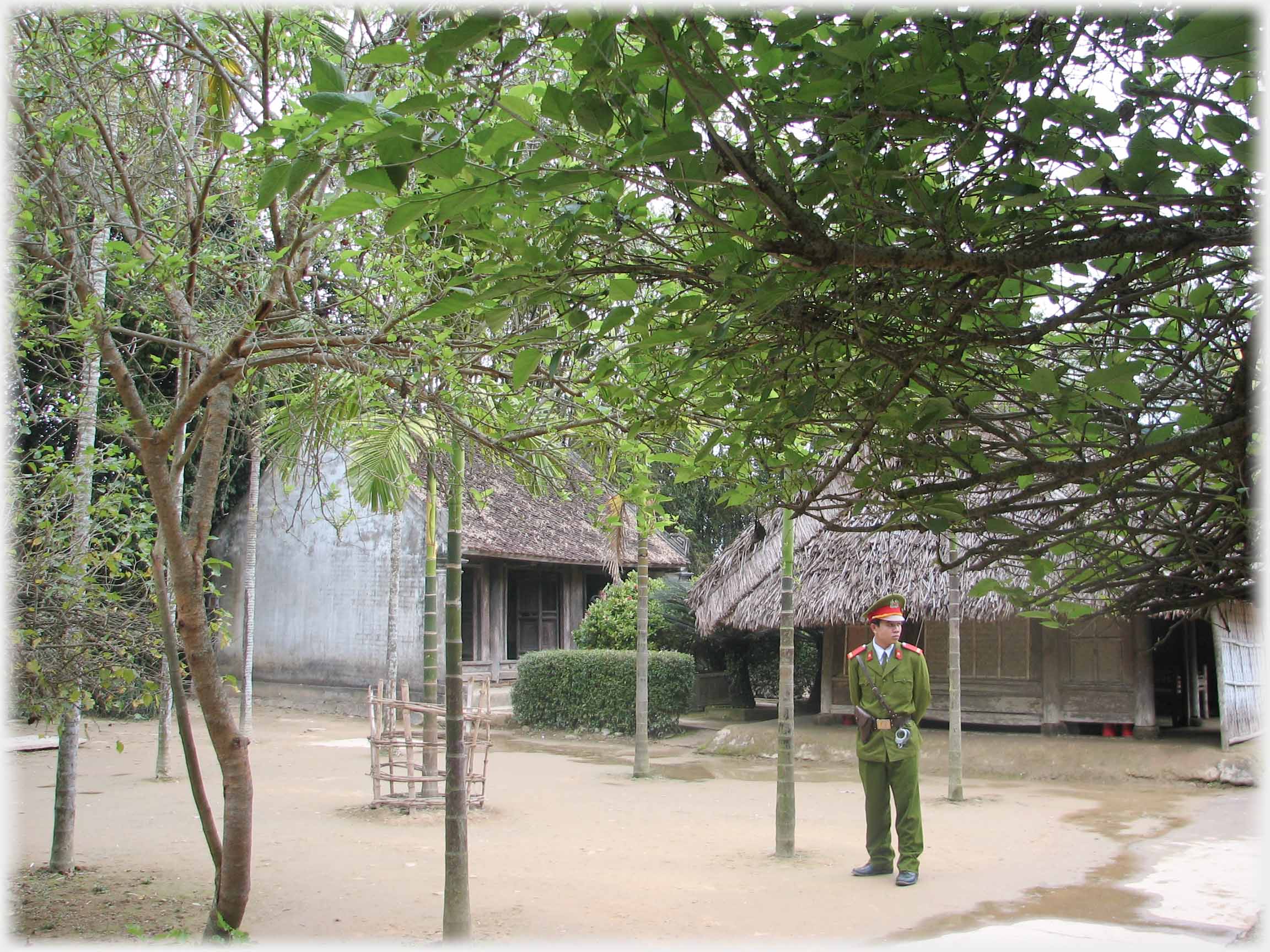 Having soldiers to guard such sites is more a mark of honour than a fear of terrorism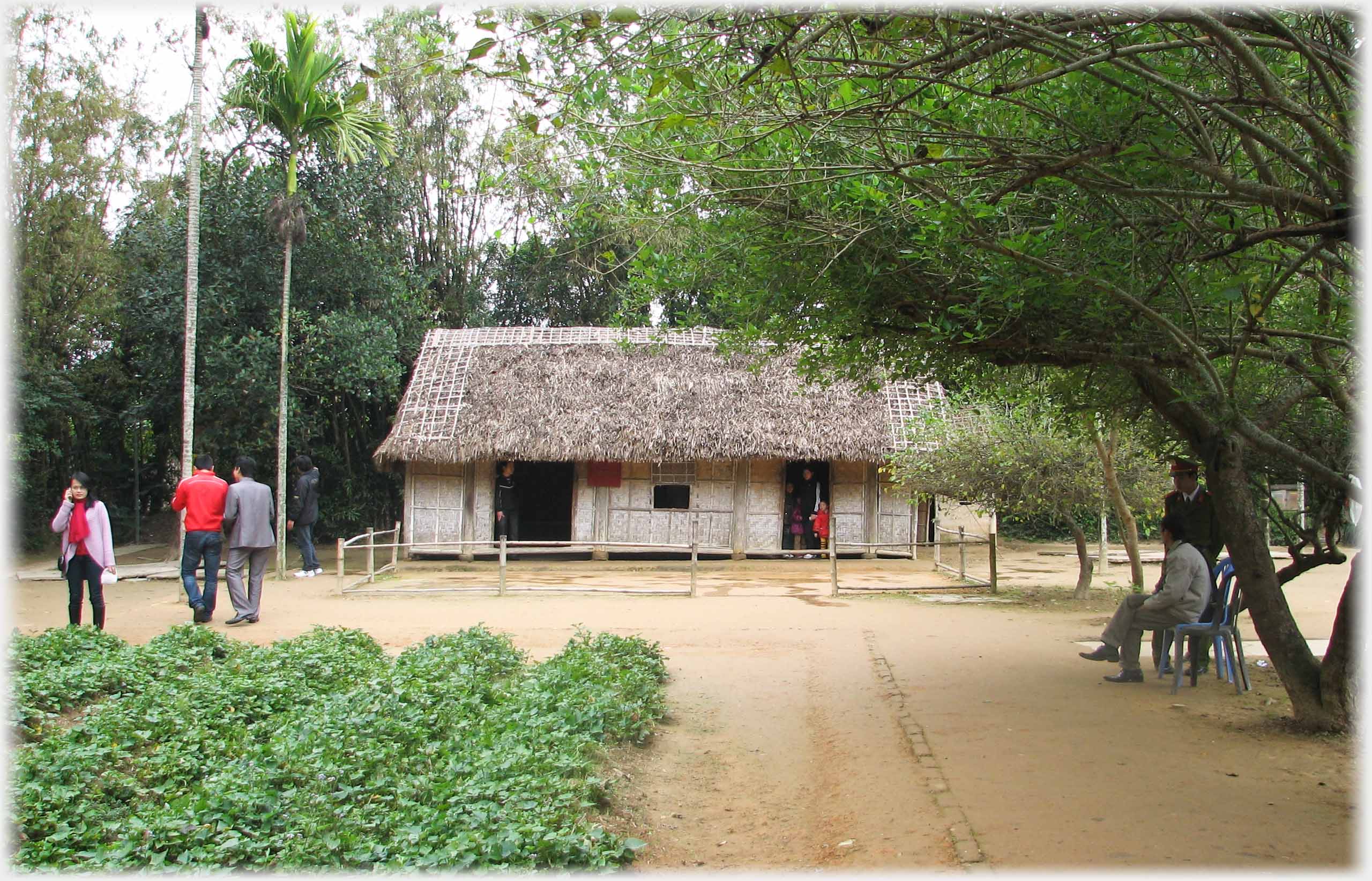 The family was of some local status, his father becoming a magistrate and had earned a degree in literature, he educated his son at home, and then sent him to school in Huế some 350 kilometres away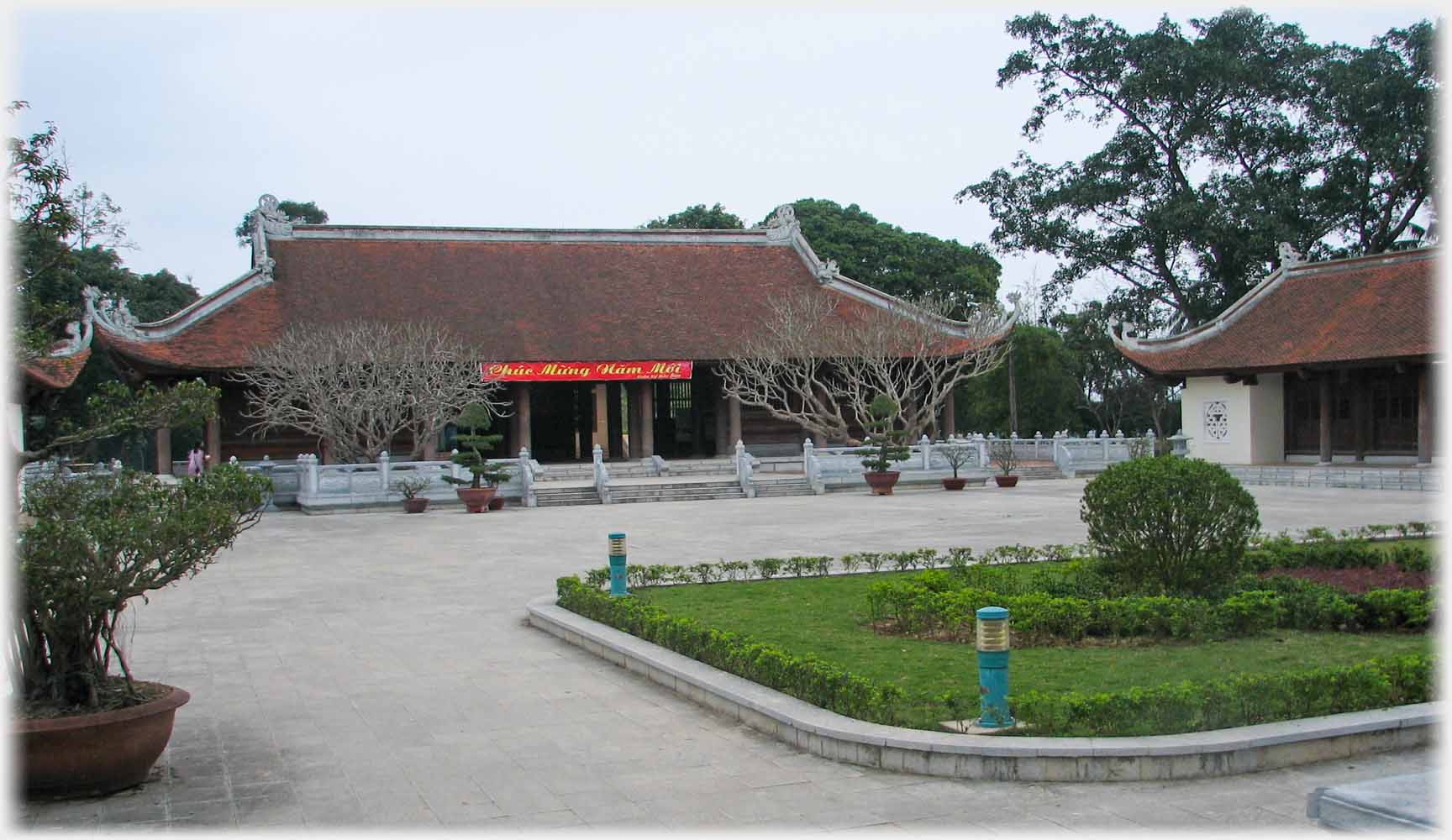 Beside the reconstruction of the family houses, there are these modern pavilions arranged around this square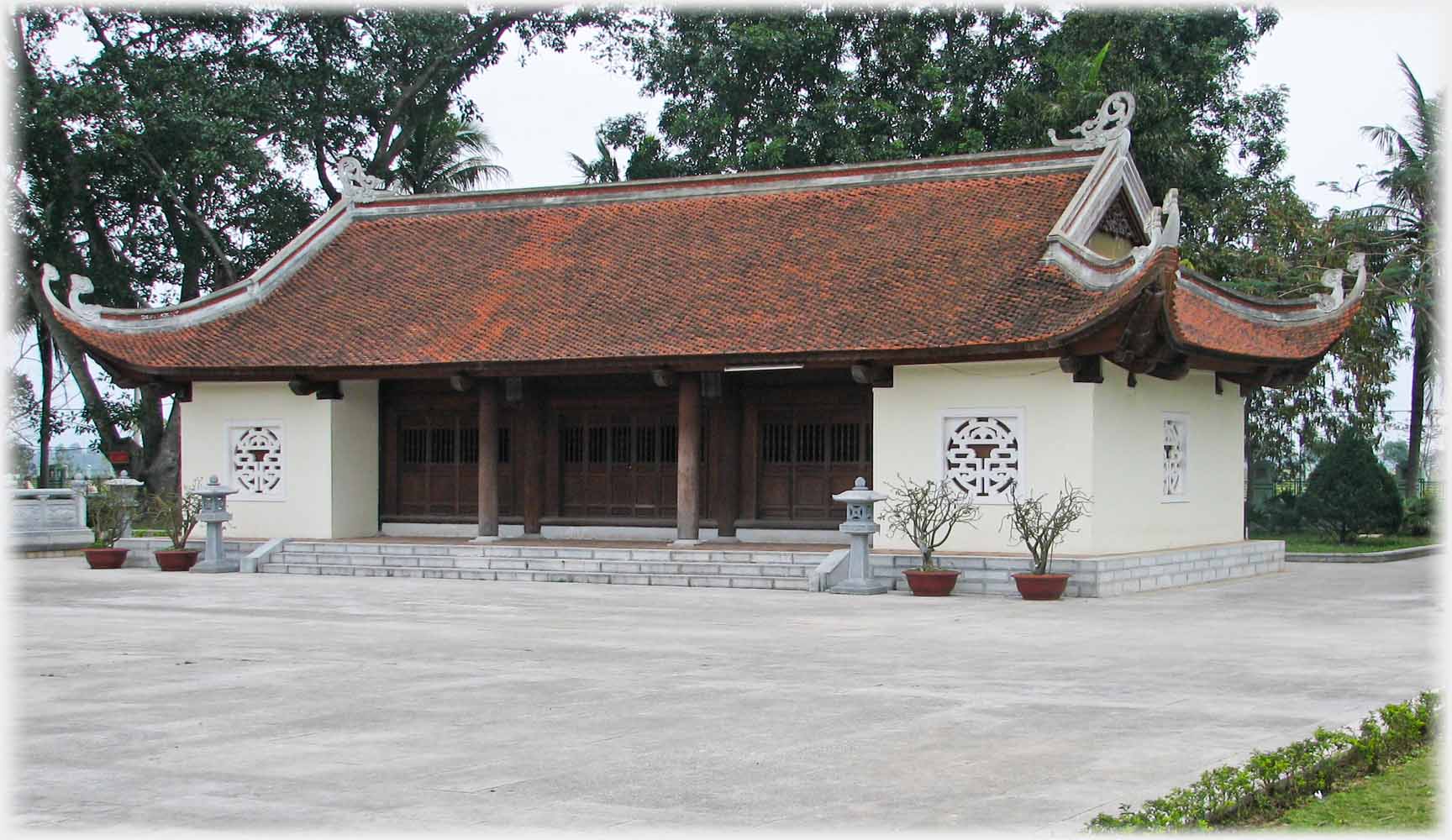 Just behind is this temple dedicated to Hồ Chí Minh.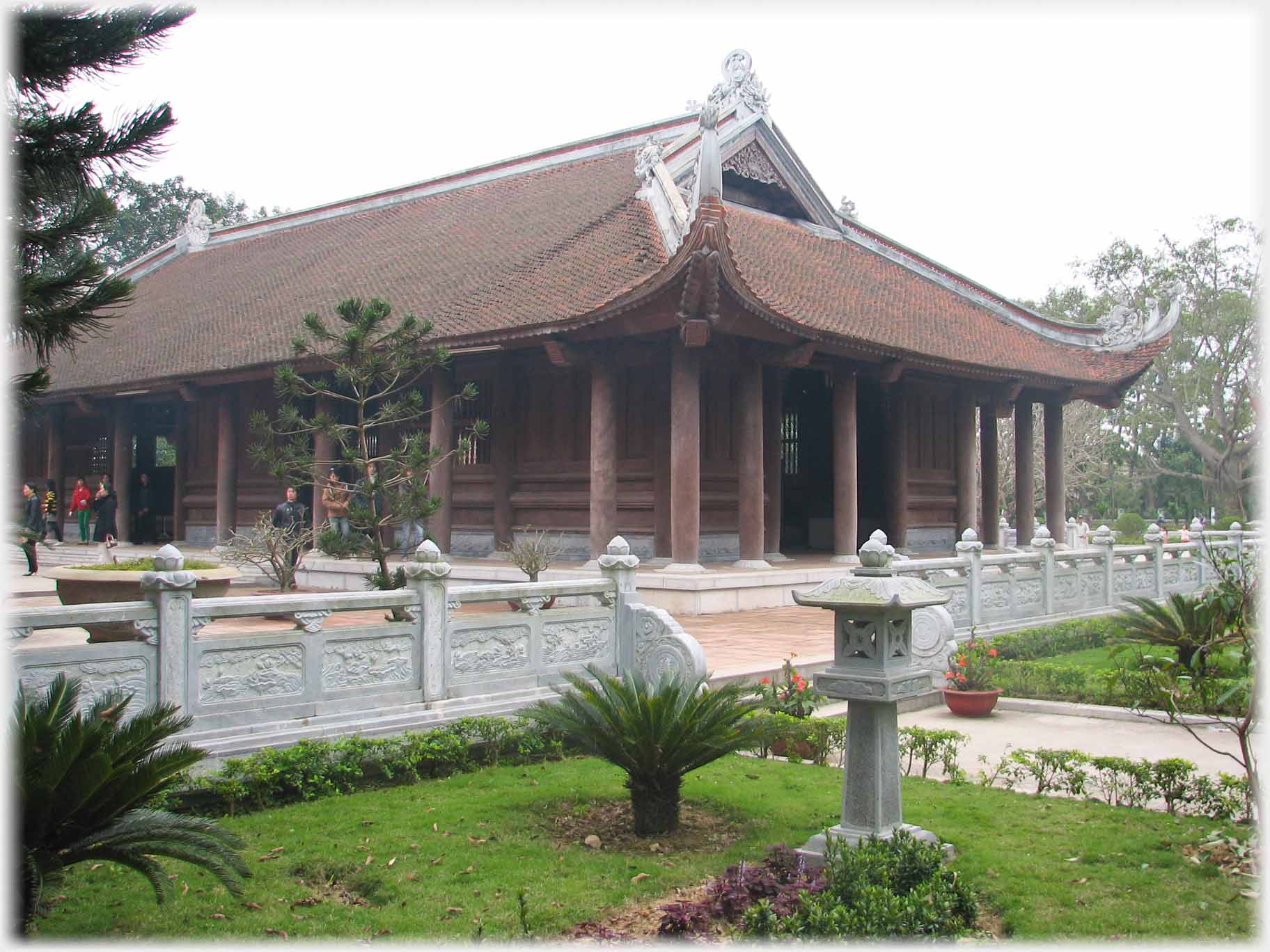 Bác Hồ (Uncle Hồ) as he is universally
and affectionately known, left Vietnam in
1911. His long wanderings in Europe and China
involved in international political activity meant he
did not return to Vietnam till 1941.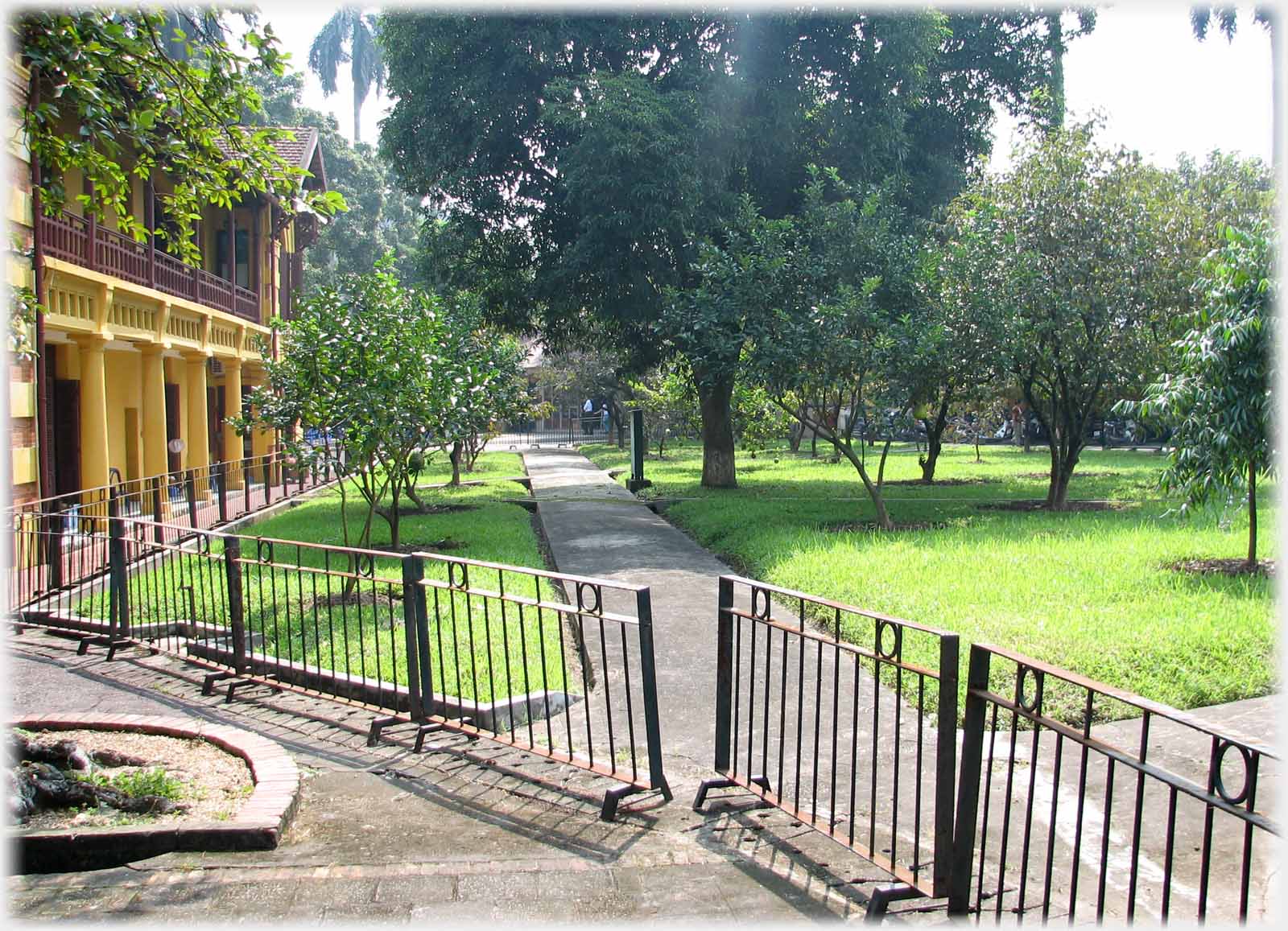 There ensued the fight to free the country, first from the Japanese and then the French occupiers. It took till 1954 before Bác Hồ was able permanently to move the government with himself as president to Hà Nội.
The fine buildings of the presidential palace stand in spacious grounds (above) in central Hà Nội. There is no picture of the palace...
...as Bác Hồ had always lived in modest housing. With his move to the capital he had this Thai house built in the grounds of the palace. Here he worked and lived until his death in 1969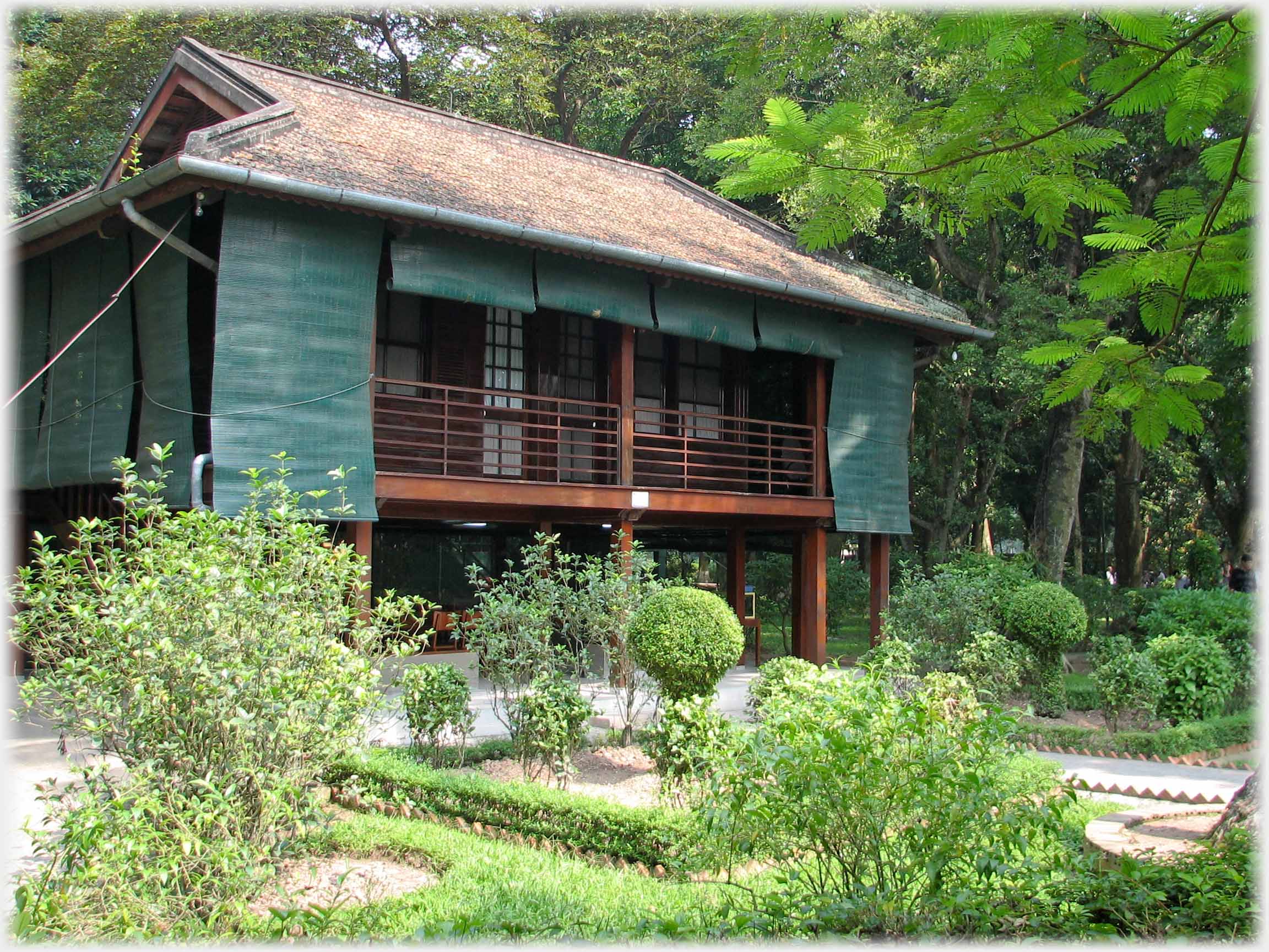 The long road from his village to being president of Vietnam was, to say the least, convoluted. However, even allowing for the very considerable approbation that attached to him (and still attaches) one aspect stands out: his ability to maintain a public persona of impeccable humility and warmth. This was exemplified here at the heart of the government in the house he had built. And here he lived while directing what he saw as, inevitably, a long war against yet another imperial power.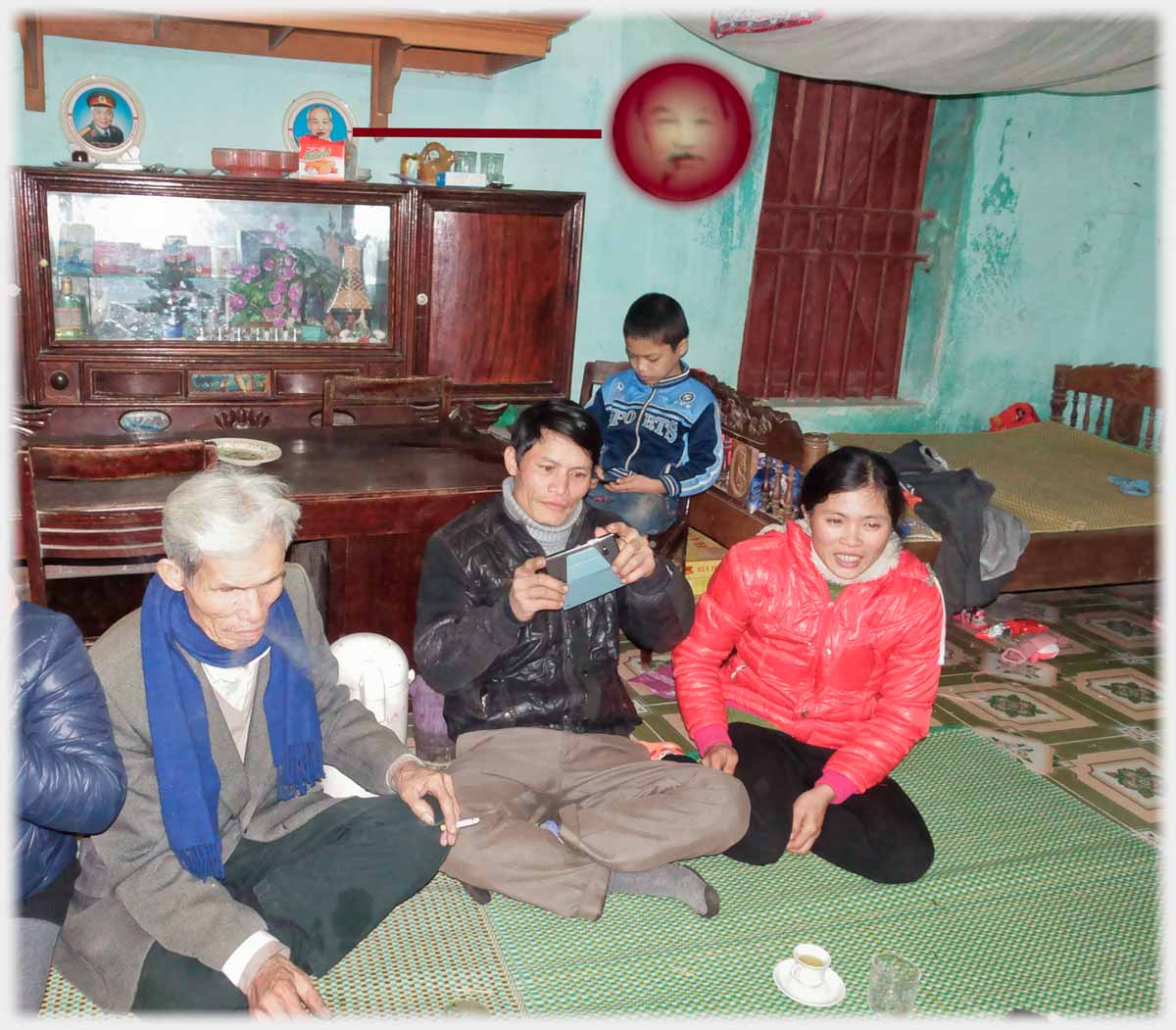 Two photographs to illustrate the way Bác Hồ still maintains his presence in ordinary houses. Here to left and right, two reception rooms, in each is the altar arrangement with family memorabilia and photographs. And in both cases his photograph is present - marked here by the red line and the enlargement. To the left postprandial relaxation; to the right part of a wedding, with bride and groom standing to the right, and presents on display.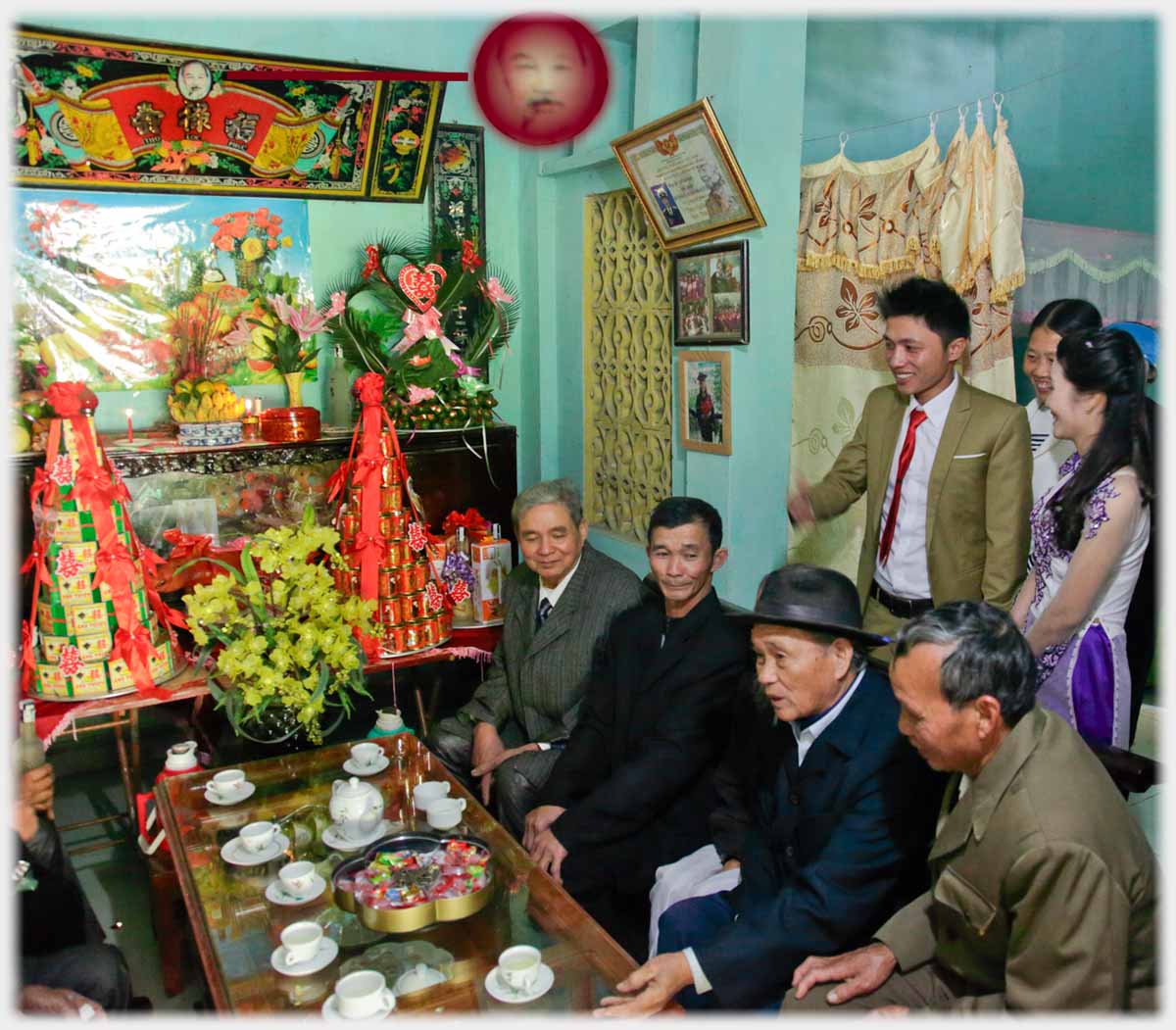 The point of Bác Hồ's continuing ubiquity has been made on other pages...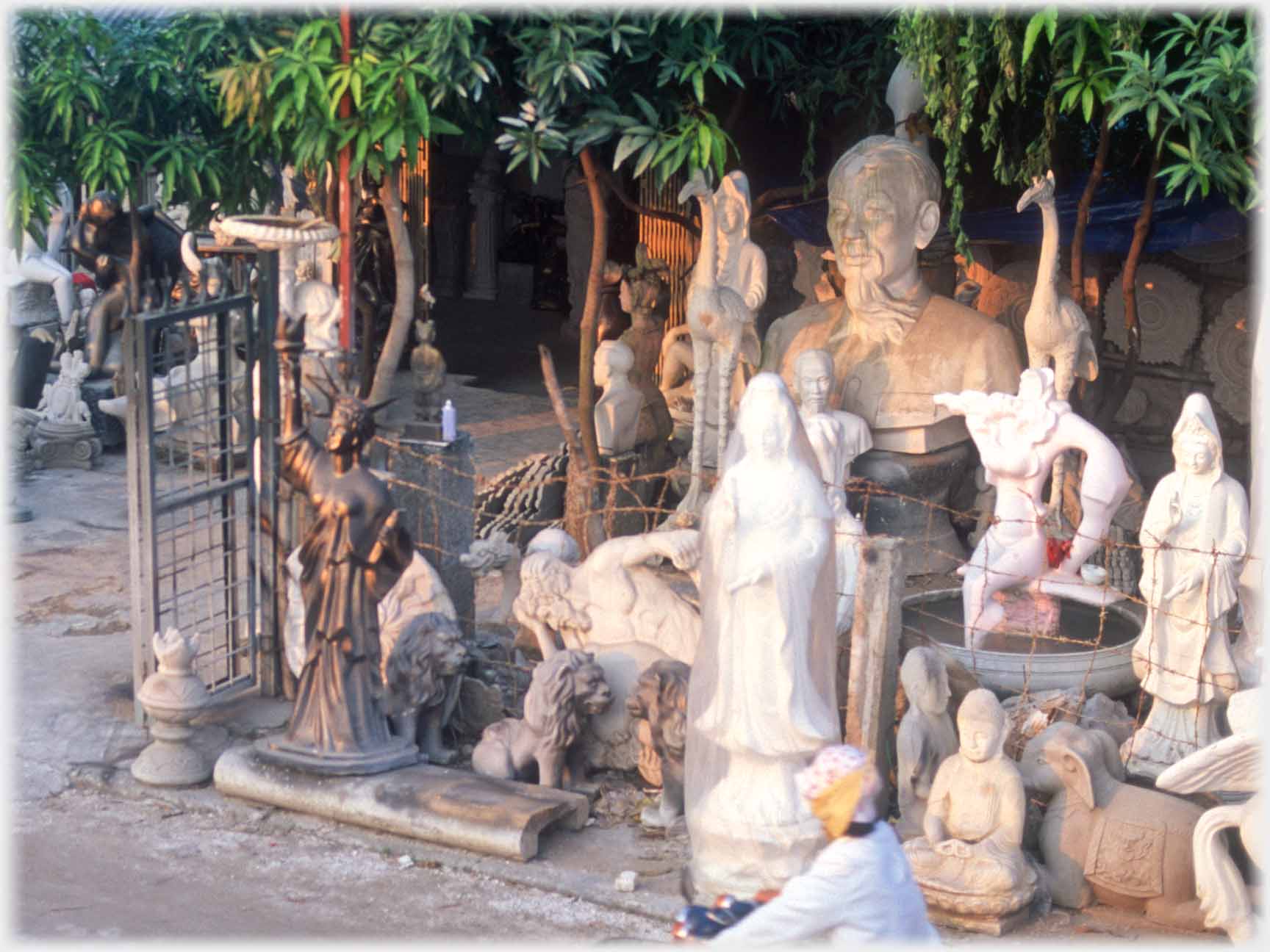 ...two repeated examples: passing a yard of mixed statuary,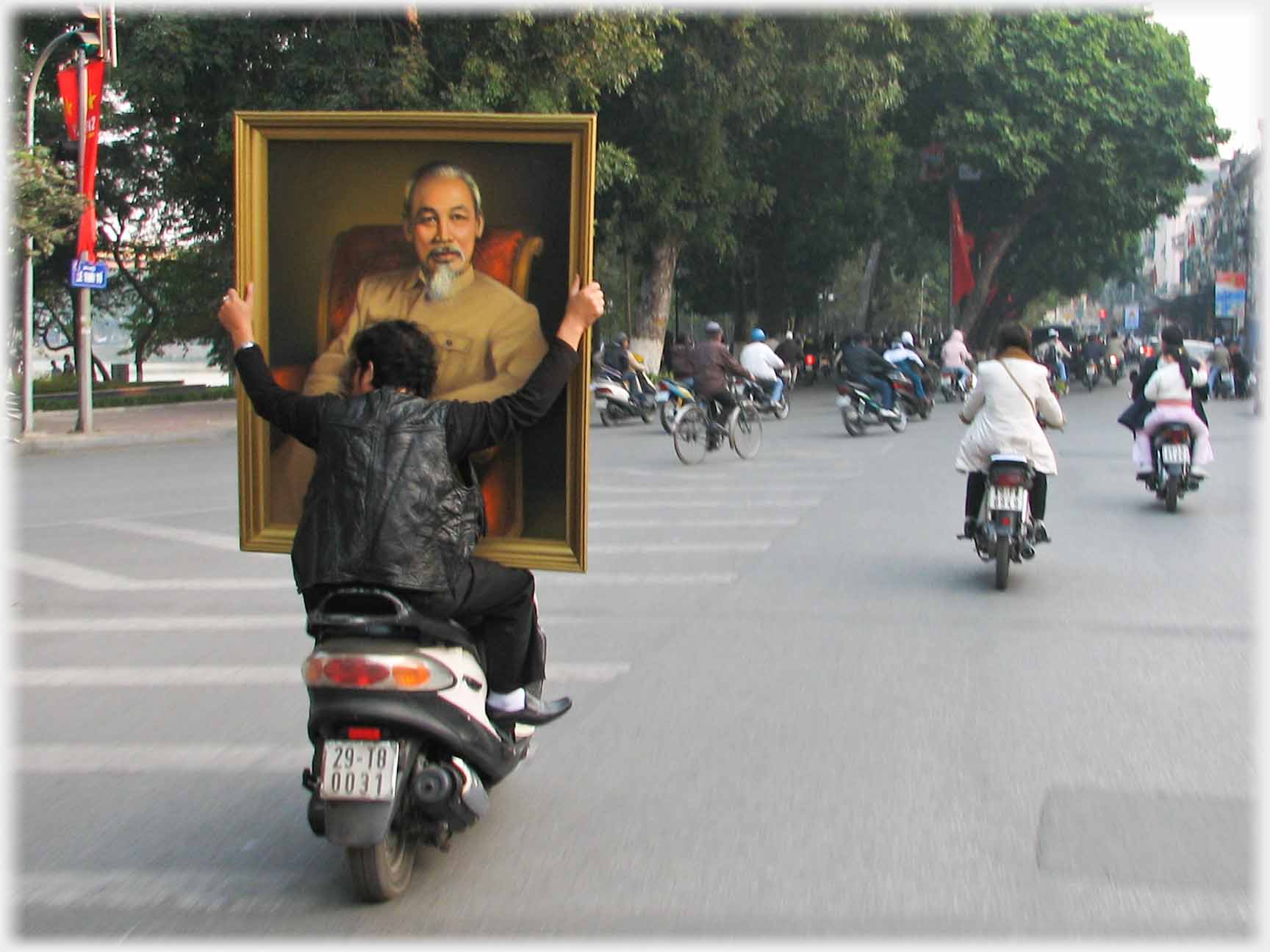 and here, while negotiating Hà Nội's traffic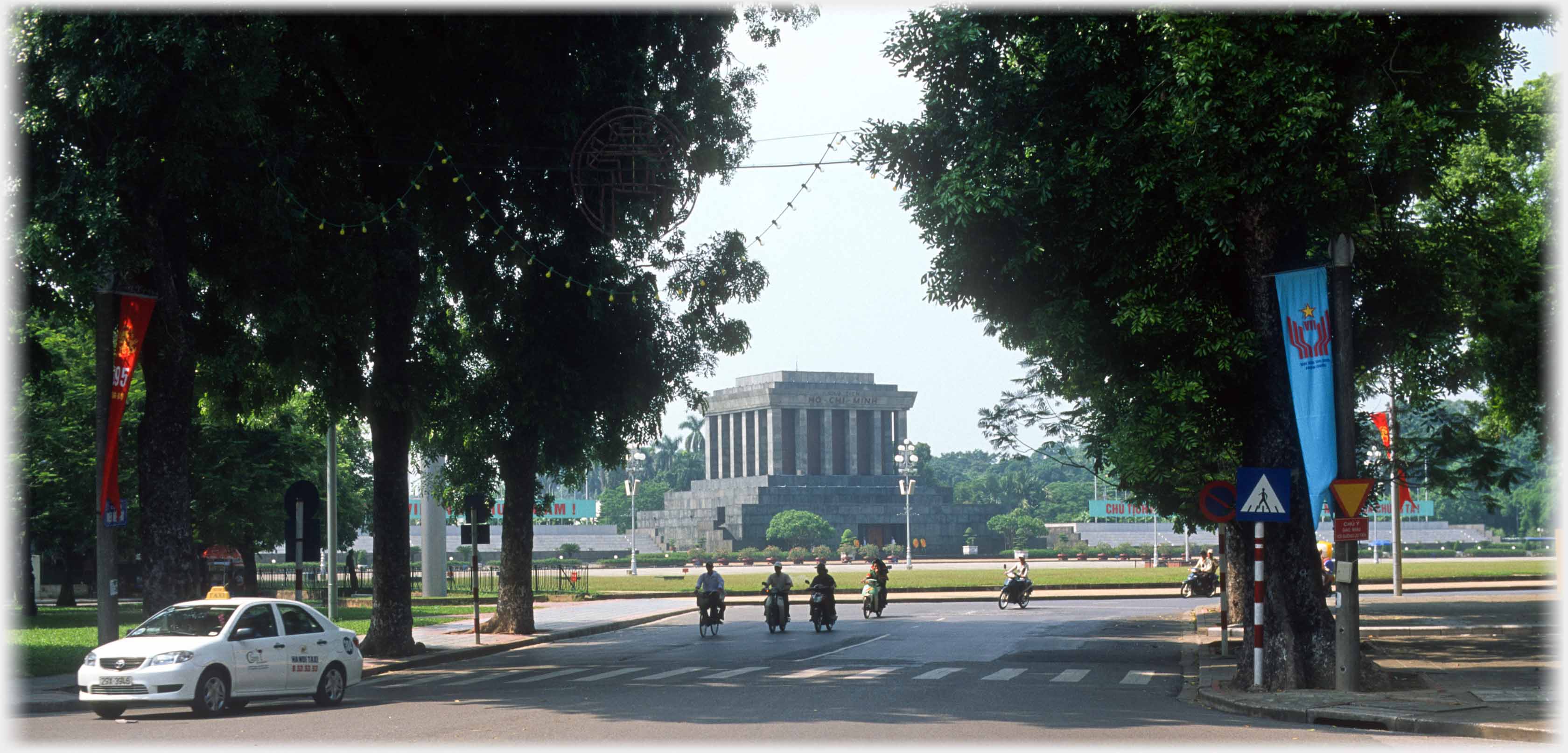 And so to Hồ Chí Minh's final resting place. The main thoroughfare of Điện Biên Phủ opens out onto Điện Biên Phủ Square just beside the Foreign Office building, and reveals the Mausoleum in all its Brutalist glory. Bác Hồ expressly asked his contemporaries not to idolise his person. Such wishes were immediately ignored and the Soviet Union supplied this tribute, worse still inside you can, surely inappropriately, view Bác Hồ's embalmed figure - copying the style used for Lenin in Moscow's Red Square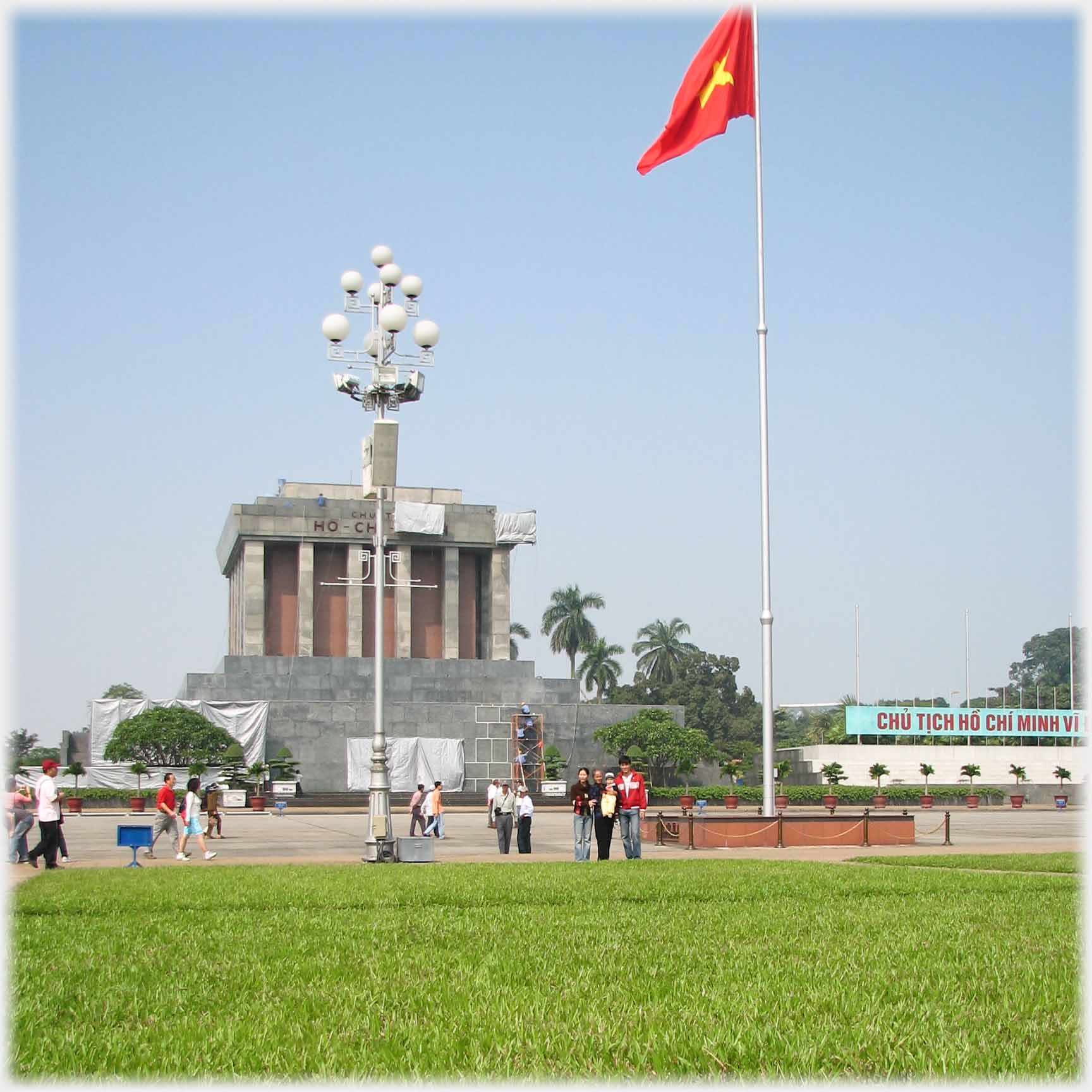 Large areas of grass front the building offering families photo opportunities; bright sun softens the mausoleum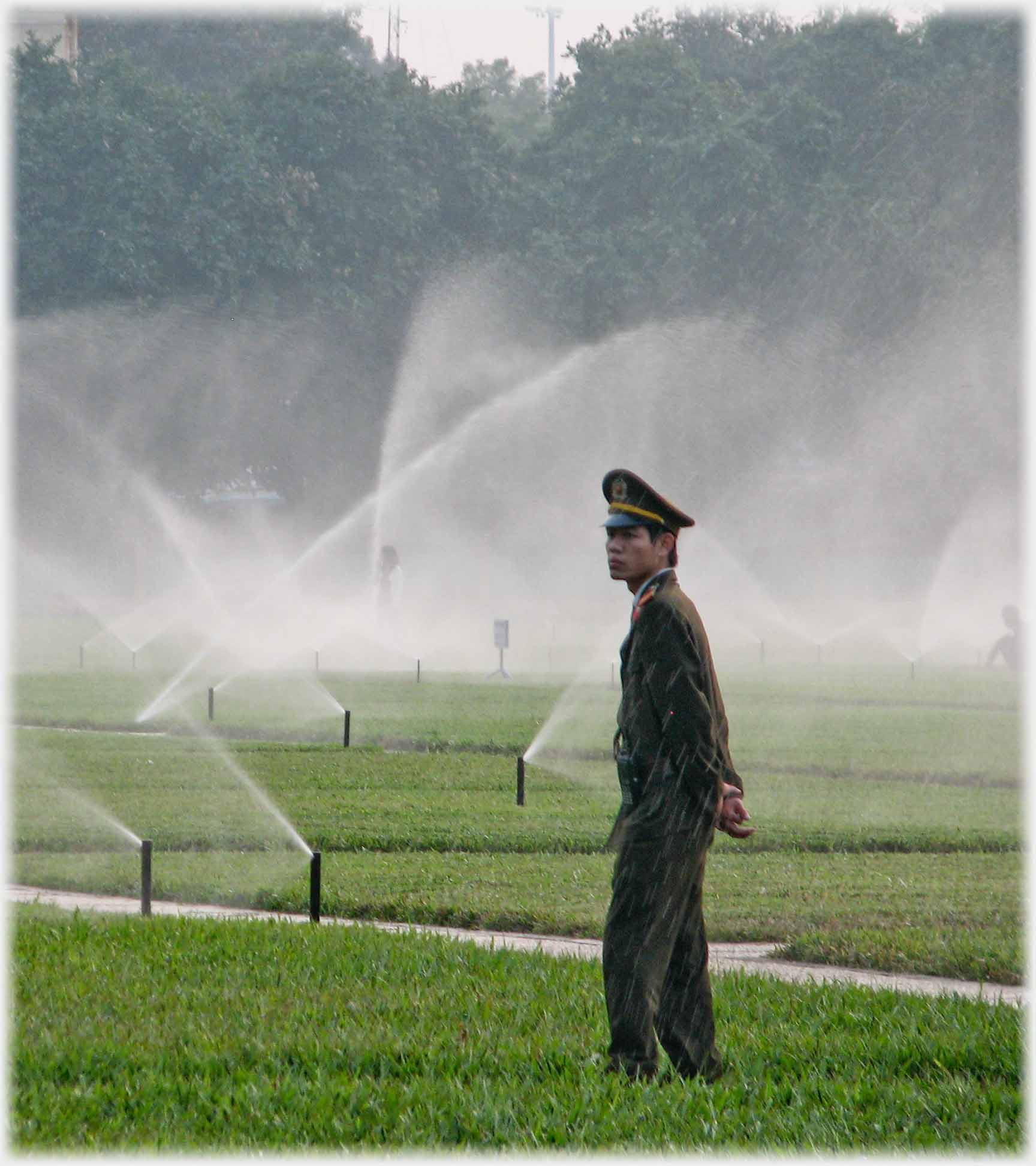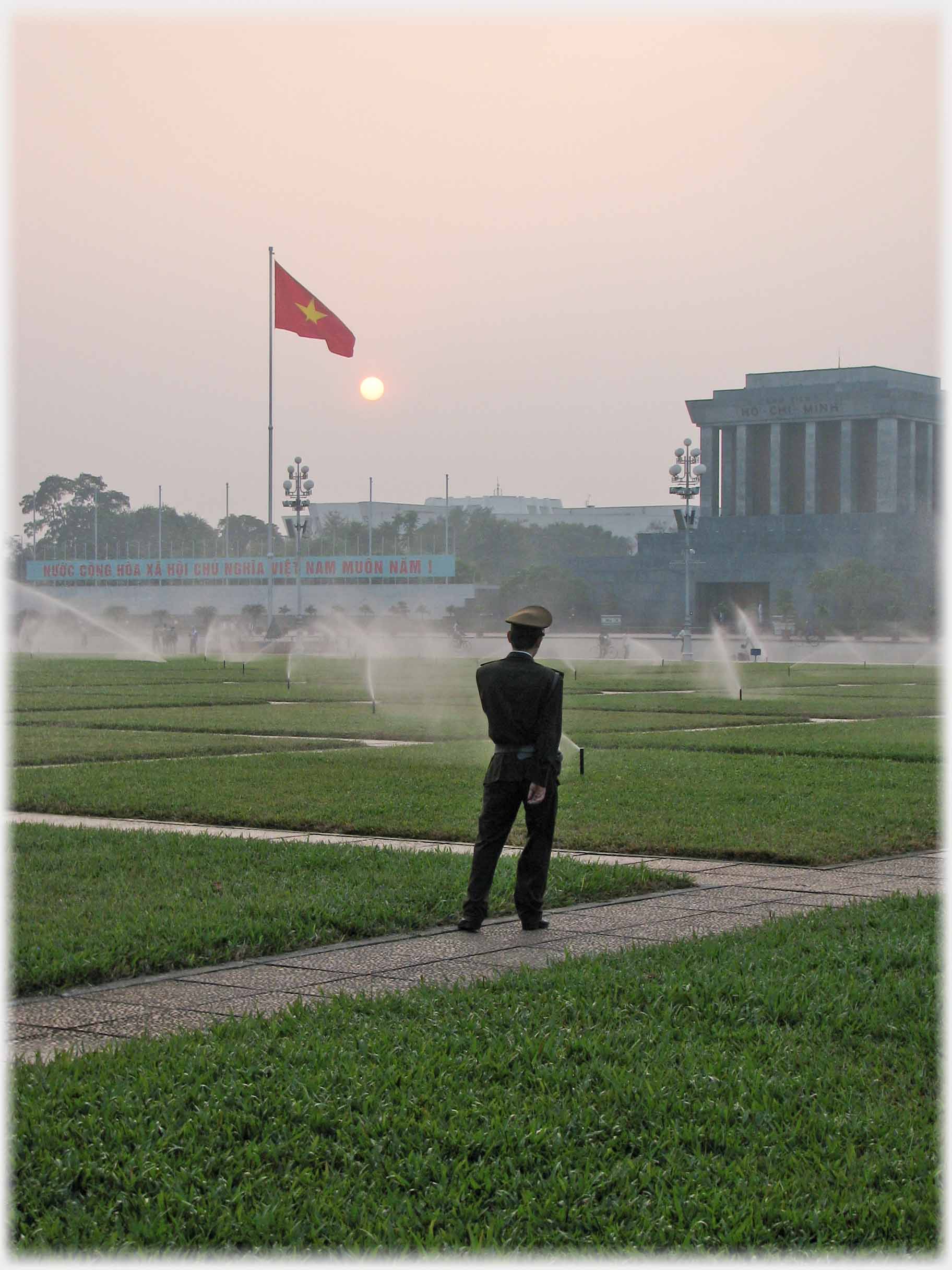 These acres of grass - there is enough room here for 200,000 people to assmble - are kept green by constant watering in the dry months of the year. Again, as with Bác Hồ's birthplace, the military are in evidence as homage rather than protection. And as everywhere in Vietnam flags fly.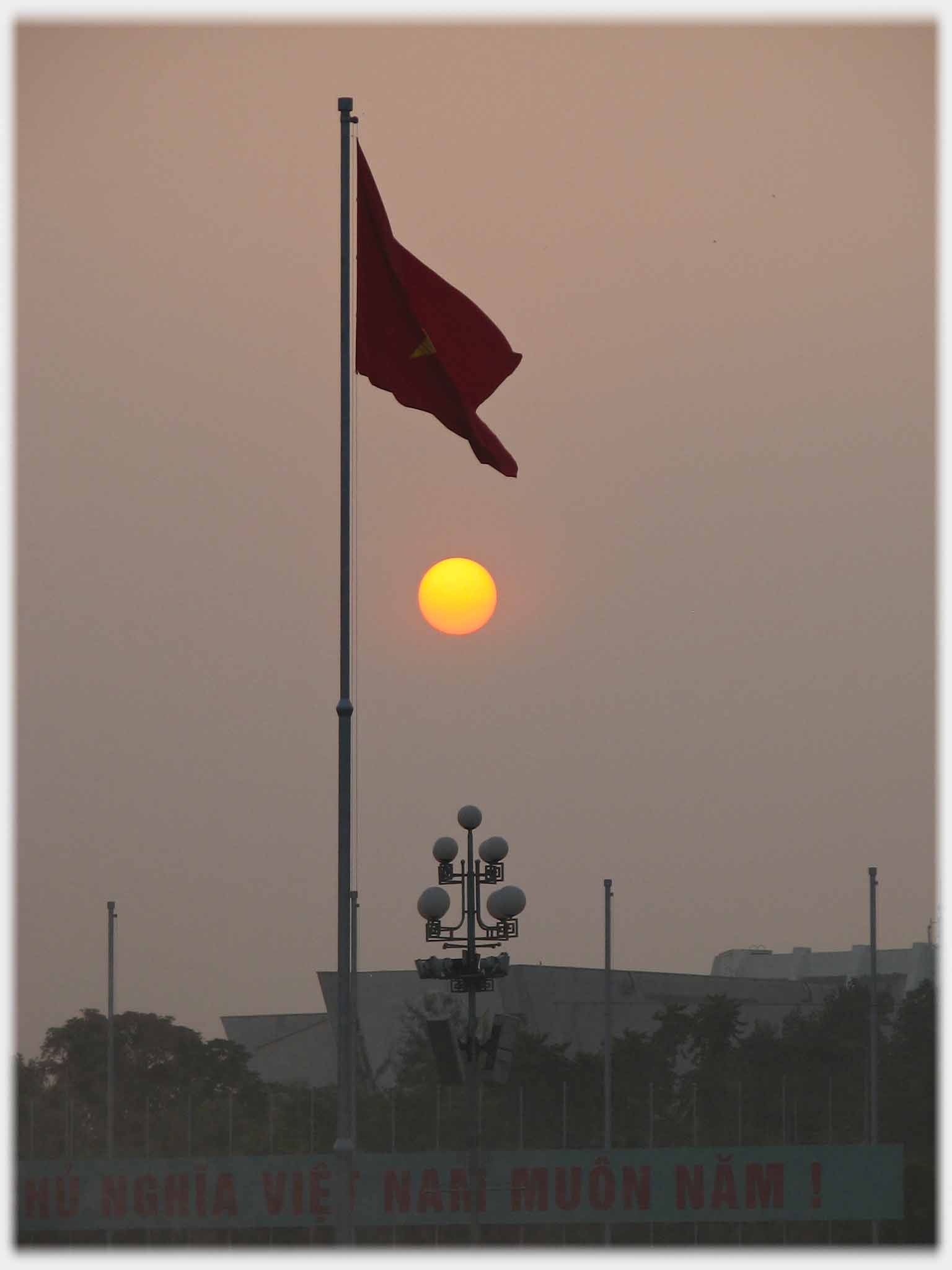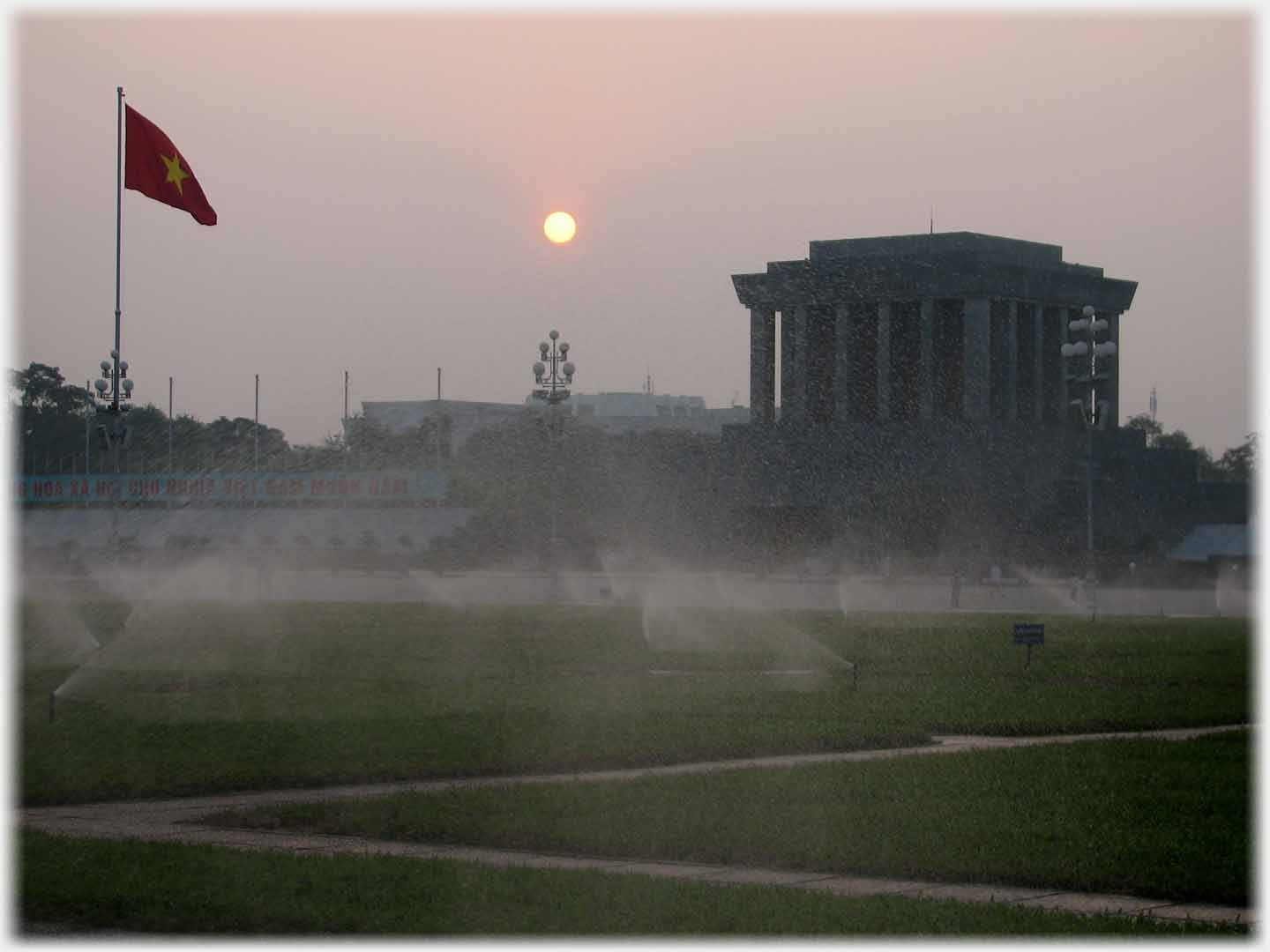 The contrast between this grand edifice and the small comfortable house that
Bác Hồ chose for himself is telling and poignant
Trailers...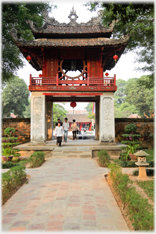 The next Picture Posting page takes you on the first of two visits to Hà Nội's Temple of Literature.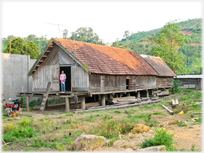 The next page of the Mosaic Section is headed 'A Room of One's Own'.
Or go to the contents

Go to the contents of the Mosaic Section.

of the Mosaic Section.