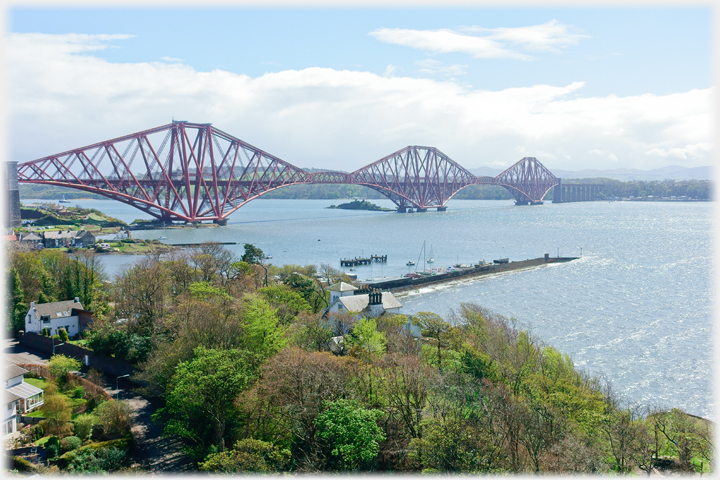 The Forth Bridge from North Queensferry with the pier of the old ferry terminal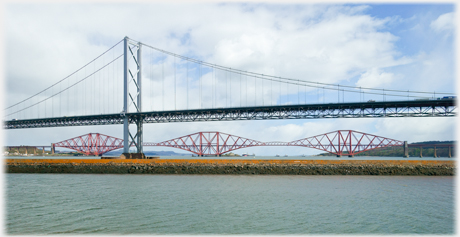 The Forth Road Bridge with the rail bridge beyond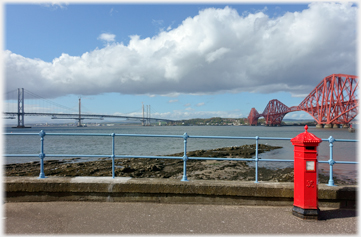 The road and rail bridges from South Queensferry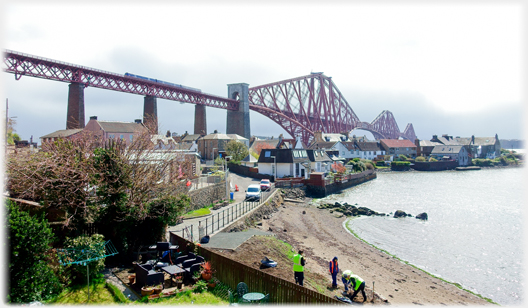 The village of North Queensferry sits below the bridge
Dominating the lower reaches of the Firth of Forth are three bridges dating from the 19th, 20th and 21st centuries, the oldest of the three is the Forth Rail Bridge - officially 'The Forth Bridge'.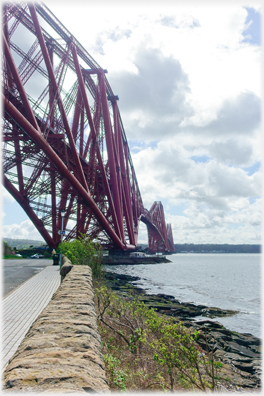 It was designed in reaction to the Tay Bridge disaster of a few yeas earlier
Each of the bridges says much about the period of its inception and each has a claim to international fame for its cultural, aesthetic and engineering qualities.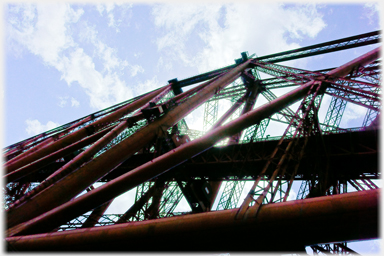 Graceful from a distance, but massive nearby
Under an approach span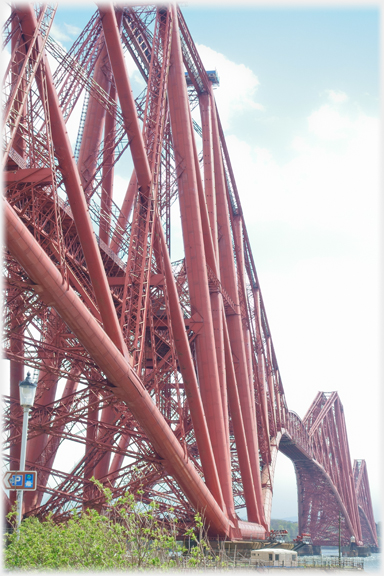 The north tower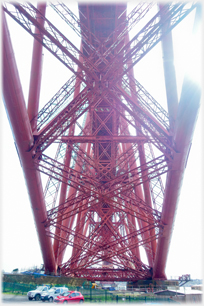 Under the north tower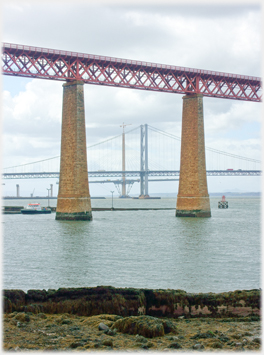 Towers of the road bridges framed by piers of the rail bridge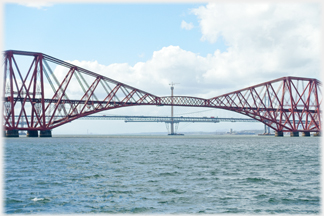 The rail bridge with the two road
bridges beyond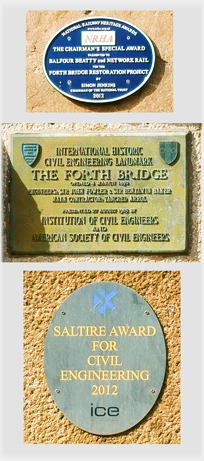 Accolades for the preservation of the rail bridge on the southernmost pier
The three bridges have in common a concern to achieve the highest standards of design and architectural merit. And such is the success of the oldest bridge that recently UNESCO enthusiastically designated it a World Heritage Site.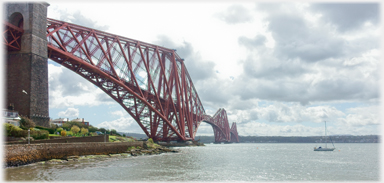 Looking south across the firth (estuary) of the River Forth from North Queensferry. The ferry ceased with the opening of the road bridge in 1964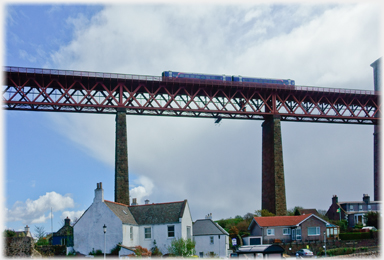 The trains pass overhead in North Queensferry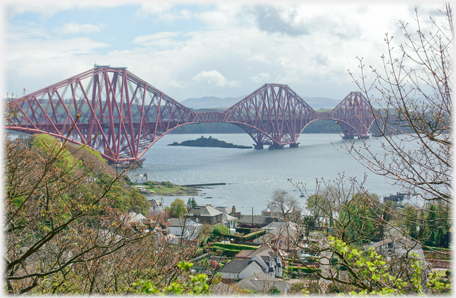 The rail bridge seen from the road bridge, North Queensferry below, the island of Inch Garvie in the centre, and the Pentland hills in the distance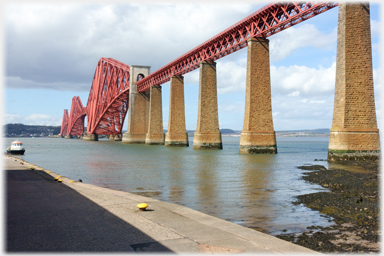 West side of the bridge from Port Edgar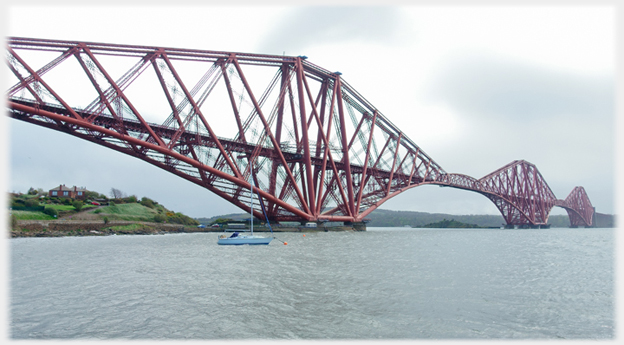 A house sits under the bridge dwarfed by the north tower
The Forth Bridge was greatly 'over-engineered', its design much influenced by the Tay Bridge disaster of 1879 when some 60 people had died due to that poorly constructed bridge collapsing. The rail bridge was opened in 1890, the contract having started in 1882. Those safety concerns have no doubt contributed to the fact that 126 years later it still stands as the second longest, and the oldest, cantilever bridge in the world.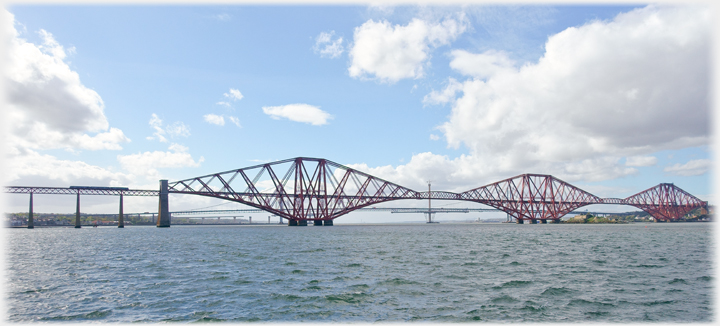 The Forth Bridge with a train approaching from the left
The bridge is a total of 2.4 kilometres long, 110 metres above the water and 28 metres below. It weighs some 50,000 tons with an additional 18,000 cubic metres of granite as ballast. In 2011 it was repainted at a cost of £130 million, the cost of building was £3.2 million. Probable cost in lives - 78.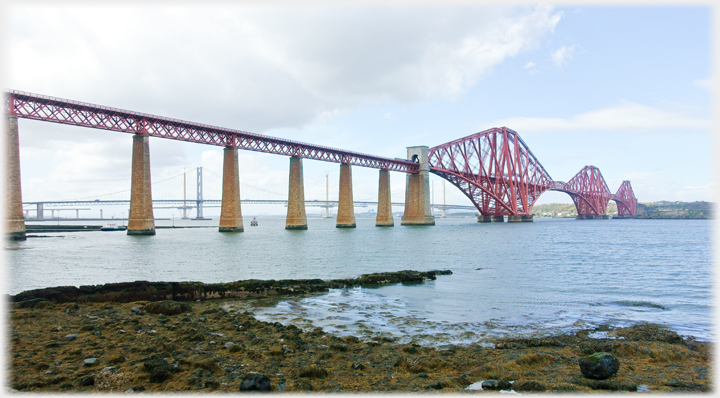 The east side of the bridge from South Queensferry in 2016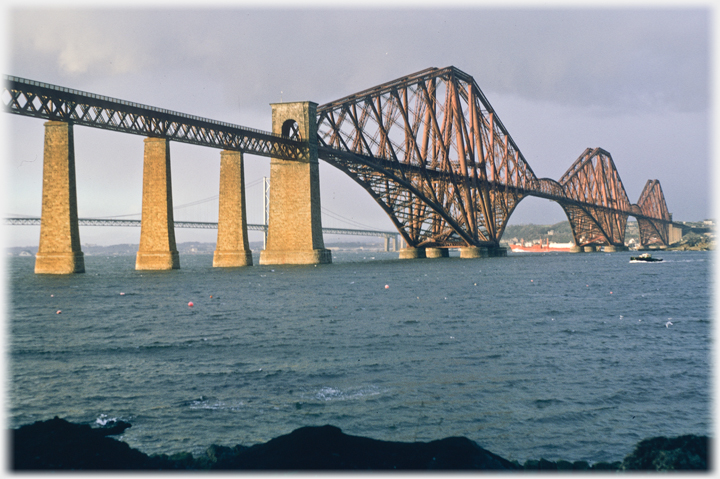 Evening light on the Forth Bridge in 1975–only one bridge in the background
The next page is about the twentieth century's contributions to Forth crossings - the Forth Road Bridge.