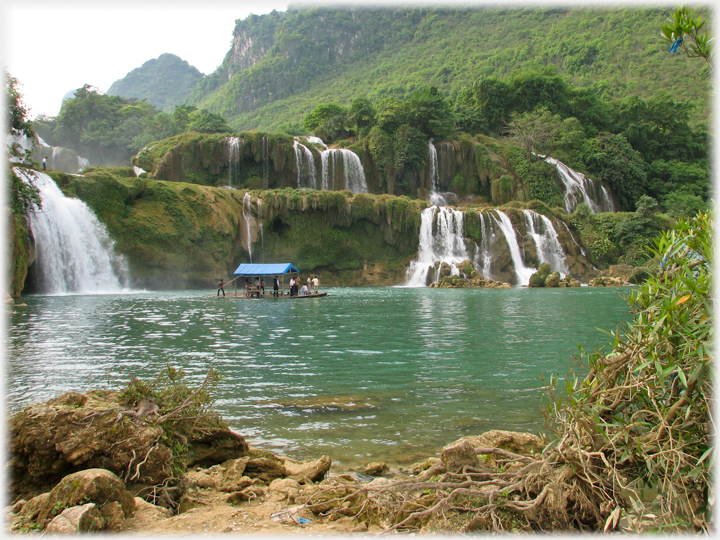 The cascades of Bản Giốc with one of the tourist punts taking visitors around the lagoon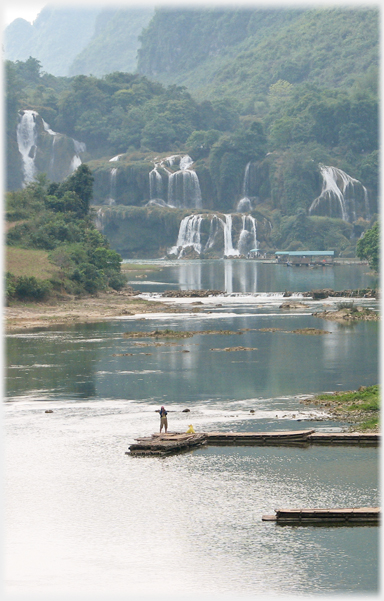 Landing stages for river boats on the Chinese side of the river, downstream from the lagoon. These photos were taken after the dry winter months when the water is at its minimum
A major attraction for visitors to Vietnam's most north-easterly province - Cao Bằng - are the cascades of Bản Giốc. Here the river Quây Sơn, called the Lô Suây in China, forms the boundary between the two countries. On the Chinese side large hotels cater for tourists, although, at the time of these photographs, there were no facilities on Vietnamese territory apart from the tea shops and punts. These boats from the two countries are kept rigorously separated while circling around each other taking their passengers to the foreign side of the other boats.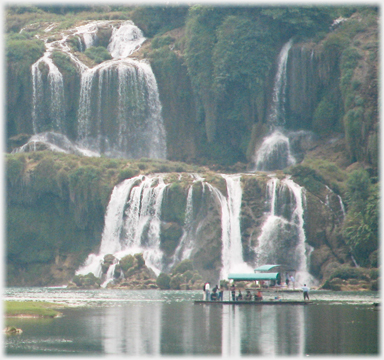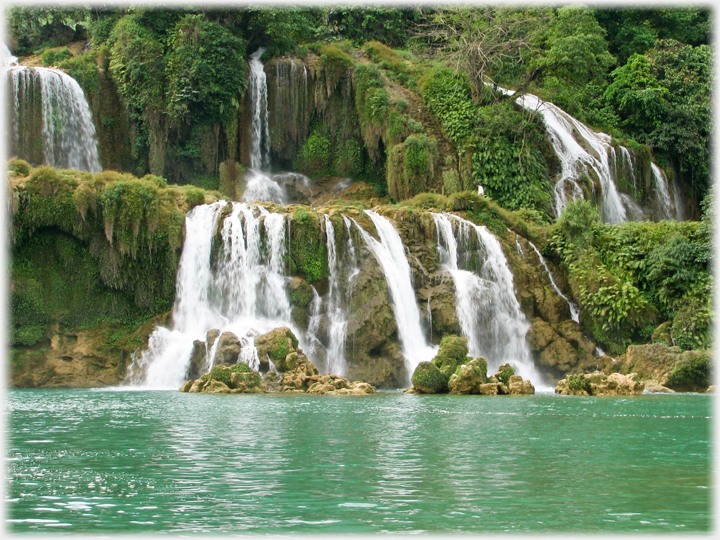 The high mineral content of the water in the northern-most provinces of Vietnam
produces this rich turquoise colour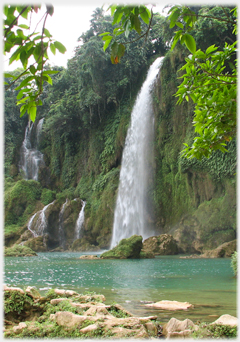 One of the many waterfalls that together form the cascade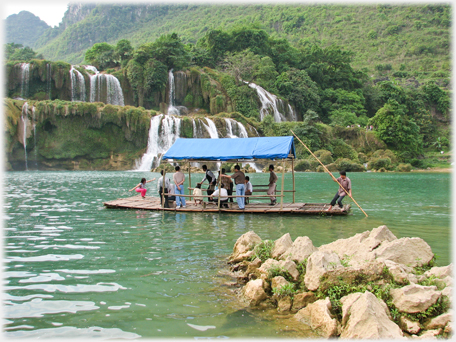 Punts from the two countries circle one another approaching the foreign soil, but no contact or landing is allowed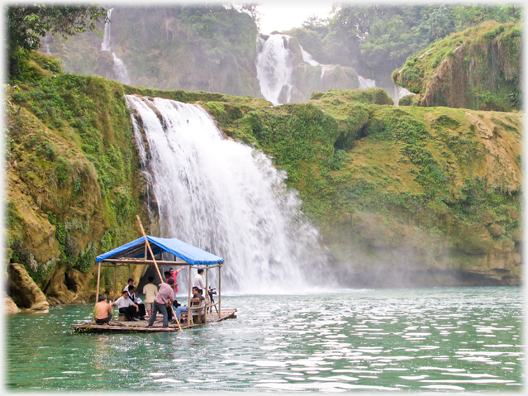 Visitors are taken into the spay of the falls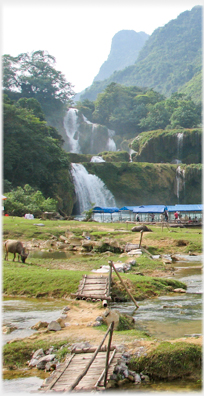 Basic walkway to punts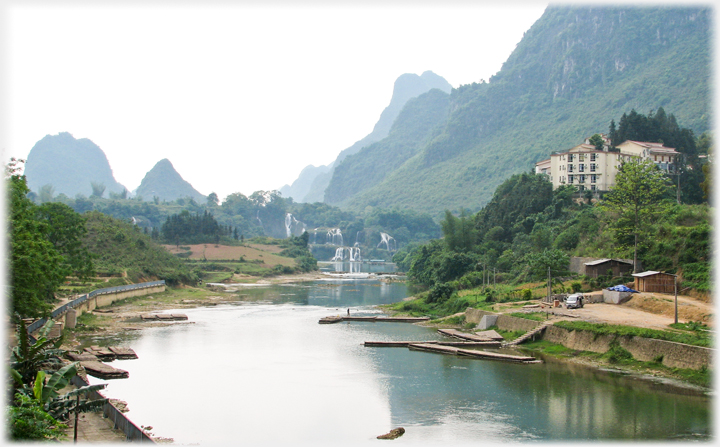 A more distant view of the falls shows the context of karst hills

and one of the large hotels that are situated on the Chinese bank of the river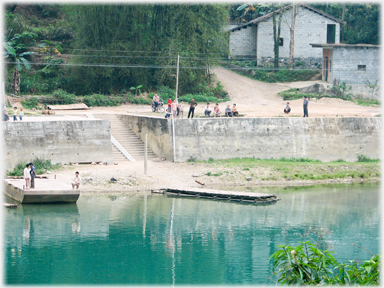 Groups of Chinese looking across the river at the Vietnamese watching them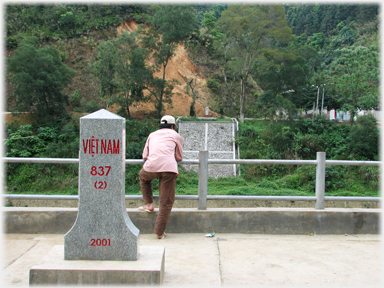 The whole border of more than 1,200 kilometres (800 miles), is marked at kilometre intervals by these posts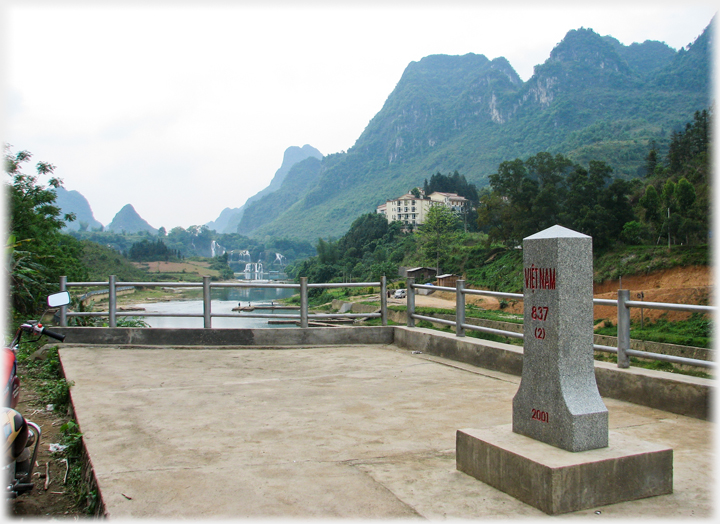 A viewing point, with the boundary marker, allows the visitor to see the cascades in context. Our trusty Honda makes a partial guest appearance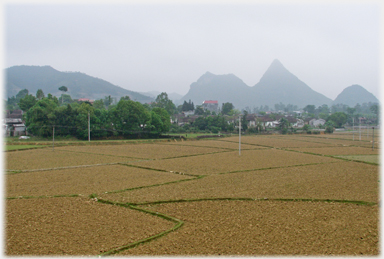 Trùng Khánh which is 27 kilometres from the falls, provides the only accommodation in the area
Above, horses waiting near its market. Outside the province of Cao Bằng horses are rare in Vietnam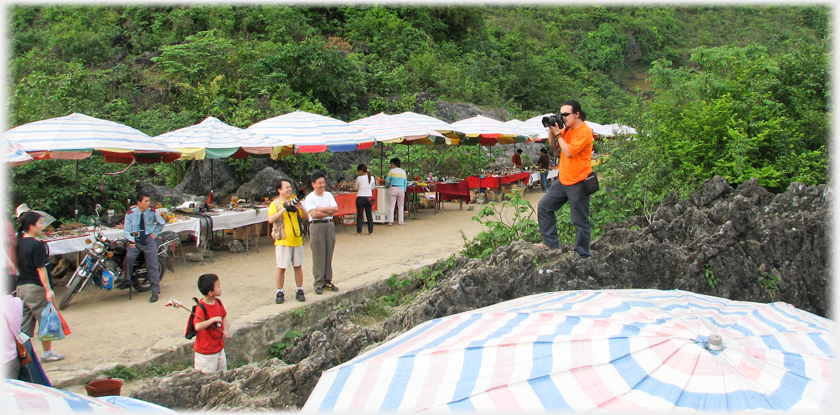 A side road, near the waterfalls, crosses the border into China. On the border a market is held where the two cultures can offer their specialities to customers from the other country. I keep carefully to Vietnamese ground to take my photographs of the Chinese policeman who is stationed to prevent outsiders, like myself, wandering across.
Above a Chinese photographer concentrates on the Vietnamese stalls
- watched by friends and the policeman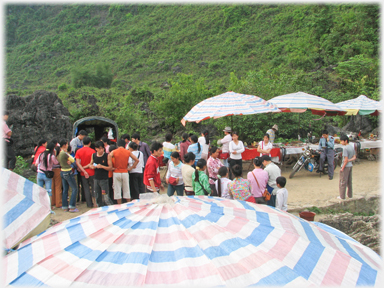 The policeman, here on his phone, is stationed to restrict the access of any strangers. My friend mingles in the nearby crowd...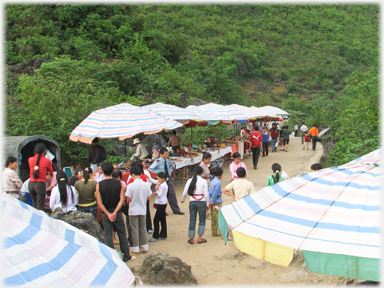 ...and above has wandered right down the road well beyond the policeman, who is now concentrating on the Chinese photographer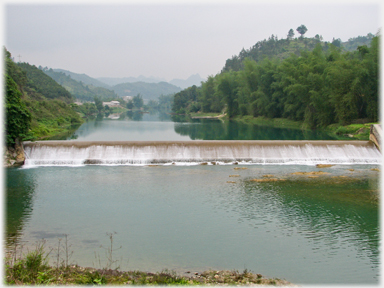 A weir on the river just downstream of the cascades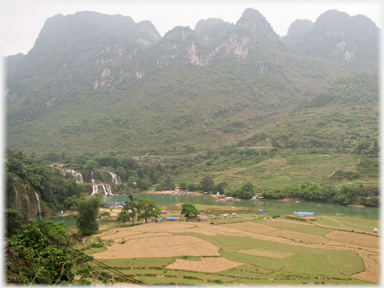 Karsts, in China, towering above the cascades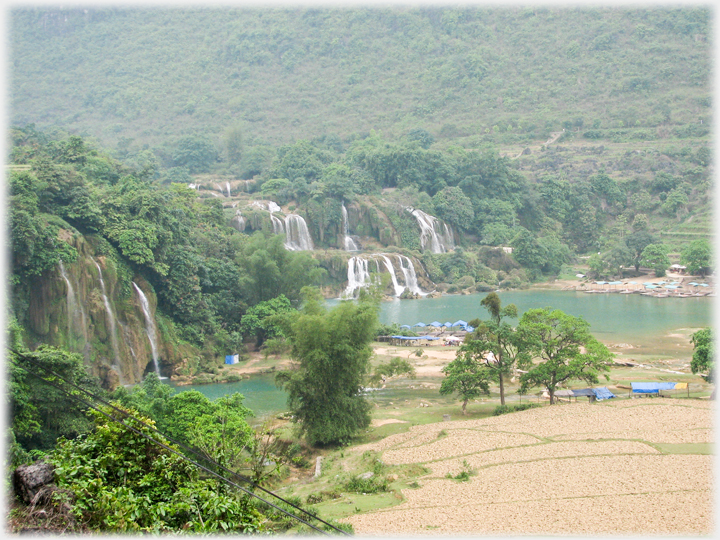 A general view of the falls at the end of winter, with tourists just beginning to come, and rows of punts on the two sides of the river/border waiting for their respective clientele
Trailers...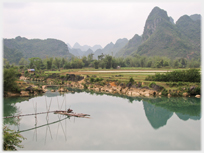 The next page moves from the cascades of Bản Giốc to some gentler water in Cao Bằng.
The next page of the Mosaic Section is headed:
'Being and Non-being'.
Or go to the contents of the Mosaic Section.