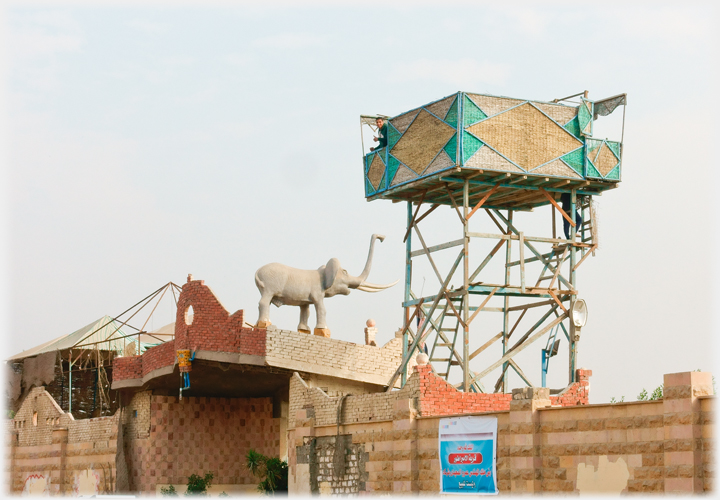 The leafy suburb around Embaby has a varied skyline. Just above the elephant's trunk a man raises his thumb, over the entrance a manikin hangs on by its fingertips
By way of contrast to the last few pages on the tourist sites of Cairo, this page offers more parochial, although hardly mundane, images that greet the visitor walking around a suburb of Giza which is on the west of Cairo. The sheer scale and inevitable transport problems of Cairo are daunting. Endless suburbs extend in every direction to accommodate some 20 million people, but there is no way of passing between these areas except by inching along in jammed traffic. Every visitor to the capital might write a page like this one on yet another area; an area undreamt of by 90% of the population.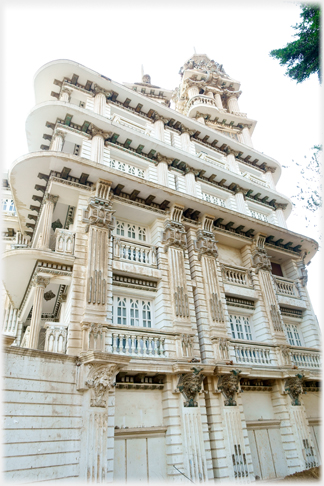 A fantasy extravaganza built by a film director for a woman who did not want it. It has now been abandoned for many years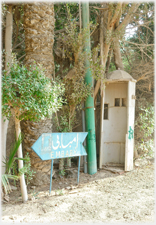 Area sign - guarded by a sentry box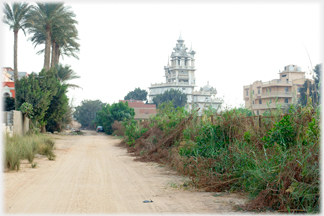 Along the unmetalled road, with its palms and new buildings, appears this fantasy house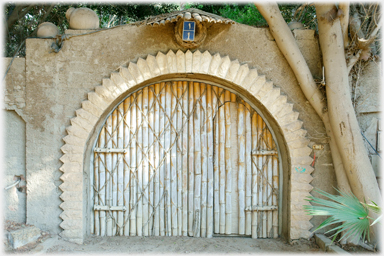 The delightful gate to house number one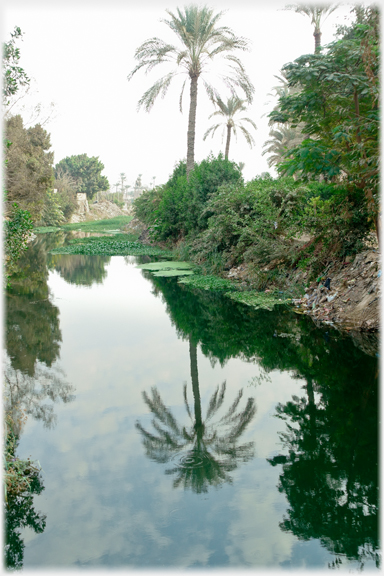 Surprisingly, in the arid air, some waterways do offer sustenance to plants and trees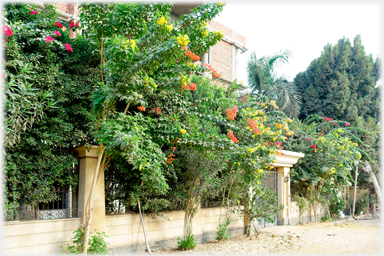 Houses in this area are palatial, with walls and gates and festooning greenery

A cobbled composite of a garden in the area; maximally devoted to its pool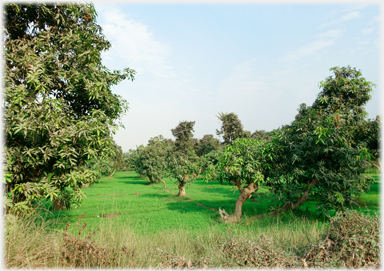 Peeping over a wall to see an orchard that would enhance a Kent lane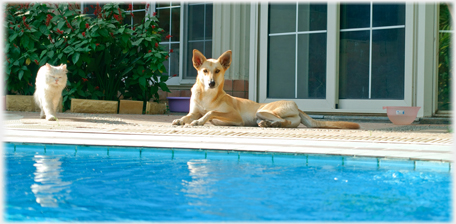 White cat, Egyptian dog and the pool - style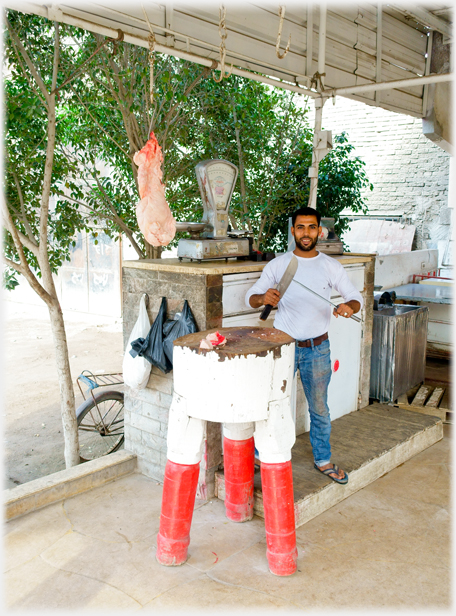 Butcher in roadside shop sharpening a handsome knife

And over another (barbed-wire topped) wall, here seeing a traditional house and exercise area for a horse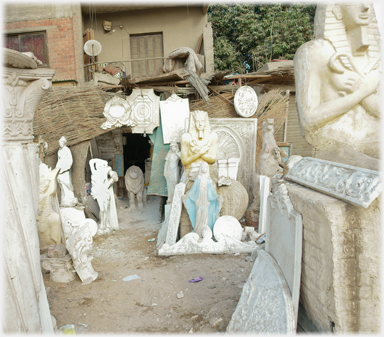 The yard of a shop selling castings and carvings of classical sculptures
Some pictures are worth a... I would offer this one of contemporary Egypt. Wanting to welcome and engage, but battered into caution, some adults behind screens, children reflecting the dilemmas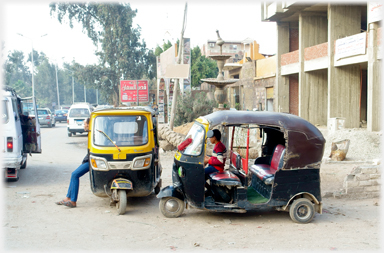 Tuk-tuks wait for customers by the road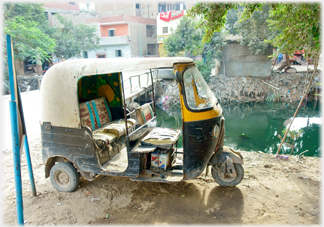 Originally coming from Japan in the 1930s 'tuk-tuks' (as they are called in Thailand - 'autos' in India) have spread across the world. Cairo boasted some 500,000 in 2015. Various attempts at regulation have led to bans on this ubiquitous transport used by some 30 million Egyptians daily. Bans and lack of spare parts mean that some machines approach old age, like this one, in sad condition.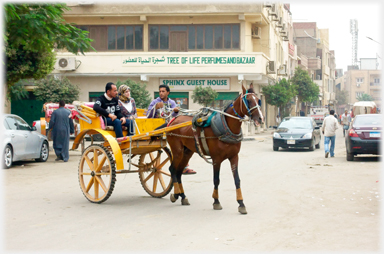 A horse trap (not on the walk but by the Giza Pyramid)...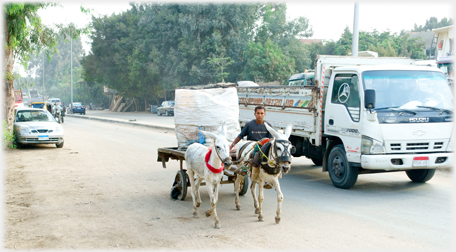 ...and a donkey cart compete on the roads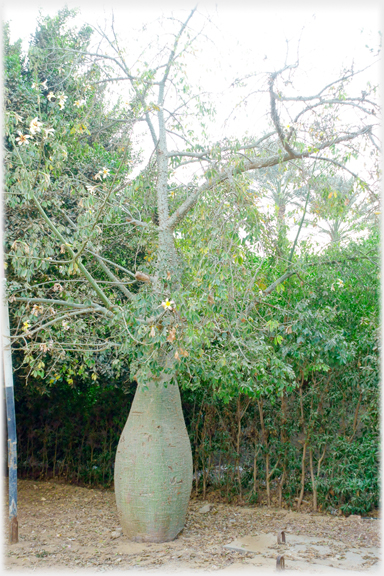 At the roadside a Bottle Tree probably the Queensland variety (Brachychiton rupestris)...
These photographs are taken from a 2 mile circular walk, so no images are more than a few hundred yards apart: ultimate affluence, basic transport; beautiful plants, dust covered graves; confidence, trepidation - go and take a walk yourself, you will be welcomed.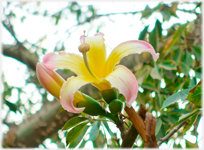 ...and one of its magnificent flowers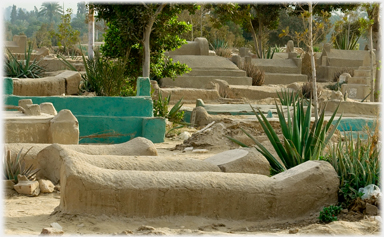 The haunting, and evocatively shaped, grave-covers in the local cemetery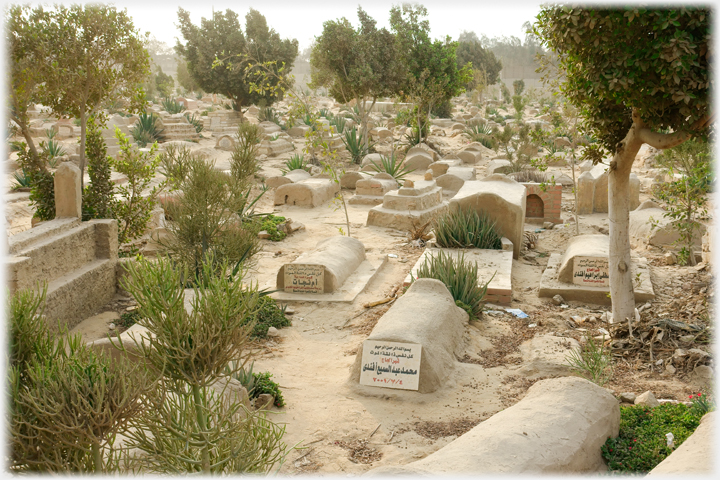 The graveyard a few hundred metres from the affluent houses
The next page goes to one of the museums in the west where many artefacts from Asia and Africa ended up. Although the Chambers Street Museum (or more formally the National Museum of Scotland) has kept most Asian material tantalisingly hidden in recent years.